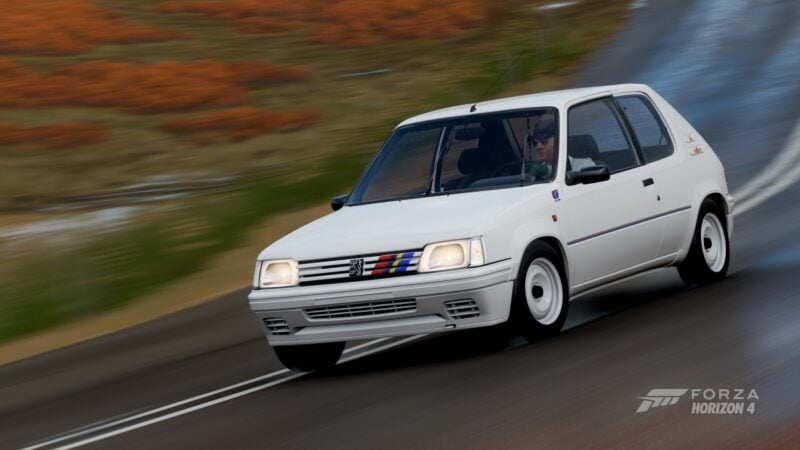 Golden leaves and heavy downpours mean a new Autumn season has begun in Forza Horizon 4. In the midst of rain across the UK, players are continuing to brave the storms on their quest to round up the latest week of content.
A healthy variety of machines are available as prizes this week, plus there's more rewards at stake for completing the Autumn seasonal playlist to 50% and 80%.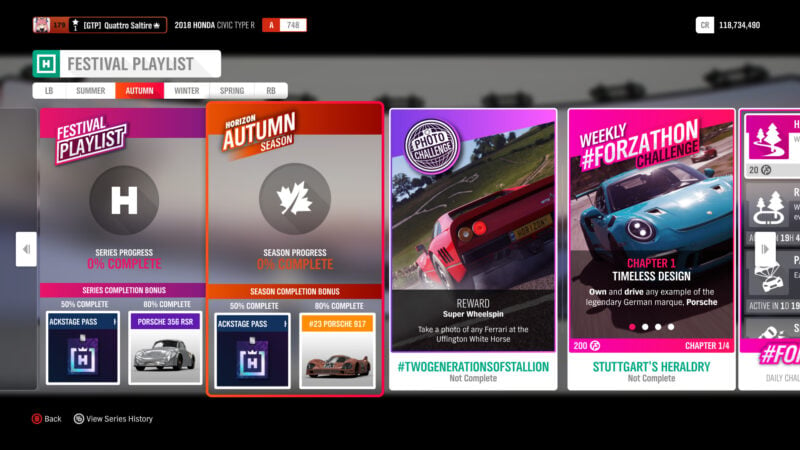 Slipping in the Rain
Only one car is up for grabs in the seasonal playlist for Autumn: the 1971 Porsche 917/20.
In an effort to test out future aerodynamic ideas, this particular 917 combined the advantages of the short-tail 917K and long-tail LH variants. Unfortunately, the end result was a machine looking less than glamorous, with the butcher's diagram livery earning it the nickname "Pink Pig".
Despite this, the 917/20 was more slippery than the 917K whilst continuing to have suitable downforce. Powering the Pink Pig is a 4.5-liter flat-12 making 600hp. When entered at the 1971 Le Mans 24 Hours, the Pink Pig qualified in seventh, but ultimately retired due to brake failure.
A new Horizon Backstage Pass is also available if you're still missing any more exclusive cars.
Autumn's Photo Challenge is all about horses, and you'll need to be driving one for this task. #TwoGenerationsOfStallion wants you to snap a Ferrari over by the Uffington White Horse. Seasonal championships feature a plentiful mix including the Ferrari Enzo and Hummer H1.
A particular highlight of the prize pool is the 1991 Peugeot 205 Rallye.
Marketed as a cheaper alternative to the legendary 205 GTI, the Rallye would become a cult hit in its own right. The Rallye was built as a homologation for junior rally racing, and Peugeot left no stone unturned in stripping out neccessities for the road car. As a result, the Rallye tips the scales at just over 1,700lb.
Without much weight to lug around, the Rallye's 1.3-liter engine only makes 100hp. However, the 205 demands you thrash it as you run down the most twisting road you can find, and in return will give you more fun than most supercars.
To bring the 205 home, you'll have to participate in the Autumn Playground Games first.
If you're in need of more unpredictability, then there's a fresh set of Super7 challenges waiting to be completed. Finish all seven and a Lamborghini Veneno will be on its way to your garage.
Events and prizes for Autumn are below:
Autumn Developer Championship
Series: Road Racing Series
Cars: Modern Supercars
Restrictions: S1 Class, 900 PI
Prizes: 15,000 CR, 25,000 CR, Ferrari Enzo
Heavyweight Champions
Series: Cross Country Series
Cars: Heavy Hitters
Restrictions: A Class, 800 PI
Prizes: 15,000 CR, 25,000 CR, Hummer H1 Alpha
Retro Rally Rumble
Series: Dirt Racing Series
Cars: Retro Rally
Restrictions: B Class, 700 PI
Prizes: 15,000 CR, 25,000 CR, 1979 Chevrolet Camaro Z28
The Trial: Trials and Tribulations (Co-Op Championship)
Series: Road Racing Series
Cars: Ferrari
Restrictions: S1 Class, 900 PI
Prizes: Aston Martin One-77
Autumn Games – Series 51
Series: Playground Games
Cars: Super Hot Hatch
Restrictions: A Class, 800 PI
Prizes: Peugeot 205 Rallye
Super7 – Autumn
Completion Prize – Lamborghini Veneno
Rannoch Shelf Danger Sign
Derwent Reservoir Speed Trap
Toft Speed Zone
Forzathon Events
Forzathon puts its spotlight on one of the most successful sports car manufacturers ever for this week, as Porsche takes center stage. Jump into any one of the brand's famous models, past or present, and hit the road to get started.
Next, show why Porsche is such a dominant force in racing, by taking absolute victory during three Road Racing Series events. After that, it's time to test your endurance as you'll have to head out on a long drive around the UK. To progress, you'll need to complete the equivalent distance to a marathon at 26.2 miles.
To finish off this week, demonstrate Porsche's surprising rally pedigree by winning three Dirt Racing Series events.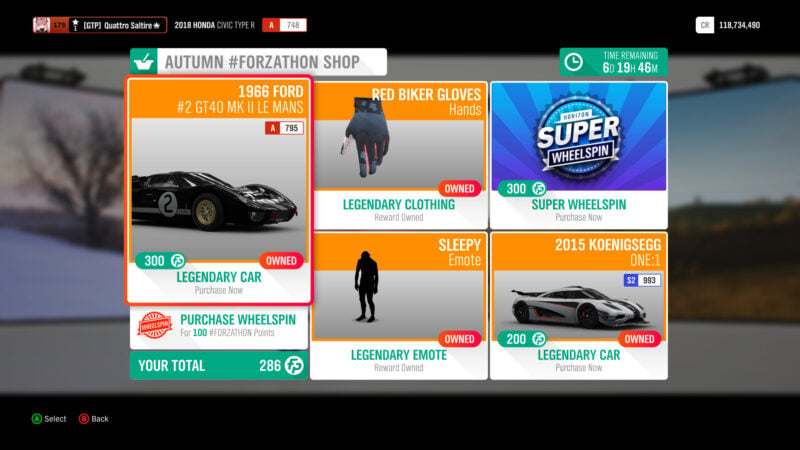 Forzathon Shop
Ford leads the way in the shop lineup, with its iconic 1966 GT40 Mk 2 sitting front and center.
Emerging as part of Ford's obsessive mission to beat Ferrari at the Le Mans 24 Hours, this second generation variant would bring home that overall victory and start a period of dominance that would see four consecutive wins at the famous race between 1966 and 1969.
To achieve its goals, Ford gave the GT40 a 7.0-liter V8 with 485hp. Thanks to its fiberglass body and slippery aerodynamics, the GT40 was capable of speeds exceeding 200mph.
Unlike previous shop entries, the GT40 won't punch as big a hole in your wallet at 300 Forzathon Points, making it a bargain choice and save you millions of credits from buying one in the autoshow.
If you need speed but want to turn up the extreme levels, there's the 2015 Koenigsegg One:1.
The Agera RS upon which this is based was already bonkers enough, but the One:1 goes one step beyond. This Koenigsegg boasts the achievement of being the first road-going production car to have a 1:1 power to weight ratio.
In order to get there, Koenigsegg boosted the 5.0-liter twin turbocharged V8 to produce 1,360hp, and cutting weight to 1,360kg (2,998lb). To put that colossal power onto the road, there's an aggressive new bodykit featuring an active rear wing that can contribute to a claimed 600kg of downforce at speed.
The Koenigsegg costs a measly 200FP, giving you a relatively cheap route to getting one of the fastest road cars ever created.
This week's clothing and novelty items are the Red Biker Gloves and the Sleepy emote.
See more articles on Forza Horizon 4 Season Change.