A fresh heatwave has returned to the UK, marking the beginning of a new Summer season in Forza Horizon 4. We're marking the start of Series 52 this week, which means more events and more chances to grab some content you might have missed over the next four weeks.
It's all about an eclectic mix of sports and supercars for this week's prizes, plus a fresh batch of cars for completing both the full and seasonal playlists to 50% and 80%.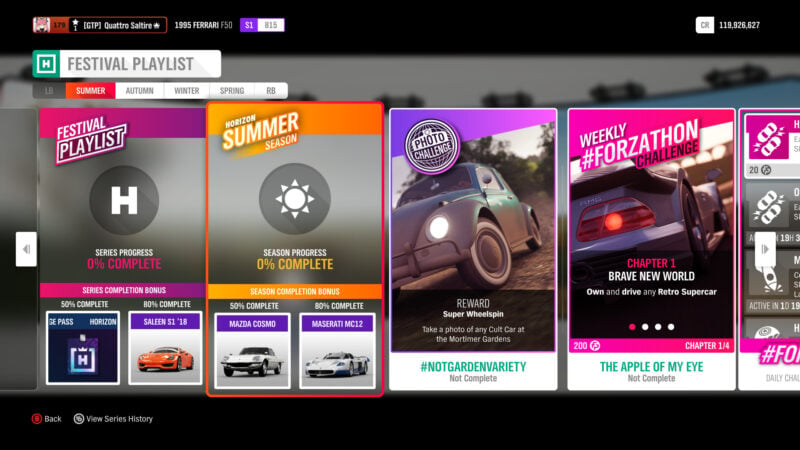 Burning Rubber
Leading the way for Summer's seasonal completion rewards is the 1972 Mazda Cosmo 110S.
Mazda's svelte sports car was its first to be fitted with a rotary engine, and would lay the groundwork for an endearing legacy.
The handbuilt machine meant sales were relatively low, but it would still go on to become one of Mazda's most desirable models. Under the hood is a two-rotor unit making 128hp in this Series 2 version. Thanks to smooth power delivery and high redline, the Cosmo works well as both a cruiser and for hustling along fast country roads.
If you need more speed, then there's the 2004 Maserati MC12.
Although the looks are pure street supercar, the MC12 was actually designed as a homologation special for the GT1 racing variant. The MC12 is actually based on the platform and mechanicals of the Ferrari Enzo, meaning it utilises that car's 6.0-liter V12. It's slightly detuned at 630hp, but it can actually outpace an Enzo round a track thanks to better aerodynamics and more downforce.
Finishing the full playlist will grant you a new Horizon Backstage Pass and a 2018 Saleen S1.
Kicking off the Photo Challenges for Series 52 is a party of a #NotGardenVariety. For this objective, you'll need to be in a Cult Car and snap a picture over at Mortimer Gardens. The first seasonal championships of the new series feature a mix of cars and cosmetics, with prizes including the Pontiac Trans Am and Citroen DS3 Racing.
A particular highlight of the prize pool is the 2003 Ferrari 360 Challenge Stradale. Bred for the track, this 360 took a lot of inspiration from the Challenge race cars.
Its crash diet sees 240lb stripped from the weight, while the 3.6-liter V8 gets a small power bump to 425hp. However, with much of the upgrades focusing on the chassis, the handling also gets sharpened up. The differences compared to a standard 360 become much more evident as you throw the CS down a country lane filling the air with its V8 symphony.
To bring home the 360 CS, you'll need to win the "Forza Italia" championship.
The newest Monthly Rivals event sees you in the more hardcore Maserati MC12 Versione Corsa over at Greendale Club Circuit.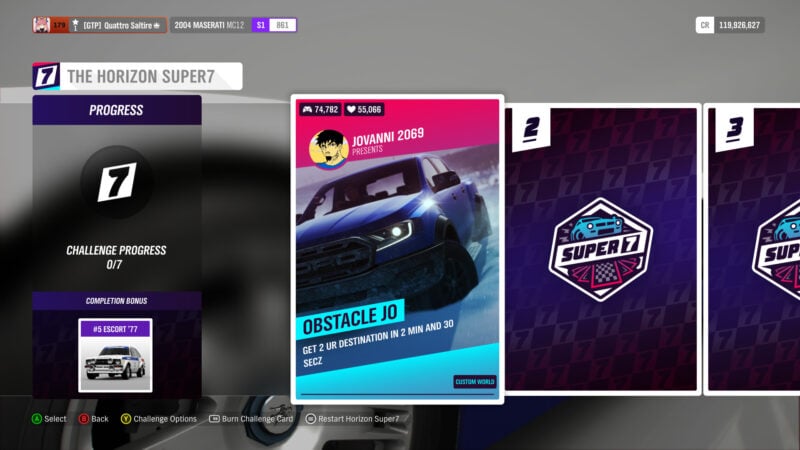 Test your might across the seasons in the latest round of Super7 cards. If you finish all seven, you'll receive a 1977 Ford Escort Mk2 rally car.
Latest events and prizes for Summer are below:
Full Throttle
Series: Road Racing Series
Cars: Super GT
Restrictions: S1 Class, 900 PI
Prizes: 15,000 CR, 25,000 CR, Modern Race Suit Gray
FF Spotlight
Series: Road Racing Series
Cars: Front engined, front wheel drive cars
Restrictions: B Class, 700 PI
Prizes: 15,000 CR, 25,000 CR, 2011 Citroen DS3 Racing
Forza Italia
Series: Street Scene
Cars: Italian cars
Restrictions: S1 Class, 900 PI
Prizes: 15,000 CR, 25,000 CR, Ferrari 360 Challenge Stradale
The Trial: History Class (Co-Op Championship)
Series: Cross Country Series
Cars: Classic Rally
Restrictions: C Class, 600 PI
Prizes: Peugeot 207 Super 2000
Summer Games – Series 52
Series: Playground Games
Cars: Retro Muscle
Restrictions: A Class, 800 PI
Prizes: 1973 Pontiac Trans Am
Super7 – Summer
Completion Prize: 1977 Ford Escort #5
Wesloch Speed Trap
Outcrop Crest Danger Sign
Season Objective: 623.4ft
Croft Speed Zone
Forzathon Events
We're going back to a supercar golden age for this week's Forzathon as Retro Supercars take over for the latest challenges. Choose a legend in your garage and jump aboard to get started.
Next, show that your classic can still run with modern greats by sweeping to victory in 3 Road Racing Series events. After that, put the hammer down and unleash every bit of horsepower to earn 3 stars over at the Roman Mile speed trap.
Finally, wind down the weekly challenges by taking your supercar for a drive around the UK. Despite the 15-mile objective, that should easily fly past once you're up and running.
Forzathon Shop
Koenigsegg takes the spotlight in the shop with its latest and most extreme hypercar yet, the 2020 Koenigsegg Jesko.
Aimed at replacing the Agera, the Jesko is named after the father of company founder Christian von Koenigsegg and has been built with the singular purpose of becoming the fastest street car ever made.
Under the hood, the 5.0-liter, twin-turbocharged V8 has been heavily upgraded to produce 1,600hp on bio-fuel. An extreme aerodynamics package helps to put all that power to the road, but the Jesko's real party piece comes from its new Light Speed Transmission. This 9-speed gearbox features seven clutches to ensure optimum efficiency in power delivery and shift times quicker than a twin-clutch transmission.
At 599 Forzathon Points, the Jesko will burn a hole in your wallet, but the return on investment is a car that will outrun pretty much anything that dares challenge it.
A car for performance enthusiasts requiring something practical can be found in the form of the 2009 Lexus IS-F. This sports sedan caused shockwaves as the austere Lexus wasn't known for making high performance machines at the time.
After giving a humdrum IS some agressive bumpers and flared arches, Lexus squeezed a 5.0-liter V8 under the hood to create a 417hp hooligan. The IS-F was also one of the first high-performance cars to feature an 8-speed automatic transmission instead of going with a twin-clutch unit.
At 399 FP, the Lexus is a little cheaper, plus it serves as a left-field alternative to the German establishment.
Clothing and novelty items available are the Disco Chicken Suit and the Dab emote.
See more articles on Forza Horizon 4 Season Change.