Darkening clouds and forecasts of rain mean that Autumn has once again returned to Forza Horizon 4. Despite the lingering threat of storms in the UK this week, players are continuing to push forward in order to claim the latest rewards on offer.
Some big hitters are on hand for the prize pool, plus another set of refreshed rewards for finishing the Autumn playlist to 50% and 80%.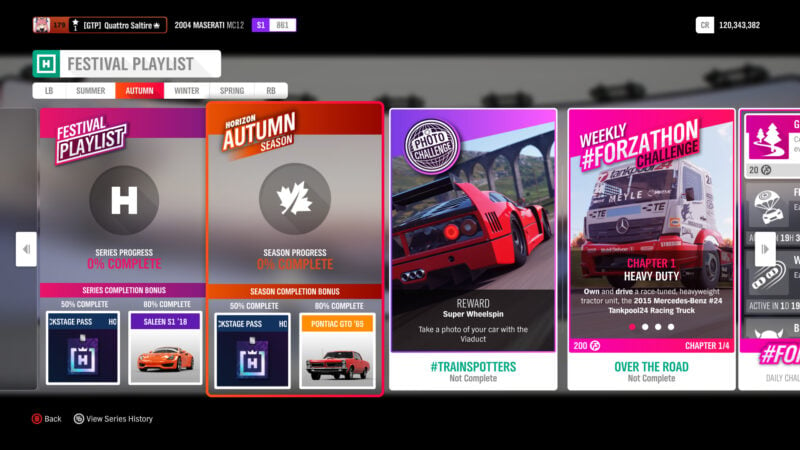 Big Names, Bigger Performances
There's one car available for the seasonal completion prizes: the 1965 Pontiac GTO.
This machine was initially offered as a flagship performance package for the more humdrum Pontiac Tempest, and is ultimately regarded as being the genesis of all muscle cars. Although the name was borrowed from the iconic Ferrari 250 GTO, the type of racing the Pontiac would be involved in would be between traffic lights on the streets.
Powering the GTO is a 6.4-liter V8 putting out 360hp, which was enough to allow anyone driving to rule the quarter-mile or when dashing between red lights.
Another Horizon Backstage Pass is also up for grabs for those wanting harder-to-find cars for their collections.
A fresh Photo Challenge sees you heading out into the Scottish Highlands towards a famous bridge. #Trainspotters wants you to snap your current car over at Glenfinnan Viaduct. Make the scene more appropriate if you can catch the Flying Scotsman in your pictures as well. This week's battlegrounds of the seasonal championships feature big names including the Nissan Skyline GT-R LM and BMW M3 GTR.
The main course for the prize pool comes from the 2011 McLaren 12C.
After shaking the supercar world to its core with the legendary F1, McLaren chose to re-enter the market and directly square up to the Ferrari 458. Channeling its motorsport knowledge, the 12C is bristling with technology, from advanced electronic stability systems to suspension that does away with anti-roll bars.
Under the hood lies an in-house developed 3.8-liter twin-turbocharged V8 pumping out 592hp, to give the Italian stallion a serious headache.
You'll have to win the "McLaren Cup" championship in order to bring the 12C back to your garage.
A popular Showcase Remix also returns with the aptly named "Pillar of Autumn". Strap into the Spartan armour of the legendary Master Chief and take the Warthog on a cross country race against a Pelican dropship.
You can also push your skills to new heights in the latest batch of Super7 cards. If you finish all seven, you'll receive a Hi-Vis Patrol Outfit.
Autumn events and prizes are listed below:
Mclaren Cup
Series: Road Racing Series
Cars: McLaren
Restrictions: S2 Class, 998 PI
Prizes: 15,000 CR, 25,000 CR, McLaren 12C
FR Spotlight
Series: Road Racing Series
Cars: Front-engined, rear-wheel-drive cars
Restrictions: S1 Class, 900 PI
Prizes: 15,000 CR, 25,000 CR, BMW M3 GTR
The Sky is The Limit
Series: Street Scene
Cars: Nissan Skyline
Restrictions: B Class, 700 PI
Prizes: 15,000 CR, 25,000 CR, Nissan Skyline GT-R LM Nismo
The Trial: Heavy Haul (Co-Op Championship)
Series: Dirt Racing Series
Cars: Trucks
Restrictions: B Class, 700 PI
Prizes: Mercedes Benz X-Class
Autumn Games – Series 52
Series: Playground Games
Cars: Extreme Offroad
Restrictions: A Class, 800 PI
Prizes: Mercedes G65 AMG
Super7 – Autumn
Completion Prize – Hi-Vis Patrol Outfit
Bamburgh Castle Danger Sign
Season Objective: 715.2ft
Lower Fell Speed Trap
Glen Rannoch Speed Zone
Forzathon Events
We're going big for the newest Forzathon challenges, as the spotlight turns to the Mercedes Tankpool24 racing truck. Climb aboard this goliath in order to get things started.
Up next, show that you can rule the streets in your semi by storming to victory in 3 Street Scene events. After that, unleash all that diesel torque and use it to earn 3 stars in any Speed Trap.
Finally, wrap up the latest weekly events by barging your way through traffic and earn a total of 10 Trading Paint Skills.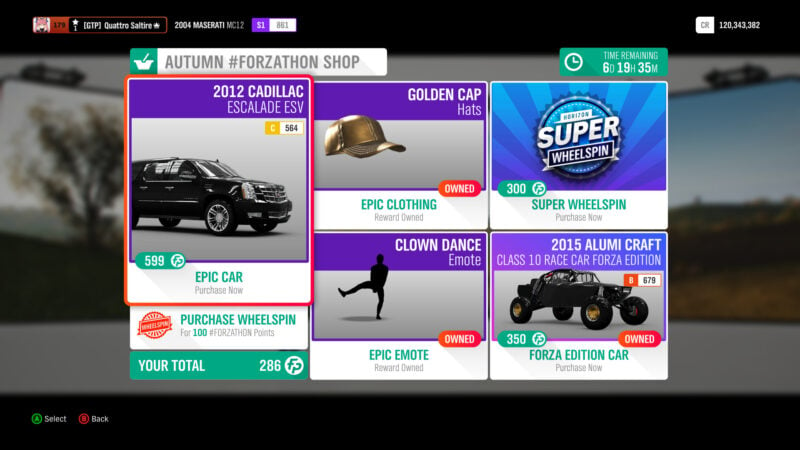 Forzathon Shop
Heavy duty machines are on the cards in the shop this week, with the imposing 2012 Cadillac Escalade on center stage.
Synonymous with the rap music scene, the Escalade is a bold and brash take on a luxury SUV. With performance far away from its intended goals, the Escalade works more at home cruising along the boulevard than tearing up country roads. Under the hood is a 6.2-liter V8 pushing 404hp, which is necessary as this Caddy weighs close to 6,000lb.
At 599 Forzathon Points, the Cadillac is very expensive, and with other SUVs vying for the same competitive space, we'd recommend looking to the Auction House for a cheaper deal.
If you care about your offroad performance, then the Alumi Craft Class 10 will be the machine for you.
Built purely for desert rally raid racing, the Class 10 buggy ensures that it will beat any rough terrain into submission. The bare-bones tubular chassis ensures weight is under 2,200lb, and the 196hp 2.4-liter engine gives a healthy amount of power to charge across dunes.
Thanks to its long-travel suspension, the Class 10 will soak up any bumps thrown at it without any disturbances. The special Forza Edition up for sale also comes with a Destruction Boost should you choose to head off the known dirt track.
At 350 FP, you'll save quite a bit of money against the Cadillac, plus you'll be able to tackle cross country races with much greater ease.
This weeks clothing and novelty items are the Golden Cap and the Clown Dance emote.
See more articles on Forza Horizon 4 Season Change.