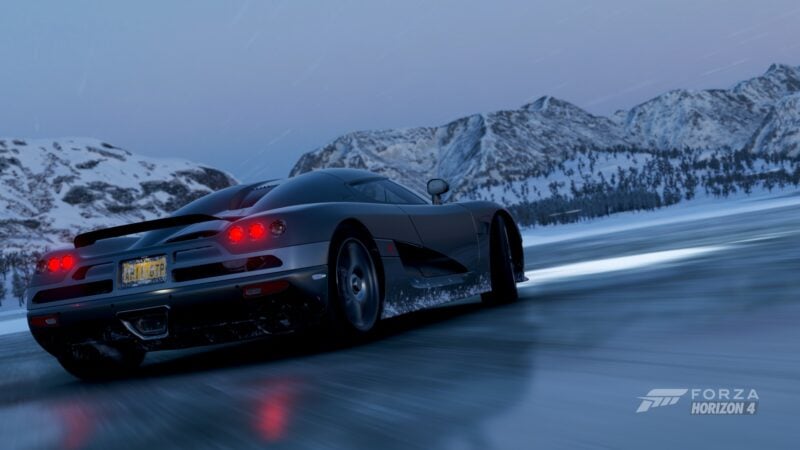 Blizzards have left a blanket of snow across the UK to mark the start of another Winter season in Forza Horizon 4. With sub-zero temperatures, action is heating up across the festival with more events available and more content to be won.
This week's prize pool features machines much too overpowered to handle the tricky conditions, plus another duo of rewards for those that can complete the seasonal playlist to 50% and 80%.
Tip Toe Through The Snow
An underrated British classic leads the seasonal completion prizes: the 1984 Rover SD1 Vitesse.
The SD1 shocked by bringing European exotic styling to a humdrum business sedan. Many have likened the SD1's looks as inspired by the Ferrari Daytona. The Vitesse variant is Longbridge's attempt to add some zest and create a performance sedan.
Under the hood lies the iconic 3.5-liter V8 making just 191hp. Some modifications will help to unleash the full fury of that engine and turn the SD1 into a fully British muscle car.
If too much power is your forte, then the 2006 Koenigsegg CCX will be right up your street.
With the Bugatti Veyron stamping its authority in the hypercar world, Koenigsegg stepped up to fight with the CCX. Despite attempts to make the CCX easier to live with, the mechanical upgrades ensure it was still a rough and ready street fighter.
The 4.6-liter supercharged Ford V8 was swapped for an in-house 4.7-liter, twin-supercharged unit making a titanic 806hp. In order to get all that power to the road, a small rear spoiler needed to be installed following a very infamous accident.
Winter's latest Photo Challenge wants you to go and find a friend at the festival. #BuddyUp tasks you with taking a picture with another player or a Drivatar that can be found driving around the map. Championship prizes up for grabs include more cars that are too powerful to cope with the snow and ice, including the Ford Mustang RTR Spec 5 and Ford Fiesta Global Rallycross car.
One prize that straddles between being suitable for the snow and too much is the 2018 Mercedes-AMG GT 4-door.
With the GT sports car giving the 911 a headache, AMG decided to give its sports car a dose of extra practicality by creating this swooping fastback. Using the same 4.0-liter, twin-turbocharged V8 as the 2-door, the sedan receives a boost to 630hp, making it AMG's most powerful four-door ever.
In order to not drive everywhere destroying its own tires, the GT comes with an advanced four-wheel drive system allowing for monstrous all-weather ability. If needed, you can also make the GT rear-wheel drive to give yourself a wakeup call.
You'll have to win the "AWD Spotlight" championship to get the GT sedan into your garage.
Another Showcase Remix returns for Winter with "Morning Rush". For this, you'll be racing Isha's Austin taxi against the famous Flying Scotsman in a duel to the center of Edinburgh.
More Super7 cards are also waiting should you choose to tackle more unpredictable challenges. Finish all seven and you'll win an HSV GTSR.
Events and prizes for Winter can be found below:
Snowball Fighters
Series: Cross Country Series
Cars: Rally Monsters
Restrictions: S1 Class, 900 PI
Prizes: 15,000 CR, 25,000 CR, Ford Fiesta #14 Global Rallycross
Ford Cup
Series Road Racing Series
Cars: Ford
Restrictions: A Class, 800 PI
Prizes: 15,000 CR, 25,000 CR, Ford Mustang RTR Spec 5
AWD Spotlight
Series: Road Racing Series
Cars: AWD cars
Restrictions: S1 Class, 900 PI
Prizes: 15,000 CR, 25,000 CR, Mercedes-AMG GT 4-door
The Trial: Natural Habitat (Co-Op Championship)
Series: Dirt Racing Series
Cars: Volvo V60 Polestar
Restrictions: B Class, 700 PI
Prizes: Chevrolet Colorado ZR2
Winter Games – Series 52
Series: Playground Games
Cars: Rally Monsters
Restrictions: S1 Class, 900 PI
Prizes: Mexican Hat Dance horn
Super7 – Winter
Completion Prize: Holden HSV GTSR
The Roman Mile Speed Trap
Mudkickers' Showjump Danger Sign
Season Objective: 715.2ft
Derwent Water Speed Zone
Forzathon Events
It's time to pack some winter gear because this week's Forzathon was built for these snowy conditions as the spotlight turns to the 2019 Ford Ranger Raptor. Climb into this trail-bashing truck and head out to face the elements.
Next, push your suspension to the absolute edge by earning a total of 10 Crash Landing Skills off any jumps you can find. After that, use all your skills to earn a very tricky Barrel Roll Skill with this lumbering truck.
To finish up the challenges for this week, head off to the races and take victories in five events for any discipline that you choose.
Forzathon Shop
Hypercars and snow don't tend to mix well, yet there are two available in the shop this week, starting with the 2019 McLaren Speedtail.
Joining the Senna in the Ultimate Series range, the Speedtail offers a different approach by forgoing lap times and downforce in favor of a more luxurious experience. The Speedtail also intends to invoke the spirit of the old longtail McLaren F1 thanks to its slippery body. Inside sees more nods to the F1 with a three seater layout and a central driving position.
To give the Speedtail hypercar credentials, the powertrain consists of a 4.0-liter twin turbocharged V8 mated to a hybrid system. Combined power is 1,036hp, and the low drag body will help push the Speedtail to 250mph, making it the fastest and most powerful McLaren ever.
At 599 Forzathon Points, the McLaren is a deep investment, but you can show that Britain can keep up with the best from Bugatti and Koenigsegg should you buy one.
Those after a supercar that really stands out will love the 2008 Lamborghini Reventon Forza Edition.
One of the most exclusive models to come from the Raging Bull, the Reventon showcased extremely angular styling based on military stealth fighters. Even the dashboard inside features an all digital display that can mimic aircraft dials.
Under the carbon skin sits the familiar mechanicals of the Murcielago, meaning a howling 6.5-liter V12 making 641hp, adding further drama to the already wild looks. This special Forza Edition also comes with a boost for those earning Credits.
The Reventon FE is a very cheap proposition at 250FP, and is practically a steal for one of the rarest cars in the game.
Clothing and novelty items this week are the Golden Leather Jacket and the Sleepy emote.
See more articles on Forza Horizon 4 Season Change.