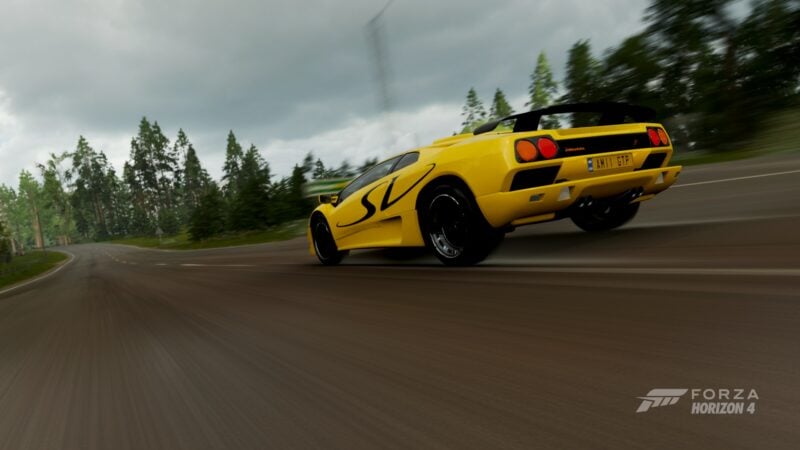 Flowers are blooming and the sun is shining as a new Spring season gets underway in Forza Horizon 4. As the 10th Anniversary celebrations are kicking off in Mexico, those in the UK are nearing the end of Series 53 with a final push to grab the last batch of current content.
Classic sports cars take charge as the main theme of this week's prizes, along with some more modern machinery thrown in too. There's also more rewards available for finishing 50% and 80% of the latest seasonal playlist.
Looking Back in Anger
Leading the playlist completion prizes for Spring is the 1968 Alfa Romeo 33 Stradale.
An extremely exclusive machine with just 18 units made, this tiny supercar arrived hot on the heels of the Lamborghini Miura. Often seen as one of the prettiest cars ever made, the 33 also comes with racing pedigree.
Its diminutive body hides a 2.0-liter V8 making 245hp and revs to a stratospheric 9,500rpm. With a super light weight of just over 1,500 lb, the 33 Stradale is quick even by the standards of today. Throw all your tuning knowledge at the Alfa and you'll also create an all-conquering monster for the drag strip.
Joining the Alfa is the 1988 Mitsubishi Starion ESI-R. In the years before the Lancer Evo became the marque's flagbearer, Mitsubishi's sporting llineup was crowned by the Starion. Although there is often conflicting messages about whether the name was a mistranslation, this 80s coupe still went on to become a sleeper cult hit.
Under the hood lies a 2.6-liter turbocharged engine making 188hp, sending power to the rear wheels. The Starion would go on to have a successful career in touring car racing, and a four-wheel drive prototype even tackled the grueling Dakar rally.
Rounding off the Photo Challenges for Series 53, we're staying over at Bamburgh Castle. #MiniCarMassiveCastle wants you to snap any Mini in or around the castle grounds. Use the original Mini to make the size difference even more apparent. Spring seasonal championship prizes feature both classic and modern performance monsters such as the Koenigsegg Regera and Ferrari 365 GTB/4
A big prize to shoot for is the 1997 Lamborghini Diablo SV. The Super Veloce variant of the Diablo is seen as one of the last old-school Lambos before Audi took over.
Ripping out the four-wheel-drive system from the VT helps to unleash the vicious nature of the raging bull, meaning any driver will need to be on top of their game to get the best out of it. The 5.7-liter V12 has also been upgraded to 530hp, giving much needed bark to go with the Diablo's uncompromising bite.
You'll have to win the "Diablo in Disguise" championship in order to bring this bull home.
There's also the return of another Showcase Remix to see out the current series. "Supersonic vs Superfast" puts you in the aptly titled Ferrari 812 Superfast for a duel to the festival against a Deltawing aircraft.
Although the latest series is about to end, the Super7 challenges don't stop. Complete the latest set of seven cards and you'll receive a Peugeot 205 Forza Edition.
Events and prize list for Spring is below:
Ghost Classics
Series: Road Racing Series
Cars: Rare Classics
Restrictions: B Class, 700 PI
Prizes: 15,000 CR, 25,000 CR, Ferrari 365 GTB/4
Spooky Good Time
Series: Road Racing Series
Cars: Hypercars
Restrictions: S2 Class, 998 PI
Prizes: 15,000 CR, 25,000 CR, Koenigsegg Regera
Diablo in Disguise
Series: Road Racing Series
Cars: Retro Supercars
Restrictions: A Class, 800 PI
Prizes: 15,000 CR, 25,000 CR, Lamborghini Diablo SV
The Trial: Snake in My Boot (Co-Op Championship)
Series: Cross Country Series
Cars: American cars
Restrictions: A Class, 800 PI
Prizes: Shelby Cobra 427
Spring Games – Series 53
Series: Playground Games
Cars: Rally Monsters
Restrictions: S1 Class, 900 PI
Prizes: Ford Fiesta RS WRC
Super7 – Spring
Completion Prize: Peugeot 205 FE
Slate Quarry Speed Trap
Northbound Danger Sign
Season Objective: 738.2ft
Nether End Speed Zone
Forzathon Events
Enter a golden age of hot hatches for this weeks Forzathon, as Retro Hot Hatches are in the spotlight. Pick any pocket rocket at your disposal and hit the streets to get started.
Next up, you'll need to use all of your tuning know-how as you need to earn a total of 25 Ultimate Speed Skills. After that, tear up the races as you'll need to cruise to victory in three Street Scene events.
Bring the curtain down on the series by testing your hot hatch agility to the limit and earning a total of 3 stars from Speed Zones.
Forzathon Shop
Toyota and Volkswagen both comandeer the shop for this week, featuring two performance variants of humdrum cars from very different eras, starting with the 1974 Toyota Corolla SR5.
The second generation of Toyota's best selling model also marked the brand's move into international markets. Domestically, the SR5 coupe was sold as the Corolla Levin, along with a fastback Sprinter version. The lineage would ultimately culminate in the AE86 in the 1980's.
There's mild tweaks over base Corollas for the SR5, including some changes to the suspension and flared arches. Under the hood is a 1.6 liter engine making just 88hp. Give the engine some fettle and you can turn it into a serious machine for tearing through back roads.
You'll need a lot of money for the Corolla as it'll set you back 599 Forzathon Points. If you're in need of a car with some style compare to the boxy Datsun 510, then the Corolla is the answer.
If you're after a modern all-weather family hatchback, then look no further than the 2010 Volkswagen Golf R.
The sixth generation Golf flagship also marked a big change over the R32 it replaced. In order to reduce weight and improve efficiency, the heavy 3.2 liter V6 was dumped for a 2.0-liter turbocharged four-cylinder.
However, power has gone up to 265hp, plus the lighter weight means faster acceleration. With a recalibrated four-wheel drive system for better handling, this Golf will demolish country roads in any weather without breaking a sweat.
At 350 FP, the Golf is reasonably affordable, plus you'll save a lot of effort over trying to get one in Wheelspins.
Clothing items for this week are the Metallic Tank Top and Yellow Biker Gloves.
See more articles on Forza Horizon 4 Season Change.