Darker nights and spooky creatures roam the streets as another Autumn season makes itself known in Forza Horizon 4. Halloween is just around the corner and there's plenty of treats on offer in the latest events.
The majority prize theme this week is grand tourers, as well as more rewards to be claimed from completing the seasonal playlist to 50% and 80%.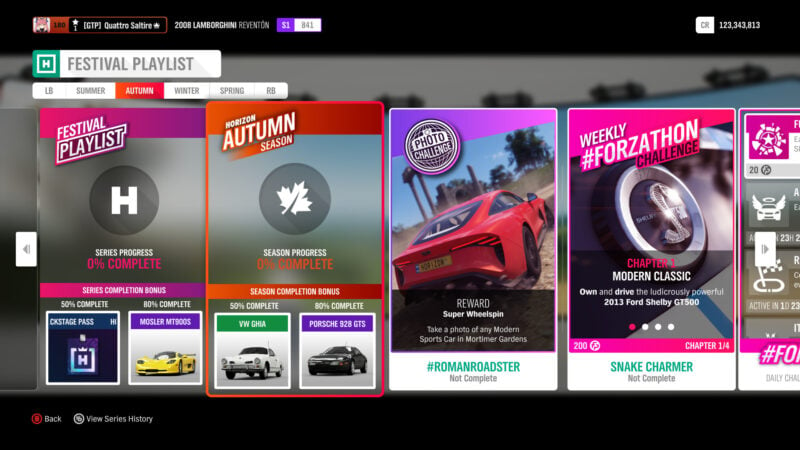 Ghoulish Cruising
Taking the lead for seasonal completion prizes is the 1967 Volkswagen Karmann Ghia.
VW's flagship coupe was conceived to target emerging sporting markets, and was designed by the Italian powerhouse of Ghia. The stylish bodywork was crafted by the German coachbuilders at Karmann and still draws interested looks even today.
Its mechanicals come from the much more humble Beetle, meaning there is a rear-mounted, 1.5-liter flat-four making just 53hp. However, the Ghia was never made with performance in mind and will quite happily cruise along the coastline.
Those after a long distance cruiser with more punch can look to the 1993 Porsche 928 GTS.
Built with the intention of replacing the 911 in the American market following complaints about that car's dangerous handling, the 928 was Porsche's flagship model and one of the most expensive road cars it sold. However, the 911 maintained a stronghold and the 928 never gained much success in sales.
This GTS variant is the final iteration of the 928 and comes with a muscular 5.4-liter V8 putting out 345hp. With the GT credentials, Porsche's chassis gurus ensured the 928 still goes and handles like a true sports car.
We're heading off to Mortimer Gardens for the latest Photo Challenge. #RomanRoadster wants you to snap a clash of ages with a Modern Sports Car at the historic site. Championship prizes include a mix of Ken Block cosmetics and cars including the Auto Union Type D and Volkswagen Type 3 1600L.
A highlight of the rewards pool is the 2015 Lexus RC-F.
When the M3 coupe became the M4, Toyota needed to respond in kind, resulting in the creation of the RC-F. Unlike its German rivals, the RC-F eschews turbochargers in favor of the venerable free breathing 5.0 liter V8 making 467hp. While it might outpower an M4, the RC-F's rather portly weight of close to 4,000lb put the advantage back in favor of the Bavarian.
In order to claim the RC-F, you'll have to win the "Family Car Frenzy" championship.
Super7 will provide you with many tricks this week with more unpredictable challenges. If you can finish all seven cards, you'll get the treat of a McLaren F1 GT.
Events and prizes list for Autumn is below:
Power on the Prairie
Series: Dirt Racing Series
Cars: Modern Muscle
Restrictions: A Class, 800 PI
Prizes: 15,000 CR, 25,000 CR, Ken Block Race Suit
Racing Through the Years – 60s
Series: Cross Country Series
Cars: 1960s cars
Restrictions: C Class, 600 PI
Prizes: 15,000 CR, 25,000 CR, Volkswagen Type 3 1600L
Family Car Frenzy
Series: Dirt Racing Series
Cars: Super Saloons
Restrictions: A Class, 800 PI
Prizes: 15,000 CR, 25,000 CR, Lexus RC-F
The Trial: Out of Retirement (Co-Op Championship)
Series: Road Racing Series
Cars: Vintage Racers
Restrictions: B Class, 700 PI
Prizes: Auto Union Type D
Autumn Games – Series 54
Series: Playground Games
Cars: Vans and Utility
Restrictions: A Class, 800 PI
Prizes: Ken Block Helmet
Super7 – Autumn
Completion Prize – McLaren F1 GT
Ambleside Edge Danger Sign
Season Objective: 984.3ft
Hythe House Speed Trap
Brookside Speed Zone
Forzathon Events
Forzathon this week puts the spotlight on a car with a dangerous snake bite: the 2013 Ford Mustang Shelby GT500. Hop into this supercharged beast and make some noise as you get started.
Up next, head to the Mustang's natural territory and storm your way to victory in 3 Drag Strip events. After that, turn all 662hp into tire smoke as you'll need to earn a dizzying total of 1 million Skill Score.
Finally, show that the Shelby can walk the walk in the corners as well by winning a Road Racing Series event over at Lakehurst Forest Sprint.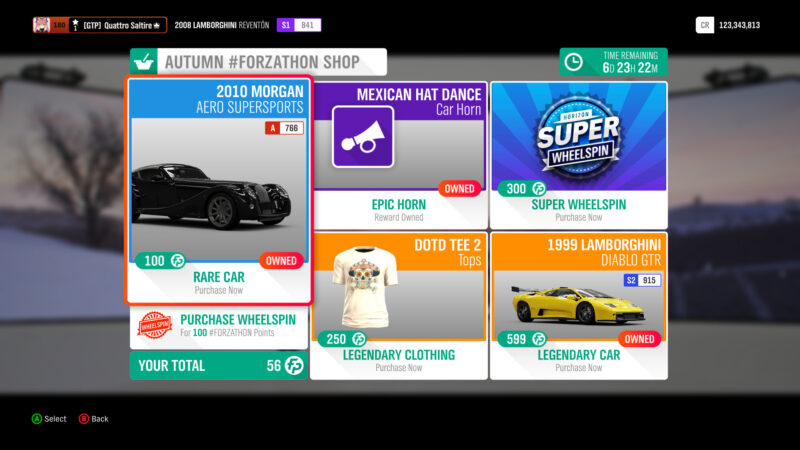 Forzathon Shop
Two different cars that channel a very old school feel when it comes to driving are waiting in the shop this week, kicking off with the 2010 Morgan Aero Supersports.
This machine may look like it came from the 1950s, but underneath its classical tenure, the Aero SS brings thoroughly modern performance credentials. Depsite the frame being assembled from wood, the bonded aluminium chassis helps provide extra rigidity. Thanks to this combination of strong, light materials, the targa-top Aero SS weighs in at just over 2,700 lb.
Giving this British staple some serious firepower is a quintessentially German 4.8-liter V8 sourced from BMW. At 362hp, it may not be the most powerful compared to rivals, but it still manages to stand out in its own unique way.
The Morgan is a bargain at just 100 Forzathon Points, allowing you a tempting left-field choice when it comes to British sports cars.
Lamborghini's old school offering comes in the form of the 1999 Diablo GTR.
The most extreme iteration of one of the most iconic bulls was built to be homologated for Lambo's one-make racing series. The extensive modifications focus largely on the chassis and handling, with completely reworked suspension and an aggressive racing aero kit for added downforce.
The 6.0-liter V12 gets more mild tweaks, but power still goes up to 590hp. The Diablo's four-wheel-drive system has also been ripped out to aid in agility and reduce weight.
You'll need more money saved up for the Diablo as it costs 599FP. But, if you're after a raging bull that may not immediately try and bite you, then this Lambo can be one you'll have an easier time taming.
Latest clothing and novelty items are the Mexican Hat Dance horn and the Day of the Dead Tee 2.
See more articles on Forza Horizon 4 Season Change.