Sunshine and rain showers around the UK are the ideal recipe for a new Spring season in Forza Horizon 4. The end of Series 54 is in sight and players around the festival are mounting one last assault to grab the remaining content up for grabs.
Big power is the order of the day for the prize pool, plus there's more rewards for completing the 50% and 80% progress objectives for the seasonal playlist.
Mud Running
There's one car in the playlist completion prizes for Spring: the 2018 Lamborghini Huracan Performante.
In an effort to bring the rather conservative Huracan up to par for what a Lambo should be, the Performante undergoes significant changes everywhere. A crash diet strips 88lb from the Huracan's weight and the 5.2-liter V10 has been boosted to 640hp.
The biggest changes come from a new active aerodynamics system. Despite having a fixed rear wing, the Performante uses active flaps in the front and rear to redirect air for more downforce or less drag. It can even alter which side needs more downforce when under hard cornering.
There's also another Horizon Backstage Pass available if you're after anything more exclusive.
Bringing the curtain down on the Photo Challenges is the rather oxymoronic #DriveLikeTheWind. For this objective, you'll need to snap a thirsty Hypercar over at the clean, efficient Moorhead Wind Farm. Over with the seasonal championships, prizes feature heavy hitters such as the Maserati MC12 Corsa and Hoonigan Ford Escort.
One notable prize to aim for is the 2016 Lamborgini Aventador SV. Taking the bonkers Aventador to a higher level is no mean feat, but the latest SuperVeloce adds a new layer of insanity.
Cutting weight from the big bull by 110lb helps to add greater agility to a car trying to shed the danger factor in its handling that followed its ancestors. The firepower comes from the operatic 6.5-liter V12 that gets an upgrade to produce 740hp. Coupled with better aerodynamics and this bull may not try and kill you so easily.
In order to get the SV, you'll need to win the "Lambing Season" championship.
Rounding out playlist events is the return of a Showcase Remix. "Taxi for Takeoff" will see you strapped into Isha's Austin taxi for a duel against a Deltawing aircraft.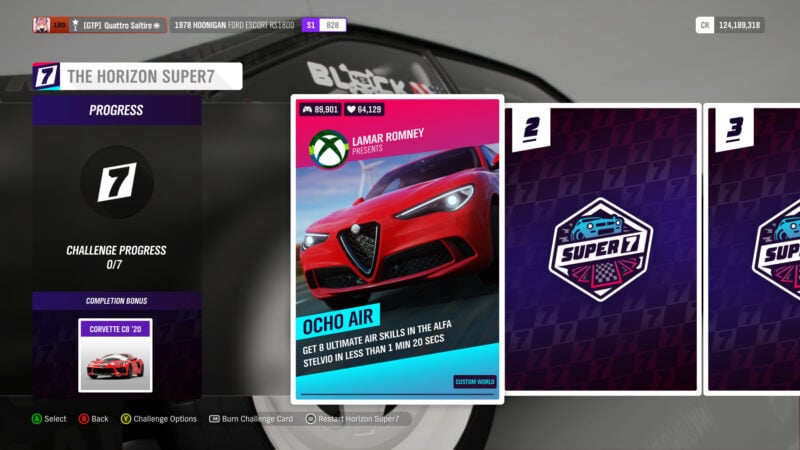 Despite Series 54 ending, Super7 continues to provide new challenges. If you finish all seven cards, you'll get a 2020 Corvette C8.
Spring events and prizes are below:
Lambing Season
Series: Cross Country Series
Cars: Lamborghini Urus, Lamborghini LM002
Restrictions: A Class, 800 PI
Prizes: 15,000 CR, 25,000 CR, Lamborghini Aventador SV
The Dirty Derby
Series: Dirt Racing Series
Cars: Retro Rally
Restrictions: B Class, 700 PI
Prizes: 15,000 CR, 25,000 CR, Hoonigan Ford Escort RS1800
Racing Through the Years – 80s
Series: Cross Country Series
Cars: 1980s cars
Restrictions: 600-800 PI
Prizes: 15,000 CR, 25,000 CR, 1988 BMW M5 FE
The Trial: Aston Martin Cup (Co-Op Championship)
Series: Street Scene
Cars: Aston Martin
Restrictions: S1 Class, 900 PI
Prizes: Maserati MC12 Versione Corsa
Spring Games – Series 54
Series: Playground Games
Cars: Offroad
Restrictions: A Class, 800 PI
Prizes: Frog Wellies
Super7 – Spring
Completion Prize: 2020 Chevrolet Corvette
Old Town Speed Trap
Open-cast Cliff Danger Sign
Season Objective: 984.3ft
Toft Speed Zone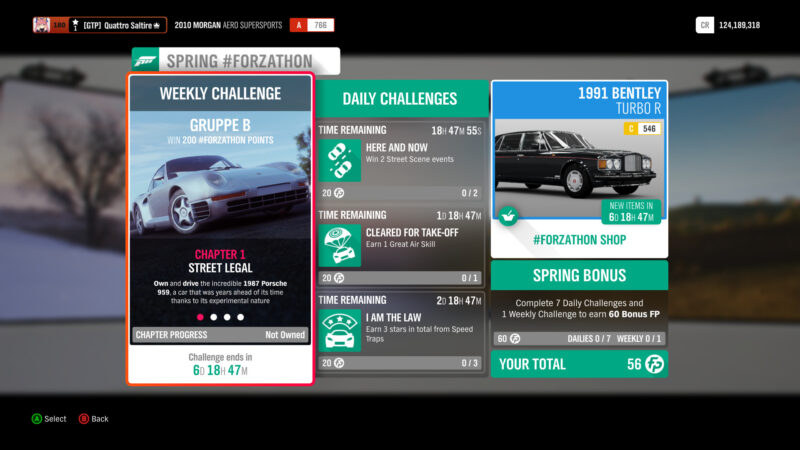 Forzathon Events
Forzathon takes its spotlight onto one of the most technologically advanced road cars ever to come out of the 1980s, the 1987 Porsche 959. Jump aboard this iconic tech powerhouse to get rolling.
Next, show of the 959's surprising rally pedigree by charging to victory in 3 Dirt Racing Series Trail events. After that, demonstrate the 959 is just as good on tarmac and put its tech wizardry to the test by winning 2 Street Scene races.
Finally, finish up the weekly challenges by showing no fear and earning a total of 10 Ultimate Near Miss Skills.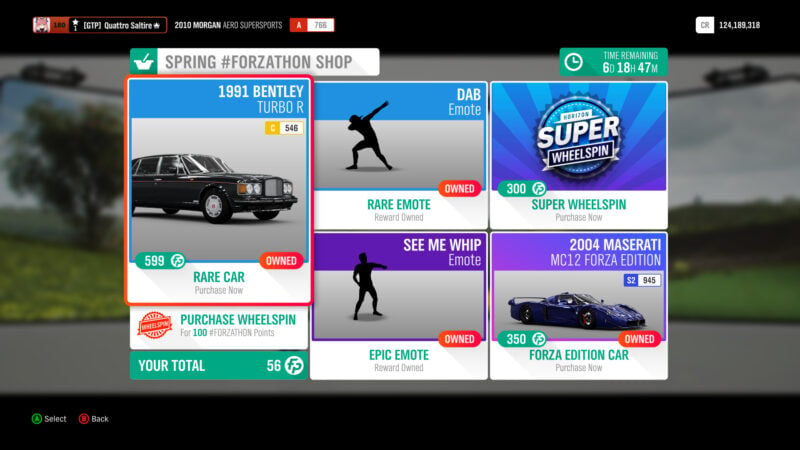 Forzathon Shop
Cars built for those with expensive tastes are in the shop this week, with the very stately Bentley Turbo R taking center stage.
Despite being the most powerful Bentley in the range, this is still all about opulence. Drive along and you'll likely never notice any of the changes that were made to the handling as carving through corners was never the forte.
Coming from an era where Bentley and Rolls-Royce were under the same roof, the Turbo R uses an old school 6¾-liter turbocharged V8 with 330hp. It'll need that power considering it weighs over 5,300lb with all that wood, leather, and shag-pile carpets.
You'll need to scrape together 599 Forzathon Points for the Bentley, but you'll get a properly British statement about luxury with this if you find the German nature of modern Bentleys not up to your taste.
If you have expensive tastes and a need to go fast, then look towards the Maserati MC12 Forza Edition.
When Fiat took control of Maserati it wanted to give the brand a halo supercar, leading to the creation of the MC12. It also primarily served as a road homologation for its GT1 race car.
The chassis and mechanicals come from the Ferrari Enzo, meaning a 6.0-liter V12 putting out 630hp. However, better aerodynamics means the MC12 can outpace an Enzo round a track. The Forza Edition also comes with a Speed Skills boost.
At 350 FP the Maserati is a lot cheaper to pick up, and is also a must-have due to its rarity.
Novelty items for purchase are the Dab and See Me Whip emotes.
See more articles on Forza Horizon 4 Season Change.