For many Americans, this week is a time of giving thanks, but for those at the UK Horizon Festival the time has come for a new Autumn season to begin in Forza Horizon 4.
There's homologation specials to be won in the prize pool, plus more goodies can be obtained by completing the seasonal playlist to 50% and 80%.
Roast Dinner
Prizes for the playlist completion are on the lighter side this week, but if you're keen to get some festive cheer for your wardrobe, a Santa outfit is up for grabs.
There's a Horizon Backstage Pass as well if you are in need to go searching for a car at the festival.
Autumn's Photo Challenge takes us on an #AmblesideAdvent. Here you'll need to snap any car that you're driving down in the quaint village of Ambleside. The championship prize pool is all about homologation specials, featuring legends such as the Holden VL Commodore and 1992 Toyota Celica.
The main highlight of the championship prizes is the 1974 Lancia Stratos HF Stradale. This diminutive machine is often seen as one of the greatest Lancias ever made and holds legendary status in its motorsport pedigree.
In the beginning years of the World Rally Championship, it would claim three constructor's titles between 1974 and 1976. The key to the Lancia's success comes from a 2.4-liter V6 sourced from Ferrari and making 190hp. With a very short wheelbase, the Stratos was known for incredibly agile yet twitchy handling, so you'll need to be in top form to get the best out of it.
To obtain the Stratos, you'll need to win the "Solstice Showdown" championship.
Super7 continues to provide surprises and creativity from the community. If you can finish each of the seven cards, you'll win a Formula Drift Nissan 370Z.
Autumn's events and prize list is below:
Honda Holiday
Series: Dirt Racing Series
Cars: Honda
Restrictions: A Class, 800 PI
Prizes: 15,000 CR, 25,000 CR, "Happy New Year!" chat phrase
Solstice Showdown
Series: Dirt Racing Series
Cars: Volvo
Restrictions: 100-800 PI
Prizes: 15,000 CR, 25,000 CR, 1974 Lancia Stratos HF Stradale
Rally Around the Christmas Tree
Series: Dirt Racing Series
Cars: Retro Rally
Restrictions: B Class, 700 PI
Prizes: 15,000 CR, 25,000 CR, 1992 Toyota Celica
The Trial: Flex Your Muscle (Co-Op Championship)
Series: Street Scene
Cars: Modern Muscle
Restrictions: S1 Class, 900 PI
Prizes: Holden VL Commodore Group A
Autumn Games – Series 55
Series: Playground Games
Cars: French cars
Restrictions: B Class, 700 PI
Prizes: "Ho! Ho! Ho!" chat phrase
Super7 – Autumn
Completion Prize: Nissan 370Z #64 Formula Drift
Derwent Reservoir Speed Trap
Rannoch Shelf Danger Sign
Toft Speed Zone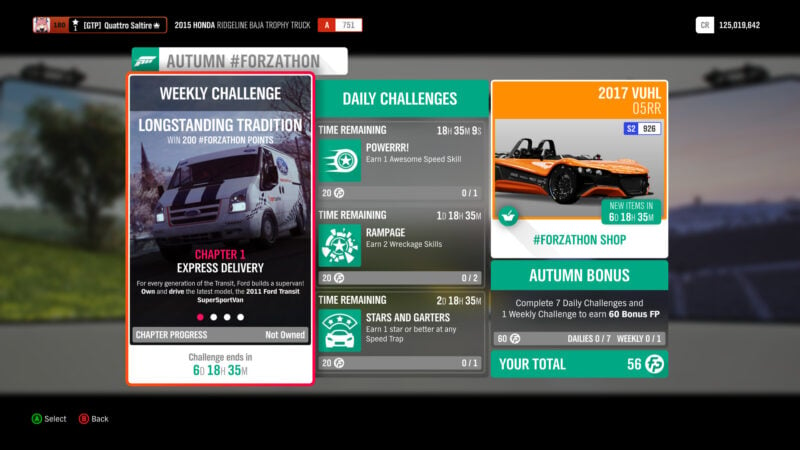 Forzathon Events
The latest challenges for Forzathon focus on what is likely the ultimate British workhorse: the 2011 Ford Transit SuperSportVan. Climb aboard this staple of commercial vehicles to get things rolling.
Next, prove you can be the fastest delivery driver against the competition by running to victory in two Road Racing Series Sprint events. After that, cause some destruction by earning a total of 8 Binman skills.
Wrap up the season by putting the hammer down and letting traffic know who rules the road as you'll need to earn 10 Trading Paint skills.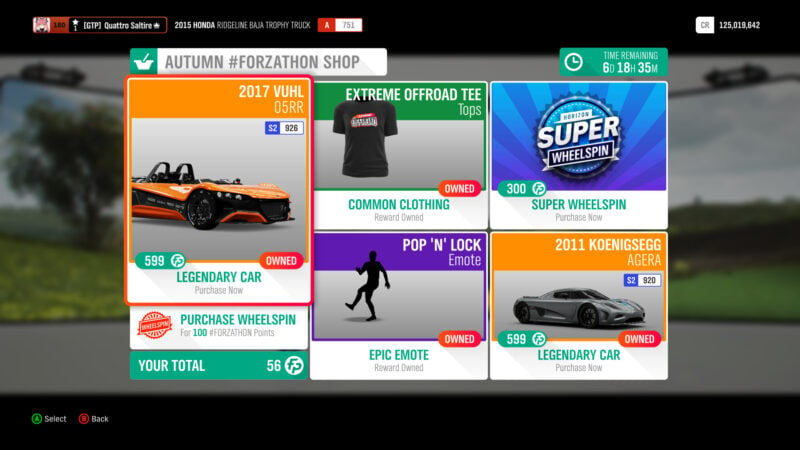 Forzathon Shop
Mexico and Sweden take the reins in the shop this week, with the 2017 VUHL 05RR taking to center stage.
Entering into the hardcore trackday toys market, VUHL intends to square up to established players from Caterham and Ariel, with the 05 certainly making a good case for itself. The RR variant takes the aggression a step further with aerodynamic enhancements to boost downforce on circuit. This particular spec of the 05RR also competed in the 2017 Race of Champions in Mexico.
Lack of weight is key to the performance of the VUHL, as it tips the scales at a whisker under 1,600lb. Normally such low weight shouldn't require a lot of power, but the 05RR's 2.3 liter turbocharged Ford engine makes a hefty 385hp, meaning you'll need the reflexes of a racing driver to bring out its full potential.
The VUHL is a hefty investment at 599 Forzathon Points, but it serves as an exciting left-field alternative to the superlight establishment.
If you're in need of even more power than before, then look towards the 2011 Koenigsegg Agera.
Replacing the bonkers and quite dangerous CCX is no mean feat, but the Agera keeps the madness whilst adding new levels of sophistication.
The core carbon chassis may remain the same, but the 4.7-liter twin supercharged V8 engine has been switched for a 5.0-liter twin-turbocharged unit. As a result, this "base" Agera packs a vicious 950hp, allowing it to reach speeds of 250mph. There's also a fixed rear spoiler to ensure that power gets to the road which has become a staple feature on Koenigseggs since the CCX accident.
While the Agera is also 599 FP, it comes with the ability to embarass Bugatti in both a drag race and in corners.
Novelty items and wardrobe additions are the Extreme Offroad t-shirt and the Pop 'n' Lock emote.
See more articles on Forza Horizon 4 Season Change.