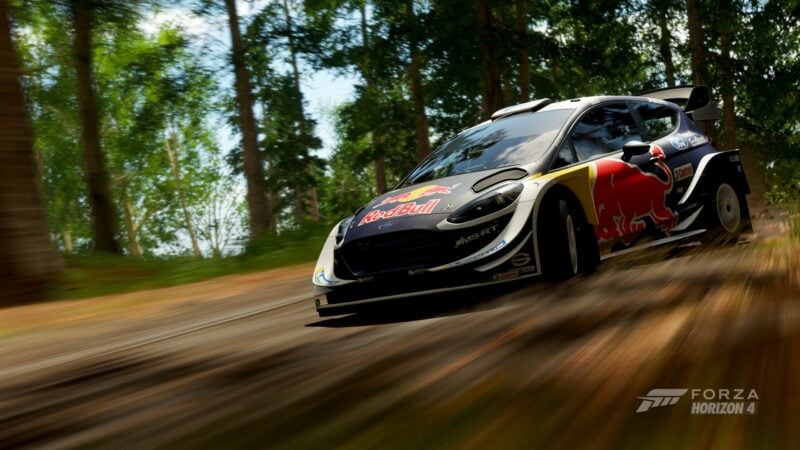 The countdown to Christmas is on, and Forza Horizon 4 is kicking off the preparations with a brand new Summer season. We're now into Series 56, meaning that there is a freshly baked remix of content across the festival that will help see players into the new year over the next four weeks.
Speed is the order of the day in terms of rewards, plus there's more tempting prizes for completing 50% and 80% on both the full and seasonal playlists.
Fast and Furious
One car headlines the seasonal completion rewards for this week: the 2003 Porsche Carrera GT.
Porsche's flagship supercar gained both an iconic and infamous reputation during its tenure. It used an old-school approach to engineering when rivals such as the Ferrari Enzo were leaning more towards technology. The 5.7-liter V10 was salvaged from an abandoned Le Mans project and makes a hefty 605hp through a six-speed manual gearbox.
However, the Carrera GT was also known for being very dangerous to drive fast. It was so violent that it even scared the legendary Walter Rohrl.
Joining the Carrera GT is its immediate predecessor, the 1998 911 GT1 Strassenversion.
Despite having 911 in its name, this car shares almost nothing in common with the rear-engined icon. This 911 was built as a homologation model for GT1 racing and is often accused of bringing about the decline of the category.
With a body optimized for aerodynamics and a mid-engined layout, the GT1 is unlike any 911 that came before it. The firepower comes from a 3.2-liter, twin-turbocharged flat-six making 536hp and enough performance to trouble supercars even today.
There's another pair of Horizon Backstage Passes available for anyone wanting harder to find cars from the festival.
Kicking off the Photo Challenges for Series 56 is #RoyallingStones. For this objective, you'll need to snap any Aston Martin over by the Standing Stones. Summer's championship prizes include weapons such as the Porsche 917 LH and Ford Fiesta RS WRC.
A highlight of the prize pool comes in the form of the indomitable Bugatti Chiron. Replacing the Veyron is no mean feat, but Bugatti has engineered the Chiron to raise the bar even higher in every way. The 8.0-liter, quad-turbocharged W16 is carried over from the Veyron SS, but has been further tweaked to produce 1,479hp. With a long enough straight, the Chiron will surpass the old Veyron in terms of top speed.
To claim the Bug, you'll need to win the "Hype Tour" championship.
A Showcase Remix is also on hand for Summer. "Night Flight" straps you into a Lamborghini Countach for a duel in the dark against a Deltawing aircraft. The newest Monthly Rivals will have try and tame the Ford RS200 over at the Railyard Cross Country Circuit.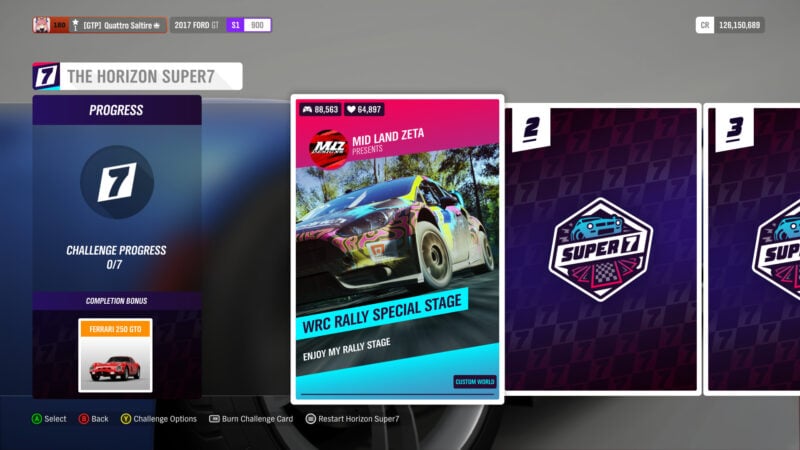 Horizon has shuffled its Super7 deck and more cards are now available to try out. Complete all seven and a Ferrari 250 GTO will be on its way to you.
Summer events and prize list is down below:
Hype Tour
Series: Road Racing Series
Cars: Hypercars
Restrictions: S2 Class, 998 PI
Prizes: 15,000 CR, 25,000 CR, Bugatti Chiron
Summer Developer Championship
Series: Dirt Racing Series
Cars: Modern Rally
Restrictions: B Class, 700 PI
Prizes: 15,000 CR, 25,000 CR, Ford Fiesta RS WRC
Saloony Tunes
Series: Street Scene
Cars: Super Saloons
Restrictions: A Class, 800 PI
Prizes: 15,000 CR, 25,000 CR, Clown Mask
The Trial: Porsche Cup (Co-Op Championship)
Series: Road Racing Series
Cars: Porsche
Restrictions: S2 Class, 998 PI
Prizes: Porsche 917 LH
Summer Games – Series 56
Series: Playground Games
Cars: Offroad
Restrictions: C Class, 600 PI
Prizes: RJ Anderson #37 Polaris RZR Pro 2 Truck
Super7 – Summer
Completion Prize: Ferrari 250 GTO
Horizon Drag Strip Speed Trap
Mam Tor Danger Sign
Season Objective: 1,010.5ft
Ambleside Approach Speed Zone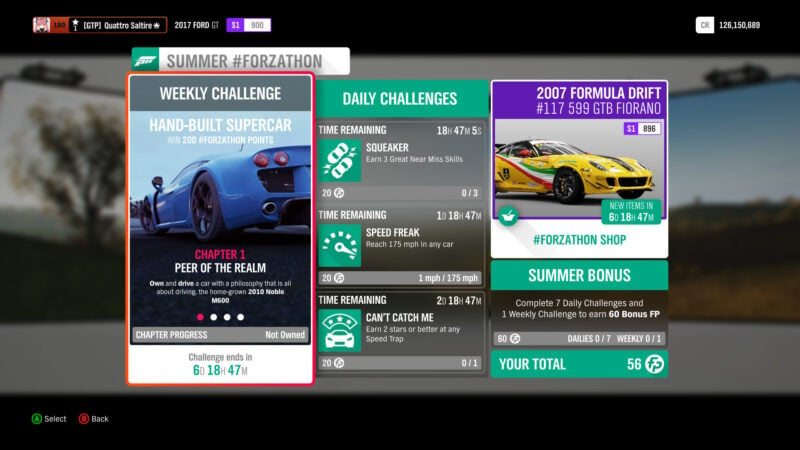 Forzathon Events
Forzathon shines its spotlight on a very obscure but punchy British supercar: the 2010 Noble M600. Climb aboard this fighter and head out to get things rolling.
Next up, let the Noble stretch its legs by taking it for a drive around the UK. With 650hp on tap, the 10-mile objective will be gone in a flash. Afterwards, showcase your best techniques and bring the M600 to heel in order to gain 15 stars from PR stunts.
Last but not least, push the twin-turbocharged V8 to the max and try to hit the Noble's claimed 225mph top speed.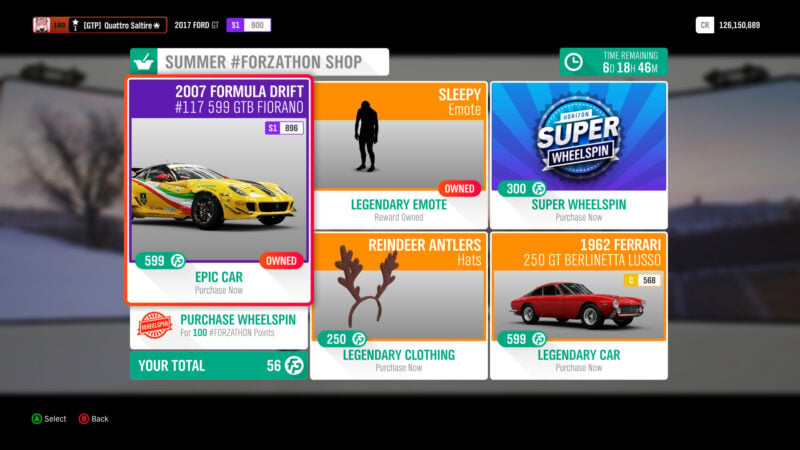 Forzathon Shop
Ferrari takes over the shop with a pair of cars both the racing and touring ends of the spectrum, with the rather unusual Formula Drift 599 GTB taking centre stage.
The 599 may not be the most ideal candidate for turning into a race car, but the world of drifting is not your average competition. Campaigned by Federico Sceriffo in Formula Drift, the 599 is one of the most unusual cars in the field.
Along with the wild body kit, the 6.0-liter V12 has been treated to a pair of superchargers to take power past 900hp. Whereas the standard 599 will slide for a while, this one will do it all day long.
Aptly, the drift 599 costs 599 Forzathon Points, giving you a breath of fresh air in drift circles amongst a sea of Nissan S-chassis and RTR Ford Mustangs.
A Ferrari of the more subdued kind is the 1962 250 GT Berlinetta Lusso.
Seen as Maranello's greatest achievement, the 250 GT perfectly encapsulates the philosophy of a grand tourer. Despite also seeing success in sports car racing, this prancing horse is all about looking good while cruising the riviera.
Supplying the power is a 3.0-liter V12 making 254hp, which may not seem like much, but a car of this caliber was never about high performance.
You'll need 599 FP for the 250 as well, but the upside is that you'll save millions of credits from buying one in the Autoshow.
This week's novelty items and avatar clothing includes the Sleepy emote and the Reindeer Antlers.
See more articles on Forza Horizon 4 Season Change.