Winter has settled across the UK once more, as festivalgoers are preparing to see off 2022 and welcome the new year in Forza Horizon 4. Along with the Hogmanay festivities, players are digging amongst the snow to grab the latest batch of prizes before 2023 arrives.
It's a balanced theme between offroaders and sports cars in the prize pool this week, coupled with a fresh pair of rewards for finishing 50% and 80% of the new Winter playlist.
Big New Year Party
One car is waiting to be claimed from the playlist completion prizes: the 1995 Porsche 911 GT2. This 993-generation model was the first to carry the GT2 name and was one of the wildest 911s ever made.
Initially built for GT2 sportscar racing, the 993 took a base 911 Turbo and removed the front driveshafts as part of homologation rules. Other usage of lightweight materials brought weight savings of close to 450lbs over the Turbo. The 3.6-liter, twin-turbocharged flat-six was boosted to produce 424hp, making it the most powerful of the air-cooled 911s. Unfortunately, the GT2 did gain an infamous reputation for unpredictable handling, earning it the moniker of "The Widowmaker".
If you're in need of a car from the festival before 2023, then there's another Horizon Backstage Pass available.
Winter's newest Photo Challenge wants you to take to the air in a rather unlikely brand. #LandingRover requires that you snap a Land Rover at the Greendale Airstrip. Add some drama to your pictures by launching your car airborne. The championship prize pool features some appropriate cars for the weather including the Porsche Cayenne and Ford F-150 Trophy Truck.
A highlight among the offroaders is the 2004 Honda Civic Type R. The EP3 generation of Honda's iconic hot hatch is regarded by many to be their greatest version.
With subtle side skirts and small roof spoiler, the Type R was a very restrained machine on the outside, but under the skin sits a buzzing 2.0-liter naturally aspirated VTEC engine kicking out 200hp. Paired to a close-ratio manual gearbox, this Type R demands that you thrash it everywhere and take the engine all the way to its 8,000rpm redline. When you do get to corners, the EP3's independent rear suspension will help to ensure you don't have chronic understeer.
In order to bring home the Civic, you'll need to win the "Cheap as Chips" championship.
You can also attempt a last blast of Super7 before the new year comes around with the latest set of cards. If you can complete all seven, you'll recieve a 2012 Ford Mustang Shelby 1000.
Winter events and prizes are listed below:
The Grocery Run
Series: Cross Country Series
Cars: Porsche Macan, Porsche Cayenne
Restrictions: A Class, 800 PI
Prizes: 15,000 CR, 25,000 CR, 2019 Porsche Macan Turbo
Cheap as Chips
Series: Dirt Racing Series
Cars: Base cost less than Cr. 25,000
Restrictions: B Class, 700 PI
Prizes: 15,000 CR, 25,000 CR, 2004 Honda Civic Type R.
Winter Developer Championship
Series: Cross Country Series
Cars: Extreme Offroad
Restrictions: S1 Class, 900 PI
Prizes: 15,000 CR, 25,000 CR, Ford F-150 #11 Trophy Truck
The Trial: My Way or The Broadway (Co-Op Championship)
Series: Dirt Racing Series
Cars: Rally Monsters
Restrictions: S1 Class, 900 PI
Prizes: Vokswagen Global Rallycross Beetle
Winter Games – Series 56
Series: Playground Games
Cars: Sports Utility Heroes
Restrictions: S1 Class, 900 PI
Prizes: 2012 Porsche Cayenne Turbo
Super7 – Winter
Completion Prize: Ford Mustang Shelby 1000
Astmoor Speed Trap
Rail Yard Ramp Danger Sign
Season Objective: 774.3ft
Coppice Speed Zone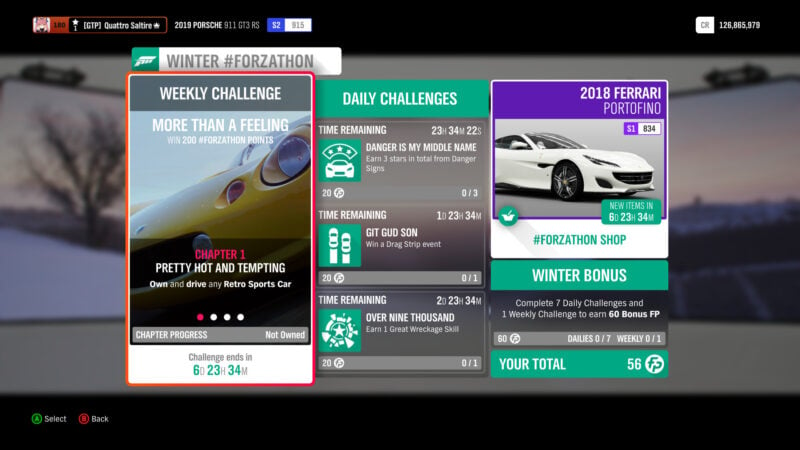 Forzathon Events
Take a step back in time for this weeks Forzathon as Retro Sports Cars are in the spotlight. Choose from one of the many classics in your garage and brave the elements to get started.
Next, take advantage of the slippery roads and slide your way towards earning a total of 9 stars in Drift Zones. After that, head off to the races and storm to victory in a Road Racing Series event over at Astmoor Heritage Circuit.
To finish things off for 2022, channel your inner gymkhana and use all of your driving technique to earn a total of 250,000 Skill Score.
Forzathon Shop
Two cars that are worlds apart are in the shop for this week, highlighted by the 2018 Ferrari Portofino.
Ferrari and "entry level" are two words that don't normally go together, but the positioning of the Portofino in Maranello's exotic range would qualify it for that role. Despite this, the California replacement doesn't skimp on performance. This grand tourer packs an updated version of the California's 3.9-liter, twin-turbocharged V8, now making 600hp, giving it serious supercar pace.
The Portofino is a bargain at just 100 Forzathon Points, giving you an excellent high speed cruiser with plenty of Italian flair.
If you're after a true "people's car" then the 1967 Volkswagen Type 3 1600L is the answer for you.
This particular Type 3 was nicknamed the Notchback thanks to its simple, squared-off rear design. It was pitched as a more upmarket variant of the classic Beetle with a greater focus on practicality.
The Notchback sits on the Beetle platform and shares its mechanicals, meaning a rear-mounted, 1.6-liter flat-four making 65hp. Although performance was never the forte of the Type 3, it did pave the way for VW's most well-known sedan, the Passat.
It'll set you back a dizzying 599 FP, but you'll get a unique piece of history that often gets forgotten about.
Clothing and novelty items up for grabs are the "In The Hall of The Mountain King" horn and Santa's Running Shorts.
See more articles on Forza Horizon 4 Season Change.