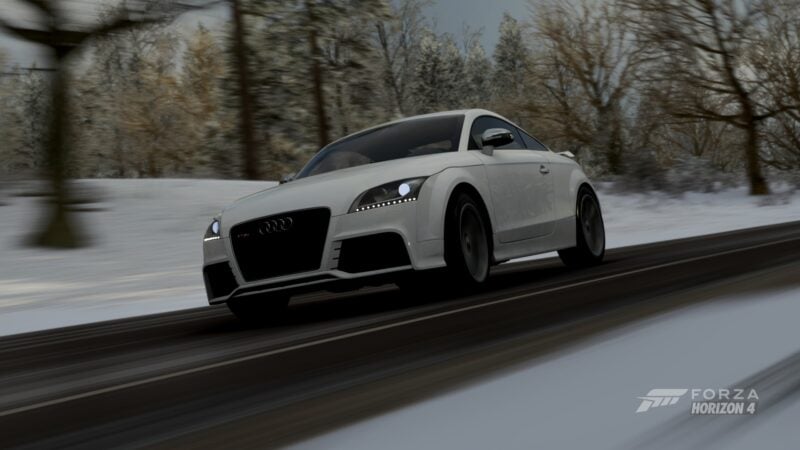 January may be in the closing stretches, but Winter has returned for another round in Forza Horizon 4. Through the blizzards and the snow drifts, everyone at the UK festival continues to battle through the elements in order to seek out the latest events.
This week's theme is catered towards cars that may not be best suited for the snow, plus more prizes are on offer for completing the 50% and 80% goals for the winter playlist.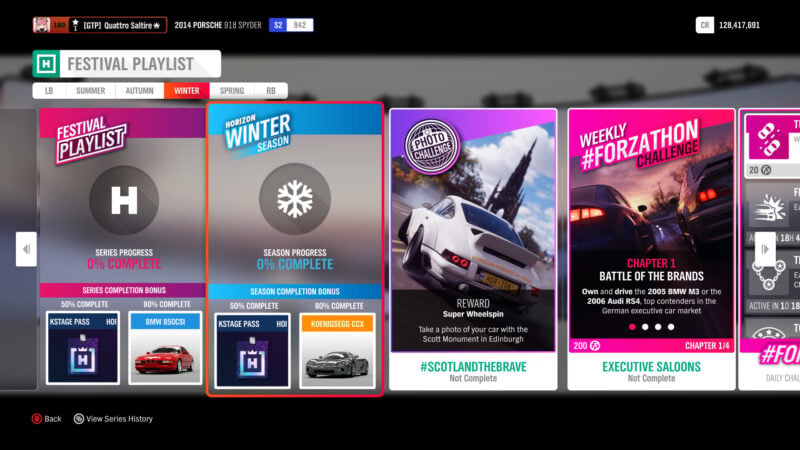 White Out
Just one car is in the spotlight for the Winter playlist completion rewards: the 2006 Koenigsegg CCX.
In order to keep its position towards the top of the hypercar ladder, the Swedish upstart made heavy revisions to its CCR including attempting to make it easier to live with.
The powertrain would suggest the opposite, as the Ford sourced-engine was replaced with a 4.7-liter, twin-supercharged V8 designed and built in-house. With 806hp on tap going to the rear wheels, a fixed rear spoiler needed to be added for stability following an infamous accident.
There's another Horizon Backstage Pass available as well if you still need to fill those empty garage spaces.
The Photo Challenge for this week sees you go right into the heart of Edinburgh. #ScotlandTheBrave wants you to snap any car you're driving over at the Scott Monument just off Princes Street. Winter's championship prizes feature machines ranging from the BMW M3 GTS to the Volkswagen Notchback.
A car that is somewhat more suited to the snowy conditions is the 2010 Audi TT RS.
The regular TT was made with style in mind, but the RS adds some extra muscle and lots of attitude. Some elements under the skin suggest a direct spiritual line back to the original Ur-Quattro. The engine is a 2.5-liter, turbocharged inline-5 putting out 335hp, giving it performance to nip at the heels of a V8 Audi R8. With quattro all-wheel drive, the TT can deliver healthy pace in any condition.
You'll need to win the "Getting Cold Street" championship to bring the TT home.
If you're looking for challenges across any season, Super7 has a new batch of cards lined up. Finish all seven and you'll receive a Koenigsegg CCGT.
Events list for Winter can be found below:
Power Struggle
Series: Road Racing Series
Cars: AMG vs M Sport
Restrictions: S1 Class, 900 PI
Prizes: 15,000 CR, 25,000 CR, BMW M3 GTS
Magic Number
Series: Road Racing Series
Cars: Peel Trident, Peel P50, Reliant Supervan, Morgan 3 Wheeler
Restrictions: D Class, 500 PI
Prizes: 15,000 CR, 25,000 CR, Volkswagen Notchback
Getting Cold Street
Series: Street Scene
Cars: Modern Sports Cars
Restrictions: A Class, 800 PI
Prizes: 15,000 CR, 25,000 CR, Audi TT RS
The Trial: The Triumvirate (Co-Op Championship)
Series: Dirt Racing Series
Cars: Peugeot 205 T16, Audi Quattro, Lancia 037
Restrictions: B Class,700 PI
Prizes: All About Me emote
Winter Games – Series 57
Series: Playground Games
Cars: Offroad Buggies
Restrictions: A Class, 800 PI
Prizes: Mini JCW Buggy
Super7 – Winter
Completion Prize: Koenigsegg CCGT
Calton Hill Speed Trap
Mudkickers' Showjump Danger Sign
Season Objective: 705.4ft
Oldweir Speed Zone
Forzathon Events
Forzathon is a heavyweight German dogfight this week featuring the 2005 BMW M3 and 2006 Audi RS4. Choose your fighter and head out to face the winter weather.
Up next, display all the power these machines have to offer and earn a total of 12 stars from Speed Traps. After that, show why your car is the class of the field by charging to victory in three Road Racing Series events.
Wrap things up for this week by earning a total of three Showoff Skills during any races.
Forzathon Shop
It's all about the Union Jack as two British performance cars take to the shop floor, with the 2019 McLaren 720S Spider leading the way.
Chopping the roof off any car is bound to come with a detriment to performance due to the added weight from the extra bracing needed. The 720S Spider suffers a 200lb weight penalty due to its folding roof mechanism, but McLaren has been clever to ensure that performance is unaffected. The 4.0-liter, twin-turbocharged V8 still produces 710hp, giving identical performance to the fixed roof coupe.
You'll need 599 Forzathon Points saved up to get the 720S Spider, which will give you an open-air alternative to the coupe with very little shortfalls.
Turning back time takes us to the 1984 Rover SD1 Vitesse.
This fastback from Longbridge is sometimes described as a small ray of light during a tumultuous era for British Leyland. The SD1 was often praised for its forward-thinking design and for adding some style to a sea of humdrum executive cars.
Powering the SD1 is Rover's iconic 3.5-liter V8 making 191hp, though some tweaks can help to unleash serious muscle. The Vitesse also had a successful competition pedigree, most notably in touring car racing.
The Rover also costs 599 FP, and will offer a glimpse into a piece of UK motoring history that often gets lost to time.
Clothing items available this week are the Golden Skirt and the RTR Born To Fun White T-Shirt.
See more articles on Forza Horizon 4 Season Change.