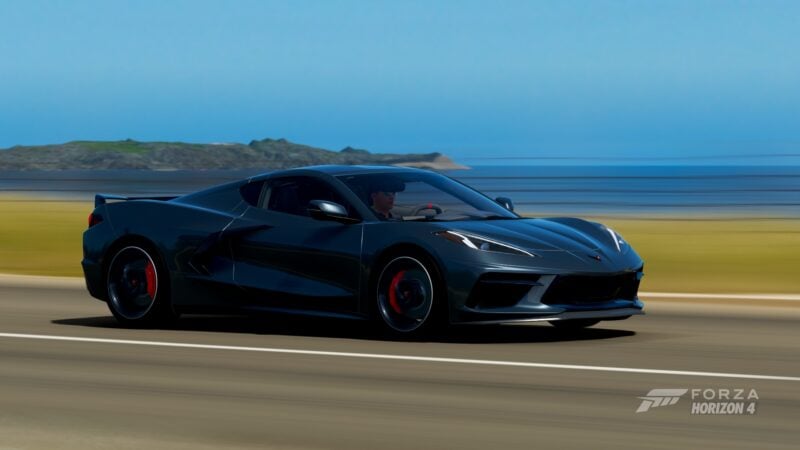 The Summer heatwave returns to the UK to mark the beginning of a new season in Forza Horizon 4. We're marking the start of Series 58 with a new remix of content and lots of events to keep festivalgoers occupied over the next four weeks.
Some big performance names are on the cards for prizes this week, plus a refreshed set of bonuses for completing both full and seasonal playlists to their respective 50% and 80% objectives.
Tire Burns
Taking charge of the seasonal completion rewards is the 1992 Toyota Supra.
Marking an important shift in its legacy, the third generation A70 Supra was the first to carry the name on its own after splitting from the Celica as well as becoming a more luxury oriented sports coupe. Under the skin sits a 2.0-liter, twin-turbocharged straight six making 206hp, but the ease of tuning allows for even more power to be extracted.
If you want power, luxury and style in a more executive class, there's the Mercedes-AMG GT 4 Door.
Although based on a similar platform to the E-Class and with styling compared to the CLS, the GT sedan is part of the range for AMG's flagship sports car. This particular variant is the GT63 S, meaning that it uses the same 4.0-liter twin-turbocharged V8 as the coupe. In the sedan, the engine makes 630hp, making it the most powerful AMG below a Black Series.
Rewards for the full playlist include a Horizon Backstage Pass and a Shelby Daytona Coupe.
Kicking off the Series 58 Photo Challenges is #RomanRoadster. For this one, you'll need to take a picture of a Modern Sports Car against the ancient backdrop of Mortimer Gardens. Prizes for the Summer championships have some hard hitting names including the Bugatti Chiron and Ford GT70.
One particular highlight is the 2020 Chevrolet Corvette Stingray.
For over 50 years and seven generations, the Corvette has been the quintessential front-engined American sports car. Now this eighth generation Vette breaks that tradition to adopt a mid-engined layout. Despite including modern technology such as an 8-speed, dual-clutch automatic transmission, the 6.2-liter small block V8 is undeniably old school. With 495hp, the C8 Vette can finally give the Porsche 911 a huge headache.
To win the Corvette, you'll have to win the "Find New Roads" championship.
A Showcase Remix also pops up for Summer. "Motocross Purposes" puts you in the trail-bashing Ariel Nomad for a duel against a team of dirt bikes.
Those looking to clock some hot laps can take part in the latest Monthly Rivals involving the 1939 Auto Union Type D and Bamburgh Coast Circuit.
A new series means the Super7 deck gets shuffled once more. If you complete each of the seven cards, you'll receive a Rimac Concept Two.
Summer's prizes and events list are down below:
Nothing is Too Beautiful
Series: Road Racing Series
Cars: Bugatti
Restrictions: S2 Class, 998 PI
Prizes: 15,000 CR, 25,000 CR, Bugatti Chiron
Rally-Oop
Series: Dirt Racing Series
Cars: Classic Rally
Restrictions: C Class, 600 PI
Prizes: 15,000 CR, 25,000 CR, Ford GT70
Find New Roads
Series: Street Scene
Cars: Chevrolet
Restrictions: B Class, 700 PI
Prizes: 15,000 CR, 25,000 CR, 2020 Chevrolet Corvette Stingray
The Trial: A Good Old Sport (Co-Op Championship)
Series: Road Racing Series
Cars: Retro Sports Cars
Restrictions: A Class, 800 PI
Prizes: 2019 BMW Z4
Summer Games – Series 58
Series: Playground Games
Cars: Classic Muscle
Restrictions: B Class, 700 PI
Prizes: 1973 Pontiac Firebird Trans Am SD-455
Super7 – Summer
Completion Prize: Rimac Concept Two
Northbridge Speed Trap
Broadway Windmill Danger Sign
Season Objective: 1,299.2ft
Broadway Commons Speed Zone
Forzathon Events
Forzathon turns its spotlight to a Japanese rally-honed legend and arguably the finest moment in a historic lineage: the 1999 Mitsubishi Lancer Evo 6. Climb into this all-weather rally homologation to get rolling.
Up next, show that the old dog can still cause trouble by earning a total of 12 stars through Speed Zones. After that, demonstrate the Evo's rally pedigree by crushing the competition and winning five Dirt Racing Series events.
Wrap up this week by letting your hair down and taking the Evo for a 10 mile drive around the UK.
Forzathon Shop
Sports cars with two similar philosophies take over the shop, with the center stage occupied by the 2013 Toyota GT86.
Toyota's return to the sports coupe market is the result of a joint project with Subaru that is often nicknamed as the "Toyobaru". Reviving the iconic 86 name, the GT86 shuns big power in favor of pure driving pleasure. The GT86 uses a Subaru-sourced, 2.0-liter flat four making 197hp, which may not seem much compared to modern hot hatches, but its plenty for a car like this. Coupled with an eager chassis, skinny tires and a limited slip differential, the GT86 will perform big skids all day long.
You'll need to have 599 Forzathon Points saved up for the GT86, which in return will deliver the biggest bang for your buck when throwing down a twisty road.
Another car with pure driving as its focus is the more potent 2010 Noble M600.
This supercar laughs in the faces of the tech-laden establishment with a pared back experience to go with colossal performance. With most driving and stability aids notably absent and a carbon body, the M600 tips the scales at under 2,800lb. The engine is a 4.4-liter V8 sourced from a Volvo, but has been tuned by Yamaha and given twin turbochargers to produce 650hp.
At 599 FP, the Noble is expensive, but it makes up for it in major ways if you're looking for a left-field supercar.
The latest wardrobe additions and novelty items are the Pink Biker Boots and the "In The Hall of The Mountain King" horn.
See more articles on Forza Horizon 4 Season Change.