The low Autumn sun hanging over the UK marks the start of another new season this week in Forza Horizon 4. Brave the rain storms to mark off the latest events and claim the reward bounties that await you.
It's all about the classics in the prize pool for Autumn, plus another duo of machines can be won for completing the 50% and 80% benchmarks for the seasonal playlist.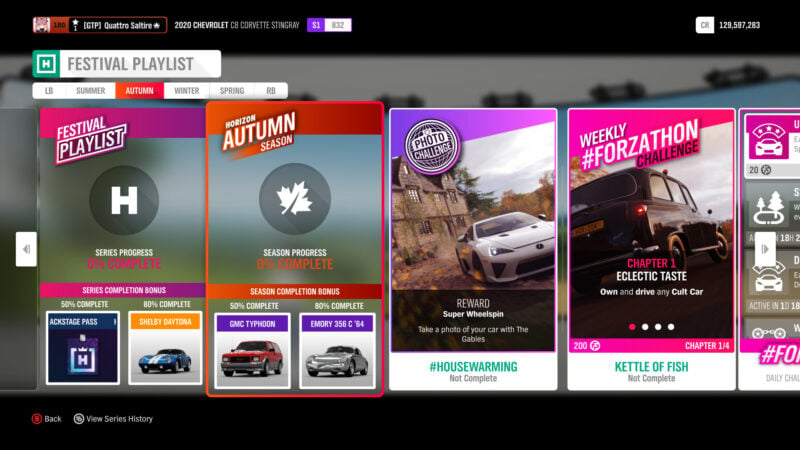 Time Machine
Making its presence known in the playlist prizes is the 1992 GMC Typhoon. All origins of the sports SUV can be traced back to this particular model.
Using the GMC Jimmy as a base, the Typhoon forgoes any offroad capabilities for on-road performance. Sharing its mechanicals with the Syclone pickup truck, the Typhoon uses a 4.3-liter, turbocharged V6 making 280hp. Its recalibrated four wheel drive system also means the Typhoon can embarass equivalent sports cars of its era.
A more exotic classic up for grabs is the 1964 Porsche 356C Cabriolet Emory Special.
Although this may look like a standard 356 on the outside, this one is a restomod created by Emory Motorsports. Every part of the chassis has been upgraded and modernised to give this old dog a new lease of life. Under the hood sits a custom-built, 2.3-liter flat four making 220hp in a car weighing under 2,200lb. That allows this 356 to effortlessly run with much more modern machinery.
The newest Photo Challenge takes you back to your first house. #Housewarming wants you to snap any car you have over at The Gables in Broadway. You can add an extra dose of nostalgia by using the first car you bought at the festival. Prizes for the championships include old and new cars such as the Renault Clio R.S.16 Concept and the VW Karmann Ghia.
One car to set your sights on is the 1990 Porsche 911 Reimagined by Singer.
Commonly known as the Singer Dynamics and Lightweighting Study, this restomod take on the Porsche 964 could be regarded as the perfect old school 911. The body has been retooled in carbon fibre to help bring weight down to just over 2,300lb, while construction can take up to 4,000 man-hours for each car.
Performance comes from an air-cooled, 4.0-liter flat six making 493hp, but with modernised chassis components, the DLS won't try to dump you in a hedge should you try to wrestle it through corners.
If you want the DLS, you'll need to come away with victory in the "Supercars-on-Sea" championship.
Autumn's Super7 serves up a freshly cooked variety of community challenges for you to truly test yourself. Finish each of the seven cards and you'll win a Green Man outfit.
Latest Autumn events can be found down below:
Bug Me Not
Series: Cross Country Series
Cars: Offroad Buggies
Restrictions: A Class, 800 PI
Prizes: 15,000 CR, 25,000 CR, Yellow Biker Helmet
The Twin Peaks
Series: Dirt Racing Series
Cars: Cult Cars
Restrictions: C Class, 600 PI
Prizes: 15,000 CR, 25,000 CR, Volkswagen Karmann Ghia
Supercars-on-Sea
Series: Road Racing Series
Cars: Retro Supercars
Restrictions: S1 Class, 900 PI
Prizes: 15,000 CR, 25,000 CR, Porsche 911 Reimagined by Singer
The Trial: Grace, Space, Pace (Co-Op Championship)
Series: Road Racing Series
Cars: Jaguar
Restrictions: A Class, 800 PI
Prizes: Jaguar I-Pace
Autumn Games – Series 58
Series: Playground Games
Cars: Retro Hot Hatch
Restrictions: C Class, 600 PI
Prizes: Renault Clio R.S.16 Concept
Super7 – Autumn
Completion Prize: Green Man Suit
The Roman Mile Speed Trap
Hilltop Vista Danger Sign
Season Objective: 623.4ft
Foothills Speed Zone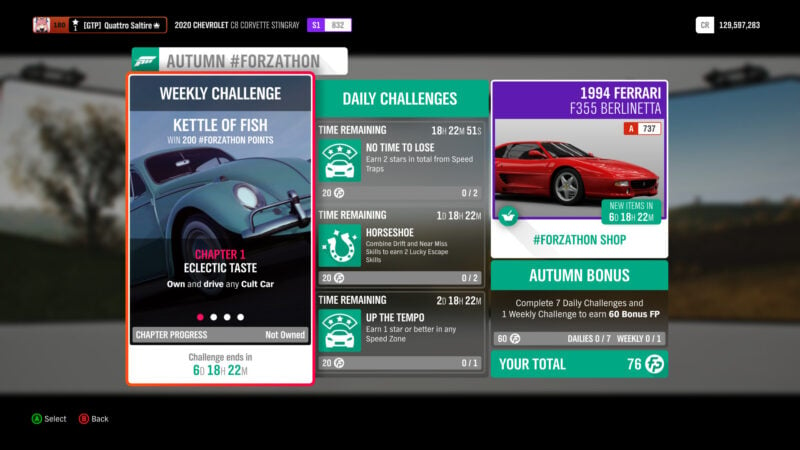 Forzathon Events
Forzathon puts popular culture into the spotlight as Cult Cars become the center of the newest challenges. Choose an icon for the task and head out to get started.
Next up, you'll need to flex some tuning muscle as you'll need to earn a total of 500,000 Skill Score while in your cult classic. After that, it's time to hit the mud as you're required to take victory in a Dirt Racing Series event at White Horse Hill Trail.
Finish off the weekly challenges by taking some brave pills and earning a total of 10 Daredevil Skills while running through traffic.
Forzathon Shop
Ferrari takes over the shop for this week with one of its most highly regarded models taking the main stage: the 1994 F355 Berlinetta.
Replacing the 348, this core berlinetta improved every single area its predecessor was criticised for. The F355 also stands as one of the very first road cars to be offered with a paddle-shift transmission derived from that Ferrari used in Formula 1. Its engine, regarded as one of Maranello's all-time greats, is a 3.5-liter V8 making 380hp, allowing plenty of speed even by the standards of today.
The F355 is very cheap at just 100 Forzathon Points, so if you feel that modern Ferrari berlinettas are too complicated, then the F355 is exactly what you'll be looking for.
Jumping into the here and now, sits the 2013 Ferrari LaFerrari.
The third member of the "Holy Trinity" of hybrid hypercars, the prancing horse comes out king when it comes to sheer numbers against the Porsche 918 and McLaren P1. Its 6.3-liter V12 is mated to an energy recovery system to produce 963hp through the rear wheels. Thanks to Ferrari's bewildering assortment of stability and assistance systems, you can thread this beast down twisting roads at speed and not end up in the trees.
You'll need a hefty investment of 599 FP for the LaFerrari, but in a game of Top Trumps, this flagship will easily help you cruise to victory.
The latest batch of clothing and novelty items this week are the Red Biker Jersey and the Halo Warthog horn.
See more articles on Forza Horizon 4 Season Change.