As we enter March, a new Spring season has kicked off once more in Forza Horizon 4. It's the final stage of Series 58 and the last push for grabbing the festival prizes is well underway.
The prize theme this week is a throwback to some classics, with a rather differing pair of rewards also waiting to be claimed for completing the 50% and 80% goals in the seasonal playlist.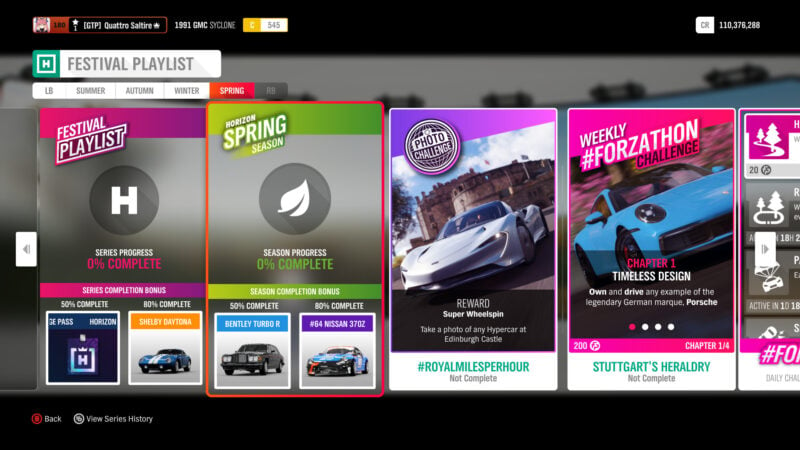 Little Power, Big Presence
Taking center stage for the playlist prizes is the 1991 Bentley Turbo R. As British as a Sunday roast dinner, the Turbo R is the equivalent of a four-wheeled stately home. Coming from an era where Bentley and Rolls-Royce were under the same umbrella, the Bentley aimed for a dose of sporting character.
Under the skin lies a very old-school 6¾-liter turbocharged V8 making 328hp, which is necessary as the big Bentley weighs just over 5,300lb thanks to all its wood and carpeting.
A sports car with a completely different focus is the 2018 Nissan 370Z #64 Formula Drift. Campaigned by Chris Forsberg, the Nissan has been transformed into a tire shredding beast. Under the wide body, the original V6 engine has been retained, bit has been bored out to 4.0 liters and fitted with twin turbochargers. The result is 1,015hp, which will allow players to turn tires into smoke within seconds.
Series 58's last Photo Challenge is a combination of massive displays of wealth. #RoyalMilesPerHour requires you to snap any Hypercar in front of Edinburgh Castle. The prize pool for the seasonal championships is a wealth of nostalgia, with cars including the 1974 Toyota Celica and Honda S800.
A major standout from the crowd is the 1931 Bentley 8-Liter. This beast was one of the flagship luxury cars of the 1930s and was also the last one made while Bentley was still independent. As was customary in the 1930s, customers would order a ladder frame chassis and take the car to a coachbuilders to get a distinct body made. The Bentley uses an 8-liter straight-six putting out 220hp, which was engineered for smoothness instead of performance.
In order to win the Bentley, you'll need to bring home the top prize in the "Classic Collectibles" championship.
You can round out Series 58 with the latest round of challenges from Super7. Finish all of the cards in the list and you'll win a Porsche 917 LH.
Events and prizes for Spring are below:
Strike
Series: Cross Country Series
Cars: Bowler
Restrictions: A Class, 800 PI
Prizes: 15,000 CR, 25,000 CR, Yellow Biker Jersey
That 70s Championship
Series: Road Racing Series
Cars: 1970s Collections
Restrictions: B Class, 700 PI
Prizes: 15,000 CR, 25,000 CR, Honda S800
Classic Collectibles
Series: Street Scene
Cars: Rare Classics
Restrictions: A Class, 800 PI
Prizes: 15,000 CR, 25,000 CR, 1931 Bentley 8-Liter
The Trial: Let's Go Places (Co-Op Championship)
Series: Dirt Racing Series
Cars: Toyota
Restrictions: B Class, 700 PI
Prizes: 1974 Toyota Celica GT
Spring Games – Series 58
Series: Playground Games
Cars: Mercedes-Benz
Restrictions: A Class, 800 PI
Prizes: Mercedes-Benz #24 Tankpool24 Racing Truck
Super7 – Spring
Completion Prize: Porsche 917 LH
Peak Moor Speed Trap
Leap of Faith Danger Sign
Season Objective: 426.5ft
Sudmoss Speed Zone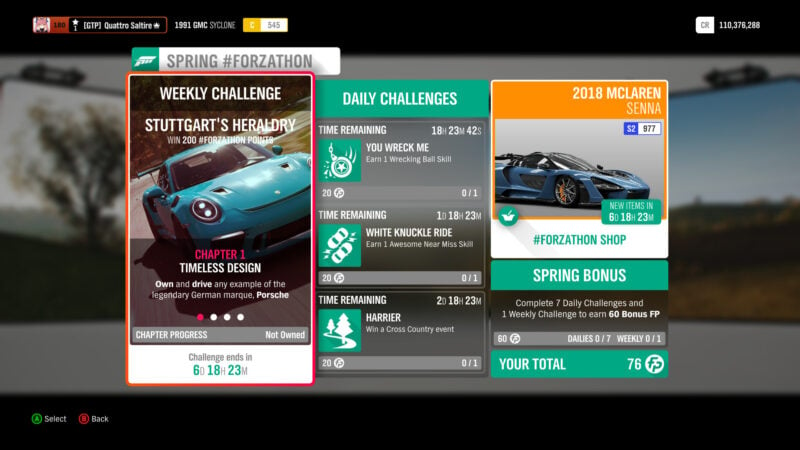 Forzathon Events
The last Forzathon for the current series shines a light on the hugely successful marque that is Porsche. Choose from a wide variety of models in your garage and hop in to get started.
Next up, marvel at the track prowess of your chosen Porsche by taking the top spot in three Road Racing Series events. Afterwards, head out for a long drive around the UK to let your car stretch its legs. Depending on which one you have, the marathon 26.2-mile target should fly past.
Bring the curtain down on the weekly challenges by indulging in Porsche's surprise rally history and winning three Dirt Racing Series events.
Forzathon Shop
Two cars tuned towards the track in very different eras are in the shop this week, with the 2018 McLaren Senna leading the way.
The main hero car for the UK festival, McLaren's most potent, track-honed hypercar is named after the legendary Ayrton Senna. Using the carbon tub from the 720S as a base, the body has been designed for maximum downforce.
Every vent and crease is there to feed air around the car to the active rear wing. The result is a peak of 800kg of downforce. Providing the firepower is a 4.0-liter, twin-turbocharged V8 making 789hp, giving huge speed in a car weighing just 2,800lb.
You'll need just 150 Forzathon Points to grab the Senna, and in return you'll get a car that can deliver cornering thrills in ways that the P1 before it could not.
Spin the clock back and we arrive at the 1953 Maserati A6GCS/53.
This rare and gorgeous road racer almost never came to be, because Pininfarina had signed a restrictive contract with Ferrari. It took a dealer in Rome buying six chassis to get Pininfarina to fit the coachbuilt bodies. The chassis was engineered to road racing events such as the daunting Mille Miglia, and giving the power required is a 2.0-liter straight six making 170hp.
Tipping the scales under 2,000lb, the Maserati is brisk even by today's standards, and will be great to tame when you throw it through corners.
At 599 FP, you'll need plenty of money saved up, but you will save yourself millions of credits over trying to buy one direct from the Autoshow.
Avatar clothing and novelty items for this week are the Disco Chicken Suit and the Sheep horn.
See more articles on Forza Horizon 4 Season Change.