As the temperatures begin to cool down, a fresh new Autumn season has arrived to take charge of the festival in Forza Horizon 4. If you dig among the piles of leaves by the side of the road, you may just find the latest set of events waiting to be completed.
We're hitting the dirt and the roads this week with a mix of rally stars and street fighters as prizes. There's also a refreshed pairing of rewards for completing the seasonal playlist to the required goals of 50% and 80%.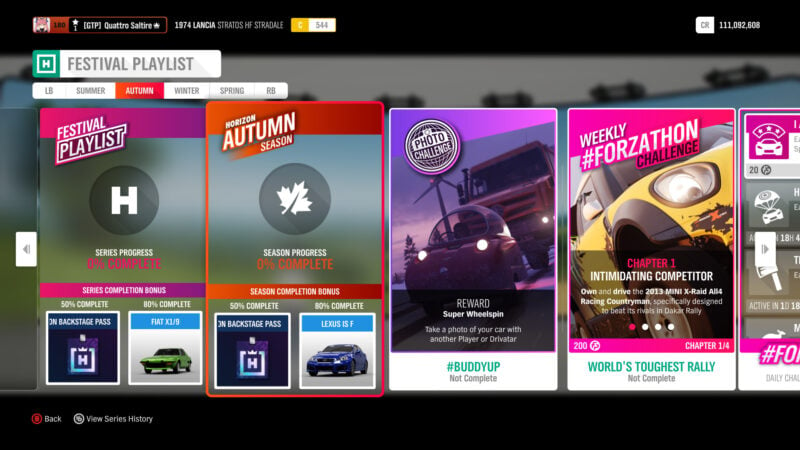 Blazing Trails
Just one car is waiting to be won for the Autumn playlist completion: the 2009 Lexus IS-F.
The normally austere Lexus isn't normally a brand to associate with high performance cars, but the IS-F aims to shake off that humdrum image and square off with the likes of AMG and BMW's M Division.
Under the flared arches and aggressive stacked exhausts sits a bombastic 5.0-liter V8 making 417hp, putting it right in the firing line of the E92 BMW M3. While most sports sedans went with dual-clutch transmissions, the Lexus was one of the first cars in the world to use an eight-speed gearbox despite being a torque converter automatic.
Those in need of a harder to find car can also pick up a Horizon Backstage Pass.
Autumn's Photo Challenge will require you to find a friend for this one. #BuddyUp asks you to snap your car whilst with either another player or with a Drivatar. Heading over to the championships, rewards there include the Honda CRX Mugen and Local Motors Rally Fighter.
A highlight of the prize pool comes from the 1999 Ford Racing Puma.
Intended as a rally homologation, the planned 1,000-unit production run stopped at 500 units and every one was sold only in the UK. As a result, this small coupe became a UK cult hit with enthusiasts. The Puma uses a 1.7-liter engine making 153hp. Coupled to an eager chassis and you have a car that demands you to thrash it on a twisty road.
In order to claim the Puma, you'll need to win the "Cool Cats" championship.
A popular Showcase Remix also returns for this week. "Pillar of Autumn" sees you suit up as Master Chief from the Halo franchise and race against a Pelican dropship in the iconic Warthog.
A new round of Super7 also awaits for those who dare to challenge what the community can make. Complete each of the seven cards and you'll win a Windows XP Shutdown horn.
Events and prizes for Autumn are below:
AWD All Day
Series: Cross Country Series
Cars: Extreme Offroad, all-wheel-drive
Restrictions: A Class, 800 PI
Prizes: 15,000 CR, 25,000 CR, Local Motors Rally Fighter
Too Hot Hatch to Handle
Series: Dirt Racing Series
Cars: Retro Hot Hatch, 1990s
Restrictions: C Class, 600 PI
Prizes: 15,000 CR, 25,000 CR, Honda CRX Mugen
Cool Cats
Series: Road Racing Series
Cars: Jaguar
Restrictions: A Class, 800 PI
Prizes: 15,000 CR, 25,000 CR, Ford Racing Puma
The Trial: What's That Coming Over The Hill? (Co-Op Championship)
Series: Cross Country Series
Cars: Rally Monsters
Restrictions: S1 Class, 900 PI
Prizes: Lancia Delta HF Integrale
Autumn Games – Series 59
Series: Playground Games
Cars: Track Toys
Restrictions: S1 Class, 900 PI
Prizes: Pagani Zonda R
Super7 – Autumn
Completion Prize: Windows XP Shutdown horn
High Street Speed Trap
Open-Cast Cliff Danger Sign
Season Objective: 984.3ft
Hillside Speed Zone
Forzathon Events
The latest Forzathon turns its attention to the Dakar-winning 2013 Mini Countryman X-Raid. Climb into this desert conqueror to get rolling.
Up next, test the suspension of the Mini to the very limit by earning a total of three Kangaroo Skills while doing consecutive jumps. Afterwards, use all of your techniques for both on- and off-road in order to earn an Ultimate Skill Chain.
Finally, prove the success of the Mini's all-terrain competition pedigree by winning four Cross Country Series races.
Forzathon Shop
A pairing of classic roofless wonders are in the shop for Autumn, being fronted by the 1958 Aston Martin DBR1.
Back in the vintage years of sports car racing, Aston created the DBR1 following rule changes that meant cars were no longer required to be street legal. This purpose-built racer would go on to claim outright victory in the 1959 Le Mans 24 Hours, where it remains as Aston's only overall win to this day.
Under the curvacious body sits a 3.0-liter straight six making 254hp, which was a lot in the late 1950s. Couple that to old-school tires and suspension and this Aston needs a lot of attention to get the most out of it.
You will need a hefty saving of 599 Forzathon Points to get the Aston, but you will save yourself from spending millions of credits in the Autoshow.
Something just as cool is the 1970 Honda S800.
This little roadster marks the peak of evolution for a car that can be traced back to the S360. The S800 uses a tiny 791cc engine putting out just 70hp, but Honda's motorcycle DNA means the engine will redline at 9,500rpm. Thanks to weight being below 1,600lb, the S800 would also become the first Honda road car to top 100mph. It would also mark the final S-series model from Honda for almost 30 years until the S2000 arrived.
The Honda is a rather painful 599 FP, so we would recommend looking towards the Auction House to try and get a better deal.
New clothing items for this week include the Wolf Cap and the Red Biker Gloves.
See more articles on Forza Horizon 4 Season Change.