March is about to end, plus a fresh Spring season has begun once more in Forza Horizon 4. Series 59 is also set to come to a close, but not without ticking off the last few events dotted around the festival.
Some big name performance icons are spread through the prize pool this week, including another pairing of rewards for completing the seasonal playlist targets of 50% and 80%.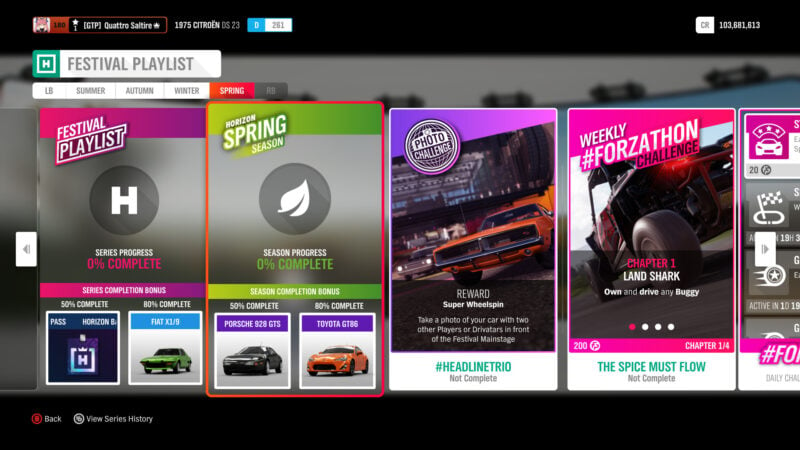 Performance Enhancement
Leading the Spring playlist completion rewards is the 1993 Porsche 928 GTS. Originally built with the American market in mind, Porsche hoped that it would take sales away from the 911, but the rear-engined sports car stuck around through thick and thin.
The 928 had a grand touring premise, combining 911 performance with suitable practicality. This GTS variant is one of the last run-out models before the 918 was discontinued due to low sales. Under the skin sits a 5.4-liter V8 making 345hp, which still gave it healthy athleticism to keep up with more focused sports cars.
Joining the Porsche is the 2013 Toyota GT86. Conceived as part of the "Toyobaru" collaboration with Subaru, the GT86 eschews the idea of big performance in favor of pure driving fun.
Following a very simple recipe, the GT86 features a Subaru-sourced 2.0 liter flat-four making 197hp. With skinny low grip tires, a manual transmission, and a limited-slip differential, the GT86 manages to recapture the glory of what made the AE86 before it such an icon.
Closing out the Photo Challenges for the series is #HeadlineTrio. You'll need to find either two players or two Drivatars for this one and take a picture together in front of the main festival stage. Spring championship prizes include some tempting machines such as the 1993 Ford Mustang SVT Cobra and the Ferrari 512 S.
One car to particularly go for is the 1991 Peugeot 205 Rallye. With the 205 GTI taking the hot hatch spotlight, Peugeot marketed the Rallye as a cheaper alternative, including for budding racing drivers. The 205 does away with many creature comforts, taking its weight down to just under 1,750lb. That means the 1.3-liter engine only has to produce 100hp, plus this is a car that thrives on being thrashed to get the best out of it.
You'll need to win the "Star Dew Rallye" championship to bring home the 205.
A Showcase Remix is also on hand to help wind down the racing for Series 59. "Taxi for Takeoff" sees you strapped into Isha's Austin FX4 taxi to do battle against a deltawing aircraft in a race to the festival site.
There's one last round of Super7 before the current Series ends. Complete all seven cards and a Mercedes AMG Hammer Coupe is all yours.
Spring events can be found down below:
Sugar, Oh Buggy Buggy
Series: Cross Country Series
Cars: Offroad Buggies
Restrictions: B Class, 700 PI
Prizes: 15,000 CR, 25,000 CR, Alumi Craft Class 10 FE
The Car in Front
Series: Road Racing Series
Cars: Toyota
Restrictions: B Class, 700 PI
Prizes: 15,000 CR, 25,000 CR, Modern Race Helmet Black
Star Dew Rallye
Series: Dirt Racing Series
Cars: French cars
Restrictions: B Class, 700 PI
Prizes: 15,000 CR, 25,000 CR, Peugeot 205 Rallye
The Trial: Drive on The Wild Side (Co-Op Championship)
Series: Street Scene
Cars: 1970s Collection
Restrictions: B Class, 700 PI
Prizes: Ferrari 512 S
Spring Games – Series 59
Series: Playground Games
Cars: Muscle vs Tuner
Restrictions: A Class, 800 PI
Prizes: 1993 Ford Mustang SVT Cobra
Super7 – Spring
Completion Prize: Mercedes Benz AMG Hammer Coupe
Greendale Speed Trap
Swan Dive Danger Sign
Season Objective: 800.5ft
Rolling Fields Speed Zone
Forzathon Events
Strap on your helmet as Forzathon looks to Buggies for the last weekly challenges of the series. Pick from any of the offroad titans in your garage and head out to get started.
Next, push the suspension to its very limits by earning a total of 10 Air Skills off any jumps. After that, tear up the beach by winning a Cross Country Series event over at Castle Cross Country Circuit.
Finally, wind down by taking a drive around the UK. With the keen nature of buggies, you can reach the 10 mile objective either on the road or completely off it.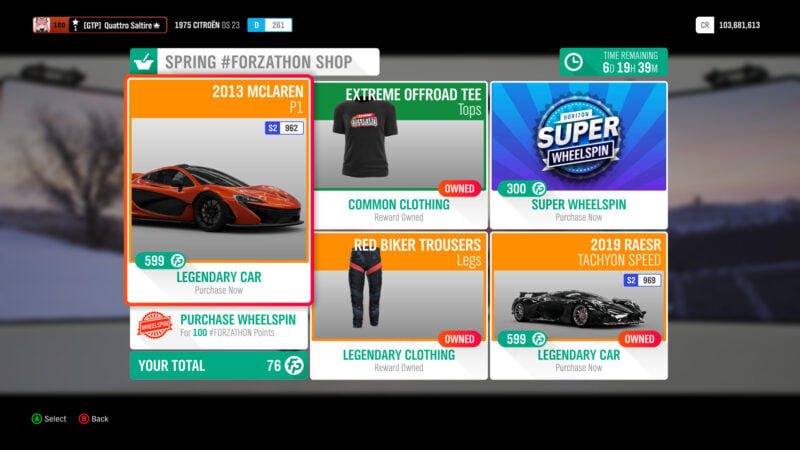 Forzathon Shop
A pair of hypercars billed as the future are in the shop, starting with the 2013 McLaren P1.
Britain's contribution to the "Holy Trinity" of hybrid hypercars, the P1 draws from Woking's extensive Formula 1 experience similar to the LaFerrari. The spiritual successor to the mighty F1 combines a 3.8-liter, twin-turbocharged V8 with an energy recovery system to produce a combined 903hp.
With all that power going to the rear wheels, McLaren has also worked some aero magic to ensure it doesn't spit you into a hedge when going fast.
The P1 will set you back a dizzying 599 Forzathon Points, but it could see you come out on top should you get into a duel with its German and Italian rivals.
A car that fully embraces the future is the 2019 RAESR Tachyon Speed, named after a theoretical particle that is claimed to travel faster than the speed of light.
This electric oddity from California looks like a mix of F1 car and the Batmobile, but hides some very clever technology underneath.
Instead of going with a dual or quad motor setup, the Tachyon uses six electric motors putting out a total of 1,250hp. The torque figure is a brain-scrambling 3,650lbft. Unlike most electric motors, those in the RAESR will redline at just 3,000 rpm, keeping greater efficiency within that insane torque band.
You'll need another 599 FP for the RAESR, but you'll be given an electric hypercar that looks like nothing else on the road.
This week's avatar clothing available is the Extreme Offroad t-shirt and the Red Biker Trousers.
See more articles on Forza Horizon 4 Season Change.