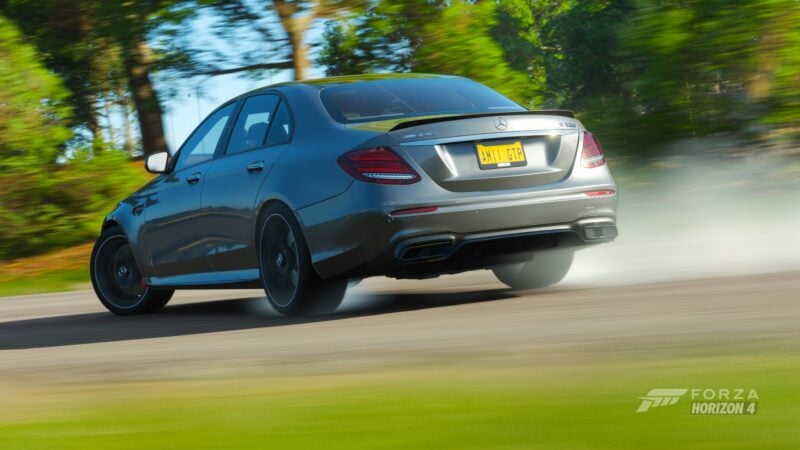 Heatwaves are forecast across the UK as a brand new Summer season gets underway in Forza Horizon 4. It's also a new series as we now hit the heady heights of Series 60. Instead of using a free bus pass, players are out in their high performance monsters to tick off the newest batch of events.
Prizes for Summer are centered around cars with sporting character and touring capabilities. More rewards are also available for completing the 50% and 80% goals for both the full and seasonal playlists.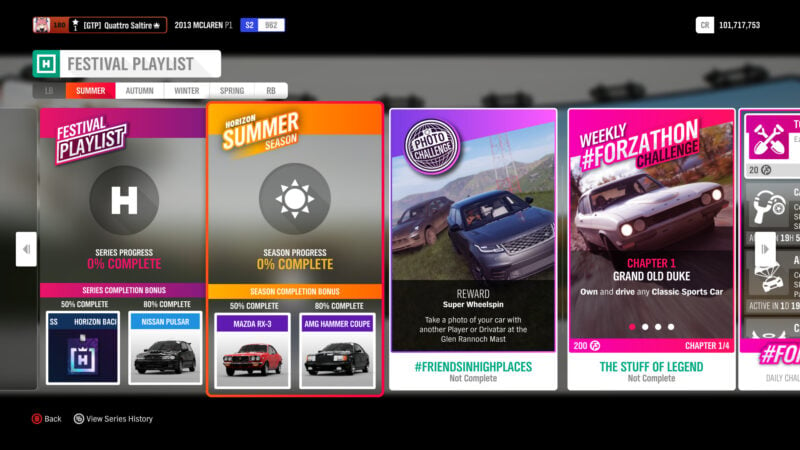 The Grand Tour
Kicking off the Summer playlist completion prizes is the 1973 Mazda RX-3.
Competing against the Nissan Skyline as a compact sedan, the RX-3 intended to show more sporting abilities in Mazda's rather humdrum lineup. Its racing pedigree is also very successful with victories in Australian and American touring car events.
While the Grand Familia it was based on used conventional piston engines, the RX-3 uses a 1.1-liter twin-rotor engine making 110hp. The rotary model would go on to become a best seller for Mazda as well as influence the future RX-7 sports car.
Alongside the dainty Mazda is the intimidating Mercedes-Benz AMG Hammer Coupe.
Back when the AMG skunkworks was more independent, they took a W124 E-Class and created a muscle monster that would make the world take notice. This coupe version is known as the 300CE AMG 6.0, denoting the 6.0-liter V8 that lives under the hood.
With 380hp, the W124 would go on to crush the equivalent BMW M5 for sheer numbers. Its less sophisticated handling and brutal power would earn it the iconic nickname of "The Hammer".
The full playlist will also net you a Horizon Backstage Pass and a Nissan Pulsar GTI-R.
Summer's Photo Challenge will need you to find a friend. #FriendsInHighPlaces requires you and another player or Drivatar to have a picture taken at the Glen Rannoch Mast. Championship prizes for Summer are all about grand tourers including the Ferrari 365 GTB/4 and Aston Martin Vanquish Zagato.
Those looking for both sportiness and long distance missiles can look to the 2018 Mercedes-AMG E63 S.
As the quintessential German super sedans chased even more power, getting that power onto the road was becoming trickier. Although Audi previously had the four-wheel drive super sedan segment on lockdown, Mercedes has finally caught up with the latest E-Class.
The E63's four-wheel drive is also very clever by allowing the driver to switch to a completely rear-wheel-drive mode. Providong the firepower is AMG's indomitable 4.0-liter twin-turbocharged V8 making 600hp, which also makes it among the most powerful in its class.
To bring home the E63, you'll need to win the "Are We There Yet?" championship.
Summer also sees the return of another popular Showcase Remix. "Nine & Three Quarters" puts you behind the wheel of a Ford Anglia in a race to Edinburgh against the Flying Scotsman. The Monthly Rivals time trial for Series 60 features the Jeep Gladiator on the Rail Yard Cross Country Circuit.
Super7 continues to endure into the new series with a fresh set of cards. Complete all seven and you'll be rewarded with a Wheelspin.
Summer events are listed below:
Are We There Yet?
Series: Dirt Racing Series
Cars: Super Saloons
Restrictions: A Class, 800 PI
Prizes: 15,000 CR, 25,000 CR, 2018 Mercedes-AMG E63
Beach Trip!
Series: Cross Country Series
Cars: Sports Utility Heroes
Restrictions: A Class, 800 PI
Prizes: 15,000 CR, 25,000 CR, Aston Martin Vanquish Zagato Coupe
Bon Voyage
Series: Road Racing Series
Cars: French cars
Restrictions: S2 Class, 998 PI
Prizes: 15,000 CR, 25,000 CR, Renault Sport Clio 197
The Trial: Calm Before The Huracan (Co-Op Championship)
Series: Road Racing Series
Cars: Italian cars
Restrictions: S1 Class, 900 PI
Prizes: Lamborghini Huracan Performante
Summer Games – Series 60
Series: Playground Games
Cars: Rare Classics
Restrictions: B Class, 700 PI
Prizes: Ferrari 365 GTB/4
Super7 – Summer
Completion Prize: Wheelspin
Cat Bells Speed Trap
Broadway Windmill Danger Sign
Season Objective: 1,499.3ft
The Bridge House Speed Zone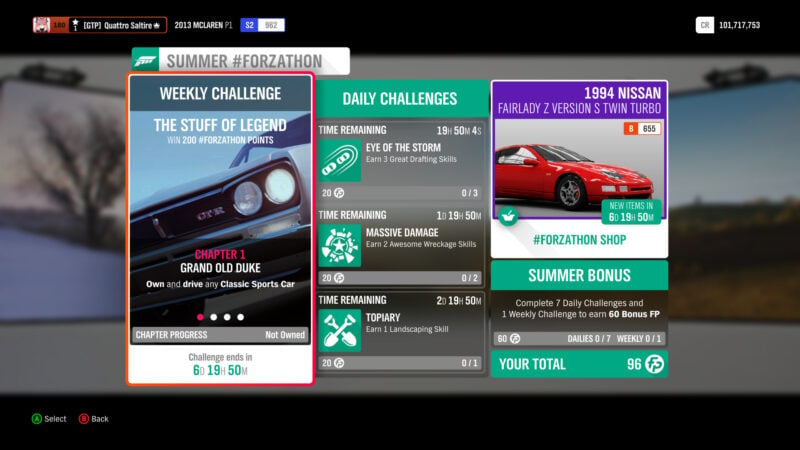 Forzathon Events
Step back in time to a golden age as Forzathon highlights Classic Sports Cars. Pick any one of the legends in your garage in order to begin the next objective.
Up next, use all of your car's speed and agility to earn a total of nine stars from Speed Zones. After that, prepare for a long drive as you'll need to win a Road Racing Series event at the daunting Colossus.
Put a wrap on the Summer challenges by showcasing your gymkhana skills and earning a total of 250,000 Skill Score.
Forzathon Shop
Nissan and Koenigsegg lead the shop lineup this week, with the 1994 Nissan Fairlady Z taking the main spotlight.
The Z32 generation of Nissan's Z cars is often overlooked for being too soft and too heavy, but many also regard it as an underrated classic. More technology than the previous generation helped to bring the Z32 up to a higher standard against its rivals but came at a cost in both price and weight.
This Version S model comes packing a 3.0-liter, twin-turbocharged V6 with 276hp, but some tweaks can help to unleash even more performance.
The Nissan is a hefty 600 Forzathon Points, which may be quite steep for some, so we suggest maybe looking towards the Auction House.
Those after a step up in speed can use the 2015 Koenigsegg One:1.
The Agera was an already bonkers proposition, but the One:1 takes things to an even crazier level. The Koenigsegg's main party piece is its 1:1 power to weight ratio. To achieve this, the 5.0-liter twin-turbocharged V8 has been boosted to 1,360hp, and despite having an active rear wing, the weight comes in at 1,360kg (2,998lb). Even with increased downforce to aid handling, the One:1 will still be a real handful in the corners with that colossal power under your right foot.
You'll need just 300 FP for the Koenigsegg, which will give you a car to wipe Bugatti's nose all over the tarmac.
Novelty items for this week are the Pop 'n' Lock emote and the La Cucaracha horn.
See more articles on Forza Horizon 4 Season Change.