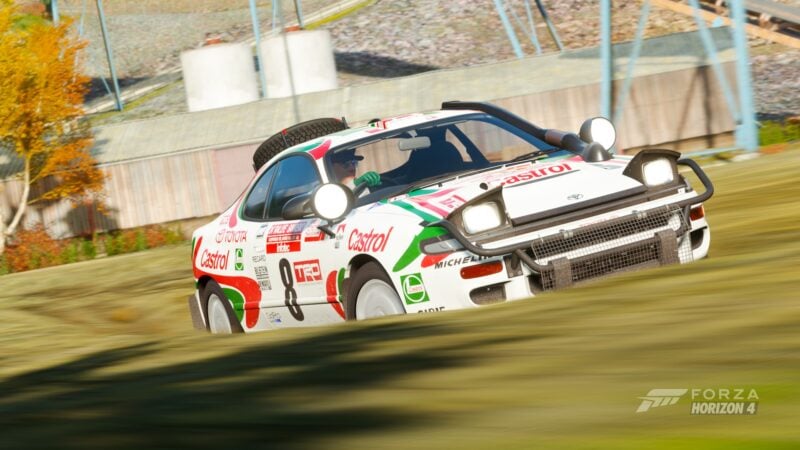 Autumn makes a renewed appearance for a brand new week and another season in Forza Horizon 4. Battle through the rain showers and leaf piles to take on a freshly remixed set of races with great rewards on offer.
It's all about Japan for prizes this week, including the championships and for completing the 50% and 80% targets for the seasonal playlist.
Turning Japanese
Leading the playlist completion prizes in a very raucous way is the 2010 Lexus LFA.
In a bid to shake off its humdrum image and create a world-beating flagship, Toyota would spend the better part of ten years developing the LFA, including designing a carbon fiber body when the original aluminum design turned out to be too heavy.
The 4.8-liter V10 would go on to become one of the best sounding engines ever created. Clever engineering by Yamaha means that the engine is a similar size to a V8, but only weighs as much as a V6. Producing 552hp, the V10 will rev to its 9,000rpm redline so quickly that a digital rev counter on the dashboard needed to be installed because an analogue one couldn't keep up.
Something slightly less manic is the 1995 Toyota MR2.
The second-generation "SW20" of the mid-engined sports car is often considered as the peak model. Its softer styling compared to its predecessor has also seen it draw comparisons with Ferraris of the time. Under the skin sits a 2.0-liter turbocharged engine making 241hp, making it the most potent of all the MR2 generations.
A new latest Photo Challenge keeps to the Japanese theme with #CastleInTheSky. For this one, you'll need to snap any Nissan over by Bamburgh Castle; you can also get more accurate if you bring a Skyline for the picture. The championships all feature iconic machines from Japan, including the Mazda Cosmo and 1989 Toyota MR2.
One car to aim for is the 1992 Toyota Celica GT-Four.
Billed as one of the most iconic rally homologation specials of all time, the ST185 Celica would have a very successful racing career and helped Toyota win back to back manufacturers titles in the World Rally Championship. The Celica features the same 2.0-liter turbocharged engine that would end up in the SW20 MR2, but makes slightly less power at 232hp. With four-wheel drive, the ST185 is a very brisk all-weather machine.
You'll need to take victory in the "Retro Tourism" championship in order to claim the Celica.
Those wanting more variety in their challenges can also check out the latest from Super7. If you complete all seven cards, you be rewarded with a Wheelspin.
You can find the events and prize for Autumn down below:
Journey Into The Night
Series: Street Scene
Cars: Japanese cars
Restrictions: A Class, 800 PI
Prizes: 15,000 CR, 25,000 CR, 1989 Toyota MR2
Retro Tourism
Series: Dirt Racing Series
Cars: Retro Rally
Restrictions: B Class, 700 PI
Prizes: 15,000 CR, 25,000 CR, 1992 Toyota Celica
Mazda's Guide to The Galaxy
Series: Road Racing Series
Cars: Classic Sports Cars
Restrictions: B Class, 700 PI
Prizes: 15,000 CR, 25,000 CR, Mazda Cosmo 110S
The Trial: With Love From Australia (Co-Op Championship)
Series: Cross Country Series
Cars: Australian cars
Restrictions: A Class, 800 PI
Prizes: Holden VL Commodore Group A SV
Autumn Games – Series 60
Series: Playground Games
Cars: Honda
Restrictions: A Class, 800 PI
Prizes: 2005 Honda NSX-R
Super7 – Autumn
Completion Prize: Wheelspin
Deep Vale Speed Trap
Mam Tor Danger Sign
Season Objective: 1,010.5ft
Brookside Speed Zone
Forzathon Events
It's time to head out for the school run because Sports Utility Heroes are on the Forzathon agenda. Grab any of the overpowered tanks in your garage in order to get started.
Next, cause some major littering around town by earning a total of 10 Binman Skills. After that, head deep into the countryside and earn three victories in Cross Country Series Circuit events.
Wrap things up by showing who rules the roads and earning ten Trading Paint Skills.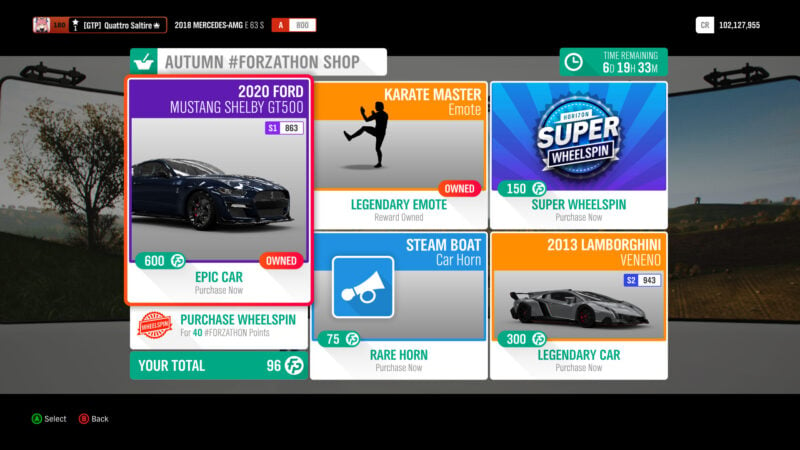 Forzathon Shop
Moving away from Japan, we have a selection of the best from Italy and America in the shop, with the 2020 Ford Mustang Shelby GT500 taking center stage.
The ultimate Mustang exudes the classis muscle car trope of stuffing as much power as possible into a car from the factory. In the old days, such a philosophy would produce a straight line monster, but would be very wayward in the bends. This latest GT500 is on the receiving end of proper engineering.
Its 5.2-liter supercharged V8 pumps out 760hp, making this Mustang the most powerful road-going Ford ever made. In order to get that power to the road, the GT500 features wider tracks, a new aero package to increase downforce, and a dual-clutch transmission.
The Mustang will cost you 600 Forzathon Points, and will give the Dodge Hellcat a serious headache when you turn up to a drag strip.
Those after more insanity can pick up a Lamborghini Veneno.
Coming from the Italian for "venom", this bull certainly looks like it could pack a deadly sting. The outrageous styling may be challenging to some, but it serves aerodynamic function to aid handling. Although the platform and mechanicals come from the Aventador, the Veneno is more than a simple rebody. The 6.5-liter V12 has been boosted to 740hp, and will also rev higher than its donor.
At 300FP, the Veneno is a much cheaper proposition, especially as its looks will get anyone talking everywhere you go.
New novelty items for this week are the Karate Master emote and the Steam Boat horn.
See more articles on Forza Horizon 4 Season Change.