Blizzards, ice and cold are the order of the day as a new Winter season arrives in Forza Horizon 4. The elements may be putting up a fight, but festivalgoers are continuing to press onwards to tick off the latest events.
We're going back in time with a classic car theme for the seasonal prizes this week, plus more rewards can be won by finishing the 50% and 80% requirements in the Winter playlist.
Old School Snow Play
There's just one car in the seasonal playlist completion prizes: the 1970 Ford GT70.
With the GT40 dominating on the race track, Ford wanted to bring that success to rallying and created the GT70 to succeed the ultra-successful Escort in competition. Problems immediately arose as the 500 unit production run for homologation never materialised, resulting in just six units being made.
Just three of those units would see racing action, where all of them were plagued by mechanical problems. This particular version of the GT70 uses a two-liter engine making a respectable 200hp, allowing for brisk peformance to keep up with most small hot hatches.
If you need a car thats a little more exclusive to acquire, you can also grab a Horizon Backstage Pass.
Head into downtown Edinburgh for the newest weekly Photo Challenge. #ScotlandTheBrave wants you to snap any car you're driving over at the Scott Monument on Princes Street. Classics are on the cards in the Winter championships, including the Pontiac Firebird Trans Am and Volkswagen Karmann Ghia.
One car that stands out is the 1974 Hoonigan Ford Bronco.
Although this is based on a classic Bronco, the Hoonigan team have given it a more modern twist. Created for the wife of the late Ken Block, Hoonigan wanted to make this Bronco usable every day whilst being able to conquer off-road terrain.
A 3.5-inch lift, completely reworked suspension, and sports touches to the interior are only part of the makeover. Under the hood, the 6.4-Big Block V8 has been replaced with a modern 5.0-liter Coyote unit from a Mustang. With 420hp on tap, this Bronco has enough grunt to tear up the asphalt as well as the dirt.
In order to claim the Hoonigan, you'll need to win the "Into The Wilds" championship.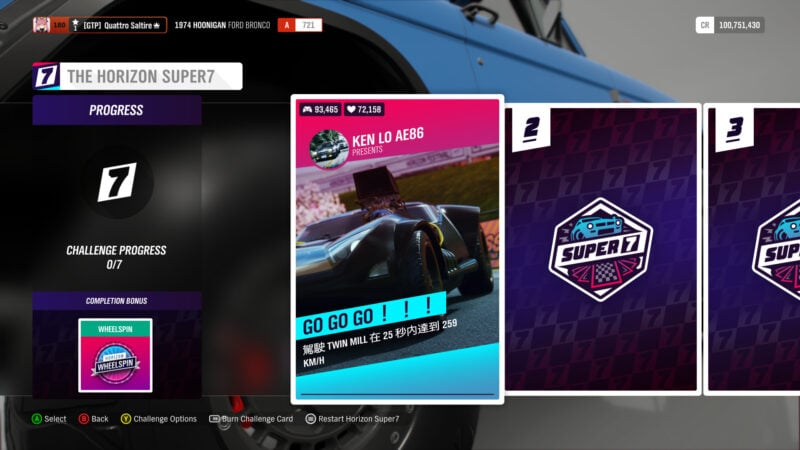 If you become tired of the snow, Super7 can offer you more challenges across all the seasons. Finish all seven cards and you'll receive a Wheelspin.
Winter events are listed below:
Into The Wilds
Series: Cross Country Series
Cars: Extreme Offroad
Restrictions: A Class, 800 PI
Prizes: 15,000 CR, 25,000 CR, Hoonigan Ford Bronco
Small Wonders
Series: Dirt Racing Series
Cars: Volkswagen
Restrictions: B Class, 700 PI
Prizes: 15,000 CR, 25,000 CR, Volkswagen Karmann Ghia
Tour de Force
Series: Road Racing Series
Cars: Modern Muscle
Restrictions: S1 Class, 900 PI
Prizes: 15,000 CR, 25,000 CR, Pontiac Firebird Trans Am SD-455
The Trial: American Car-tographer (Co-Op Championship)
Series: Cross Country Series
Cars: American cars
Restrictions: A Class, 800 PI
Prizes: Hoonigan Gymkahana 9 Ford Focus RS RX
Winter Games – Series 60
Series: Playground Games
Cars: Classic Muscle
Restrictions: B Class, 700 PI
Prizes: Ford XB Falcon GT
Super7 – Winter
Completion Prize: Wheelspin
Hythe House Speed Trap
Rail Yard Ramp Danger Sign
Season Objective: 820.2ft
Strathbridge Speed Zone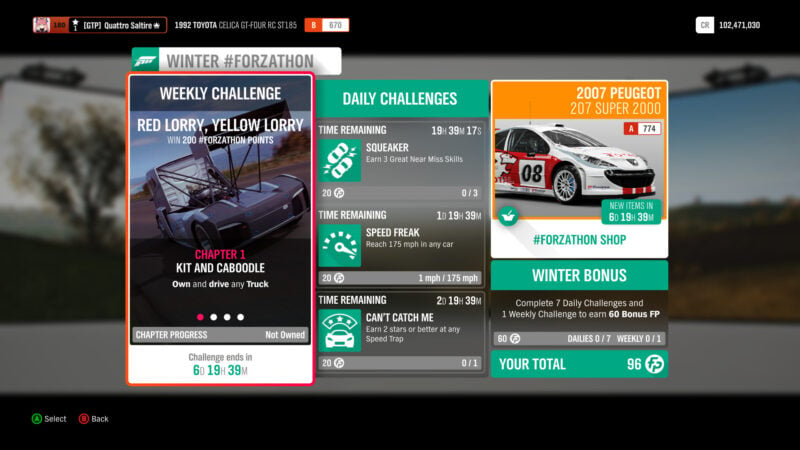 Forzathon Events
It's time to hit the open road because Forzathon is going big with Trucks this week. Climb aboard any of the giants in your garage to get started.
Next up, show other road users who rules the roost by earning a total of ten Trading Paint Skills. Afterwards, continue causing more destruction around the festival by gaining ten Wreckage Skills.
Finally, get a taste of the trucker's life as you'll need to win a Road Racing Series event at the daunting Goliath.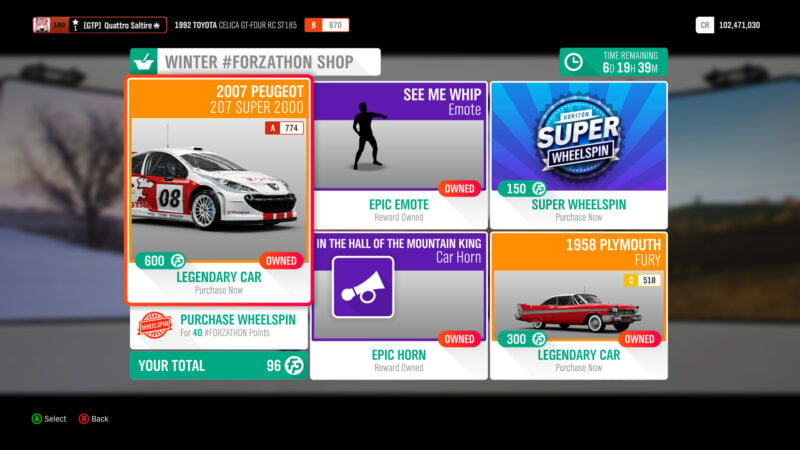 Forzathon Shop
A small but punchy Peugeot and a large land yacht of a Plymouth are in the shop for this week, with the main spotlight shining on the 2007 Peugeot 207 Super 2000.
This 207 was homologated for rally use under the Super 2000 regulations. In order to keep costs under control, the 2.0-liter engine has to forgo turbocharging, but still makes 280hp. This baby WRC car gets the full racing crash diet as well as adding an advanced four-wheel drive system to tackle any surface at great speed.
The 207 will set you back a rather painful 600 Forzathon Points, but in return will give you a well-rounded rally machine if modern WRC or classic Group B is too much of a handful.
Alongside the 207 is the 1958 Plymouth Fury.
This example of American excess comes from a time when big was best in the world of luxury, but the Fury also has another claim to fame as the star of the horror movie Christine; thankfully the real Fury won't attempt to kill you. In order to move this 3,600lb lump of metal, the Fury features a 5.7-liter V8 making 305hp.
At 300FP, the Fury comes in at a very cheap price. Although you won't be able to trouble others at the drag strip, you'll look much cooler cruising the streets at night in one.
Novelty items for this week are the See Me Whip emote and the "In The Hall Of The Mountain King" horn.
See more articles on Forza Horizon 4 Season Change.