The coming of Spring signals the start of a fresh season this week in Forza Horizon 4. We're on the final week of Series 60, with a final push underway to check off the latest events around the festival.
High performance machines of all types are on the menu for Spring, including a pair of rewards for reaching the completion goals of 50% and 80% for the seasonal playlist.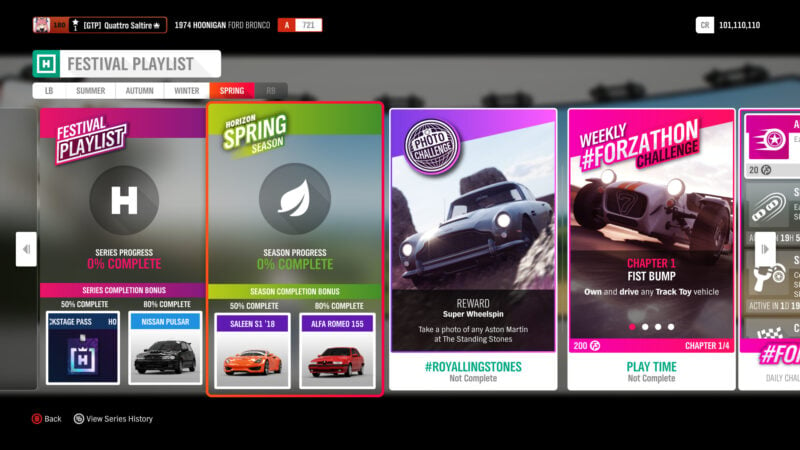 Super Stars
Saleen heads the seasonal playlist completion prizes with the 2018 Saleen S1.
Intending to square off with the Porsche 911, the S1 was pitched as an entry-level supercar compared to the S7 flagship. Despite having a 2.5-liter, turbocharged four cylinder engine, the S1 still makes a healthy 450hp and sends its power through an old-school manual transmission. However, the S1 would ultimately never see production despite being penciled in for a 2018 release.
Something more sedate is the 1992 Alfa Romeo 155 Q4. This humdrum sedan may look ordinary on the outside, but it hides serious racing pedigree underneath. The 155 would carve out a very successful career in touring car racing, particularly in DTM and the British Touring Car Championship. This road version uses a 2.0-liter turbocharged engine making 187hp. Couple that to four-wheel drive and the 155 makes for a brisk all-weather sedan.
The last Photo Challenge for Spring is all about the #RoyallingStones. For this objective, you'll need to snap an Aston Martin over by the Standing Stones. Championship prizes have hypercars as the stars, including the Zenvo TSR-S and Koenigsegg Jesko.
A highlight of the prize pool is the 2002 Ferrari Enzo. Replacing the F50, the Enzo was named in honor of the Maranello marques founder. It was also one of the most advanced Ferrari road cars of its time, bringing more technology inspired by F1, including carbon brakes and more sophisticated traction control electronics. Powering the Enzo is a 6.0-liter V12 making 650hp and taking it to a 220mph top speed.
To bag the Enzo, you'll need to win the "Luxury Getaway" championship.
Closing off the series events is a returning Showcase Remix. "Contest of Giants" puts you in a Chevrolet Colorado pickup truck for a duel across the Scottish Highlands against a huge hovercraft.
You can also wrap up the latest round of Super7 before the next series begins. Finish each of the seven cards and you'll be gifted a Wheelspin.
Events for Spring are listed below:
Northern Tours
Series: Road Racing Series
Cars: Swedish, Danish cars
Restrictions: S2 Class, 998 PI
Prizes: 15,000 CR, 25,000 CR, Zenvo TSR-S
Luxury Getaway
Series: Road Racing Series
Cars: Ferrari
Restrictions: S1 Class, 900 PI
Prizes: 15,000 CR, 25,000 CR, Ferrari Enzo
Overnight Adventures
Series: Street Scene
Cars: Extreme Track Toys
Restrictions: S2 Class, 998 PI
Prizes: 15,000 CR, 25,000 CR, Koenigsegg Jesko
The Trial: Beaches and Bentleys (Co-Op Championship)
Series: Road Racing Series
Cars: British cars
Restrictions: S2 Class, 998 PI
Prizes: Bentley Turbo R
Spring Games – Series 60
Series: Playground Games
Cars: Super Hot Hatch
Restrictions: A Class, 800 PI
Prizes: 2018 Renault Megane RS
Super7 – Spring
Completion Prize: Wheelspin
Old Town Speed Trap
Ambleside Edge Danger Sign
Season Objective: 672.6ft
Coppice Speed Zone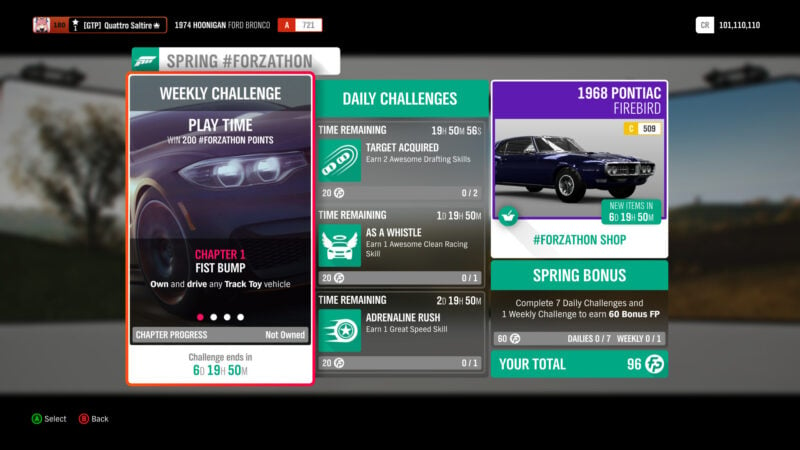 Forzathon Events
Break out the crash helmets, because Track Toys are front and center for Spring Forzathon. Jump into any of the hardcore weapons in your garage to get thing started.
Up next, show off the handling capabilities of your track toy by earning a total of 12 stars across the festival Speed Zones. After that, use all of your gymkhana skills to bank a total of a very hefty one million Skill Score.
Bring the curtain down on the weekly challenges by taking victory in three Road Racing Series Circuit events.
Forzathon Shop
Pontiac takes charge of the shop for this week, with its 1968 Firebird under the spotlight.
The first-generation Firebird often gets forgotten about during a very crowded pony car market in the 1960s. Sharing its platform with the Chevrolet Camaro, Pontiac added more aerodynamic styling as well as their own range of engines. This particular Firebird features a 6.6-liter V8 producing 340hp, giving it pace to irritate its rivals on the drag strip.
You'll need 600 Forzathon Points to bag the Pontiac, but it offers a cool left-field alternative to the Camaro/Mustang/Challenger establishment.
Something even more left-field is the 2016 W Motors Lykan Hypersport.
The first supercar to come from the United Arab Emirates maybe unknown to many, but that hasn't stopped W Motors from going all out on bling factor. With just seven units built, exclusivity is also a high priority. The outrageous styling ensures it stands out to a crowd that considers a Bugatti as an everyday car.
Under the skin, the Lykan uses a 3.8-liter, twin-turbocharged flat six from Porsche tuners Ruf. Producing 780hp, there's no shortage of grunt in a car weighing just over 3,000lb.
The Lykan is much cheaper at just 300 FP. Buying one will certainly get people talking when you turn up to a car meet. Just don't try jumping it between skyscrapers.
Novelty items up for grabs this week are the Robot emote and the "Bwahh" horn.
See more articles on Forza Horizon 4 Season Change.