Rain is on the horizon as Autumn arrives back in the UK for a brand new season in Forza Horizon 4. As festivalgoers don their raincoats, there's a host of refreshed events waiting to be tackled.
Some big power players are up for grabs in the prize pool for this week, plus more rewards can be claimed by completing the completion targets of 50% and 80% in the seasonal playlist.
Power Play
There's just one car that can be won from completing the Autumn playlist: the 2019 McLaren Speedtail.
Crowning Woking's Ultimate Series range, the Speedtail would go on to become the fastest and most powerful McLaren ever created. The Speedtail even envokes the spirit of the old McLaren F1 by featuring a three-seater layout with a central driving position.
A major component in this top speed mission was aerodynamics, with McLaren designing the swoopy longtail body to slip through the air as efficiently as possible.
Providing the thrust is a 4-liter, twin-turbocharged V8 coupled to a hybrid system to produce a combined 1,036hp. With the low-drag body and masses of power, the Speedtail will top out in the region of 250mph.
You can also win a Horizon Backstage Pass if you're in need of more cars to fill your garage with.
Autumn's Photo Challenge is all about bulls this week. #LightUpMyLambo requires you to photograph any Lamborghini over at the lighthouse outside Bamburgh. Lambo also comes to the fore in the championship prizes, including the Aventador SV and Veneno.
Stepping away from Italy, we find the 2018 Porsche 718 Cayman GTS.
The GTS variant of the Cayman is widely regarded as the best spot in the range, offering GT4 levels of performance without sacrificing usability on the road. However, the 718 has been mired in controversy after downsizing its famous flat-six to a 2.5-liter, turbocharged flat-four. The upside is a boost in power to 360hp and a much needed helping of lower-end torque.
In order to take home the 718, you'll need to win the "Modern Age" championship.
A Showcase Remix also makes an appearance for Autumn. "Forest Sprite" puts you into an Austin-Healey Sprite for a dash through the forests against a team of dirt bikes.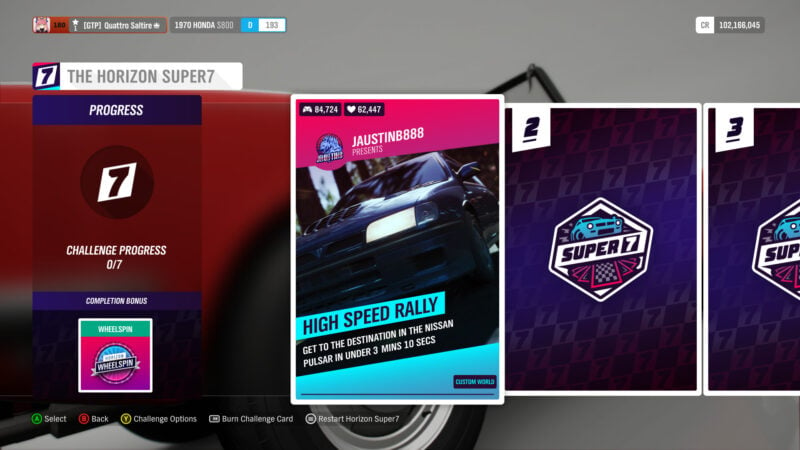 Super7 continues throwing the best of community-made challenges into the ring for any and all skill levels. If you finish all seven cards, you'll be gifted with a Wheelspin.
Events and prizes can be found listed below:
Silence of the Lamborghinis
Series: Street Scene
Cars: Lamborghini
Restrictions: S1 Class, 900 PI
Prizes: 15,000 CR, 25,000 CR, Lamborghini Aventador SV
Modern Age
Series: Road Racing Series
Cars: Modern Sports Cars
Restrictions: C Class, 600 PI
Prizes: 15,000 CR, 25,000 CR, 2018 Porsche 718 Cayman GTS
Get Hyper
Series: Road Racing Series
Cars: Hypercars
Restrictions: S2 Class, 998 PI
Prizes: 15,000 CR, 25,000 CR, Lamborghini Veneno
The Trial: Lamb Chop Chop (Co-Op Championship)
Series: Road Racing Series
Cars: Lamborghini
Restrictions: A Class, 800 PI
Prizes: Lamborghini Miura P400
Autumn Games – Series 61
Series: Playground Games
Cars: Super Saloons
Restrictions: A Class, 800 PI
Prizes: 2013 Mercedes E63 AMG
Super7 – Autumn
Completion Prize: Wheelspin
Oakwood Crest Speed Trap
Bamburgh Castle Danger Sign
Season Objective: 705.4ft
Lakeshore Speed Zone
Forzathon Events
Get extreme for the latest Forzathon as Extreme Offroad is in the spotlight this week. Jump into any of the hardest offroaders you can get your hands on to kick things off.
Next up, assert your dominance at the races by cruising to victory in three Cross Country Series events. Afterwards, leave a trail of destruction across the countryside by earning a total of 20 Wreckage Skills.
Finally, spread your wings and fly to earn a total of nine stars from Dangers Signs.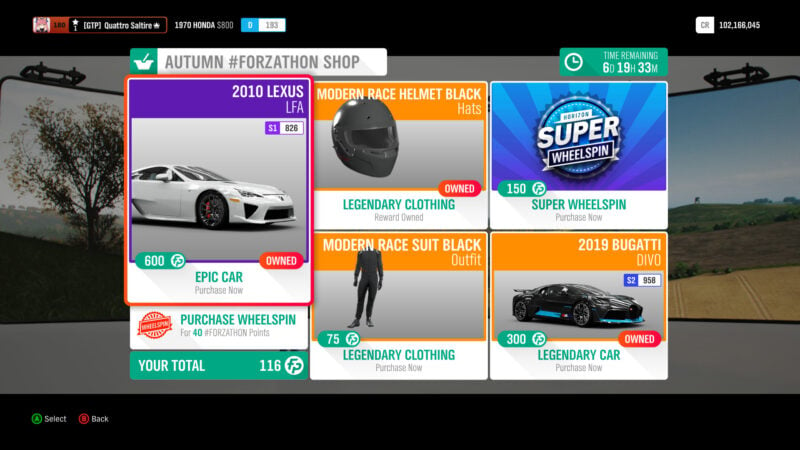 Forzathon Shop
Big money supercars are on the menu in the shop, with the spotlight being taken by the 2010 Lexus LFA.
Toyota's halo model spent the better part of ten years in development to ensure it would give its rivals a major headache. The branda would also lose money on every unit sold, despite an eyewatering $400k price tag.
However the LFA's crowning glory is its 4.8 liter V10. Developed by Yamaha, the engine is as compact as a V8 and weighs only as much as a V6. Making 552hp and powering a car weighing less than 3,300lb, the LFA is more than a match for the likes of the Ferrari 599.
The LFA will set you back 600 Forzathon Points, but the noise from the V10 screaming at 9,000rpm makes it worth the purchase.
A car with even more exclusivity to its name is the 2019 Bugatti Divo.
This limited-run special only had 40 units built costing a ludicrous $6 million, but it also served as an exercise to show Bugatti is committed to handling as well as outright power. Its new body harks back to Bugatti's coachbuilding past and also helps provide additional downforce. Reworked suspension and stickier tires also add to the handling improvements.
The platform and mechanicals are lifted from the Chiron, so the 8-liter, quad-turbocharged W16 remains untouched at 1,479hp. With the extra downforce on offer, the Divo can't match the Chiron's top speed.
You'll only need 300FP for the Divo, which will serve as a head turner if you believe a Chiron is too mainstream.
Avatar wardrobe additions for this week are the Modern Black Race Helmet and Modern Black Race Suit.
See more articles on Forza Horizon 4 Season Change.