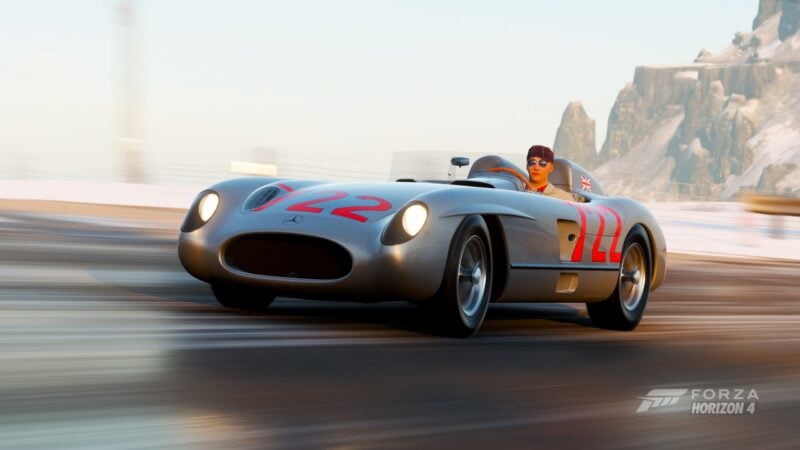 Snow has returned to the UK with a vengance this week to mark a new Winter season in Forza Horizon 4. Players aren't going to be beaten by the elements easily, and will stop at nothing to complete the latest round of events in store.
Despite the weather, there's a mixed bag of cars waiting to be won, including a fresh duo of prizes for completing the 50% and 80% requirements for the seasonal playlist.
Ice Scream
Leading the playlist completion rewards is a car thats very suited to the winter weather: the 2018 Range Rover Velar.
The fourth Range Rover model sits above the baby Evoque but below the Range Rover Sport, and is intended to be more road focused. In spite of better road dynamics, the Velar is just as capable offroad as its brothers as well as delivering a luxury feel.
Sharing its mechanicals with the Jaguar F-Pace means the Velar gets a 3.0-liter, supercharged V6 making 375hp, so you'll be able to do the school run quickly as well as plowing through the offroad trails with ease.
Something even tougher is the 2020 Jeep Gladiator.
Returning to the pickup market after a near 30 year absence, the Gladiator brings its hardcore capabilities to a workhorse segment. Based on the Wrangler Rubicon, this Gladiator is the toughest variant and can easily cope with harder terrain than most of its rivals. Under the hood lies a 3.6-liter V6 putting out a reasonable 285hp for when you need to hussle along the tarmac.
Bamburgh plays host to the latest Photo Challenge with #MiniCarMassiveCastle. For this objective, you're required to photograph a Mini at Bamburgh Castle. Bring along an original Mini to put the size difference of the title into greater perspective.
Winter's championship prize pool includes a selection of machines that will find the conditions less than ideal, including the Mercedes Tankpool24 racing truck and the 2019 Porsche 911 GT3 RS.
A particular highlight comes from the 1955 Mercedes 300 SLR.
Seen as one of the most valuable cars in the world, this classic Mercedes was a staple in sports car racing during the 1950s. Its crowning moment came during the 1955 Mille Miglia rally, where Stirling Moss won the event in just over 10 hours. To this day, that record has never been beaten. Sadly, Mercedes would later withdraw its racing efforts following the tragic accident during the 1955 Le Mans 24 Hours.
The 300 SLR packs a 3.0-liter, straight eight making 310hp, which made the Merc one of the fastest cars in the world for its time. With 1950s' suspension and tires, you'll need to be constantly on your toes when going through corners.
If you want the Merc, you'll need to win the rather ironically titled "Dirt Cheap" championship.
One of the most popular Showcase Remix events makes a return for Winter. "Assault on the Control Room" puts you into the Spartan armor of Master Chief as you race the iconic Warthog against a Pelican dropship.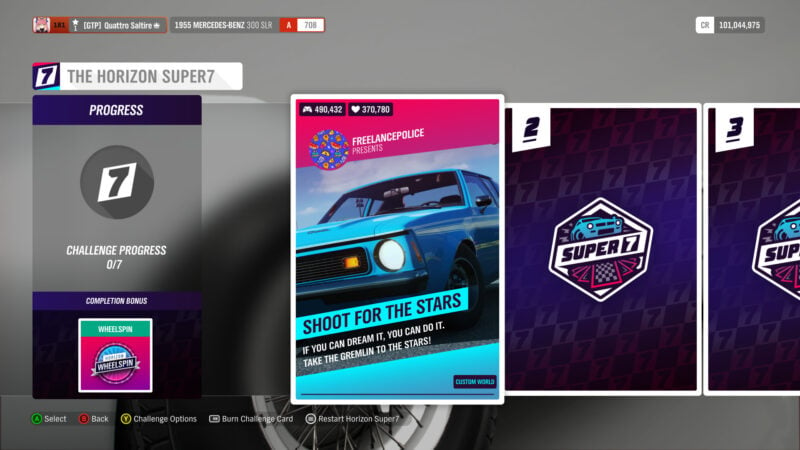 Super7 has more community made specialties across all the seasons waiting to be beaten for those brave enough to attempt them. Complete all seven cards and you'll win a Wheelspin.
Winter's events and prizes are listed below:
Dirt Cheap
Series: Dirt Racing Series
Cars: Reasonably Priced Cars
Restrictions: C Class, 600 PI
Prizes: 15,000 CR, 25,000 CR, Mercedes-Benz 300 SLR
The Truck Stops Here
Series: Dirt Racing Series
Cars: Trucks
Restrictions: B Class, 700 PI
Prizes: 15,000 CR, 25,000 CR, Mercedes-Benz #24 Tankpool24 Racing Truck
Potent Porsches
Series: Street Scene
Cars: Porsche
Restrictions: S2 Class, 998 PI
Prizes: 15,000 CR, 25,000 CR, 2019 Porsche 911 GT3 RS
The Trial: Back in Time (Co-Op Championship)
Series: Dirt Racing Series
Cars: Porsche, 1950s-1980s
Restrictions: A Class, 800 PI
Prizes: Porsche 718 RS 60
Winter Games – Series 61
Series: Playground Games
Cars: Offroad
Restrictions: A Class, 800 PI
Prizes: Hennessey VelociRaptor 6×6
Super7 – Winter
Completion Prize: Wheelspin
The Roman Mile Speed Trap
Reservoir Ridge Danger Sign
Season Objective: 656.2ft
Johnston Terrace Speed Zone
Forzathon Events
Forzathon takes a look at one of the most advanced cars ever to come out of the 1980s: the 1987 Porsche 959. Strap yourself into this technogical wizard and head out to get started.
Next, show off the 959's surprising rally pedigree by winning a total of three Dirt Racing Series Trail events. After that, demonstrate that the digital revolution can beat out analogue rivals on the road by winning two Street Scene events.
Wrap up this week by swallowing some brave pills and race through the traffic to earn a total of 10 Ultimate Near Miss Skills.
Forzathon Shop
Supercars and winter weather don't go together, and two of the most powerful road cars money can buy are available in the shop, kicking off with the 2017 Ferrari 812 Superfast.
Replacing the F12 Berlinetta, the 812 somehow manages maintain GT credentials while harboring even more power than ever. The 6.3-liter V12 from the F12 has been uprated to 6.5 liters and sends nearly 800hp to the rear wheels. With an improved rear-wheel steering system from the violent F12tdf as well as other chassis enhancements, the electronic stability systems will be working overtime to keep this beast in check.
At 600 Forzathon Points, the 812 is very expensive, and in this particular case, looking around the Auction House may get you a better deal.
Along with the Ferrari is the 2019 Bugatti Divo.
This rare limited run model was built to showcase more enhanced driving dynamics for the Chiron that its based on, as the rebody hides a lot more changes under the skin. As well as echoing Bugatti's coachbuilding past, the Divo's agressive body has been designed for improved downforce.
Suspension changes and sticky tires also contribute to a marked increase in handling ability on a circuit. That 8.0-liter quad-turbocharged W16 from the Chiron remains untouched, meaning a titanic 1,479hp is available.
The Divo is a much cheaper alternative at 300 FP, and serves as a statement of intent from those who believe a Chiron is too common for them.
Avatar clothing items for this week are the Quack and Shark Wellies.
See more articles on Forza Horizon 4 Season Change.