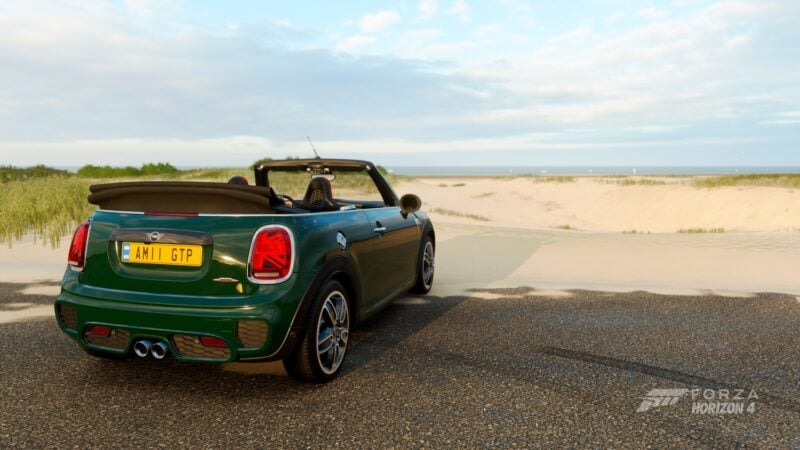 A heatwave across the UK marks the beginning of a new Summer season in Forza Horizon 4 once again. We're marking the beginning of Series 62 with a fresh remix of events set to take place over the next several weeks.
This week's prizes lean more towards a classical feel, plus theres even more rewards for reaching the completion targets of 50% and 80% in both the full and seasonal playlists.
Quaint Travelling
Only one car is up for grabs for completing the Summer seasonal playlist: the 1965 Morris Mini Traveller.
A more practical variant of the iconic Mini, the Traveller was aimed towards families who wanted an estate car but was still affordable. The Traveller also keeps its fun handling character despite its extra length. Performance is not on the agenda as you'll only find an 850cc engine making just 34hp, but for many, it was enough to do the job.
Those looking for a little more exclusivity can also pick up a Horizon Backstage Pass. You'll also get a second Backstage Pass for completing 50% of the full Playlist, with a Hot Wheels Bone Shaker at 80%.
Become the main attraction for the Summer Photo Challenge with #TheHeadlineAct. This objective will require you to snap the car you're currently driving over at the main stage in the festival. The championship prize pool features a varied mix of cars and cosmetics including the Dodge Charger Daytona and a Modern Race Suit for your avatar.
Stepping away from the classics, we find the more modern 2018 Mini John Cooper Works Convertible.
The standard drop-top Mini is more focused on style, whereas the JCW adds some more spice to the performance. Although a revised chassis helps maintain its trademark handling, the JCW is a bit of a porker, tipping the scales at over 3,000lb.
To counteract the 200lb weight penalty for cutting the roof off, the 2.0-liter turbocharged engine makes 228hp, allowing for some sprightly top-down fun. To win the Mini, you'll need to complete the "Summer Specials" championship first.
Summer also heralds a returning Showcase Remix. "Nine & Three Quarters" puts you behind the wheel of a Ford Anglia as you take on the Flying Scotsman in a race to Edinburgh.
The arrival of a new series brings a new Monthly Rivals too. This month will see player tame the mighty Vuhl 05RR around Greendale Club Circuit.
Those keen on pushing their skills further can take a fresh stab at Super7 for this week. Complete all seven cards and you'll be gifted a Wheelspin.
Events and rewards can be found below:
Summer Specials
Series: Dirt Racing Series
Cars: Summer Specials
Restrictions: A Class, 800 PI
Prizes: 15,000 CR, 25,000 CR, 2018 Mini JCW Convertible
Locked Horns
Series: Street Scene
Cars: Chevrolet vs Dodge
Restrictions: S1 Class, 900 PI
Prizes: 15,000 CR, 25,000 CR, Dodge Charger Daytona
Cavalino Rampante
Series: Road Racing Series
Cars: Ferrari
Restrictions: S2 Class, 998 PI
Prizes: 15,000 CR, 25,000 CR, Modern Race Suit Red
The Trial: Infiniti & Beyond (Co-Op Championship)
Series: Road Racing Series
Cars: Infiniti
Restrictions: A Class, 800 PI
Prizes: Trial Tee
Summer Games – Series 62
Series: Playground Games
Cars: Cult Cars
Restrictions: C Class, 600 PI
Prizes: Fist Pump emote
Super7 – Summer
Completion Prize: Wheelspin
Coombe Speed Trap
Arthur's Seat Danger Sign
Season Objective: 649.6ft
Forest Green Speed Zone
Forzathon Events
Put on your flat cap and dust off the goggles because the 2014 Morgan 3 Wheeler is the spotlight car for this week's Forzathon. Clamber into this novel trike to get started.
Up next, you'll need a lot of skill to kick the rear end out as you'll need to earn a total of 6 stars in Drift Zones. Afterwards, you'll need to pull off a slide while overtaking in a racing in order to gain a Showoff Skill.
Finally, hang onto your hat as you'll need to slip the Morgan through traffic to earn five Threading The Needle Skills.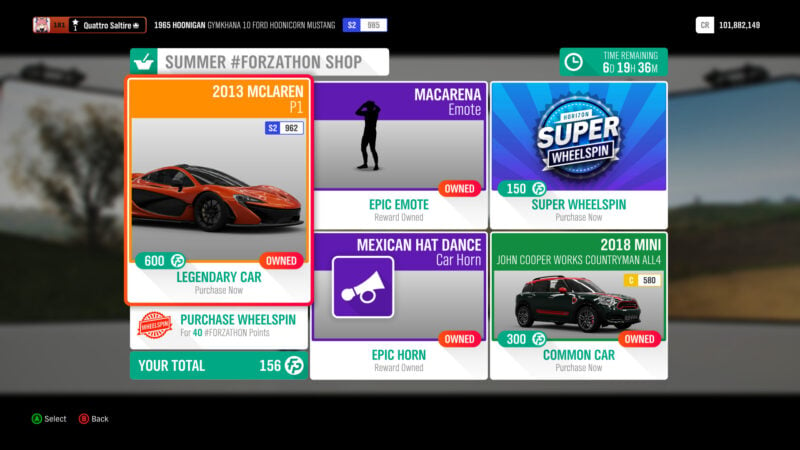 Forzathon Shop
A pair of British performance machines from opposite ends of the spectrum take over the shop for Summer, being led by the 2013 McLaren P1.
The spiritual successor to the iconic F1 takes its approach to performance in a more hi-tech manner. Part of the hybrid "Holy Trinity", the P1 channels Formula 1 technology by combining the 3.8-liter, twin-turbocharged V8 with an energy recovery system. Total power is 903hp, being sent to solely the rear wheels.
To ensure all that power gets to the road, the P1 features advanced active aerodynamics that can provide up to 600kg of downforce at speed.
You'll need 600 Forzathon Points to grab the P1, where its track credentials may give you an edge over the Porsche 918 and LaFerrari should you head into battle.
Something on the lower end of the scale is the Mini Countryman John Cooper Works.
The base Countryman is seen as a humdrum crossover, but the JCW variant attempts to add some sporting flair. Although it has some abilities to go offroad, this Countryman is much happier on tarmac. Its 2.0-liter turbocharged engine gives out a healthy 228hp, but the bulky SUV won't be on the same level of agility as the Mini hatchback in the corners.
Though Countryman will set you back a much cheaper 300FP, you'll get a rather left-field but reasonably brisk crossover for doing the school run.
Novelty items in the store are the Macarena emote and the Mexican Hat Dance horn.
See more articles on Forza Horizon 4 Season Change.