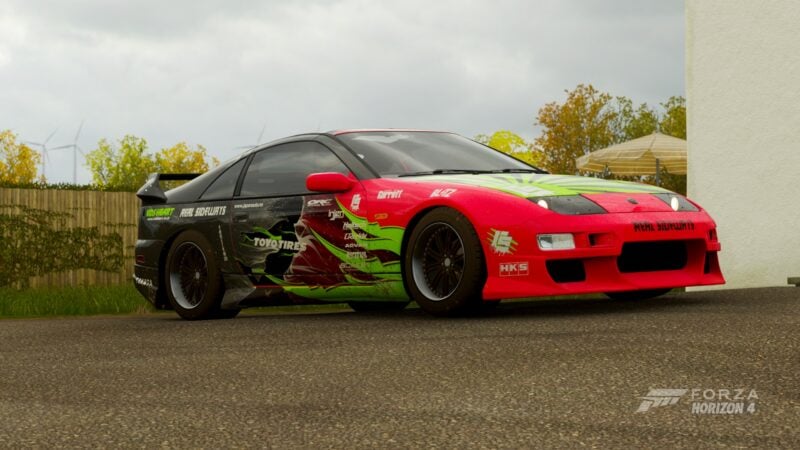 The festival is cooling down and taking shelter from the rain as Autumn returns to Forza Horizon 4 once again. That won't stop players from facing the storms to complete the latest round of events and collect the prizes on offer.
Rewards this week feature some iconic models in car culture, plus there's more bounty for completing the 50% and 80% objectives in the Autumn playlist.
Greatest Hits
Only one car can be won from completing the Autumn playlist: the 1965 Shelby Cobra Daytona Coupe.
This homologation for sportscar racing yielded success in GT categories, with Shelby winning the manufacturer title in the 1965 World Sportscar Championship. Using the Cobra roadster as a base, a new aerodynamic body was fitted and the chassis was upgraded immensely. A 4.7-liter V8 provides a booming symphony along with 390hp to give the Ferrari 250 GTO a massive headache on track.
Another Horizon Backstage Pass is on hand for those in need of more exclusive cars to find.
The latest Photo Challenge encourages you to let your hair down and unleash your inner Ken Block. #HoonigansParadise wants you to snap any car from Hoonigan over at the Express North Rail Yard. You can liven up your pictures by pulling off gymkhana stunts. Seasonal championship rewards feature big names including the Ford Mustang Boss 302 and XB Falcon.
A more modern classic to go for is the 1994 Nissan Fairlady Z, version of the venerable Z-car that is sometimes accused of straying too far from its sporting origins to become more of a grand tourer.
Although the addition of new technology for the era did pile on weight, the tuner scene could turn the Z32 into a serious weapon. This Version S model features a 3.0-liter, twin-turbocharged V6 making 276hp in stock form, but can have extra potential unlocked with a few upgrades.
If you want to grab the Z32, you'll need to win the "Overnight Parts" championship.
Another round of Super7 continues to throw unpredictable surprises to those who can challenge what the community has made. You'll be rewarded with a Wheelspin if you can complete each of the seven cards.
Autumn events can be found listed below:
Overnight Parts
Series: Street Scene
Cars: Japanese cars
Restrictions: S1 Class, 900 PI
Prizes: 15,000 CR, 25,000 CR, 1994 Nissan Fairlady Z
Down Under
Series: Dirt Racing Series
Cars: Australian cars
Restrictions: A Class, 800 PI
Prizes: 15,000 CR, 25,000 CR, Ford XB Falcon
Grudge Match
Series: Dirt Racing Series
Cars: Mustang vs Camaro
Restrictions: C Class, 600 PI
Prizes: 15,000 CR, 25,000 CR, 1969 Ford Mustang Boss 302
The Trial: Team Lotus (Co-Op Championship)
Series: Road Racing Series
Cars: Lotus
Restrictions: A Class, 800 PI
Prizes: 2005 Lotus Elise 111S
Autumn Games – Series 62
Series: Playground Games
Cars: 1980s Collection
Restrictions: S1 Class, 900 PI
Prizes: Ferrari F40
Super7 – Autumn
Completion Prize: Wheelspin
Oakwood Crest Speed Trap
Broadway Windmill Danger Sign
Season Objective: 1,299.2ft
Ashbrook Lane Drift Zone
Season Objective: 97,000 points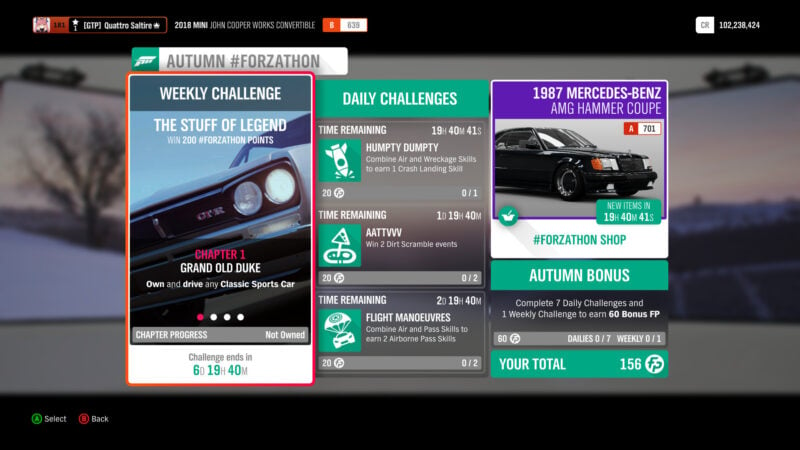 Forzathon Events
Step into a golden era as Classic Sports Cars take to the stage for Forzathon. Pick any of the legends you have in your garage and head out into the streets to get started.
Next, put your speed and handling to the test by earning a total of nine stars from any of the Speed Zones. After that, show how your old dog can still hang with modern competition by winning a Road Racing Series event at the daunting Colossus.
Wrap up the weekly challenges by using all your gymkhana skills to earn a total of 250,000 Skill Score.
Forzathon Shop
Two classic legends take over the shop for Autumn, with the 1987 Mercedes AMG Hammer Coupe takes the center stage.
With the E28 BMW M5 running rampant in the sports sedan market, Mercedes needed a rival to Munich. It contacted independent tuning firm AMG and asked it to add some excitement to its W124 E-Class. That resulted in the AMG 300CE, and its abilities would make the world sit up and take notice.
The AMG's 6.0 liter V8 makes 380hp, easily beating the M5 for sheer grunt. Although it lacked the agility of the BMW, its thuggish attitude earned the AMG its iconic nickname of "The Hammer".
It's relatively cheap at 299 Forzathon Points, especially if you want a car that sometimes still sets a benchmark for more modern AMGs.
Standing alongside the Merc is a specially tuned version of the 1986 Ford RS200.
This infamous Group B homologation has been given a once-over by the team at Hoonigan to create a monster. The 2.1-liter turbocharged engine now puts out 750hp, compared to 500hp of the original. There's been major changes to the chassis and suspension to cope with that much power, along with bespoke wheels and tires.
You'll only need just 101FP for the Ford, which will give you a car that will be even more of a handful to drive than the Group B original if you dare to push it to the limits.
Clothing items and novelty additions for this week are the Disco Chicken Suit and the Halo Theme horn.
See more articles on Forza Horizon 4 Season Change.