Autumn's golden colors have descended upon the UK to mark a fresh new week and a new season in Forza Horizon 4. A new serving of content and events are now available for all players racing around the British countryside.
There's an updated Playlist for this week, with new and returning content up for grabs at 50% and 80% completion. This week, a beast from the 1930s thunders into the spotlight.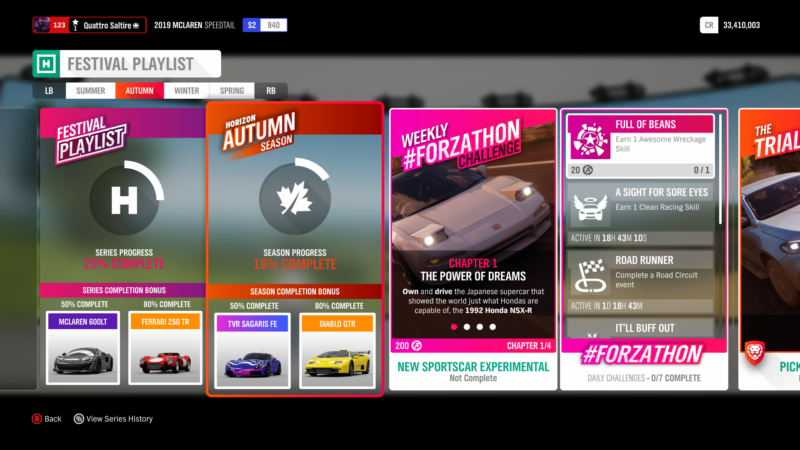 Napier Prepares For Takeoff
Returning content headlines the seasonal completion prizes. The main talking point is the Lamborghini Diablo GTR.
This racing bull was primarily built for Lamborghini's one-make championship in 1999. The GTR takes the already insane Diablo GT and turns the wick up even further. Racing tweaks to the suspension and aerodynamics compliment the GTR's iconic 6.0-liter V12. An improved exhaust system sees power rise to 590hp.
Alongside the Lambo sits the TVR Sagaris Forza Edition. Before the new Griffith arrived in 2018, the Sagaris was the last car that TVR made. Despite having Lamborghini levels of insanity, it was also one of Blackpool's best models.
The 4.0-liter straight-six puts out 400hp, and a fiberglass body means it weighs a featherweight 2,377lb. Unlike other TVR models, the Sagaris has been engineered for handling, as well as ultimate performance.
Seasonal championship prizes this week include the 2009 Vauxhall Corsa VXR and the AMC Rebel.
This week's main course comes in the form of the 1933 Napier-Railton. A pre-war beast, this machine holds various land speed records to its name, including the all-time lap record at the Brooklands circuit. To achieve those records, the Railton has a monster of an engine: a 24-liter W12, formerly used in aircraft. Making 580hp, the Railton is capable of hitting 170mph. Good luck if you want to try and stop it from that speed, as braking occurs via the rear wheels only.
You can win the Railton by completing the "Cult Courier" championship.
All of this week's events are below.
Pizza Boy
Series: Street Scene
Cars: Hot Hatch
Restrictions: B Class, 700 PI
Prizes: 15,000 CR, 25,000 CR, 2009 Vauxhall Corsa VXR
Packaging a Punch
Series: Street Scene
Cars: Modern Muscle
Restrictions: S1 Class, 900 PI
Prizes: 15,000 CR, 25,000 CR, AMC Rebel
Cult Courier
Series: Road Racing Series
Cars: Cult Cars
Restrictions: D Class, 500 PI
Prizes: 15,000 CR, 25,000 CR, 1933 Napier Railton
The Trial: Pickup and Play (Co-Op Championship)
Series: Cross Country Series
Cars: Offroad
Restrictions: A Class, 800 PI
Prizes: Mercedes X-Class
Autumn Games – Series 20
Series: Playground Games
Cars: Sports Ultility Heroes
Restrictions: A Class, 800 PI
Prizes: 1996 Chevrolet Impala
Horizon Drag Strip Speed Trap
Season Objective: 195 mph
Arthur's Seat Danger Sign
Season Objective: 649.6 ft
Toft Speed Zone
Season Objective: 135 mph
Forzathon Events
Forzathon looks to Japan this week, with the Spotlight on one of the most iconic sports cars of the 1990s: the 1992 Honda NSX Type R. Grab this mid-engined legend to get started.
Next up, show off the Ferrari-baiting performance of the NSX, by taking it to its top speed of 175mph. Afterwards, head for the races and take victory in 3 Road Racing Series sprint events.
Finally, it's time to jump around as you'll need to earn 10 Air Skills to finish this week's challenges.
Forzathon Shop
Race cars dominate the shop lineup this week, and the headline act is one of the most famous.
The 1971 Porsche 917/20 is part of the iconic 917 lineup that Porsche fielded at Le Mans. This version had an unusually styled body lacking the elegance of the 917 LH. This version became known as the "Pink Pig" as a result. Featuring a 4.5-liter flat-twelve, the 917/20 still puts out 601hp. With its Le Mans aero, this 917 is still capable of hassling more modern cars in terms of top speed on a straight road.
If you want the Pink Pig, you'll need to fork out 600 Forzathon Points. If you're after a companion to the 917 LH, then this is the perfect opportunity
Joining the 917 is the 2018 KTM X-Bow GT4. Built by Reiter Engineering, the alien-styled X-Bow is designed with the gentleman racer in mind who is yet to step in to a GT3 car. This X-Bow featured an Audi-sourced 2.0-liter turbocharged engine boosted to 330hp.
You'll need to spend 450 FP if you want the X-Bow. If you're after a race car but aren't ready for the more powerful machinery, this will be right up your street.
This week's novelty items include the Ode to Joy horn and the Wide Eyes glasses.
Feature image courtesy of Populuxe Cowboy
More Posts On...