The sun has reappeared to bring the warm Spring glow back to Forza Horizon 4 for a new week. We're now in the final stretch of Series 26, with one last helping of content before Series 27 arrives.
There's no new content this week, but there is another chance to win a classic Nissan hot hatch, along with more prizes for 50% and 80% Playlist completion. Let's look under the hood at Spring's content.
Cooling Down for Spring
It's all about returning content in the Playlist, with one of the most iconic supercars ever made taking center stage.
The McLaren F1 has a legacy that remains unmatched to this day. Built without compromise, the F1 was the fastest road car in the world with a top speed of 240mph. That speed comes from a BMW-sourced 6.1 liter V12 making 627hp, with technology normally seen only in racing. The F1's famous image also stems from its central driving position and three-seater layout.
On the less extreme end is the 2017 Alpine A110. Billed as the French firm's comeback, the new A110 draws lots of inspiration from the original. Despite sharing the engine with a Renault Megane, the 1.8 liter turbocharged motor delivers 248hp. Along with a weight of just over 2400lbs, the A110 has the pace to rattle the esteemed Porsche Cayman.
Seasonal championship prizes include the VW Karmann Ghia and Ferrari 166MM for this week.
The most interesting prize comes in the form of the Nissan Pulsar GTI-R. This rally homologation special is often overlooked amongst the Group A era. Although its rally career was short, the Pulsar came away with success. Powering the Pulsar is a 2.0 liter turbocharged engine with a healthy 227hp. With the ATTESA four-wheel-drive system, the Pulsar will tackle any weather conditions with ease.
You'll need to win the "V For Volvo" championship if you want the Pulsar.
Rounding out Spring is a returning Showcase Remix event. "Supersonic vs Superfast" will pit you against a delta wing aircraft in a race to the festival. Your weapon? The 800hp Ferrari 812 Superfast.
The final Photo Challenge of Series 26 is a simple one. All you have to do is snap a picture of any Offroad car in #GoingOffroad.
This weeks event and prize list is down below:
V for Volvo
Series: Cross Country Series
Cars: Volvo
Restrictions: C Class, 600 PI
Prizes: 15,000 CR, 25,000 CR, Nissan Pulsar GTI-R
Patter of Tiny Feet
Series: Road Racing Series
Cars: Peel P50, BMW Isetta, Reliant Supervan, 1968 Abarth 595
Restrictions: D Class, 500 PI
Prizes: 15,000 CR, 25,000 CR, Ferrari 166MM
In The Wolf's Mouth
Series: Road Racing Series
Cars: La Corsa Italiana
Restrictions: S1 Class, 900 PI
Prizes: 15,000 CR, 25,000 CR, Maserati A6GCS
The Trial: Welcome To The 60s (Co-Op Championship)
Series: Dirt Racing Series
Cars: 1960s Collection
Restrictions: B Class, 700 PI
Prizes: Volkswagen Karmann Ghia
Spring Games – Series 26
Series: Playground Games
Cars: Extreme Offroad
Restrictions: A Class, 800 PI
Prizes: Ford F-150 Trophy Truck
Lakehurst Speed Trap
Season Objective: 195 mph
Mam Tor Danger Sign
Season Objective: 1,010.5 ft
Coppice Speed Zone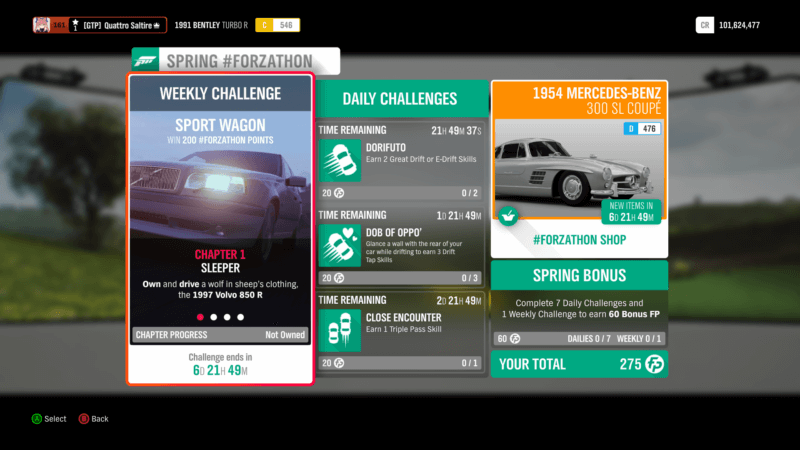 Forzathon Events
Forzathon takes a look at one of the coolest Volvo's ever made this week; the 1997 850 R. Jump into this turbocharged wagon to get things rolling.
Next up, showcase the Volvo's surprise racing pedigree by winning four Road Racing Series circuit events. After the races, head out into the country and take the Volvo for a 12 mile drive. The turbocharged 5-cylinder engine should help make light work of the journey.
Finally, get the back end sliding and earn five Ultimate Drift or e-Drift Skills to finish off this week's challenges.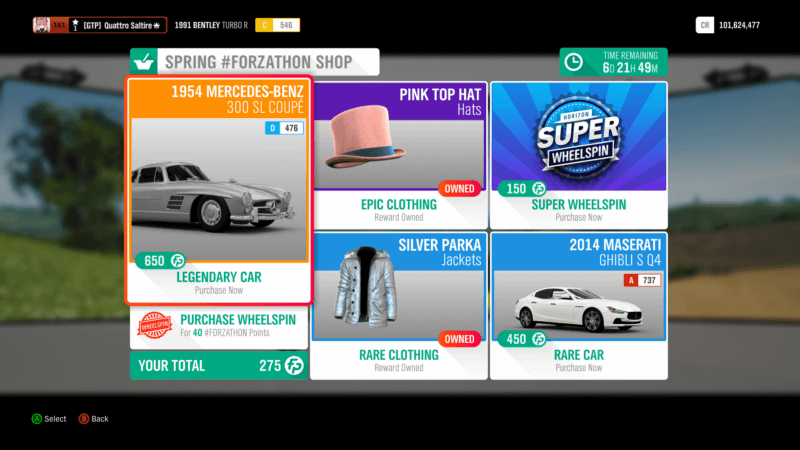 Forzathon Shop
A mixed bag of rare and common is part of the shop lineup this week. The main course comes from the 1954 Mercedes 300SL.
This iconic coupe remains a style powerhouse to this day, thanks to its gull-wing doors which were revolutionary back in the 1950s. It also had surprising performance credentials for its time and was one of the fastest cars in the world. That performance comes from a 3.0 liter straight-six with 241hp.
The 300SL will cost you a hefty 650 Forzathon Points, but will ultimately save you from shelling out on one in the Autoshow.
Making another returning appearance is the Maserati Ghibli S. Sitting below the Quattroporte, this sedan is aimed towards executive sedans like the BMW 5 Series. This range-topping Ghibli comes with a 3.0 liter twin turbocharged V6 making 404hp. Although not on a level with the M5, the Ghibli comes with Italian charm to make up for it.
At 450FP, the Ghibli may seem like a good proposition, but we advise spending your points elsewhere and looking for an Auction House deal instead.
This week's clothing items include the Pink Top Hat and the Silver Parka.
Feature image courtesy of Tomcat79
See more articles on Forza Horizon 4 Season Change.
More on Forza Horizon 4