The warmth of the summer sun brings forth a new season to the UK in Forza Horizon 4. We're now at the milestone of Series 50, with a host of remixed content set to arrive over the next four weeks.
A variety selection of machines and cosmetics makes up the prize list for Summer, along with a rejigged set of rewards 50% and 80% completionof both the seasonal and full playlists.
Half Century
The Summer seasonal playlist only has one car in the completion rewards pool: the 1965 Morris Mini Traveller.
Intended to give the groundbreaking Mini some more practicality, the Traveller gets an extended wheelbase and stretched rear end. The Mini also features distinct wood paneling around the rear end. Performance is not a strong point for a car intended for more urban use, as the 848cc engine makes just 34hp.
If you're in need for a car that's less common to find, there's a new Horizon Backstage Pass available. Prizes for finishing the full Playlist include the Hot Wheels Bone Shaker and another Backstage Pass.
The first Photo Challenge for Summer wants you to be #TheHeadlineAct. You'll need to snap the car you're driving over by the main stage at the Festival site. Championship prizes for this season feature some cosmetics as well as the Mini JCW Convertible.
One highlight car to go for is the 1969 Dodge Charger Daytona Hemi. America's equivalent of a homologation special was closely tied to NASCAR racing. Dodge needed to find away to outdo Ford on the circuit and so subjected its famed Charger to aerodynamic upgrades. The resulting changes gave a much more slippery shape despite the huge fixed wing.
Under the hood sits a 7.0-liter V8 making a hefty 425hp, which was a lot in terms of its era. This enabled the Charger to become the first car in NASCAR history to break the 200mph barrier in competition.
If you want the Charger, you'll need to win the "Locked Horns" championship.
A Showcase Remix event brings a clash of road and railways. "Nine & Three Quarters" sees you racing towards Edinburgh in a Ford Anglia against the Flying Scotsman.
Series 50's Monthly Rivals events sees you taming the VUHL 05RR over at Greendale Club Circuit.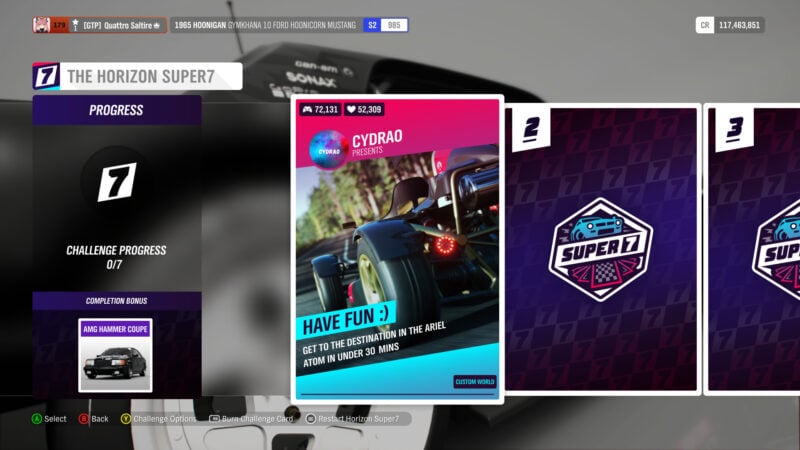 A refreshed set of Super7 challenges will always spring a few surprises. Finish all seven cards and a Mercedes AMG Hammer Coupe will be delivered to you.
Summer events and prizes are below:
Cavallino Rampante
Series: Road Racing Series
Cars: Ferrari
Restrictions: S2 Class, 998 PI
Prizes: 15,000 CR, 25,000 CR, Modern Race Suit Red
Summer Specials
Series: Dirt Racing Series
Cars: Summer Specials
Restrictions: A Class, 800 PI
Prizes: 15,000 CR, 25,000 CR, Mini JCW Convertible
Locked Horns
Series: Street Scene
Cars: Chevrolet vs Dodge
Restrictions: S1 Class, 900 PI
Prizes: 15,000 CR, 25,000 CR, Dodge Charger Daytona Hemi
The Trial: Infiniti and Beyond (Co-Op Championship)
Series: Road Racing Series
Cars: Infiniti
Restrictions: A Class, 800 PI
Prizes: Trial T-shirt
Summer Games – Series 50
Series: Playground Games
Cars: Cult Cars
Restrictions: C Class, 600 PI
Prizes: Fist Pump emote
Super7 – Summer
Completion Prize: Mercedes Benz AMG Hammer Coupe
Coombe Speed Trap
Arthur's Seat Danger Sign
Season Objective: 649.6ft
Forest Green Speed Zone
Forzathon Events
Forzathon puts you into a rather unusual British car for this weeks challenges: the 2014 Morgan 3 Wheeler. Climb into this tricycle, don a flat cap and head out to get started.
Next, use the single rear wheel to its full potential and earn a total of 6 stars from Drift Zones. After that, kick the rear out while passing opponents in a race to earn a Showoff Skill.
Finally, use all of your bravery in this tiny machine to get 3 Threading the Needle skills to bring the curtain down on this week.
Forzathon Shop
Britain comes to the forefront in the shop with the bonkers 2013 Mclaren P1 leading the way.
Grouped as part of the "Holy Trinity" alongside the Porsche 918 and LaFerrari, the P1 brings technology from Formula 1 into a street car. The 3.8-liter, twin-turbocharged V8 is coupled to an energy recovery system to generate a combined 903hp.
Extensive work has also been put into the aerodynamics, allowing the P1 to generate up to 600kg of downforce at speed. With all that electric and combustion power going to the rear wheels, one wrong move and the P1 will bite you.
At 600 Forzathon Points, the P1 will deal a big hit to your wallet, but will arguably be the fastest of the hybrid hypercars should you go into battle with the Porsche and Ferrari.
Those after a performance car but need some all-weather ability can look to the 2018 Mini Countryman John Cooper Works.
This humdrum SUV recieves a warmed up treatment to add a little spice to Mini's biggest car. Despite retaining some offroad capabilities, this Countryman is more road focused. The 2.0-liter turbocharged engine makes a healthy 228hp, although performance against its Cooper stablemates is dented by the extra weight. However, the four-wheel drive system means that you can complete the school run quickly in any conditions.
The Mini will cost you 300 FP and will serve as a left-field alternative to the current crop of hot SUVs.
Novelty items this week are the Macarena emote and Mexican Hat Dance horn.
See more articles on Forza Horizon 4 Season Change.