As Autumn returns to the UK to kick off a new season, full Hallowe'en preparations are also underway. Aside from giving others a fright, players are continuing to tick off the latest haunting events.
This week's prizes feature big performance and larger-than-life machines, as well as fresh prizes for finishing 50% and 80% of the Autumn Playlist.
Tricks and Treats
One car heading up the seasonal completion prizes is the 1992 Bugatti EB110. This particular version is the flagship Super Sport.
As one of the last cars made before Volkswagen took over, the EB110 was made to celebrate 110 years since the birth of the marque's founder, Ettore Bugatti. Under the devisive looking body, sits a 3.5-liter quad turbocharged V12 making 611hp. As a result, the EB110 was one of the fastest cars in the world until the Mclaren F1 came along.
There's also a new Horizon Backstage Pass available if you're after a difficult car to find.
It's time to head for the Scottish Highlands in the latest Photo Challenge, and you'll need to bring a friend along for the ride. #FriendsInHighPlaces wants you to snap you and a friend or Drivatar over at the Glen Rannoch Mast. The prize pool for Autumn's championships include the Jeep Gladiator and Volvo Iron Knight.
One prize to go after can prove beneficial for getting a trick-or-treating run done quickly: the 2015 Audi RS6 Avant. Held as the king of the super-estates, the third-generation RS6 initially seems less impressive than its predecessor. Gone is the bombastic V10, replaced by a 4.0-liter, twin-turbocharged V8 with 552hp. However, thanks to an uprated chassis, this RS6 is leaps and bounds above the old version.
You'll need to win the "Booing Saloons" championship to add the RS6 to your garage.
Don't try to scare yourself too much when attempting the newest batch of Super7 challenges. Complete all seven cards to win a Green Man morph suit.
Read further to find Autumn's events and prizes:
Knight of the Missing Truck Bed
Series: Cross Country Series
Cars: Trucks
Restrictions: B Class, 700 PI
Prizes: 15,000 CR, 25,000 CR, Volvo Iron Knight
Booing Saloons
Series: Dirt Racing Series
Cars: Super Saloons
Restrictions: A Class, 800 PI
Prizes: 15,000 CR, 25,000 CR, 2015 Audi RS6 Avant
Captain Jack
Series: Street Scene
Cars: Cult Cars
Restrictions: D Class, 500 PI
Prizes: 15,000 CR, 25,000 CR, Pumpkin Hat
The Trial: Trick Or Treat (Co-Op Championship)
Series: Cross Country Series
Cars: Offroad
Restrictions: A Class, 800 PI
Prizes: Jeep Gladiator
Autumn Games – Series 41
Series: Playground Games
Cars: Offroad Buggies
Restrictions: A Class, 800 PI
Prizes: "Trick or treat?" Quick Chat
Super7 – Autumn
Completion Prize – Green Man morph suit
Hilltop Vista Danger Sign
Season Objective: 623.4 ft
The Grange Speed Trap
Season Objective: 200 mph
Hillside Speed Zone
Forzathon Events
This week's Forzathon gets venomous, with a particular snake that sometimes goes unnoticed: the 1999 Dodge Viper GTS ACR. Climb in to kick things off.
Up next, give that V10 all it has to earn 10 Ultimate Speed Skills. After that, tame the wild Viper and earn victory in 4 Road Racing Series circuit events.
To wrap up the challenges, don't let the Viper bite you as you'll have to get 9 stars from Drift Zones.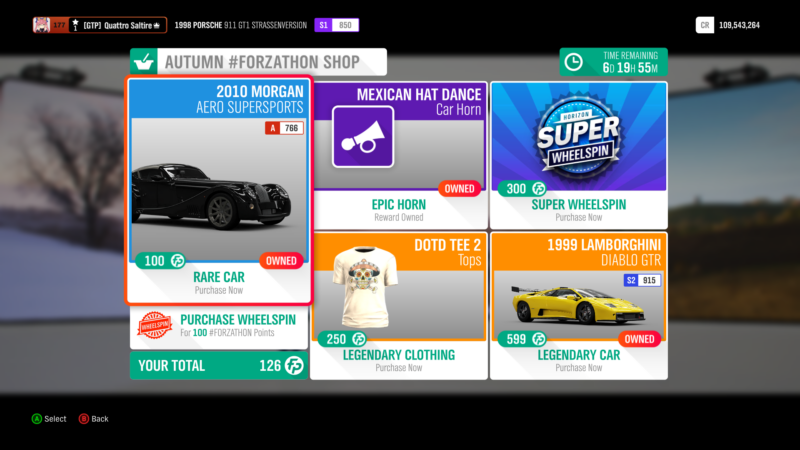 Forzathon Shop
Britain and Italy take the stage in the shop this week, starting off with the 2010 Morgan Aero Supersports.
Based on the limited-run AeroMax, the Supersports adds a targa top for extra drama. Despite its controversial "cross-eyed" front end, and featuring wooden frames under the aluminium body, the Morgan can still cut it with more advanced sports cars. That's thanks to a beefy 4.8 liter BMW V8 making 362hp. Weighing in at just over 2,700lb means that the Aero Supersports can blend healthy performance with grand touring comfort.
The Morgan is a steal at just 100 Forzathon Points, meaning that you'll definitely turn heads when you park this next to an Aston Martin.
If you want something more raw, there's the Lamborghini Diablo GTR.
This homologation special was built to race in Lambo's own one-make Diablo Supertrophy series, preceding the Super Trofeo championship that would follow. The already bonkers Diablo gains a new aero kit for added downforce and a host of chassis upgrades, while the 6.0-liter V12 gets a new exhaust system to boost power to 590hp. With the changes to racing specification, this Diablo should be less lethal to drive than the road car.
At 599 FP, the Diablo is expensive, but you'll get one of the last truly old-school raging bulls in return.
This week's clothing and novelty items are the Mexican Hat Dance horn and the Day of the Dead Tee 2.
See more articles on Forza Horizon 4 Season Change.