A storm is brewing in the UK as winds begin to pick up, and the rain begins to fall for another Autumn season in Forza Horizon 4. The colder weather brings a fresh mix of events with more prizes to suit every taste.
Performance beasts from all across the ages are on the menu for prizes and for 50% and 80% completion for the new seasonal playlist.
Power Play
Kicking off the seasonal completion rewards is the 1968 Pontiac Firebird.
Entering the hotly contested muscle car market in the late 60s that it helped create, Pontiac took on the establishment by developing on the Chevrolet Camaro. Despite the similar silhouette, the first generation Firebird gains a bespoke front and rear end. Another area where the Camaro and Firebird split is under the hood. Pontiac used their own 6.6-liter V8 for this flagship variant, making 343hp.
A car that ups the extreme level as well as exclusivity is the 2019 Bugatti Divo. Named after 1920s racing driver Albert Divo, this machine is more than simply a Chiron with a different body.
While the body itself is designed to reflect Bugatti's coachbuilding past as well as deliver enhanced aerodynamics, the chassis has also been reengineered to deliver improved handling alongside a weight reduction of 88lb. However the Chiron's mighty 8.0-liter quad-turbocharged W16 remains untouched, meaning a titanic 1,479hp under your right foot.
The newest Photo Challenge sends you back to the main festival site, but you'll need to bring some friends along too. #HeadlineTrio wants you to snap any car you have at the festival mainstage along with two other players or drivatars.
Over at the seasonal championships, the prize pool features a hot Vauxhall Corsa and a Ford Falcon Forza Edition, but this week's main prize to go after is the 2019 Rimac Concept Two.
Following on from the barnstorming Concept_One, the upstarts from Croatia is hoping its latest model will spearhead an electric hypercar revolution. Tearing up the traditional rulebook, the C_Two makes more power than any other street car ever made. Under the skin sits an electric motor for each wheel, giving this four-wheel drive monster 1,900hp. Thanks to the quad-motor setup, the Rimac will out-accelerate any road car in a drag race.
To get the Rimac, you'll be required to complete the latest Trial event "The Holy Trinity".
Fans of Showcase Remixes can enjoy the return of "Forest Sprite". Here, you'll be jumping into a little Austin-Healey Sprite for a showdown against a team of dirt bikes.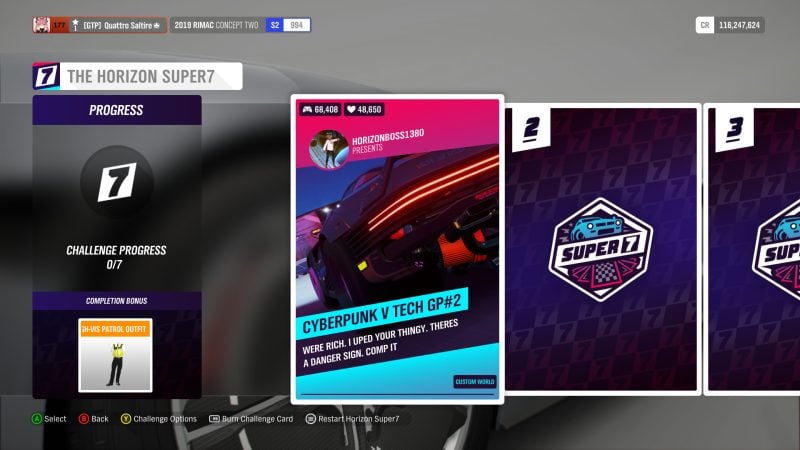 Battle your way through the rain in the latest set of Super7 cards for Autumn. Complete all seven challenges to receive a High-Vis Patrol Outfit.
Events and prizes for Autumn are listed below:
Supercar Showdown
Series: Road Racing Series
Cars: Ferrari vs McLaren
Restrictions: S2 Class, 998 PI
Prizes: 15,000 CR, 25,000 CR, Ferrari F50 GT
Old Habits Die Hard
Series: Dirt Racing Series
Cars: Super Hot Hatch
Restrictions: A Class, 800 PI
Prizes: 15,000 CR, 25,000 CR, 2009 Vauxhall Corsa VXR
Special Performance
Series: Dirt Racing Series
Cars: 2015 Ford Falcon, Holden HSV Gen-F GTS
Restrictions: A Class, 800 PI
Prizes: 15,000 CR, 25,000 CR, Ford Falcon XA GT-HO Forza Edition
The Trial: The Holy Trinity (Co-Op Championship)
Series: Road Racing Series
Cars: LaFerrari, Porsche 918 Spyder, McLaren P1
Restrictions: S2 Class, 998 PI
Prizes: Rimac Concept Two
Autumn Games – Series 45
Series: Playground Games
Cars: Rally Monsters
Restrictions: S1 Class, 900 PI
Prizes: Hoonigan Ford RS200
Super7 – Autumn
Completion Prize – Hi-Vis Patrol Outfit
Broadway Windmill Danger Sign
Season Objective: 1,443.6 ft
Princes Street Speed Trap
Season Objective: 237 mph
Bridlewood Speed Zone
Season Objective: 134 mph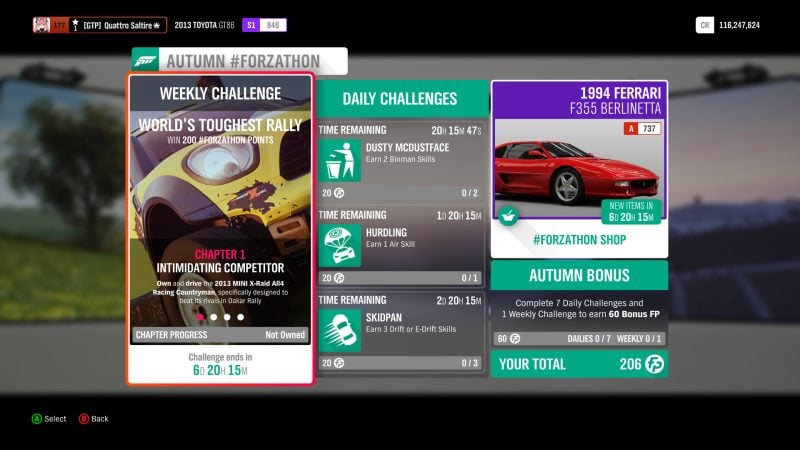 Forzathon Events
We're hitting the mud for the latest Forzathon, as the spotlight car is the 2013 Mini Countryman X-Raid. Jump aboard this Dakar winner to get rolling.
Up next, test the Mini's suspension to the limit by performing 3 Kangaroo Skills. The dunes around Banburgh Castle should help make light work of the task. Afterwards, turn this all-terrain workhorse into a gymkhana star by earning an Ultimate Skill Chain.
Bring a wrap down on this week by dominating the Mini's speciality and winning 4 Cross Country Series events.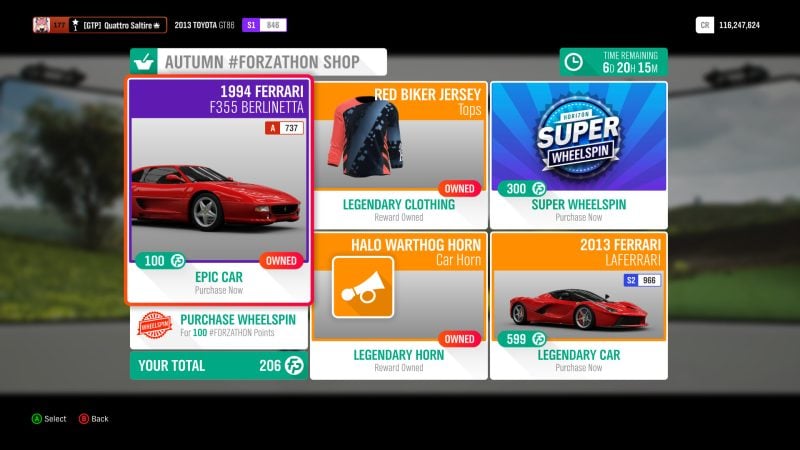 Forzathon Shop
Raise the Italian flag because Ferrari is taking over the shop this week, led by the 1994 Ferrari F355.
The turning point for Ferrari's core berlinetta models came in the form of the F355, bringing much improved performance over the often-criticised 348 that it replaced. The F355 brought about an uprated 3.5-liter V8 that came with five valves per cylinder allowing for increased power. As a result, this prancing horse makes 375hp and is often considered as part of Maranello's greatest offerings.
You won't need to splurge much on this Ferrari as it's only available for 100 Forzathon Points.
If you want the ultimate road car from Fiorano, then look no further than the 2013 Ferrari LaFerrari.
Despite its name translating to "Ferrari The Ferrari", this flagship hypercar certainly is not in the mood for jokes. Replacing the Enzo, the LaFerrari is the third in the coveted "Holy Trinity" of new-age hybrid hypercars.
Statistically, the Ferrari trumps its rivals from Porsche and Mclaren. The 6.3-liter V12 is mated to an energy recovery system to produce 950hp. Sending all that power through the rear wheels should be a handful, but Ferrari has mitigated this with advanced active aerodynamics.
The LaFerrari will set you back 599 FP, and will serve you sell in this week's Trial event is you don't have the Porsche or McLaren.
Clothing and novelty items for this week are the Red Biker Jersey and the Halo Warthog horn.
See more articles on Forza Horizon 4 Season Change.