As 2022 begins to enter the closing stages, Forza Horizon 4 welcomes December with an apt Winter season. With festive plans beginning to take shape, players are continuing to hunt down the latest events.
Performance machines from across a wide spectrum are on the cards for rewards this week, plus another selection of prizes for completing 50% and 80% of the latest seasonal playlist.
Ice Sheets
One car is up for grabs in the playlist completion prizes: the 2018 Renault Megane RS. The previous generation Megane is seen as one of the finest hot hatches on the market, balancing lunacy with everyday practicality.
On the outside, the latest Megane appears even more understated, but underneath it continues to pack serious punch. Under the hood sits a downsized 1.8-liter turbocharged engine, but power has gone up to 275hp. With all that power going exclusively through the front wheels, you'll need to rely of the magic of Renault's chassis gurus to keep the Megane on the road during this treacherous weather.
Those looking for a car that's trickier to get a hold of can also grab another Horizon Backstage Pass.
The Winter Photo Challenge goes extreme with #OrientExtreme. Here, you'll need to head to the Express North Rail Yard and snap a picture driving an Extreme Offroad car. Championship prizes feature cars of all ages, including the AMC Gremlin and the Hoonigan Ford Focus RS RX.
One standout comes in the form of the 2015 Ferrari F12tdf.
A hardcore runout special for Ferrari's big GT car has resulted in one of the most aggressive cars to come out of Maranello. Weight has been cut by 242lb, and the 6.3-liter V12 has been boosted to 770hp.
The biggest changes come from the chassis tweaks and a whole host of new electronic aids. Even the tires have completely changed the F12's behavior, making it incredibly prone to oversteer which you'll need to dial out when threading along icy roads.
You'll have to win the "Hogmanay Street Party" championship to bring the Ferrari home.
Despite the snow this week, Super7 offers up a fresh tray of challenges for all seasons. Complete all seven cards and a Ford Supervan 3 will be on its way to you.
Events and prize list for Winter is below:
Tip of the Iceberg
Series: Road Racing Series
Cars: Classic Racers
Restrictions: A Class, 800 PI
Prizes: 15,000 CR, 25,000 CR, Maserati Tipo 61 Birdcage
Hogmanay Street Party
Series: Street Scene
Cars: Super GT
Restrictions: S1 Class, 900 PI
Prizes: 15,000 CR, 25,000 CR, Ferrari F12tdf
Don't Feed After Midnight
Series: Street Scene
Cars: American cars
Restrictions: S1 Class, 900 PI
Prizes: 15,000 CR, 25,000 CR, AMC Gremlin X
The Trial: Happy New Year (Co-Op Championship)
Series: Road Racing Series
Cars: Classic Racers
Restrictions: S1 Class, 900 PI
Prizes: Porsche 356 SL Gmund Coupe
Winter Games – Series 55
Series: Playground Games
Cars: Rally Monsters
Restrictions: S1 Class, 900 PI
Prizes: Hoonigan Ford Focus RS RX
Super7 – Winter
Completion Prize: Ford Transit Supervan 3
Aerodrome Speed Trap
Northbound Danger Sign
Season Objective: 725.1ft
Lakeshore Speed Zone
Forzathon Events
Forzathon shines its spotlight on cars that are more than suited to the wintery conditions for this week: Modern Rally. Climb aboard your chosen four-wheel-drive trail basher and head out to get started.
Up next, you'll need to flex your tuning muscle as you're required to take your machine to a lofty speed of 185mph. After that, show that your skills from rallying can make you a pilot by earning a total of 15 stars from Danger Signs.
Finally, put your rally driving to the ultimate test by dancing your way to victory in a Dirt Racing Series event at The Gauntlet.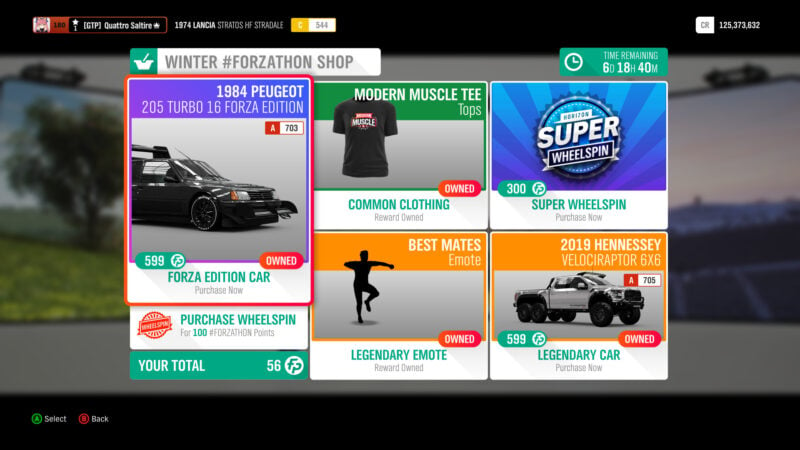 Forzathon Shop
A small rally homologation and a giant truck are the stars of the shop for Winter, with the legendary Peugeot 205 Turbo 16 Forza Edition leading the way.
With the peak days of Group B rallying in full swing, Peugeot wanted in on the action and created one of the most insane 205s around. The T16 switched to a mid engine layout and used a bespoke 1.8-liter turbocharged unit making 200hp in road specification. Couple that to four-wheel drive and the Peugeot will eat up dirt trails or twisting asphalt with ease. The Forza Edition comes with wild Pikes Peak aero and a Skills Boost.
At 599 Forzathon Points, the 205 is an expensive acquisition, but you'll save yourself lots of time from trying to bag one from wheelspins.
Those looking to hit trails but want to command respect can look to the 2019 Hennessey VelociRaptor 6×6.
The standard F150 Raptor is already an extremely capable performance truck, but that isn't enough for Hennessey. The VelociRaptor adds an additional rear axle to create a six wheel drive monster for greater offroad capability.
It wouldn't be a Hennessey tune without a load of extra power either. Thats's why the 3.5-liter twin turbocharged V6 now makes 600hp, which is needed to move all 6,700lb of this tank.
The VelociRaptor also costs 599FP, and will give you one of the most extreme and intimidating pickups in return.
Avatar clothing and novelty items available are the Modern Muscle T-shirt and the Best Mates emote.
See more articles on Forza Horizon 4 Season Change.