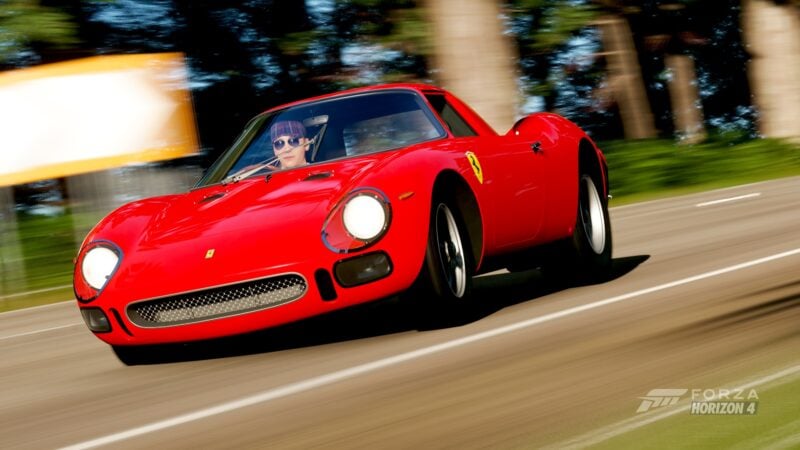 Summer has come around once more to kick off a new week in Forza Horizon 4. We're now into Series 49, with four more weeks of remixed content on the cards for keen players.
A pick-and-mix selection of machines are available in the rewards pool, plus more prizes for 50% and 80% completion of both seasonal and full Playlists.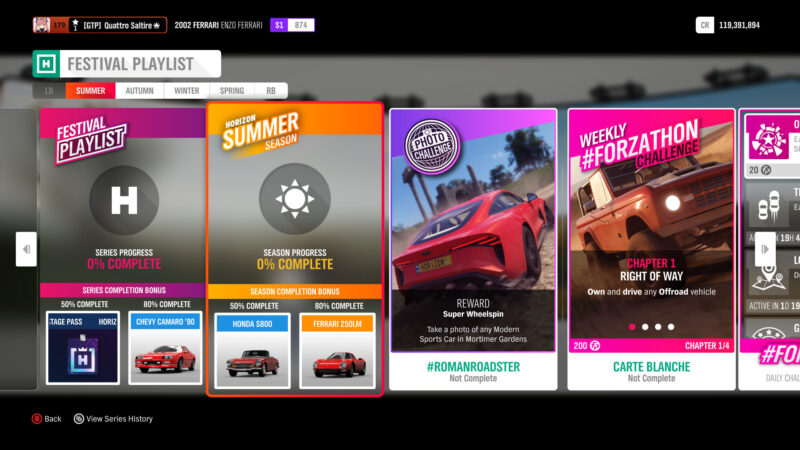 Around The World
Honda leads the seasonal completion prizes for Summer with its diminutive 1970 S800.
The small roadster would be the last of Honda's S-series of sports cars until the S2000 came along in 1999. As the culmination of one of Honda's first ever cars, it offered big sporting thrills in a tiny package.
Under the hood is an 800cc engine making just 70hp. However, the sub-1,600lb weight means that the S800 has very brisk performance.
If you're after rarity, there's the 1963 Ferrari 250LM.
Based loosely on the 250 street car, this racer adopted a mid-engined layout in order to compete at Le Mans. With 32 units made, the 250LM was never sold as a GT car and was shunted into racing in the prototype class. However that would not stop the 250 from achieving a successful career, including victory at Le Mans in 1965. Under the hood sits a 3.2-liter V12 with a healthy 315hp.
Rewards for completing the full Playlist are a new Horizon Backstage Pass and a 1990 Chevrolet Camaro IROC-Z.
Summer championship prizes feature a variety of machines including the VUHL 05RR and Hummer H1 Open Top, while a highlight of the prize pool is the 2008 Maserati MC12 Versione Corsa.
With the MC12 having had an extremely successful, if not controversial career in GT1 racing, Maserati decided to homologate it into an ultra-exclusive track toy.
This MC12 is far removed from the street car, with aerodynamics aping the GT1 machine. The 6.0-liter V12 received major upgrades to produce 760hp, making it the most powerful Maserati to date.
To get the MC12 home, you'll need to win the "Cross Country Heroes" Trial event.
The latest Monthly Rivals event puts you in the Mazda Cosmo 110S on Astmoor Heritage Circuit.
Series 49 also sees more Super7 challenges to put you through your paces. Finish each of the seven cards to win a Formula D variant of the Ferrari 599.
Latest events for Summer are below:
Vuhl in the City
Series: Road Racing Series
Cars: Extreme Track Toys
Restrictions: S2 Class, 998 PI
Prizes: 15,000 CR, 25,000 CR, VUHL 05RR
Van of Steel
Series: Cross Country Series
Cars: Vans and Utility
Restrictions: D Class, 500 PI
Prizes: 15,000 CR, 25,000 CR, The Robot emote
Shummer Nights
Series: Cross Country Series
Cars: Offroad
Restrictions: A Class, 800 PI
Prizes: 15,000 CR, 25,000 CR, Hummer H1 Open Top
The Trial: Cross Country Heroes (Co-Op Championship)
Series: Cross Country Series
Cars: Sports Utility Heroes
Restrictions: A Class, 800 PI
Prizes: Maserati MC12 Versione Corsa
Summer Games – Series 49
Series: Playground Games
Cars: Hot Hatch
Restrictions: B Class, 700 PI
Prizes: 2001 TVR Tuscan S
Super7 – Summer
Completion Prize: Ferrari 599 Formula D
Northbridge Speed Trap
Outcrop Crest Danger Sign
Season Objective: 623.4ft
Derwent Water Speed Zone
Forzathon Events
Bring a sturdy pair of boots as Offroad machines are the focus of this week's Forzathon. Pick one of the titans in your garage and set out to conquer the wilds.
Up next, head off to the races and take victory in 3 Cross Country Series events. Afterwards, leave destruction in your wake as you'll need to earn a Wrecking Ball Skill.
To finish up this week, you'll need to channel all of your skills with your off-roader and use your best techniques to earn a total of 750,000 Skill Score.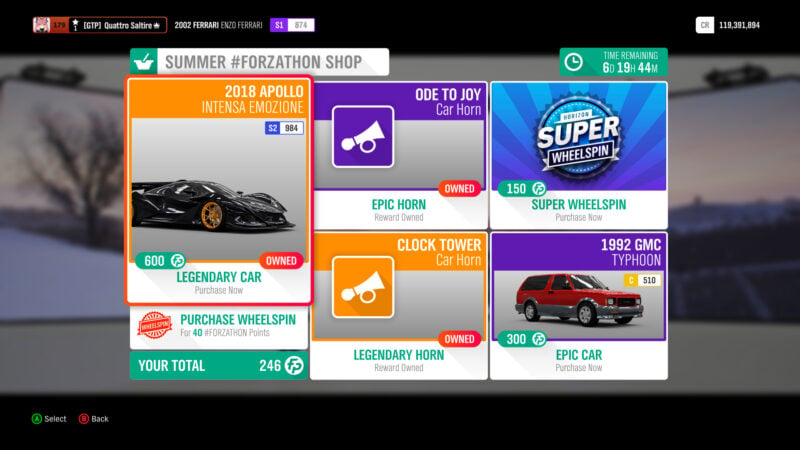 Forzathon Shop
Different ends of the performance spectrum headline the shop this week, starting off with the 2018 Apollo Intensa Emozione.
Intended for track use, this beast was designed to pay tribute to the classic GT1 cars of the 1990s. Under all the slashes and vents in the carbon body sits a 6.3-liter V12 making 780hp. The body itself can produce up to 3,000lb of downforce at speed, giving the Apollo serious track credentials once you get up and running.
While the Apollo will set you back 600 Forzathon Points, in a crowded class of track machinery it is one of the more unique offerings.
Something more unexpected from the high performance realm is the 1992 GMC Typhoon.
Super powered sports SUVs of today can trace their roots all the way back to this American brick, which caused many surprises with its abilities. Stripping out the off-road capacity of a standard GMC Jimmy, the Typhoon put all of its focus into road performance.
Featuring a 4.3-liter turbocharged V6, the Typhoon puts 280hp on to the road via a tweaked four-wheel-drive system. The chassis upgrades allow the GMC to out-drag more exotic sports cars of the same era.
At 300FP, the GMC is a cheaper way of letting drivers of Cayennes and Range Rover SVRs know where their ancestry really comes from.
This week's novelty items are the Ode to Joy and Clock Tower horns.
See more articles on Forza Horizon 4 Season Change.