The rising sun marks the beginning of a fresh new Spring season in Forza Horizon 4 this week. We're on to the final lap of Series 37, and everyone is racing to complete the last few events before the next series begins.
You have the opportunity to win a classic Toyota, along with grabbing more prizes for 50% and 80% completion of the latest Festival Playlist.
No Expenses Spared
There's only one car up for grabs in the seasonal playlist this week, but it's an expensive one; the 1957 Ferrari 250 Testarossa.
Standing as one of the most valuable cars in the world, the 250TR is also one of the most successful race cars from the 1950's. Taking ten race wins, including the Le Mans 24 Hours and the Targa Florio, the 250 commands its high price with style. Under the hand-built body is a 3 liter V12 putting out 300hp. The engine would also go on to see success with the 250 GTO and 250 LM.
There's also a new Horizon Backstage Pass if you're in need of a car that is still missing from your collection.
Closing out the Photo Challenges for Series 37 is #MuddyGoodTime. Hop into an Extreme Offroad racer and snap your best pic of you getting dirty at Mudkickers Adventure Park. Over at the seasonal championships, the prize pool features the W Motors Lykan Hypersport and a 2017 Ford Fiesta WRC.
A stand out in the prize pool is the 1992 Toyota Supra. Although the A70-generation was the third in the Supra lineup, it was the first to carry that name alone after splitting from the Celica. This version of the Supra features a 2.0 liter twin turbocharged straight-six making 206hp in stock form. Give that engine a few tweaks and you'll soon be making supercar-slaying power numbers.
If you want the Supra, you'll need to win the aptly named "Is That a Supra?" championship.
There's one last batch of Super7 challenges waiting as you bring the wraps down on Series 37. Complete all the cards and you'll win a Chevrolet Corvette C8.
Spring's events and prizes are listed below;
Is That a Supra?
Series: Street Scene
Cars: Toyota
Restrictions: B Class, 700 PI
Prizes: 15,000 CR, 25,000 CR, 1992 Toyota Supra
The Saloon Returns
Series: Dirt Racing Series
Cars: Super Saloons
Restrictions: A Class, 800 PI
Prizes: 15,000 CR, 25,000 CR, 2014 Maserati Ghibli Q4
Retro Hoonicorn Attack
Series: Street Scene
Cars: Retro Sports Cars
Restrictions: B Class, 700 PI
Prizes: 15,000 CR, 25,000 CR, Hoonigan Ford Mustang "Hoonicorn" Gymkhana Ten
The Trial: All You Can Street (Co-Op Championship)
Series: Street Scene
Cars: Hypercars
Restrictions: S2 Class, 998 PI
Prizes:W Motors Lykan Hypersport
Spring Games – Series 37
Series: Playground Games
Cars: Rally Monsters
Restrictions: S1 Class, 900 PI
Prizes: 2017 Ford M-Sport Fiesta RS
Super7 – Spring
Completion Prize: 2020 Chevrolet Corvette C8
Lakehurst Speed Trap
Season Objective: 195 mph
Leap of Faith Danger Sign
Season Objective: 449.5 ft
Queen's Drive Speed Zone
Season Objective: 133 mph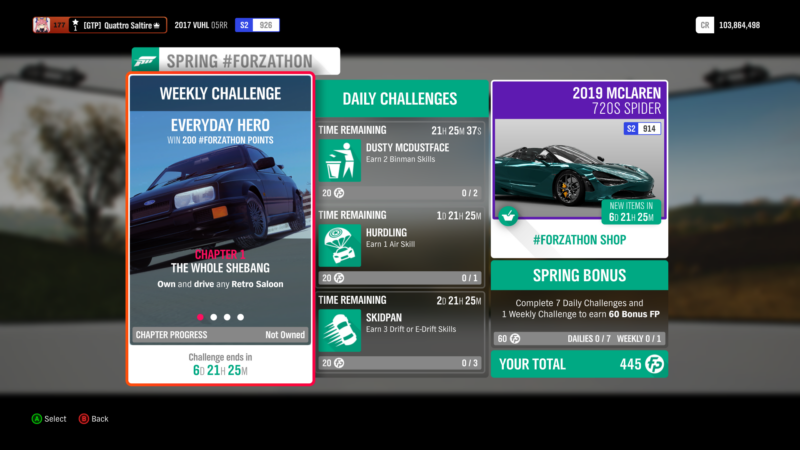 Forzathon Events
Step back in time for this week's Forzathon, as the main theme is Retro Saloons. Pick any legend you have in your garage to get started.
Next, head out for a drive around the UK to really stretch the legs of your chosen sedan. Once you've completed 20 miles, you'll be able to progress. Afterwards, take to the air as you'll need to earn 3 stars from the Broadway Windmill Danger Sign. You'll need a lot of speed and a lot of tuning for this one.
Finally, bring the latest challenges to a close by taking victory in a Street Scene event in Edinburgh New Town.
Forzathon Shop
The latest shop lineup is all about British drop-tops, headlined by the Mclaren 720S Spider.
Turning the 720S into a convertible raised fears about compromises to its handling. Thankfully, the addition of a folding roof has failed to dent the Mclaren's performance despite the addition of an extra 200lbs. The 4.0 liter twin turbocharged V8 is untouched, meaning an identical 711hp.
The 720S will cost you 600 Forzathon Points should you choose to buy one. If you do, you'll be leaving Ferraris in your dust as well as getting wind in your own hair.
If you want open-top motoring in something more humble, there's the Mini John Cooper Works Convertible.
By adding some spice to a standard Mini Convertible, the JCW aims to give drivers more fun will keeping its urban credentials. Powering the Mini is a BMW-sourced 2.0 liter turbocharged engine making a respectable 228hp. While it has the grunt to match its hot hatch rivals, it suffers in regards to weight, coming in at nearly 3,100lbs.
At 300 FP, the Mini is cheaper, but there are other hot hatches on sale in the Auction House that are faster and more stylish.
Clothing items for this week are the Classic and Silver Top Hats.
See more articles on Forza Horizon 4 Season Change.