Spring has made its return appearance for another week in Forza Horizon 4. As we enter the endgame for Series 48, players are making one last push for the current rewards before the next series arrives.
The theme for Spring puts exotic machines in the spotlight, plus a fresh pair of prizes as part of completing the Playlist to 50% and 80%.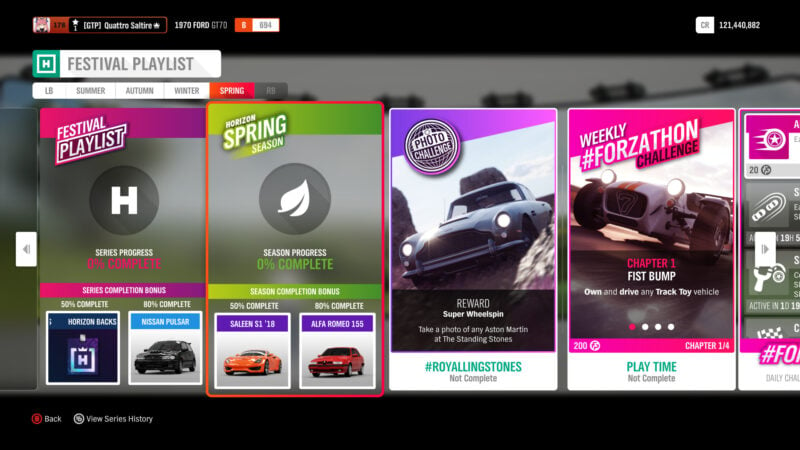 Superstar Supercars
Taking center stage for the Spring playlist completion prizes is the 2018 Saleen S1. This was meant to be a rebirth of Saleen and its entry to the entry level supercar market, however its existence has proven to be somewhat of an enigma.
With the aim of squaring-off with the Porsche 911, the S1 was positioned as a true driver's car. Although it features a 2.5-liter turbocharged inline-four, it produces 450hp and only has to lug around a weight of less than 2,700lb. Production was meant to happen in 2019, but no units have been built.
The 1992 Alfa Romeo 155 Q4 may not be exotic, but it isn't a completely forgettable car either.
Underneath the humdrum exterior, the 155 harbors surprising racing pedigree, having forged a very successful career in touring car racing. A 2.0-liter, turbocharged inline-four gives the 155 a healthy 187hp. Coupled to a four-wheel drive system and this sedan has some brisk pace for all weather conditions.
Closing out the Photo Challenges for Series 48 is #RoyallingStones. For this objective, you'll need to snap any Aston Martin you're driving over at the Standing Stones. Spring championships feature a variety of supercars including the Koenigsegg Jesko and the Zenvo TSR-S.
One particular highlight comes in the form of the 2002 Ferrari Enzo, named in honor of the marques founder.
The replacement for the F50 needed to fill some huge shoes due to the faults of its predecessor. However, the Enzo would right those wrongs as well as continue the transition of bringing F1 technology to the road. The carbon fiber body hides a 6.0-liter V12 making 650hp, as well as active aerodynamics and electronic assistance systems that were considered advanced for the era.
To bring home the Enzo, you'll have to win the "Luxury Getaway" championship.
There's also another Showcase Remix event to round off the Playlist. "Contest of Giants" puts you into a Chevrolet Colorado ZR2 to battle across the Scottish Highlands against a giant hovercraft.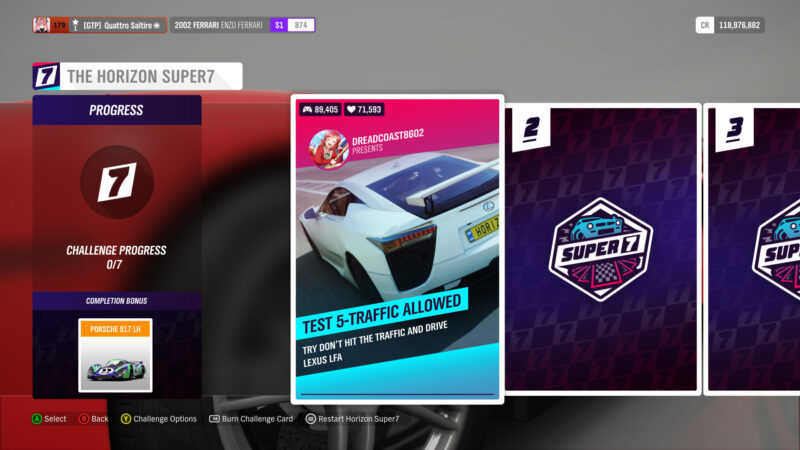 There's a final set of Super7 cards if you're keen to test yourself on more random challenges. Finish all seven to take home a Porsche 917 LH.
Events and rewards for Spring are below:
Northern Tours
Series: Road Racing Series
Cars: Swedish and Danish cars
Restrictions: S2 Class, 998 PI
Prizes: 15,000 CR, 25,000 CR, Zenvo TSR-S
Luxury Getaway
Series: Road Racing Series
Cars: Ferrari
Restrictions: S1 Class, 900 PI
Prizes: 15,000 CR, 25,000 CR, Ferrari Enzo
Overnight Adventures
Series: Street Scene
Cars: Extreme Track Toys
Restrictions: S2 Class, 998 PI
Prizes: 15,000 CR, 25,000 CR, Koenigsegg Jesko
The Trial: Beaches and Bentleys (Co-Op Championship)
Series: Road Racing Series
Cars: British cars
Restrictions: S2 Class, 998 PI
Prizes: Bentley Turbo R
Spring Games – Series 48
Series: Playground Games
Cars: Super Hot Hatch
Restrictions: A Class, 800 PI
Prizes: 2018 Renault Megane RS
Super7 – Spring
Completion Prize: Porsche 917 LH
Old Town Speed Trap
Ambleside Edge Danger Sign
Season Objective: 672.6ft
Coppice Speed Zone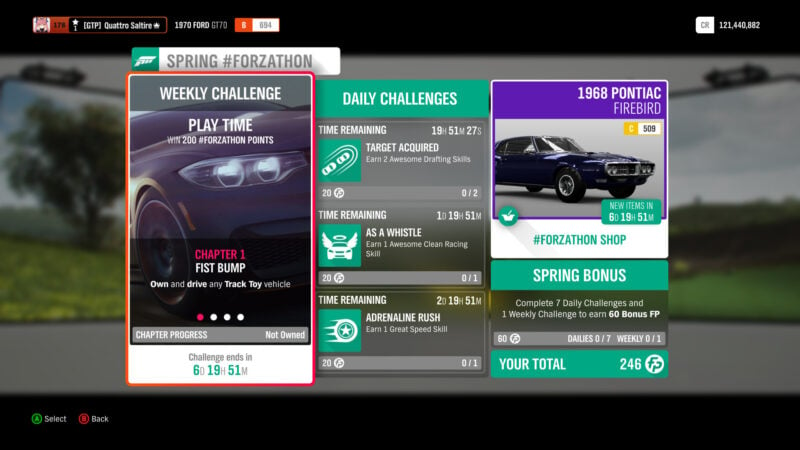 Forzathon Events
Forzathon is going hardcore this week as Track Toys are under the spotlight. Choose any one of the missiles in your garage and head out to get started.
Next, put your foot down and demonstrate your machines handling ability by earning a total of 12 stars from Speed Zones. After that, you'll have to turn that handling into gymkhana muscle, as you'll need a grand total of 1 million Skill Score.
Last but not least, show how your weapon dominates the track by taking 3 victories in Road Racing Series Circuit events to wrap up the weekly challenges.
Forzathon Shop
The shop continues the theme of high end machinery with a rare oddball hypercar and an often forgotten muscle car, starting with the 1968 Pontiac Firebird.
This first-generation version of the Firebird often gets overshadowed by the Chevrolet Camaro upon which it's based. Despite sharing a platform, the Firebird has its own styling features that helped aerodynamics.
The top-line Firebird has a 6.6-liter V8 making a beefy 343hp, although some tweaks will help unleash even more power for the drag strip.
At 600 Forzathon Points, the Firebird is expensive, but you'll get a brute that's arguably much cooler than the muscle car establishment.
If you want a true rare exotic, there's the 2016 W Motors Lykan Hypersport.
Despite the wild angular styling, this hypercar remains a complete unknown oddity. The Hypersport is also the first supercar to come from the United Arab Emirates. With jewel-encrusted lights and gold stiching in the seats, the Hypersport is far from subtle.
Although the chassis is bespoke, the engine is a 3.7-liter, twin-turbocharged flat six from Porsche tuners RUF. With 780hp, the Hypersport has the numbers to back up its $3.4 million price tag.
The Hypersport is much cheaper at 300 FP, and looks like no other hypercar on the road. Just don't try and jump it between any buildings.
This week's novelty items are the Robot emote and the "Bwaaahh!!" horn.
See more articles on Forza Horizon 4 Season Change.