Dark nights and a white landscape mean that a new Winter season has started in Forza Horizon 4. Plowing through deep drifts and treacherous ice will uncover the latest round of events and more content to fill your garage.
Rewards for this week largely lean towards fully tackling the tricky conditions, plus there's more prizes waiting for those who can complete 50% and 80% of the Winter seasonal playlist.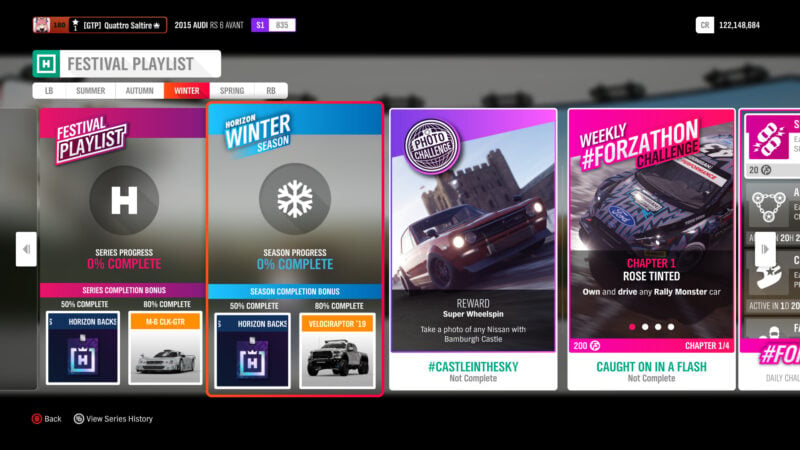 Snow Ploughs
A truck more than capable of tackling the British winter is up for grabs in the seasonal completion prizes: the 2019 Hennessey VelociRaptor 6×6.
The Ford F150 Raptor is already tuned to tackle whatever terrain gets thrown at it, but the Texan tuner has gone more than a step further in making this even more intimidating. An extra rear axle adds a new breadth of offroad capability that even the standard Raptor would struggle to match.
Hennessey has also boosted the 3.5-liter, twin-turbocharged V6 to 600hp, which is needed since this beast of a truck weighs close to 6,700lb.
Those needing to check out harder-to-find cars at the festival can also grab another Horizon Backstage Pass.
The Photo Challenge for Winter is all about castles this week. #CastleInTheSky requires you to snap any Nissan over by Bamburgh Castle on the east coast. You can also make the title of the objective more apporpriate by bringing any of the Skylines available. Rewards for the championships include the Toyota Baja truck and the Jeep Grand Cherokee SRT.
It may be winter, but the highlight of the prize pool is not suited for the snowy roads: the 1968 Pontiac Firebird.
The first generation of this muscle car stems from the equivalent Chevrolet Camaro, which was riding high in the muscle car wars against the Mustang and Dodge Challenger. Pontiac gave the Camaro platorm its own styling elements that were more aerodynamic than its bowtied brother.
Under the hood lies a 6.6-liter V8 making 343hp. With traditional muscle car suspension and chassis technology, you'll need to keep your skills sharp to get this pony car to behave at speed.
The Firebird will be yours as soon as you win the "Muscle Creatures" championship.
Super7's lucky dip has another vast array of challenges for you to conquer. If you can finish all seven cards, a GMC Syclone will be on its way to you.
Winter events and prizes are listed below:
Jeepers Creepers
Series: Cross Country Series
Cars: Jeep
Restrictions: A Class, 800 PI
Prizes: 15,000 CR, 25,000 CR, 2014 Jeep Grand Cherokee SRT
Muscle Creatures
Series Road Racing Series
Cars: Classic Muscle
Restrictions: B Class, 700 PI
Prizes: 15,000 CR, 25,000 CR, 1968 Pontiac Firebird
Bugs and Hisses
Series: Dirt Racing Series
Cars: Track Toys
Restrictions: S1 Class, 900 PI
Prizes: 15,000 CR, 25,000 CR, Volkswagen Class 5/1600 Baja Bug
The Trial: Gone Haunting (Co-Op Championship)
Series: Cross Country Series
Cars: Extreme Offroad
Restrictions: S1 Class, 900 PI
Prizes: Toyota #1 T100 Baja Truck
Winter Games – Series 53
Series: Playground Games
Cars: Retro Rally
Restrictions: B Class, 700 PI
Prizes: Witch's Hat
Super7 – Winter
Completion Prize: GMC Syclone
Copse Speed Trap
Rannoch Shelf Danger Sign
Season Objective: 574.1ft
Carden Creag Speed Zone
Forzathon Events
The winter landscape means that Rally Monsters are the perfect subject for this week's Forzathon. Jump into any one of these four-wheel drive beasts to get started.
Up next, show off your gymkhana skills and slide your way to earning a total of 20 Ultimate Drift or Ultimate E-Drift Skills. Afterwards, put the hammer down and thread your way to getting a total of 15 stars from Speed Zones.
Finally, put your rally machine through its paces and storm through the blizzards to win 3 Dirt Racing Series events.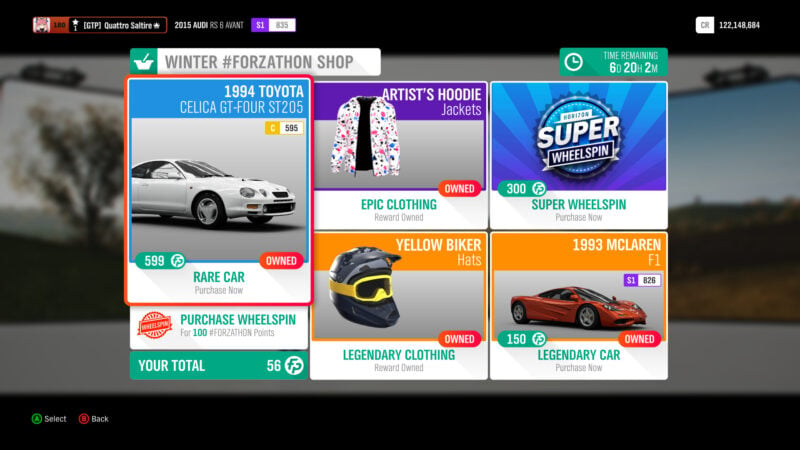 Forzathon Shop
Two legends of their craft are in the shop for this week, although both earned fame for very different reasons. Kicking things off is the 1994 Toyota Celica GT-Four.
The ST205 generation Celica is often considered as one of the greatest homologation specials ever made, and it certainly has the rallying pedigree to back it up. Although the street car would go on to become a cult hit, the racing version has a more tainted reputation after Toyota was caught cheating during the 1995 World Rally Championship.
Its 2.0-liter turbocharged engine is an evolution of the unit in the ST185, but has been tweaked to produce 255hp. Add in the four-wheel drive system and the Celica is still a seriously capable all-weather sports coupe.
You'll need deep pockets for the ST205 as it costs 599 Forzathon Points, but if you're in the market for an iconic rally machine then the Toyota is certainly an attractive offer.
Those seeking true legendary status can turn to the 1993 McLaren F1.
This is often a frontrunner in the debates of what is considered to be the greatest supercar of all time, and the details in the F1 add to its credibility. With a chassis made entirely from carbon fiber and a central driving position, the F1 was close to a full-on race car for the road. The engine bay was also lined with gold thanks to its heat reflective properties.
Inside that engine bay sits a 6.1-liter V12 sourced from BMW. Although 627hp doesn't sound like a lot by today's standards, the F1 only has to lug around a weight of just 2,840lb. That enabled it to reach a top speed of 240mph to set a record that would stand until 2005.
You'll only need 150FP to obtain the McLaren, plus you'll get a machine with a charisma that the tactile titans from Bugatti can't match.
Clothing items available are the Artist's Hoodie and Yellow Biker Helmet.
See more articles on Forza Horizon 4 Season Change.