Its beginning to look a lot like Christmas, as Playground Games used the latest Forza Monthly livestream to unveil the next batch of seasonal rewards for the upcoming Series 43 in Forza Horizon 4. Despite many players set to spend the holiday season over in Mexico, PG is ensuring there will still be festive cheer for those still in the UK.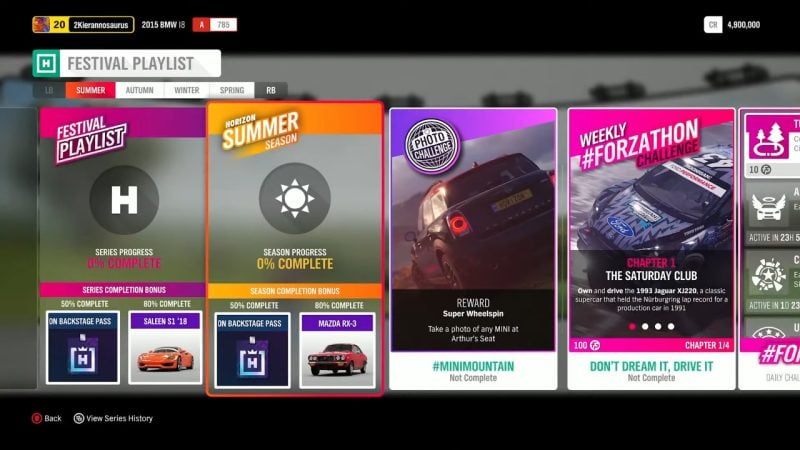 Seasonal Reward Cars
Over the next four weeks, a total of sixteen cars will be up for grabs across the entirety of Series 43 Playlist, as well as plenty of Christmas themed events and cosmetics to take you right through to the new year.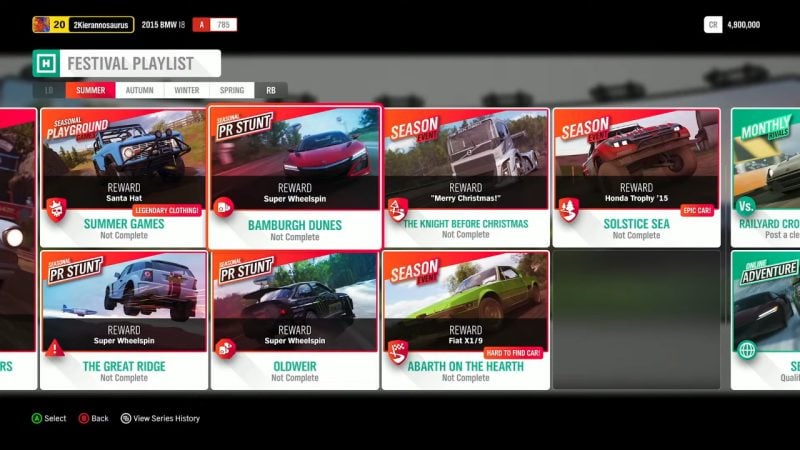 Summer, starting on December 9, is a mix and match affair with the Saleen S1 and Mazda RX-3 headlining the Playlist completion prizes. There's also a chance to win the 1999 Lotus Elise in the upcoming Trial, "Christmas Barbecue". The Fiat X1/9 can be obtained from "Abarth on the Hearth", and completing "Solstice Sea" will yield the Honda Ridgeline Baja Trophy Truck.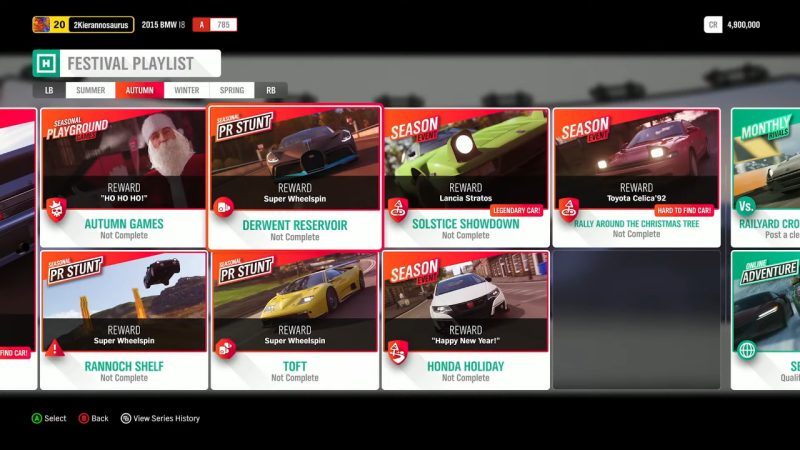 Autumn is set to bring a legendary Australian homologation special back to the prize pool when it begins on December 16. The Trial event "Flex Your Muscle" has the Holden Commodore VL Group A as the star prize. There's rally legends up for grabs in the championships including the Lancia Stratos and 1992 Toyota Celica.
Winter's cold spell sees the 2018 Renault Megane RS join as a seasonal completion prize. The Porsche 356 SL Gmund Coupe awaits for the Winter Trial, whereas the championships feature the AMC Gremlin, Ferrari F12tdf and Maserati Tipo 61. This season gets underway on December 23.
The final season of 2021 intends to close Series 43 with a bang, as the Koenigsegg Jesko is the big prize for the Spring Trial, "Holiday Hype". You can add some seriously desirable cars to your garage to kick off 2022, with the championships offering the 2017 Ford GT and the iconic Ferrari 250 GTO. That all gets going on December 30.
Series 43 officially begins later this week, where we'll be giving you the full seasonal breakdown this coming Thursday. If you want more community discussion on the upcoming series, be sure to stop by GTPlanet's dedicated FH4 forums.
See more articles on Forza Horizon 4 Game Update.