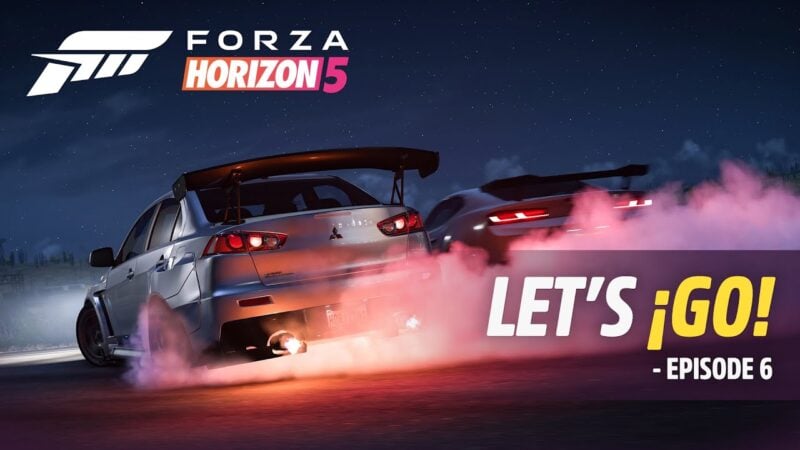 The latest episode of the biweekly Forza Horizon 5 teaser series "Let's Go" is set to land later today, and with it we'll get a peek at some of the brand new cars arriving when the game launches in November.
It's the sixth episode in the series which has already revealed a great deal about what we can expect. The first, of course, announced the game officially along with its launch date and Mexico location. Episode two dealt with environmental image capture in Mexico, while the third centered on vehicle audio.
The fourth and fifth episodes went back to the environment, looking at the specific regions — or "biomes" — in the game and then finally the full game map.
Back in episode three Mike Brown, creative director of Forza Horizon 5, revealed that a future episode would "start to do a real deep dive into the car list", and it looks like episode six will be the point at which that process begins.
Of course we're not expecting a full car list yet — by our count there's enough time for five more episodes at one a fortnight until the November 9 launch — but the video description states there'll be "several brand new cars".
GTPlanet's forum users have been compiling a car list based on what we've already seen in FH5 promotional material, and you can find that in our Forza Horizon 5 Ultimate Guide page — and we're expecting that to swell somewhat after this week's episode, likely with a few vehicles specific to Mexican car culture.
We have already seen more than a handful of brand new cars, including the GR Supra revealed in episode five, and the Mercedes-AMG Project ONE which appears to be the game's hero car — though that's yet to be confirmed.
In addition to the brand new vehicles, the stream also promises to reveal a new Showcase event. If you're not familiar with the Horizon series, these events see you race head-to-head against some unusual opponents. These have previously included a twin rotor helicopter, a VTOL jet, an airship, trains, a hovercraft, and a Halo dropship, so the FH5 event previewed today should involve a suitably mad rival.
The stream will begin at 1830 UTC today, and you'll be able to catch it in full below:
See more articles on Forza Horizon 5 Car List and Live Stream.