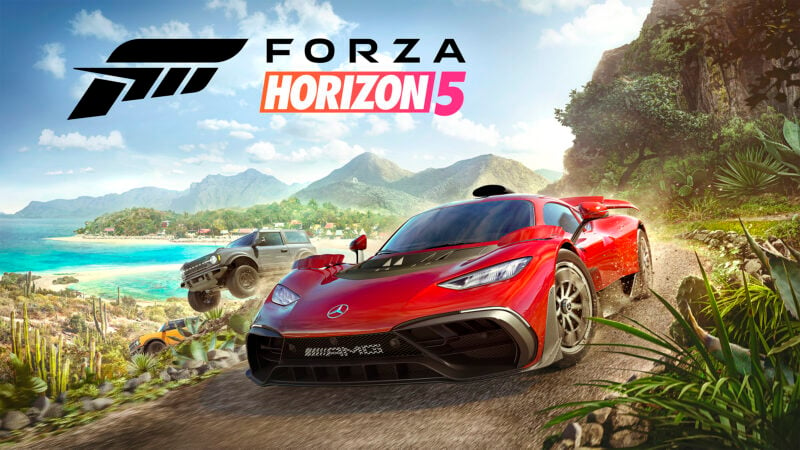 Forza Horizon 5 is the fifth title in the Forza Motorsport-spinoff, open-world Horizon series.
The Horizon series is developed in the UK by Playground Games, and although the titles are inspired by the Motorsport series they're quite a different prospect. Taking place in a large open-world map, the series is as much about driving between races and discovering the world as it is racing.
As an Xbox Studios title, FH5 is exclusive to the Xbox console family, and is available on Xbox One and Xbox Series consoles, along with PC through the Windows and Steam stores.
Table of Contents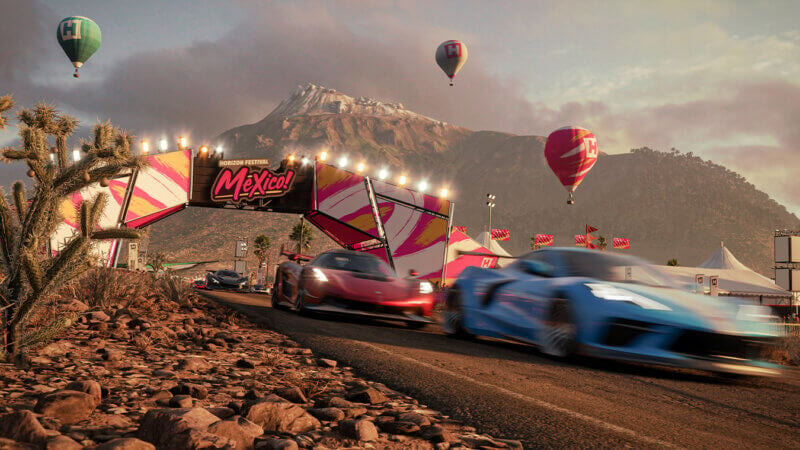 Introduction
After months of rumors, Playground Games revealed Forza Horizon 5 during the Xbox & Bethesda Games Showcase at E3 in June 2021.
The presentation confirmed several details that had long been part of speculation about the title. Firstly it was going to beat the next Forza Motorsport to launch, marking the first time that there was no Motorsport title between Horizon releases.
Also confirmed was the game's location: Mexico. As with previous titles, this would be a large map based on the landscape of Mexico – specifically a region around the city of Guanajuato, a major location in the country's motor industry – but not a direct 1:1 recreation. The map would also take in the Gulf coast, different types of desert, the rainforests, and an active volcano.
Release Date
Forza Horizon 5 launched on November 9 2021, with Early Access available from November 5 for players who bought the digital-only Premium Edition.
Those dates apply across all platforms, covering Xbox One and Series consoles, PC on Steam and Windows stores, and on Game Pass.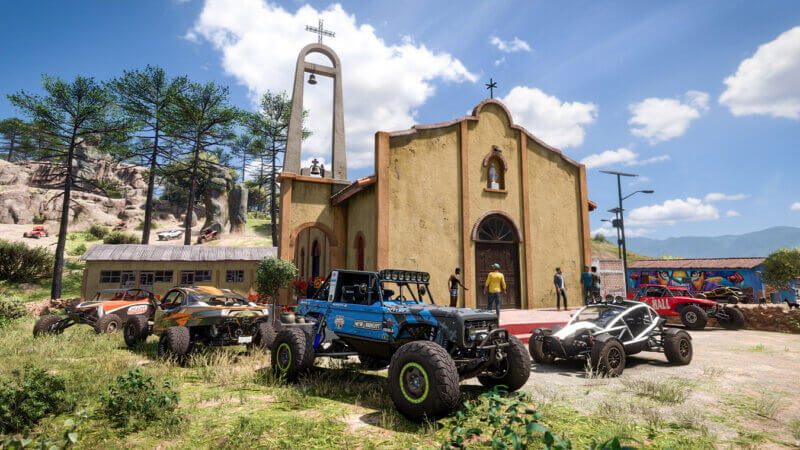 Features
Open World
Forza Horizon 5 is an open-world racer just like its predecessors. That means it's set on a large map which takes inspiration from the real world — in this case Mexico — and players will be able to drive almost anywhere on it, not even limited to paved roads.
The map features a selection of areas themed around certain kinds of landscape, with 11 of these "biomes" in total. That covers the densely packed roads in urbanized areas of the central city of Guanajuato, different types of desert and coast, canyon, farmlands, and the Gran Caldera volcano.
There's some physical barriers, including impassable geography, but otherwise players are able to drive from just about anywhere on the map to just about anywhere else in any manner.
It's of particular note that the FH5 map is roughly 50% larger than the FH4 map, coming in at more than 40 square miles, and that the volcano is the highest point in the entire history of the Horizon games.
Story Mode
PG revealed more about the story mode of FH5 in early September 2021, and while it seemed broadly familiar there are also some radical changes.
Ultimately the base is the same theme as previous titles: the player participates in the "Horizon Festival", a celebration of motoring which attracts car enthusiasts from around the world to drive and race together.
Unlike its predecessors, FH5 will feature six different Festival hubs, each centered on a different challenge. There's the Apex Festival for road races, the Baja Festival for cross country, the Rush Festival for PR stunts, the Street Scene Festival for street races, the Wilds Festival for dirt races, and the Festival Main Stage which will serve as a story hub.
Players will need to drive around the fictional Mexican map on "Expedition" events to find new locations for the festival. These are like a cross between the Showcase events (though four of these are also in the game, including a race against a turboprop cargo plane and the traditional train race) and a Horizon Story, with players trekking to landmarks to set up new Festival sites.
This time round the game is based on Accolades, with players picking up Accolade points for various tasks and challenges of different difficulty levels — nearly 2,000 of them, going by the pre-release footage. It's actually relatively similar to how the LEGO Speed Champions DLC for FH4 functioned, but split into different categories. You'll also be able to bash XP signs to level up and fast travel boards.
All story mode events will be available both as single player and as co-op multiplayer too.
Season Changes & Weather
FH5 will bring back the season-change mechanism from FH4, though there are set to be a few changes. The seasons will keep their names, but to reflect the seasons of Mexico they'll be appended with additional descriptors: summer is wet season, autumn is storm season, winter is dry season, and spring is hot season.
PG has discussed the weather in FH5 on a couple of occasions, and it appears that the discrete sets of weather for each season – as we saw in FH4 – are less of a thing than the climate for each biome. That would, for example, mean snow remaining on the map's highest points during the hot season.
Other weather phenomena, such as sandstorms and hurricanes, have also been mentioned, and we'll find out more in due course.
Customization
FH4 featured an incredible range of vehicle modifications, and that returns in FH5. The game features hundreds more visual upgrades and thousands more performance parts, with many vehicles able to have mechanical tuning of every major component and even engine and drivetrain swaps, with bodykits, light bars, and aerodynamic pieces available too.
The livery editor also returns from FH4 too. That allows players the scope to repaint and sticker-up their cars as they see fit.
In addition to car customization, players can change their avatar's appearance in more detail than before. FH5 players will be able to pick hair styles and colors, pick voices and limb prostheses, and buy new clothing items with in-game credits — though rarer items can only come through the random luck of wheelspins.
DLC & Expansions
Like other recent games in Forza Horizon series, FH5 has received new cars free of charge each month — some returning from older games, some new to the series — as well as a paid DLC "Car Pass". In total the Car Pass added 50 cars, at the rate of one-a-week, while a bonus "Welcome Pack" in the Premium version added another five.
There's also been two expansion packs for FH5, out of a rumored three, although they have come much deeper into the game's life than with previous titles.
Unusually, it was the toy-themed Hot Wheels Expansion that came first (previously we've seen Hot Wheels and LEGO as the latter of two packs), in July 2022 — eight months after launch. That would be followed by the Rally Adventure Expansion in March 2023, adding a new map area and an extra set of career races, along with ten new rally-themed cars.
Online Multiplayer
The FH5 online multiplayer is broadly similar to FH4's, with races and events both against and co-operatively with other players online. There's a couple of changes, such as the Forzathon Live event now becoming Horizon Arcade, and a new Horizon Tour feature that allows players to drive in convoy between race events. The Eliminator returns too.
As well as standard online modes, the "Drivatar" system will return, allowing you to race other people even if they aren't online, and vice versa, through a virtual simulation of your pace and driving style.
A new system called "Forza LINK" will debut in FH5. It's an AI assistant that keeps track of how you play the game and tracks your statistics in order to pair you up with other players online who have similar preferences or need to meet similar goals.
Xbox Series X Upgrades
As with FH4, FH5 will benefit from enhancements if playing the Xbox Series X or Series S versions rather than Xbox One.
Xbox One will hit a maximum 1080p resolution at 30fps. Series S also runs at 1080p30, but with an optional 60fps mode with some reduction in graphical effects to allow for the higher frame rate. Series X meanwhile also runs at 30fps but in 4K resolution, again with an optional 60fps mode.
You'll also be able to see ray-tracing effects on the Series consoles, albeit in Forzavista only, and there's the enhancements to loading times and audio that come with the new-generation consoles.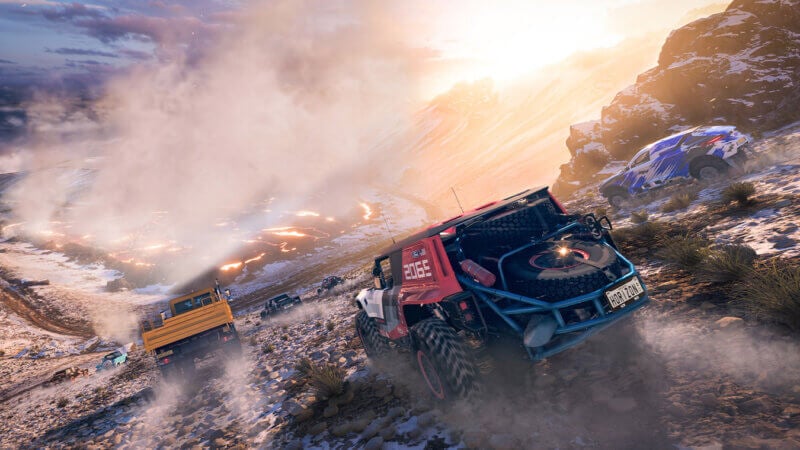 Car List
Although FH4 eventually packed in close to 800 cars, FH5 launched with a smaller stable of 534 cars available. Many of these were vehicles that had been in the previous game, with a handful of new additions like the Aston Martin Valhalla, and a few notable absences.
Starting in August 2021, PG started to reveal parts of the car list across social media. That was eventually paired up with a large, 420+ vehicle announcement, and some more of the blanks were filled in just ahead of launch.
FH5 has followed in FH4's footsteps in providing new cars with each Series update and a paid add-on DLC Car Pass also adds another 42 vehicles — eight at launch and 34 coming at the rate of one car per week. Free additional cars also came with each month's update, some returning from older games (including FH4) and some new.
Not all cars are available to purchase normally in the "Autoshow", with some only available through the Wheelspin lottery, completing Playlist events, through the weekly Forzathon Shop, or sold by other players in the Auction House.
Acura (3)
2017 Acura NSX
2002 Acura RSX Type-S
2001 Acura Integra Type-R
Alpine (2)
2017 Alpine A110
1973 Alpine A110 1600s
Alumi Craft (3)
2022 Alumi Craft #6165 Trick Truck (Rally Expansion)
2021 Alumi Craft #122 Class 1 Buggy (Rally Expansion)
2015 Alumi Craft Class 10 Race Car
AMC (3)
1973 AMC Gremlin X
1971 AMC Javelin AMX
1970 AMC Rebel "The Machine"
AMG Transport Dynamics (1)
2554 AMG Transport Dynamics M12S Warthog CST
Apollo (2)
2018 Apollo Intensa Emozione
2018 Apollo Intensa Emozione Welcome Pack Edition (WP)
Ariel (2)
2016 Ariel Nomad
2013 Ariel Atom 500 V8
Ascari (1)
Aston Martin (10)
2021 Aston Martin DBX (Car Pass)
2019 Aston Martin Valhalla Concept Car*
2019 Aston Martin Vantage
2019 Aston Martin DBS Superleggera
2017 Aston Martin DB11
2017 Aston Martin Vulcan AMR Pro
2016 Aston Martin Vantage GT12
2013 Aston Martin V12 Vantage S
2010 Aston Martin One-77
1964 Aston Martin DB5
ATS (1)
Audi (23)
2021 Audi RS e-tron
2021 Audi RS 7 Sportback
2020 Audi RS 3 Sedan (Car Pass)
2018 Audi RS 4 Avant
2018 Audi RS 5 Coupe (Car Pass)
2018 Audi TT RS (Car Pass)
2016 Audi R8 V10 plus
2015 Audi RS 6 Avant
2015 Audi S1
2015 Audi TTS Coupe
2013 Audi R8 Coupe V10 plus 5.2 FSI quattro
2013 Audi RS 4 Avant
2013 Audi RS 7 Sportback
2011 Audi RS 3 Sportback
2011 Audi RS 5 Coupe
2010 Audi TT RS Coupe
2009 Audi RS 6
2006 Audi RS 4
2003 Audi RS 6
2001 Audi RS 4 Avant
1995 Audi RS 2 Avant
1986 Audi #2 Audi Sport quattro S1
1983 Audi Sport quattro
Austin Healey (1)
1958 Austin Healey Sprite MkI
Auto Union (1)
BAC (1)
Bentley (5)
2017 Bentley Continental Supersports
2016 Bentley Bentayga
1991 Bentley Turbo R
1930 Bentley 4-1/2 Litre Supercharged
1930 Bentley 8 Litre
BMW (29)
2021 BMW M4 Competition Coupe
2020 BMW M8 Competition Coupe (Car Pass)
2019 BMW Z4 Roadster
2018 BMW i8 Roadster
2018 BMW M5
2016 BMW M2 Coupe
2016 BMW M4 GTS
2015 BMW i8
2015 BMW X6 M
2014 BMW M4 Coupe
2013 BMW M6 Coupe
2011 BMW 1 Series M Coupe
2011 BMW X5 M
2011 BMW X5 M Forza Edition (VIP)
2010 BMW M3 GTS
2009 BMW M5
2008 BMW M3
2008 BMW Z4 M Coupe
2005 BMW M3
2003 BMW M5
2002 BMW M3 GTR
2002 BMW Z3 M Coupe
1997 BMW M3
1995 BMW M5
1991 BMW M3
1988 BMW M5
1981 BMW M1
1973 BMW 2002 Turbo
1957 BMW Isetta 300 Export
Brabham (1)
2019 Brabham BT62 (Hot Wheels)
Bugatti (5)
2019 Bugatti Divo
2018 Bugatti Chiron
2011 Bugatti Veyron Super Sport
1992 Bugatti EB110 Super Sport
1926 Bugatti Type 35 C
Buick (2)
1987 Buick Regal GNX
1970 Buick GSX
Cadillac (5)
2022 Cadillac CT4-V Blackwing
2022 Cadillac CT5-V Blackwing
2016 Cadillac ATS-V
2016 Cadillac CTS-V Sedan
2013 Cadillac XTS Limousine
Can-Am (1)
2018 Can-Am Maverick X RS Turbo R
Casey Currie Motorsports (1)
2019 4402 Ultra 4 "Trophy Jeep" (Rally Expansion)
Caterham (1)
2013 Caterham Superlight R500
Chevrolet (27)
2020 Chevrolet Corvette Stingray Coupe (C8)*
2019 Chevrolet Corvette ZR1
2018 Chevrolet Camaro ZL1 1LE
2018 Chevrolet Hot Wheels COPO Camaro (Hot Wheels)
2017 Chevrolet Camaro ZL1
2017 Chevrolet Colorado ZR2
2015 Chevrolet Corvette Z06
2015 Chevrolet Camaro Z/28
2009 Chevrolet Corvette ZR1
2002 Chevrolet Corvette Z06
1996 Chevrolet Impala Super Sport
1995 Chevrolet Corvette ZR-1
1988 Chevrolet Monte Carlo Super Sport
1979 Chevrolet Camaro Z28
1970 Chevrolet Chevelle Super Sport 454
1970 Chevrolet Corvette ZR-1
1970 Chevrolet El Camino Super Sport 454
1970 Chevrolet Camaro Z28
1969 Chevrolet Camaro Super Sport Coupe
1969 Chevrolet Nova Super Sport 396
1967 Chevrolet Corvette Stingray 427
1964 Chevrolet Impala Super Sport 409
1960 Chevrolet Corvette
1957 Chevrolet Bel Air
1955 Chevrolet 150 Utility Sedan
1953 Chevrolet Corvette
1953 Chevrolet Corvette Forza Edition
Cupra (1)
2022 Cupra UrbanRebel Racing Concept
Datsun (1)
DeBerti Design (4)
2019 DeBerti Design Toyota Tacoma TRD 'The Performance Truck'
2018 DeBerti Design Chevrolet Silverado 1500 Drift Truck
2018 DeBerti Design Ford F-150 Prerunner
2013 DeBerti Design Jeep Wrangler Unlimited
DeLorean (1)
Dodge (16)
2018 Dodge Durango SRT
2018 Dodge Challenger SRT Demon
2016 Dodge Viper ACR
2015 Dodge Challenger SRT Hellcat
2015 Dodge Charger SRT Hellcat
2013 Dodge SRT Viper GTS
2013 Dodge SRT Viper GTS "Anniversary Edition"
2008 Dodge Magnum SRT8 (Car Pass)
2008 Dodge Viper SRT10 ACR
1999 Dodge Viper GTS ACR
1970 Dodge Challenger R/T
1970 Dodge Coronet Super Bee
1969 Dodge Charger R/T
1969 Dodge Charger R/T Forza Edition (VIP)
1969 Dodge Charger Daytona HEMI
1968 Dodge Dart Hemi Super Stock
Donkervoort (1)
Eagle (1)
Exomotive (2)
2018 Exomotive Exocet Off-Road
2018 Exomotive Exocet Off-Road Forza Edition
Extreme E (10)
2022 Extreme E #5 Veloce Racing
2022 Extreme E #6 Rosberg X Racing
2022 Extreme E #22 JBXE
2022 Extreme E #23 Genesys Andretti United
2022 Extreme E #42 XITE Racing Team
2022 Extreme E #44 X44
2022 Extreme E #55 ACCIONA Sainz XE Team
2022 Extreme E #58 McLaren Racing
2022 Extreme E #99 Chip Ganassi Racing GMC Hummer EV
2022 Extreme E #125 ABT Cupra XE
Ferrari (39)
2020 Ferrari F8 Tributo
2020 Ferrari SF90 Stradale
2019 Ferrari 488 Pista
2019 Ferrari Monza SP2 (Car Pass)
2018 Ferrari FXX-K Evo (Car Pass)
2018 Ferrari Portofino
2017 Ferrari #25 Corse Clienti 488 Challenge (Car Pass)
2017 Ferrari 812 Superfast
2017 Ferrari GTC4Lusso
2017 Ferrari J50 (Car Pass)
2015 Ferrari 488 GTB
2015 Ferrari F12tdf
2014 Ferrari California T
2014 Ferrari FXX K
2013 Ferrari LaFerrari
2013 Ferrari 458 Speciale
2012 Ferrari 599XX Evolution
2010 Ferrari 599 GTO
2010 Ferrari 599XX
2009 Ferrari 458 Italia
2007 Ferrari 430 Scuderia
2005 Ferrari FXX
2003 Ferrari 360 Challenge Stradale
2002 Ferrari 575 Maranello
2002 Ferrari Enzo Ferrari
1996 Ferrari F50 GT
1995 Ferrari F50
1994 Ferrari F355 Berlinetta
1992 Ferrari 512TR
1989 Ferrari F40 Competizione
1987 Ferrari F40
1984 Ferrari 288 GTO
1969 Ferrari Dino 246 GT
1968 Ferrari 365 GTB/4
1967 Ferrari #24 Ferrari Spa 330 P4
1962 Ferrari 250 GT Berlinetta Lusso
1962 Ferrari 250 GTO
1957 Ferrari 250 Testa Rossa
1957 Ferrari 250 California
Ford (67)
2022 Ford F-150 Lightning Platinum (Rally Expansion)
2021 Ford Bronco*
2021 Ford Mustang Mach-E 1400
2020 Ford #2069 Ford Performance Bronco R*
2020 Ford #2069 Ford Performance Bronco R Welcome Pack Edition* (WP)
2020 Ford Mustang Shelby GT500
2020 Ford Super Duty F-450 DRW Platinum*
2019 Ford Ranger Raptor
2018 Ford #25 Mustang RTR
2018 Ford #88 Mustang RTR
2018 Ford Mustang GT
2018 Ford Mustang RTR Spec 5
2017 Ford #14 Rahal Letterman Fiesta ST GRC
2017 Ford #25 "Brocky" Ultra4 Bronco RTR*
2017 Ford F-150 Raptor
2017 Ford Focus RS
2017 Ford GT
2017 Ford GT "OPI Edition" (Promo)
2017 Ford M-Sport Fiesta RS
2016 Ford Shelby GT350R
2015 Ford Falcon GT F 351
2014 Ford #11 Rockstar F-150 Trophy Truck
2014 Ford Fiesta ST
2014 Ford FPV Limited Edition Pursuit Ute
2014 Ford Ranger T6 Rally Raid
2013 Ford Shelby GT500
2011 Ford F-150 SVT Raptor
2011 Ford Transit SuperSportVan
2010 Ford Crown Victoria Police Interceptor
2009 Ford Focus RS
2005 Ford GT
2003 Ford F-150 SVT Lightning (Car Pass)
2003 Ford Focus RS
2001 Ford #4 Focus RS (Rally Expansion)
2000 Ford SVT Cobra R
1999 Ford Racing Puma
1999 Ford Racing Puma Forza Edition (VIP)
1994 Ford Supervan 3
1993 Ford SVT Cobra R
1992 Ford Escort RS Cosworth
1987 Ford Sierra Cosworth RS500
1986 Ford Escort RS Turbo
1986 Ford Mustang SVO (Car Pass)
1985 Ford RS200 Evolution
1981 Ford Fiesta XR2
1977 Ford Escort RS1800
1977 Ford #5 Escort RS1800 MkII
1975 Ford Bronco
1973 Ford Capri RS3100
1973 Ford Escort RS1600
1972 Ford Falcon XA GT-HO
1971 Ford Mustang Mach 1
1970 Ford GT70
1969 Ford Mustang Boss 302
1968 Ford Mustang GT 2+2 Fastback
1967 Ford Racing Escort Mk1*
1966 Ford GT40 MkII
1966 Ford Lotus Cortina
1965 Ford Mustang GT Coupe
1965 Ford Transit
1964 Ford GT40 MkI
1959 Ford Anglia 105E
1956 Ford F-100
1946 Ford Super Deluxe Station Wagon
1940 Ford De Luxe Coupe
1932 Ford De Luxe Five-Window Coupe
1932 Ford De Luxe Five-Window Coupe Forza Edition (Promo)
Formula Drift (14)
2020 Formula Drift #91 BMW M2 (Formula Drift Pack)
2020 Formula Drift #151 Toyota GR Supra (Formula Drift Pack)
2019 Formula Drift #411 Toyota Corolla Hatchback (Formula Drift Pack)
2018 Formula Drift #64 Nissan 370Z
2017 Formula Drift #357 Chevrolet Corvette Z06 (Formula Drift Pack)
2016 Formula Drift #530 HSV Maloo Gen-F
2015 Formula Drift #13 Ford Mustang
2013 Formula Drift #777 Chevrolet Corvette
2009 Formula Drift #99 Mazda RX-8 (Formula Drift Pack)
2007 Formula Drift #117 599 GTB Fiorano
2006 Formula Drift #43 Dodge Viper SRT10
1997 Formula Drift #777 Nissan 240SX
1995 Formula Drift #34 Toyota Supra MkIV (Formula Drift Pack)
1989 Formula Drift #98 BMW 325i
Forsberg Racing (3)
2010 Toyota Gumout 2JZ Camry Stock Car (Formula Drift Pack)
2014 Forsberg Racing Nissan "SafariZ" 370Z Safari Rally Tribute (Car Pass)
1975 Nissan "Gold Leader" Datsun 290Z (Formula Drift Pack)
Funco Motorsports (1)
2018 Funco Motorsports F9
GMC (2)
1970 GMW Jimmy
1983 GMC Vandura G-1500
Hennessey (3)
2021 Hennessey Venom F5 (Hot Wheels)
2019 Hennessey VelociRaptor 6×6
2012 Hennessey Venom GT
Holden (3)
1977 Holden Torana A9X
1974 Holden Sandman HQ panel van
1973 Holden HQ Monaro GTS 350
Honda (16)
2018 Honda Civic Type R
2016 Honda Civic GRC
2015 Honda Civic Type R
2015 Honda Ridgeline Baja Trophy Truck
2009 Honda S2000 CR
2007 Honda Civic Type R
2005 Honda NSX-R GT
2005 Honda NSX-R
2004 Honda Civic Type R
2003 Honda S2000
1997 Honda Civic Type R
1994 Honda Prelude Si
1992 Honda NSX-R
1991 Honda CR-X SiR
1984 Honda Civic CRX Mugen
1974 Honda Civic RS
Hoonigan (14)
2016 Hoonigan Gymkhana 10 Ford Focus RS RX
2016 Hoonigan Gymkhana 9 Ford Focus RS RX
1994 Hoonigan Ford Escort RS Cosworth WRC "Cossie V2″*
1992 Hoonigan Mazda RX-7 Twerkstallion
1991 Hoonigan Gymkhana 10 Ford Escort Cosworth Group A
1991 Hoonigan Rauh-Welt Begriff Porsche 911 Turbo
1986 Hoonigan Ford RS200 Evolution
1978 Hoonigan Ford Escort RS1800
1977 Hoonigan Gymkhana 10 Ford F-150 "Hoonitruck"
1973 Hoonigan Volkswagen Baja Beetle Class 5/1600 'Scumbug' (Rally Expansion)
1972 Hoonigan Chevrolet Napalm Nova
1965 Hoonigan Ford 'Hoonicorn' Mustang
1965 Hoonigan Gymkhana 10 Ford 'Hoonicorn' Mustang
1955 Hoonigan Chevrolet Bel Air
Hot Wheels (10+1)
2018 Hot Wheels 2JetZ (Hot Wheels)
2013 Hot Wheels Baja Bone Shaker (Hot Wheels)
2012 Hot Wheels Bad to the Blade (Hot Wheels)
2012 Hot Wheels Rip Rod (Hot Wheels)
2011 Hot Wheels Bone Shaker
2011 Hot Wheels Bone Shaker Monster Truck
2005 Hot Wheels Ford Mustang (Hot Wheels)
2000 Hot Wheels Deora II (Hot Wheels)
1969 Hot Wheels Twin Mill
1957 Hot Wheels Nash Metropolitan Custom (Hot Wheels)
1949 Hot Wheels Ford F-5 Dually Custom Hot Rod (Hot Wheels)
HSV (2)
2014 HSV GEN-F GTS
2014 HSV Limited Edition Gen-F GTS Maloo
Hummer (1)
Hyundai (1)
Infiniti (1)
2015 Infiniti Q60 Concept
International (1)
1970 International Scout 800A
ItalDesign (1)
Jaguar (17)
2018 Jaguar I-PACE
2017 Jaguar F-PACE S
2016 Jaguar F-TYPE Project 7
2015 Jaguar F-TYPE R Coupe
2015 Jaguar XE-S
2015 Jaguar XFR-S
2015 Jaguar XKR-S GT
2012 Jaguar XKR-S
2010 Jaguar C-X75
1991 Jaguar Sport XJR-15*
1993 Jaguar XJ220
1993 Jaguar XJ220S TWR (Car Pass)
1966 Jaguar XJ13 (Car Pass)
1964 Jaguar Lightweight E-Type
1961 Jaguar E-type S1
1959 Jaguar Mk II 3.8
1956 Jaguar D-Type
Jeep (6)
2020 Jeep Gladiator Rubicon
2018 Jeep Grand Cherokee Trackhawk
2016 Jeep Trailcat
2014 Jeep Grand Cherokee SRT
2012 Jeep Wrangler Rubicon
1976 Jeep CJ5 Renegade
Jimco (2)
2020 Jimco #179 Hammerhead Class 1 (Rally Expansion)
2019 Jimco #240 Fastball Racing Spec Trophy Truck (Rally Expansion)
Koenigsegg (7)
2020 Koenigsegg Jesko
2017 Koenigsegg Agera RS
2016 Koenigsegg Regera
2015 Koenigsegg One:1
2011 Koenigsegg Agera
2010 Koenigsegg CCGT
2002 Koenigsegg CC8S
KTM (2)
2018 KTM GT4
2013 KTM X-Bow R
Lamborghini (23)
2020 Lamborghini Huracan Evo (Car Pass)
2020 Lamborghini Sian Roadster
2019 Lamborghini Urus
2018 Lamborghini Aventador SVJ
2018 Lamborghini Huracan Performante
2016 Lamborghini Centenario LP 770-4
2016 Lamborghini Aventador LP750-4 SV
2014 Lamborghini Huracan LP 610-4
2013 Lamborghini Veneno
2012 Lamborghini Aventador J
2012 Lamborghini Aventador LP700-4
2012 Lamborghini Gallardo LP 570-4 Spyder Performante
2011 Lamborghini Gallardo LP 570-4 Superleggera
2011 Lamborghini Sesto Elemento
2011 Lamborghini Sesto Elemento Forza Edition
2010 Lamborghini Murcielago LP 670-4 SV
2008 Lamborghini Reventon
1999 Lamborghini Diablo GTR
1997 Lamborghini Diablo SV
1988 Lamborghini Countach LP5000 QV
1986 Lamborghini LM 002
1973 Lamborghini Espada 400GT (Car Pass)
1967 Lamborghini Miura P400
Land Rover (6)
2020 Land Rover Defender 110 X
2018 Land Rover Range Rover Velar First Edition
2015 Land Rover Range Rover Sport SVR
1997 Land Rover Defender 90
1973 Land Rover Range Rover
1972 Land Rover Series III
Lexus (5)
2020 Lexus RC F Track Edition (Car Pass)
2019 Lexus LC500
2015 Lexus RC F
2010 Lexus LFA*
1997 Lexus SC300
Local Motors (1)
2014 Local Motors Rally Fighter
Lola (1)
1969 Lola #6 Penske Sunoco T70 MkIIIB
Lotus (6)
2020 Evija
2016 Lotus 3-Eleven
2012 Lotus Exige S
1999 Lotus Elise Series 1 Sport 190
1997 Lotus Elise GT1
1971 Lotus Elan Sprint
Lynk & Co (2)
2021 Lynk & Co 03+
2020 Lynk & Co #100 Cyan Racing 03
Maserati (5)
2017 Maserati Levante S
2010 Maserati Gran Turismo S
2010 Maserati Gran Turismo S Forza Edition
2008 Maserati MC12 Versione Corsa
1939 Maserati 8CTF
Mazda (9)
2016 Mazda MX-5
2013 Mazda MX-5
2011 Mazda RX-8 R3
2005 Mazda Mazdaspeed MX-5
2002 Mazda RX-7 Spirit R Type-A
1997 Mazda RX-7
1994 Mazda MX-5 Miata
1992 Mazda 323 GT-R (Car Pass)
1990 Mazda Savanna RX-7
McLaren (14)
2021 McLaren 620R (Car Pass)
2021 McLaren 765LT Coupe
2020 McLaren GT*
2019 McLaren Speedtail
2019 McLaren 720S Spider
2018 McLaren 720S Coupe
2018 McLaren 600LT Coupe
2018 McLaren Senna
2015 McLaren 650S Coupe
2014 McLaren 650S Spider
2015 McLaren 570S Coupe
2013 McLaren P1
1997 McLaren F1 GT
1993 McLaren F1
Mercedes-AMG (6)
2021 Mercedes-AMG One*
2018 Mercedes-AMG E 63 S
2018 Mercedes-AMG GT 4-Door Coupe
2017 Mercedes-AMG GT R
2016 Mercedes-AMG C 63 S Coupe
2015 Mercedes-AMG GT S
Mercedes-Benz (19)
2018 Mercedes-Benz X-Class
2015 Mercedes-Benz #24 Tankpool24 Racing Truck
2015 Mercedes-Benz #24 Tankpool24 Racing Truck Forza Edition
2014 Mercedes-Benz G 63 AMG 6×6
2014 Mercedes-Benz Unimog U5023
2013 Mercedes-Benz G 65 AMG
2013 Mercedes-Benz A 45 AMG
2013 Mercedes-Benz E 63 AMG
2012 Mercedes-Benz C 63 AMG Coupe Black Series
2012 Mercedes-Benz SLK 55 AMG
2011 Mercedes-Benz SLS AMG
1998 Mercedes-Benz AMG CLK GTR
1998 Mercedes-Benz AMG CLK GTR Forza Edition
1990 Mercedes-Benz 190E 2.5-16 Evolution II
1987 Mercedes-Benz 300CE AMG "Hammer"
1955 Mercedes-Benz 300 SLR
1954 Mercedes-Benz 300 SL Coupe
1939 Mercedes-Benz W154
1929 Mercedes-Benz Super Sport Kurz Barker Roadster
Mercury (1)
1970 Cyclone Spoiler (Car Pass)
Meyers (2)
1971 Meyers Manx
1971 Meyers Manx Forza Edition
MG (5)
2021 MG #20 MG6 XPower
2021 MG MG6 XPower
2015 MG MG3
2005 MG X-Power SV (Car Pass)
1986 MG Metro 6R4
Mini (8)
2021 MINI John Cooper Works GP (Car Pass)
2018 MINI John Cooper Works Countryman ALL4
2018 MINI X-Raid John Cooper Works Buggy
2013 MINI X-Raid ALL4 Racing Countryman
2012 MINI John Cooper Works GP
2009 MINI John Cooper Works
1965 MINI Cooper S
1965 MINI Cooper S Forza Edition
Mitsubishi (9)
2008 Mitsubishi Lancer Evolution X GSR
2008 Mitsubishi Lancer Evolution X GSR Welcome Pack Edition* (WP)
2006 Mitsubishi Lancer Evolution IX MR
2004 Mitsubishi Lancer Evolution VIII MR
1999 Mitsubishi Lancer Evolution VI GSR
1997 Mitsubishi GTO
1995 Mitsubishi Eclipse GSX
1992 Mitsubishi Galant VR-4
1988 Mitsubishi Starion ESI-R
Morgan (1)
Morris (4)
1965 Morris Mini Traveller
1958 Morris Minor 1000
1958 Morris Minor 1000 Forza Edition
1953 Morris Minor Series II Traveller
Mosler (2)
2010 Mosler MT900S
2006 Mosler MT900 GT3 (Hot Wheels)
Napier (1)
NIO (1)
Nissan (28)
2023 Nissan Z
2020 Nissan GT-R Nismo
2019 Nissan 370Z Nismo (Car Pass)
2018 Nissan Sentra Nismo
2017 Nissan GT-R
2016 Nissan TITAN Warrior Concept
2012 Nissan GT-R Black Edition
2010 Nissan 370Z
2004 Nissan Pickup #23 Rally Raid*
2003 Nissan Fairlady Z
2003 Nissan Fairlady Z Forza Edition
2002 Nissan Skyline GT-R V-Spec II
2000 Nissan Silvia Spec-R
1998 Nissan R390
1998 Nissan Silvia K's Aero
1997 Nissan Skyline GT-R V-Spec
1995 Nissan NISMO GT-R LM
1994 Nissan Fairlady Z Version S Twin Turbo
1994 Nissan Silvia K's
1993 Nissan Skyline GT-R V-Spec
1993 Nissan 240SX SE
1992 Nissan Silvia CLUB K's
1990 Nissan Pulsar GTi-R
1987 Nissan Skyline GTS-R (R31)
1985 Nissan Safari Turbo
1973 Nissan Skyline H/T 2000GT-R
1971 Nissan Skyline 2000GT-R
1969 Nissan Fairlady Z 432
Noble (2)
2010 Noble M600
2006 Noble M400 (Car Pass)
Oldsmobile (1)
1966 Oldsmobile Toronado (Car Pass)
Opel (1)
Pagani (5)
2016 Pagani Huayra BC
2016 Pagani Huayra BC Forza Edition
2010 Pagani Zonda R
2009 Pagani Zonda Cinque Roadster
2009 Pagani Zonda Cinque Roadster Oreo Edition (Promo)
Peel (2)
1965 Peel Trident
1962 Peel P50
Penhall (1)
2011 Penhall "The Cholla"
Peugeot (3)
2007 Peugeot 207 Super 2000
1991 Peugeot 205 Rallye
1984 Peugeot 205 Turbo 16
Plymouth (3)
1971 Plymouth Cuda 426 HEMI
1968 Plymouth Barracuda Formula S
1958 Plymouth Fury
Polaris (3)
2021 Polaris RZR Pro XP Factory Racing Limited Edition (Rally Expansion)
2021 Polaris RSR Pro XP Ultimate 2021
2015 Polaris RZR XP 1000 EPS
Pontiac (4)
1987 Pontiac Firebird Trans Am GTA
1987 Pontiac Firebird Trans Am GTA Forza Edition
1977 Pontiac Firebird Trans Am
1965 Pontiac GTO
Porsche (40)
2021 Porsche 911 GT3
2020 Porsche Taycan Turbo S*
2020 Porsche Taycan Turbo S Welcome Pack Edition* (WP)
2019 Porsche Macan Turbo
2019 Porsche 911 Speedster (Car Pass)
2019 Porsche 911 Carrera S
2019 Porsche 911 GT3 RS
2019 Porsche 911 GT3 RS Forza Edition
2018 Porsche 718 Cayman GTS
2018 Porsche 911 GT2 RS
2018 Porsche Cayenne Turbo
2018 Porsche Macan Rally Raid*
2017 Porsche Panamera Turbo
2016 Porsche 911 GT3 RS
2016 Porsche Cayman GT4
2015 Porsche Cayman GTS
2014 Porsche 911 Turbo S
2014 Porsche 918 Spyder
2012 Porsche 911 GT2 RS
2012 Porsche 911 GT3 RS 4.0
2010 Porsche 911 Sport Classic (Car Pass)
2004 Porsche 911 GT3
2003 Porsche Carrera GT
1998 Porsche 911 GT1 Strassenversion
1995 Porsche 911 Carrera 2 by Gunther Werks
1995 Porsche 911 GT2
1993 Porsche 968 Turbo S
1990 Porsche 911 reimagined by Singer
1989 Porsche #65 Rothsport Racing 911 "Desert Flyer"*
1989 Porsche 944 Turbo
1987 Porsche 959
1985 Porsche #185 Prodrive Rally Raid
1982 Porsche 911 Turbo 3.3
1973 Porsche 911 Carrera RS
1971 Porsche #23 917/20
1970 Porsche #3 917/LH
1970 Porsche 914/6
1960 Porsche 356 C Cabriolet Emory Special
1959 Porsche 356A 1600 Super
1955 Porsche 550 Spyder
Radical (1)
RAESR (1)
Ram (1)
2017 Ram 2500 Power Wagon
Reliant (1)
1972 Reliant Supervan III
Renault (10)
2018 Renault Megane R.S
2016 Renault Clio R.S. 16 Concept
2013 Renault Clio R.S. 200 EDC
2010 Renault Clio R.S.
2010 Renault Megane RS250
2008 Renault Megane R26.R
1993 Renault Clio Williams
1980 Renault 5 Turbo
1968 Renault 4L Export
1967 Renault 8 Gordini (Car Pass)
Rimac (2)
2022 Rimac Nevera
2019 Rimac Concept TWO
RJ Anderson (2)
2021 RJ Anderson #37 Polaris RZR Pro 4 Truck (Rally Expansion)
2016 RJ Anderson #37 Polaris RZR-Rockstar Energy Pro 2 Truck
Saleen (2)
2018 Saleen S1
2004 Saleen S7
Schuppan (1)
1993 Schuppan 962CR (Hot Wheels)
Shelby (2)
1965 Shelby Cobra 427 S/C
1965 Shelby Cobra Daytona Coupe
Sierra Cars (2)
2021 Sierra Cars 700R
2021 Sierra RX3*
Subaru (11)
2019 Subaru STI S209 (Car Pass)
2018 Subaru WRX STI ARX Supercar (Hot Wheels)
2015 Subaru WRX STI
2013 Subaru BRZ
2011 Subaru WRX STI
2008 Subaru Impreza WRX STI
2005 Subaru Impreza WRX STi
2004 Subaru Impreza WRX STi
1998 Subaru Impreza 22B STi
1990 Subaru Legacy RS
1980 Subaru BRAT GL
Toyota (21)
2020 Toyota GR Supra*
2020 Toyota Tundra TRD Pro (Car Pass)
2019 Toyota 4Runner TRD Pro
2019 Toyota Tacoma TRD Pro (Car Pass)
2016 Toyota Land Cruiser AT37
2013 Toyota 86
2007 Toyota Hilux AT38
2003 Toyota Celica SS-II
1998 Toyota Supra RZ
1998 Toyota Supra RZ Welcome Pack Edition* (WP)
1995 Toyota MR2 GT
1994 Toyota Celica GT-Four ST205
1993 Toyota #1 T100 Baja Truck
1992 Toyota Celica GT-Four RC ST185
1992 Toyota Supra 2.0 GT Twin Turbo
1989 Toyota MR2 SC
1985 Toyota Sprinter Trueno GT Apex
1979 Toyota FJ40
1974 Toyota Celica GT
1969 Toyota 2000GT
1965 Toyota Sports 800
TVR (3)
2018 TVR Griffith
2005 TVR Sagaris
1998 TVR Cerbera Speed 12
Ultima (1)
2015 Ultima Evolution Coupe 1020
Vauxhall (3)
2016 Vauxhall Corsa VXR
2005 Vauxhall Monaro VXR
1990 Vauxhall Lotus Carlton
Volkswagen (17)
2019 Volkswagen Golf R (Car Pass)
2017 Volkswagen #34 Volkswagen Andretti Rallycross Beetle
2014 Volkswagen Golf R
2011 Volkswagen Scirocco R
2010 Volkswagen Golf R
2003 Volkswagen Golf R32
1998 Volkswagen GTI VR6 Mk3
1995 Volkswagen Corrado VR6
1992 Volkswagen Golf Gti 16v Mk2
1983 Volkswagen Golf GTI
1982 Volkswagen Pickup LX (Car Pass)
1981 Volkswagen Scirocco S
1970 Volkswagen #1107 Desert Dingo Racing Stock Bug
1969 Volkswagen Class 5/1600 Baja Bug
1963 Volkswagen Beetle
1963 Volkswagen Beetle Forza Edition
1963 Volkswagen Type 2 De Luxe
Volvo (3)
2015 Volvo V60 Polestar
1997 Volvo 850 R
1983 Volvo 242 Turbo Evolution
Vuhl (1)
Willys (1)
Wuling (1)
Xpeng (1)
Zenvo (2)
2019 Zenvo TSR-S
2016 Zenvo ST1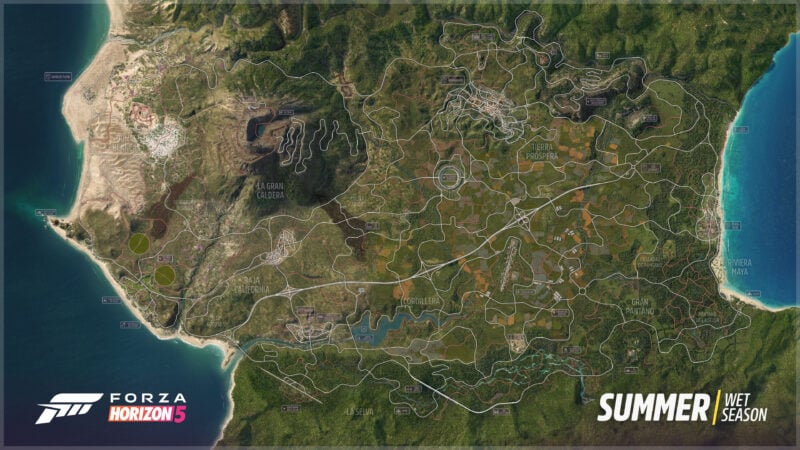 Track List
Horizon games don't have tracks per se. They're open-world games based on large maps inspired by the locations in which they're based – in this case Mexico. The courses you race on then are based on the roads that cross the landscape, with 562 roads to discover in 56 areas of the map. As with previous titles, some will be rather short, some enormous, and there'll be a mixture of laps and point-to-point.
However, previous Horizon games have also featured some areas specifically for racing: drag strips, stunt areas, and even a dedicated circuit in the LEGO Speed Champions DLC for FH4.
With the full map reveal in August 2021 we got to see several areas where drag racing could take place, along with a dirt racing facility — which could be the dedicated race circuit previously mentioned by PG — and the Horizon Stadium.
More importantly though is the "Event Lab" event creator tool, which allows you to create races pretty much anywhere in the game, as well as entirely new and unique events that run to their own rules.
Critical Reception
As with its predecessor, Forza Horizon 5 received mostly glowing reviews at launch, to become one of the most highly rated titles on the Xbox platform.
While it only matches FH4's Metacritic score of 92, several outlets gave FH5 a perfect 100% score, and most praise the advances in visuals and sound effects, as well as the new environment.
When GTPlanet reviewed Forza Horizon 5 ahead of launch, we gave it a slightly higher score than Horizon 4, at 4.6 stars.
Achievements
Playground Games revealed the full list of Forza Horizon 5 Achievements during the Let's Go live stream on October 4. The initial list, before any DLC expansions, consists of 53 Achievements, adding up to a total of 1000GS.
A lot of the list deals with game progression milestones, much as you'd expect. That covers details like the Showcase events, opening up the new Horizon Festival locations, uncovering all the Barn Finds, map exploration, and the traditional bonus boards.
Of course there's a few more beside that require specific tasks, such as smashing up those cacti or performing stunts in a certain way. We're also expecting more Achievements to come in DLC packs later in the game's life.
Hall of Famer – Reach the Horizon Hall of Fame (50)
Seasoned Veteran – Complete a Festival Playlist activity in every season (50)
Racing and Pacing and Plotting the Course – Win 80 different Race Events in Mexico (50)
Living Legend – Earn 300 stars from PR Stunts in Mexico (50)
Viva Horizon! – Unlock your first Horizon Finale Event (30)
Fit to Print – Take 50 photos of Legendary cars for Horizon Promo (30)
You Could Say I'm a Fan – Earn a Manufacturer Bonus for a collection of 25 or more cars (30)
No Stone Unturned – Complete your first Expedition (30)
Chicken Dinner – Win your first game of The Eliminator (30)
Unbeatable Triumph – Win 6 different Race Events against Unbeatable Drivatars (30)
Complete Collection – Find and smash all 250 Bonus Boards in Mexico (30)
Mogul – Purchase all 7 Player Houses (30)
I Have the High Ground – Win 3 Rivals Events in 3 different PI Classes while driving the same car (30)
This Is The Way – Start a new chapter of the Horizon Adventure (20)
Putting on a Show – Win every Showcase Event (20)
Cover to Cover – Earn 3 stars on all chapters in a single Horizon Story (20)
Jackpot – Fully complete a run of Super7 (20)
Unlimited Prowess! – Complete Round Three in all 5 Themes of Horizon Arcade (20)
Ride and Seek – Discover and drive every road in Mexico (20)
Min, Meet Max – Complete all Events in a Festival Playlist Series (20)
Better Than New – Restore 14 Barn Finds in Mexico (20)
Water Performance – Earn 3 stars at the Puerta Petrea and La Marisma Trailblazers within 2 minutes (20)
Ford of the Wings – Earn 3 Stars at the Eagle's Perch Danger Sign in a Ford Supervan 3 (20)
Long Gone – Win the Goliath Race Event (20)
Treasure Hunter – Find all Treasure Chests in a Festival Playlist Series (20)
Front Runner – Finish 5 Horizon Tour Race Events ahead of all Drivatars (20)
Welcome to Mexico – Arrive at Horizon Festival Mexico (10)
Race into Action – Complete any Horizon Race Event (10)
Adaptable – Complete the On a Wing and a Prayer Showcase Event (10)
Icebreaker – Participate in a Horizon Arcade Event (10)
Mi Casa – Unlock the first Player House (10)
First Love – Purchase your first car from the Autoshow (10)
AWDyssey – Build the Horizon Wilds Outpost (10)
Ask Any Racer, Any Real Racer – Build the Horizon Street Scene Outpost (10)
Far from the Mudding Crowd – Build the Horizon Apex Outpost (10)
There's Always Money in the Baja Stand – Build the Horizon Baja Outpost (10)
Adrenaline Rush – Build the Horizon Rush Outpost (10)
How to Race Friends and Influence People – Earn 3 stars in the 'Tristan' Chapter of the 'Born Fast' Horizon Story (10)
Tourist Attraction – Complete your first Horizon Tour Race Event (10)
Show Me Your Moves! – Play any EventLab Event created by another player (10)
Good Carma – Give another player some Kudos to show your appreciation (10)
Album Cover – Take a photo of the 2021 Mercedes-AMG ONE for Horizon Promo (10)
A Forza Edition to my Collection – Earn a Forza Edition car from a Wheelspin or Super Wheelspin (10)
Manufacturer Affinity – Earn a Manufacturer Bonus (10)
An Item Of Extreme Value – Discover and photograph the Golden Tlaloc Totem (10)
Gotta Smash 'Em All – Complete 5 Seasonal Smashable Challenges (10)
Cactus Makes Perfect – Smash 500 cacti during Mexico's Wet Season (10)
A Royal Affair – At sunrise, take a photo of your car with some monarch butterflies at Hotel Mirador Balderrama (10)
Dust in the Lens – Take a photo featuring the Gran Telescopio and a dust storm (10)
Stunning Photography – Take a photo during a tropical storm (10)
A Heart of Gold – Send another player a Gift Drop (10)
You're the Champion – Win any Event in Horizon Open (10)
New Tune – Find a place to install the Horizon Pulse Radio Beacon (10)
Official Videos
Official Screenshots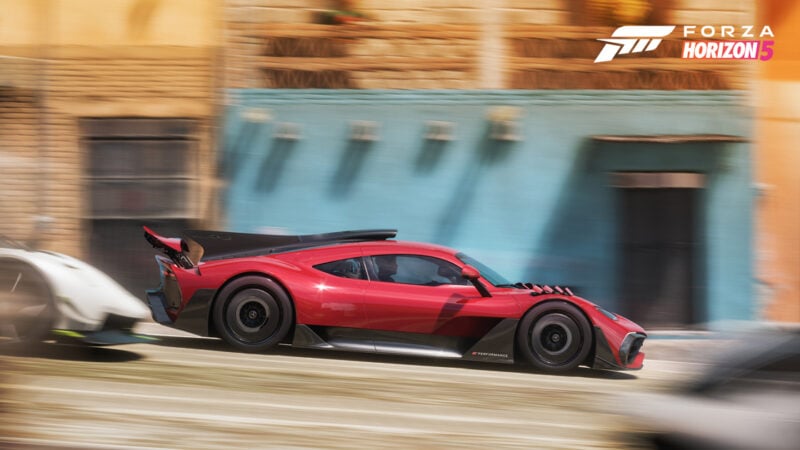 Update Log
February 23, 2023 — Rally Adventure Expansion added
June 13, 2022 — Hot Wheels Expansion added
November 10, 2021 — Guide updated to reflect the game's launch; car list and critical reception updated
October 19, 2021 — Car list updated
October 12, 2021 — Car list updated
October 5, 2021 — Acheivement list added
September 7, 2021 — Campaign mode, confirmed cars from Let's Go Episode 7 added
August 27, 2021 — Confirmed cars from Ford, Mercedes added
August 25, 2021 — Guide updated through to Let's Go Episode 6
July 1, 2021 — Guide created