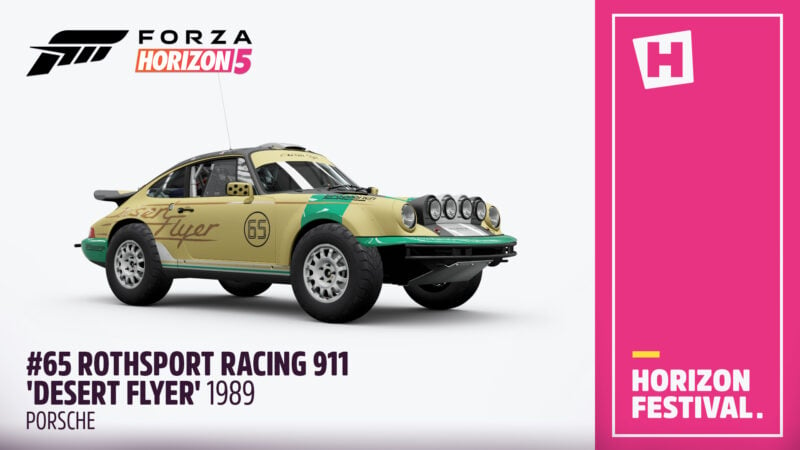 With just over two months to go until launch day, Playground Games isn't holding back on keeping Forza Horizon 5 fans informed. Along with the regular "Let's Go" streams that bring insights into the game's development and content, the developer's social media channels are awash with details of the game's launch day car list.
Thus far we've seen over 100 vehicles confirmed for the November launch, and that's from just six brands. Now PG has revealed the entire list of launch day machinery from one of the series' biggest manufacturers: Porsche.
We'd already seen three new-to-series Porsche vehicles confirmed in a recent Let's Go stream. During episode six, the team showed off the Macan Rally Raid, the Taycan Turbo S, and the 964 "Desert Flyer".
However that only accounts for the vehicles making their debuts in FH5. FH4 already had a 42-car strong roster of Porsches and, as we've seen with the other brands detailed so far, many of them carry over into the sequel — though not quite as many as you'd expect:
Porsche (28)
2020 Porsche Taycan Turbo S*
2019 Porsche Macan Turbo
2019 Porsche 911 Carrera S
2019 Porsche 911 GT3 RS
2018 Porsche 718 Cayman GTS
2018 Porsche 911 GT2 RS
2018 Porsche Cayenne Turbo
2018 Porsche Macan Rally Raid*
2017 Porsche Panamera Turbo
2016 Porsche 911 GT3 RS
2016 Porsche Cayman GT4
2015 Porsche Cayman GTS
2014 Porsche 911 Turbo S
2014 Porsche 918 Spyder
2012 Porsche 911 GT2 RS
2004 Porsche 911 GT3
2003 Porsche Carrera GT
1997 Porsche 911 GT1 Strassenversion
1995 Porsche 911 GT2
1993 Porsche 968 Turbo S
1989 Porsche #65 Rothsport Racing 911 "Desert Flyer"*
1989 Porsche 944 Turbo
1987 Porsche 959
1985 Porsche #185 Prodrive Rally Raid
1982 Porsche 911 Turbo 3.3
1973 Porsche 911 Carrera RS
1970 Porsche 914/6
1959 Porsche 356A 1600 Super
Discounting the pre-order/welcome pack duplicates just 25 of the 40 Porsches from FH4 will reappear at launch in FH5, and it's largely bad news for classic Porsche fans. All but one of the pre-1970 cars has been cut for the day one list, along with both of the 917s.
That includes the well-loved resto-mod cars from Emory, Gunther Werks, and Singer. This doesn't necessarily mean those four machines have met with the pruning ax as they could well form a part of their own in-game brands, but we will have to wait and see.
Some more recent vehicles from Stuttgart's own production lines have left the car list too. The 2015 Macan Turbo and 2012 Cayenne Turbo were somewhat redundant with more recent models on the list, but if you preferred the older cars you'll be out of luck. Surprisingly the Porsche 928 meets with a similar fate, but then it was also cut from FH3 to FH4 before re-appearing in Series 35 — and wasn't in FH3 at launch either.
Eagle-eyed readers will notice that the Porsche 911 GT1 Strassenversion, a homologation special for Porsche's GT1 race car, has changed from a 1998 model in FH4 to a 1997 model in the list above. That's a mere correction, with the existing car being one of the 20 cars Porsche made in 1997, rather than the sole GT1-98 street vehicle.
In total then, Playground Games has revealed 132 vehicles for FH5 from across seven brands. Given that these brands accounted for 160 vehicles in FH4 — excluding Forza Edition, Welcome Pack, and Pre-Order machines — it's still looking like around 600 cars will be ready to hit the streets of Mexico this November.
See more articles on Forza Horizon 5 Car List.