After what's seemed like years of waiting, Forza Horizon 5 is finally with us, and the first of many monthly playlists starts today.
Series 1, officially titled "The Horizon Festival Has Landed", starts with Mexico's "Wet Season" — or Summer for those of you used to FH4's seasons — and brings the first set of challenges, missions, and tests with some exclusive rewards for successful completion.
There's a major change from FH4, in that players now score points for their progress. That makes it a little easier to track what you've done and what you need to do compared to the percentage system employed in the previous game.
It also looks like you don't need to get quite as busy with the various tasks, with the most exclusive Series reward coming in at the equivalent of 72% completion.
Series 1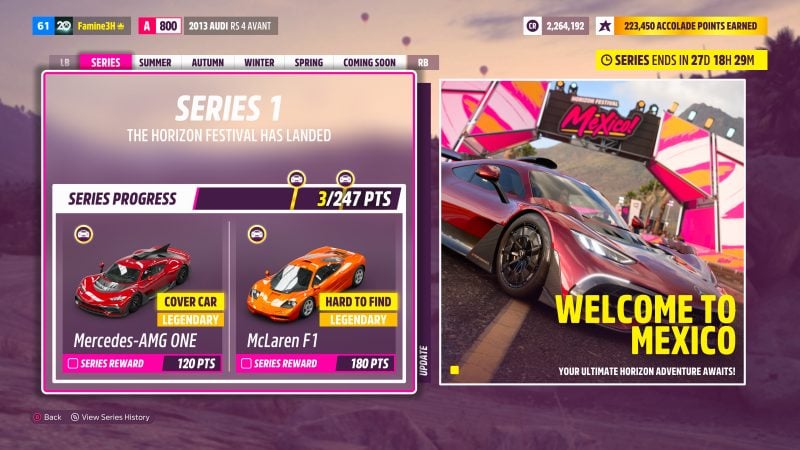 That comes in the shape of the McLaren F1. Once the world's fastest car — and still the world's fastest naturally aspirated car — the 240mph McLaren F1 is one of the most desirable cars ever made.
Despite getting close to 30 years old now, it's a car that most enthusiasts agree has never been topped as an overall machine. You'll need to pick up 180 out of the 247 points available over the next four weeks to receive this motoring icon.
Slightly easier to acquire, at 120 points, is a car that Mercedes hopes will join the McLaren on that all-time top-tier road car list — and it's one of Forza Horizon 5's cover cars. The AMG ONE is a vehicle built around the brand's all-conquering Formula One engine, a 1.6-liter hybrid good for 1,000hp.
Mercedes hasn't actually built or delivered any of them yet — that should start in mid-2022 — so you'll be driving the virtual model before anyone in the real world.
Your points-gathering mission for Series 1 starts with the Summer Season, which runs through to 1430 UTC on Thursday November 18. There's 64 points available across the week — slightly more than the 61 points in the other seasons — from the various tasks.
Summer/Wet Season
Challenges
The difference in points available comes from the "Treasure Clue", which FH4 players will recognize as a feature from the Fortune Island DLC expansion. In essence you'll need to perform a specific task to be rewarded with a clue towards the location of a treasure chest — similar to how you find Barn Find locations. Find and smash the chest and you get the reward.
This week's Treasure Clue challenge requires you to get at least two stars from the Heights of Mulege Danger Sign, using the Chevrolet C8 Corvette Stingray to receive the clue. That will send you to the other side of the town, where you can find the chest and its 50,000cr reward — and three points — near some agricultural tents.
Other challenges this week will grant you two points for finishing 30th or better in The Eliminator and for reaching a speed of 140mph during any Horizon Open racing event (Xbox Gold required for both on consoles). Smashing up 100 of Mexico's cactuses during the week is worth three points.
The final challenge for the week is the Photo Challenge called #NewDigs!. Simply photograph any car outside the Casa Bella House to gain the two points on offer. This should be just about impossible to miss, as this is the first house you unlock in the story mode, and it's also in Mulege.
Treasure Hunt: New Heights
Cars: Chevrolet C8 Corvette Stingray (any class)
Location: Heights of Mulege Danger Sign
Challenge: Complete two-star jump (121.9m/400ft); locate Treasure Chest
Reward: 2 points, 50,000cr
Photo Challenge: #NewDigs!
Cars: Any
Location: Casa Bella Player House
Challenge: Photograph any car at the Casa Bella Player House
Reward: 2 points, "Welcome to Mexico" LINK message
Horizon Open: Gotta Go Fast
Cars: Any
Location: Horizon Open (any event)
Challenge: Reach a speed of 140mph
Reward: 2 points, 25,000cr
The Eliminator: Battle Royale
Cars: Any
Location: The Eliminator
Challenge: Finish 30th or better
Reward: 2 points, "This Isn't Even My Final Form" LINK message
Collectibles: Welcome to Mexico
Cars: Any
Location: Any
Challenge: Smash 100 Cacti
Reward: 3 points, "Gotta Smash 'Em All" LINK message
Season Events
The bulk of your points will come from the Season Events, with six points on offer for the three PR Stunts, 15 for the various championships, three more for the Playground Games event, and ten from The Trial.
Unlike FH4, the seasonal stunts now require specific vehicles, rather than just heading out to everything in your Koenigsegg. This means you'll need to be a little more tactical with your car choices in FH5. You may also need to unlock Horizon Rush to see them.
For this week the restrictions are on the kind side. You'll be able to use S1-class cars, up to 900PI (you can use lower PI cars, but not lower class cars), for the Danger Sign and Drift Zone stunts. For the Hillside Drift Zone you'll need a Drift Car, which should make the 90,000pt marker a doddle, and it's a Retro Sports Car for the 385m+ jump at the Runway Danger Sign.
The Speed Zone has a couple of complicating factors. Firstly, you'll need an A-class BMW, with up to 800PI allowed. More tricky is the fact it's a dirt speed zone, so you'll likely want AWD in order to achieve the 106mph target average speed.
For the three championship races this week you'll race B-Class Classic Muscle, A-Class Modern Sports Cars, and A-Class Super Hot Hatch models against the AI Drivatars. You'll need to win each championship against Highly Skilled Drivatars to pick up the five points available, and there's two hard-to-find cars on offer too.
The final four events all require Xbox Gold on console, as you'll be racing with and against other players.
Horizon Tour and Horizon Arcade both offer three points for completion, with Tour seeing a convoy of players racing Drivatars, and Arcade consisting of a variety of games for players to work co-operatively towards a goal.
The Trial is one of the harder challenges, as you and up to five other drivers have to race against "Unbeatable" rank Drivatars and… well, beat them. These team races see you score points for coming ahead of rival cars, and the two teams' scores are added up at the end of each race, in a best-of-three event. You can choose any B-Class car in the Pickup and 4×4 class for the event, up to 700PI, and there's ten points available for winning.
That just leaves Playground Games, which pits two teams of up to six players against each other in a selection of team games. A best-of-five rounds of Zombies, King, and Flag Rush will crown a winner, but you only need to complete a set to win the three points and the Quick Draw emote.
Danger Sign: Runway
Car: S1 Class, Retro Sports Cars
Location: Runway Danger Sign
Challenge: Jump 385m/1263ft
Reward: 2 points, Wheelspin
Drift Zone: Hillside
Car: S1 Class, Drift Cars
Location: Hillside Drift Zone
Challenge: 90,000 points
Reward: 2 points, Wheelspin
Speed Zone: Cordillera
Car: A Class, BMW
Location: Cordillera Speed Zone
Challenge: 106mph
Reward: 2 points, Wheelspin
Seasonal Championship: It's Rainin' Sideways
Car: B Class, Classic Muscle
Location: Estadio Horizon
Challenge: Win the Championship
Reward: 5 points, Hoonigan Gymkhana 10 Ford Hoonicorn Mustang
Seasonal Championship: Letting Off Steam
Car: A Class, Modern Sports Cars
Location: Teotihuacan
Challenge: Win the Championship
Reward: 5 points, Steam Boat Horn
Seasonal Championship: New Kid on the Block
Car: A Class, Super Hot Hatch
Location: Palacio Azul
Challenge: Win the Championship
Reward: 5 points, Hyundai Veloster N
Seasonal Playground Games: No Rain, No Gain
Car: B Class, Modern Rally
Location: Ek'Balam
Challenge: Complete the Championship
Reward: 3 points, Quick Draw Emote
The Trial: Making a Splash
Car: B Class, Pickups & 4x4s
Location: Teotihuacan
Challenge: Win the Championship
Reward: 10 points, MINI X-Raid ALL4 Racing Countryman
Forzathon Events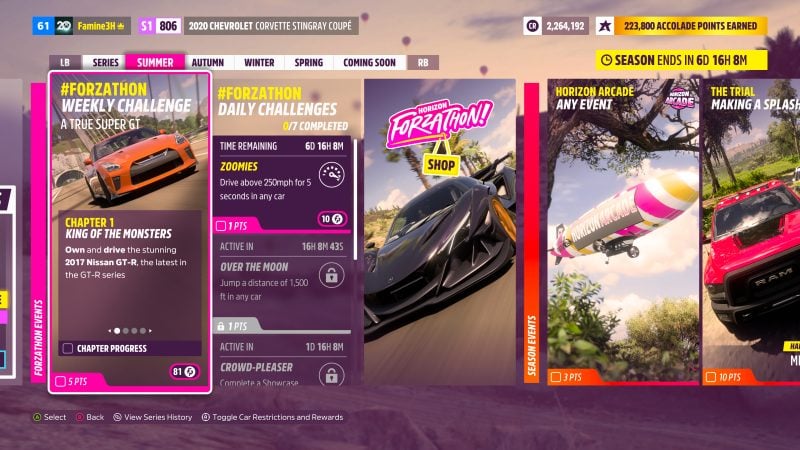 The Forzathon Events this week bring the familiar daily and weekly challenges. For the Weekly Challenge, "A True Super GT", you'll need to pick up the 2017 Nissan GT-R. Driving it for a total of 13.5 miles (21.7km) will complete the second task, and for the third you'll need to take it to any Danger Signs you choose and rack up six stars in total.
After that slightly violent treatment, the GT-R can be put to better use for the final challenge, requiring you to score two Awesome Drift skills during any Road Racing event — which means you'll need to have unlocked Horizon Apex. Simply enter any Road Racing event in the GT-R and get your drift on. Complete this and you'll get five points and 81 Forzathon Points.
A slight change to the Daily Challenges from FH4 means you now get seven days to complete each, rather than three. They are slightly more self-explanatory than before too, though only "Zoomies" — drive above 250mph for five seconds in any car — is available right now.
The others will unlock sequentially as the days tick by. Over The Moon will require you to jump over 1,500 feet (457.2m) in any car, while Crowd Pleaser will have you completing any Showcase. The Eliminator simply needs you to complete any Eliminator event (and you can pair this with the two-point "Battle Royale" Challenge), and Wash For 20 Seconds requires a clean lap on any Rivals event.
That leaves Blasting Through, which will need you to score nine stars on Trailblazer events, and Bulk Smash where you'll have to break 25 items in 30 seconds. Again, you could pair this up with the Collectibles Challenge.
Finally there is the Monthly Rivals event, which gives you four points towards each of the four seasons this month, or 16pt in total. All you need to do here is complete a clean lap at the Horizon Mexico Circuit in the Mercedes-AMG ONE.
Should you successfully work your way through that list, you'll pick up the DeLorean DMC-12 for 26 points, the Aston Martin DBS Superleggera for 46 points, and — importantly — bank 76 points towards your series total.
Featured image courtesy of TOMMY3688.
See more articles on Forza Horizon 5 Season Change.