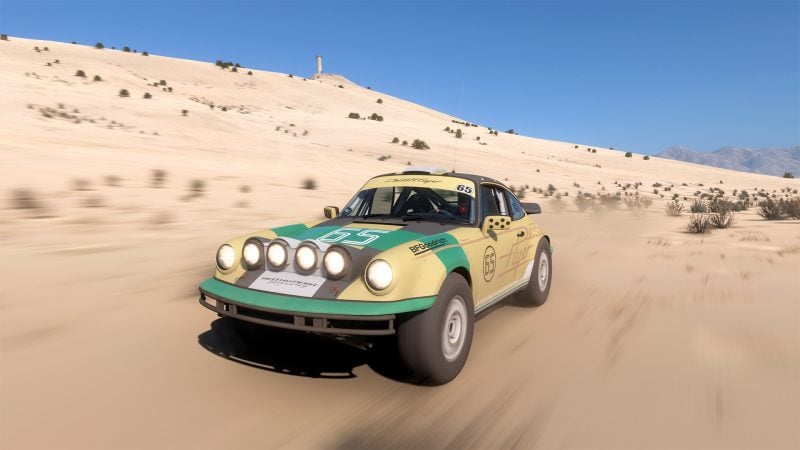 We're now into the final Season of Forza Horizon 5's Series 4, with the hot Spring weather arriving in Mexico.
As it's the last week of S4, it's also the closing stages of the Horizon World Cup theme, which sees players representing their chosen nations by way of completing seasonal events in cars from each country.
Once more, players will be racing specific cars from six nations — France, Germany, Italy, Japan, the United Kingdom, and the USA — in the Playlist. Each time you complete an event, you score points towards the nation whose car you use in that event.
You're not tied to any one nation throughout, so you can hop in and out in the different events according to your preference. However once the four-week event is done, there'll be a special prize to all players of a car from the country that topped the standings.
We already know what the cars will be too: Aston Martin Vulcan for the UK, Bugatti Divo for France, Lamborghini Veneno for Italy, Mercedes CLK-GTR for Germany, Nissan GT-R LM for Japan, and Shelby Cobra for the USA. If you want one of those specifically, make sure you race for the right nation!
As it has been throughout the World Cup, the Playlist is a little shorter than usual this week, with the focus on the points-scoring Seasonal Championships. There's no PR Stunts at all — they'll return in Series 5 — and fewer online events.
There's slightly fewer points across the Series then, and the target scores for Season and Series rewards are lower too. You'll also spot that PG has shuffled the reward cars, so that all the Playlist-exclusive cars are now the lower 25-point rewards — which means you can pick them up even without Xbox Gold.
Series 4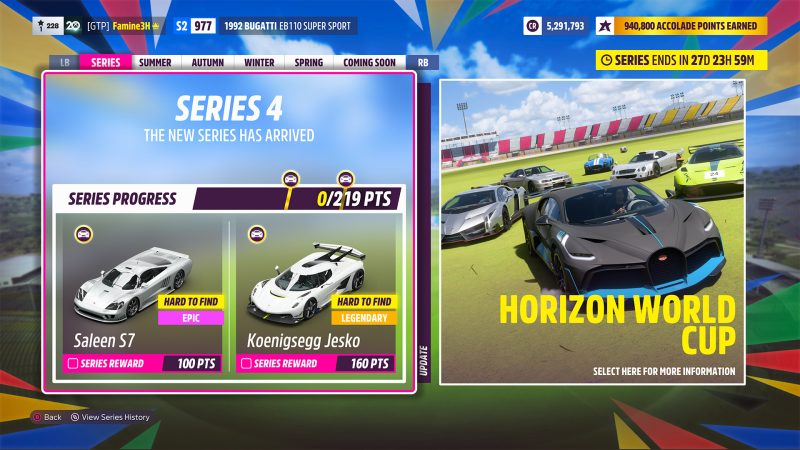 If you haven't picked up the Series reward cars by now — and you really should have, with 166 points available up to now — there's one last week to score the points required.
You'll need to score 100 points to collect the first reward, which is the Saleen S7. Arguably the first supercar from the USA, largely thanks to actually being made, the S7 featured a seven-liter Ford V8 which was more than enough to fire it over 200mph — even if Saleen added two turbos to it later in life.
Despite the size, and enormous engine, the S7 is pretty light, with a lightweight spaceframe chassis clothed in a carbon-fiber body designed by Phil Frank.
The other Series reward car is faster still, and on paper makes even the twin-turbo S7 look like it's standing still.
Koenigsegg's Jesko, named for company founder Christian von Koenigsegg's father, also features a V8 — developed from the one in the Agera. Helped by two additional turbos, it puts out a scary 1,300hp on regular pump fuel.
Although it's never been officially clocked, the Jesko has a projected top speed of 300mph, which you can test out in FH5 on the long center highway. 160 points across the Series will see it in your garage.
Neither car is exclusive to the Playlist, but picking them up will save you a whole load of money or needing the luck of the Wheelspin draw.
Series 4 will run through to 1430 UTC on Thursday, March 3, and as the Spring season is the last of the four, it will expire at the same time, with Series 5's Summer replacing it.
Spring
This season's playlist will reward you with two entirely different vehicles, from very much opposite ends of the market.
Hit the lower 25-point mark and you'll score the MG3, which comes in as one of the Chinese-branded cars available in the Series.
It was one of the first models to come out of MG following the brand's catastrophic failure and buyout by SAIC-owned Nanjing. First made in the old MG/Rover factory at Longbridge, the car is now only made in China and Thailand.
The compact hatch is about the same size as a Ford Fiesta or Vauxhall Corsa, and comes with a 1.5-liter straight four good for up to 105hp. That means it won't exactly rip up the streets of Mexico, but MG has made a Trophy race car based on the MG3 and a rally car was in the works too, so we'll have to see what upgrades FH5 will offer.
For 40 points you'll be able to grab the Pagani Zonda R. This track-only monster was the pinnacle of the Zonda (for a while), with extreme aero matched by the extreme power. Pagani turned the AMG-sourced six-liter V12 — from the AMG-GTR — up to 740hp.
Only 15 Zonda R models were ever made, which isn't much of a surprise as it's not road-legal anywhere.
This final week of S4 has slightly more points on offer at 57, and by our count you should be able to snare both cars even if you don't have an Xbox Gold subscription for online multiplayer.
Forzathon Events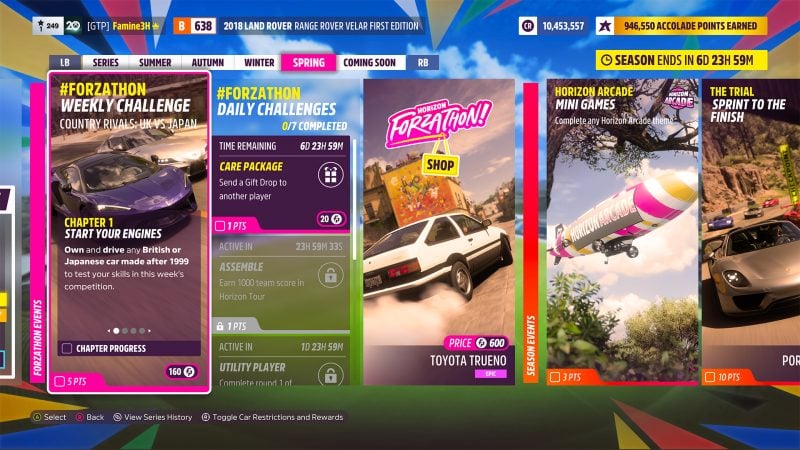 Again the week's Forzathon Weekly Challenge is Horizon World Cup-themed, and worth five points towards your seasonal total and 80FP.
To start it off you'll need to drive any car from the UK or Japan, made after 1999. Don't worry, you're not locked into the car you start with, but you will need a Japanese or British car from 2000 or later for every stage.
Stage two requires you to win a Dirt Racing Event — and both circuits and point-to-point should count — in any eligible car.
After that, head to any Drift Zones you can find, and score four stars in total. Again, it doesn't need to be the same car you started with, but any qualifying car will do.
Finally you'll need to bank a total of 100,000 Skill Score in a relevant car, so tune it up and get speeding, smashing, and drifting to rack up those points.
The usual Daily Challenges all offer one point for your season total and 10FP each. As the name suggest, a new one appears each day, and you have seven days to get through each.
Care Package starts the week's challenges off, and you'll need to show your generosity by sending a Gift Drop to any other player. You can do this through the pause menu or by heading to a Barn Find spot.
You'll need Xbox Gold to complete Friday's challenge, Assemble. That requires you to score 1000 points as a team during a Horizon Tour event — which should be pretty easy and completed in one race.
Utility Player follows on Saturday, and you'll simply need to complete the first round of any Horizon Arcade theme using a car from the Sports Utility Heroes category.
Sunday is speed day, with Hyperspeed as your challenge. You'll need to score nine stars in any Speed Traps using a car from the Hypercars category.
Next week starts with Trail of Two Runs, which will see you winning any two Dirt Racing Series Trail — that's point-to-point — races.
I See Pride! I See Power is Tuesday's challenge, requiring you to pick up five Showoff skills in any Modern Muscle category car. That's a combination skill which needs you to score a pass skill (overtaking a rival in a race) while scoring a drifting skill; it's not easy to achieve on purpose so you might need a few attempts, and offroad racing is the best bet.
The final challenge for the week is Hot Snacks. Simply smash through 10 market stall carts to complete it. There's plenty of these in the market squares of Mulege and Guanajuato, and you'll find a few in the middle of Playa Azul too.
Season Events
Horizon World Cup remains the theme for one last week, so it's all about the racing and there's no PR Stunts to tackle. That means three Seasonal Championships, worth five season points each, with specific car lists of eligible S1 Class (801-900 PI) vehicles from France, Italy, Germany, Japan, the UK, and the USA. In each case you'll be running a three-race championship against Highly Skilled AI Drivatars.
For the past three weeks, the events have also gifted you with prize cars that will assist in the following week's races, and again there's cars galore here — which might hint at what Series 5 will bring next week.
Home and Away is one of two Street Scene series this week, which feature identical car lists. Your options here are the Audi R8 V10 Plus, Bugatti EB110 SS, Dodge Viper SRT10 ACR, Lamborghini Huracan, McLaren 570S, and Nissan GT-R MY17. Complete this series and you'll take a TVR Speed 12 as your reward.
Thrillseekers is the sibling event, where you'll be racing the same cars. This time the prize is a Ferrari 812 Superfast.
That leaves Natural Selection, a Road Racing Series event. Your vehicle choices are the Aston Martin Vantage 2019, Bugatti EB110 SS (again), Ferrari 488 Pista, Ford GT 2017, Nissan R390 GT1, and Porsche 911 GT3 RS 2016. The prize for winning is the Ford RS200.
In addition there's a Showcase Remix. This won't count towards the Horizon World Cup, but it will give you five points and a Vuhl 05 RR — the only Mexican car in the game. Although it's called "Closing Ceremony", it's a repeat of the "On a Wing and a Prayer" game opener, using the Vuhl instead of the Hoonigan Cosworth. Just keep up and let the AI gift you the win at the line to finish!
Showcase Remix: Closing Ceremony
Car: Vuhl 05 RR (Provided)
Location: Mulege, On a Wing and a Prayer
Challenge: Complete the challenge
Reward: 5 points, Vuhl 05 RR
Seasonal Championship: Home and Away
Car: S1 Class, "Country Rivals: Street Racing"
Location: De Otro Mundo, Castillo del Mar
Challenge: Win the Championship
Reward: 5 points, TVR Speed 12
Seasonal Championship: Natural Selection
Car: S1 Class, "Country Rivals: Road Racing"
Location: Horizon Festival, Horizon Mexico Circuit
Challenge: Win the Championship
Reward: 5 points, Ford RS200
Seasonal Championship: Thrillseekers
Car: S1 Class, "Country Rivals: Street Racing"
Location: Guanajuato, Tunnel Run
Challenge: Win the Championship
Reward: 5 points, Ferrari 812 Superfast
There's also the three online multiplayer events, which this week sees Horizon Arcade return alongside Seasonal Playground Games and The Trial. Again, you'll need to either play on PC or have an active Xbox Gold subscription to take part in these.
Arcade is a simple affair as usual. Just head to any Arcade start point (pink circles on your main map) of any theme — Air, Chaos, Drift, Speed, Wreckage — and complete all three rounds to claim your three points. There's no additional prize for this event.
Playground Games takes you to the Baja Circuit for the action this week. It's another Country Rivals event, which counts towards the World Cup, but curiously it features cars from a different performance class for the first time this week. While every other event uses S1 class (801-900 PI) cars, the Games use A class (701-800 PI).
Your vehicle choices are the Ariel Nomad, Honda Civic Type R, Hoonigan Escort RS Cosworth, Lamborghini Urus, Peugeot 207 S2000, and Porsche 959 Rally Raid. Whichever you pick though, you'll be paired with a team of up to five other players to battle another human team in a best-of-five set of Zombies, King, and Flag Rush games. Winning isn't necessary; simply completing the event will win you three points and the Tape Rewind horn.
That leaves The Trial, which is always a bit of a challenge but will be more difficult this week due to the higher performance cars. It's S1 Class Road Racing Country Rivals — the same car choices as the Natural Selection race — but be sure to tune your car up to the maximum allowed.
The event pairs you with up to five other humans as you take on a team of six "Unbeatable" level AI Drivatars. That's a task all by itself, but you'll also need to work as a team to deny points to the AI while maximizing your own team's score.
It's more common to find win-at-all-costs team-mates who'll batter you out of the way instead of slowing the AI down, and even more common to find players who don't know when to brake in these high-power S1 cars.
However, if you beat the bots over the three races, you'll take ten season points and a Porsche 918 Spyder as a prize.
Horizon Arcade: Mini Games
Car: Any
Location: Any
Challenge: Complete any Horizon Arcade Theme
Reward: 3 points
Seasonal Playground Games: Getting Hot in Here
Car: A Class, "Country Rivals: Dirt Racing"
Location: Baja Circuit
Challenge: Complete the championship
Reward: 3 points, Tape Rewind Horn
The Trial: Sprint to the Finish
Car: S1 Class, "Country Rivals: Road Racing"
Location: Guanajuato, Copper Canyon Sprint
Challenge: Win the Championship
Reward: 10 points, Porsche 918 Spyder
Challenges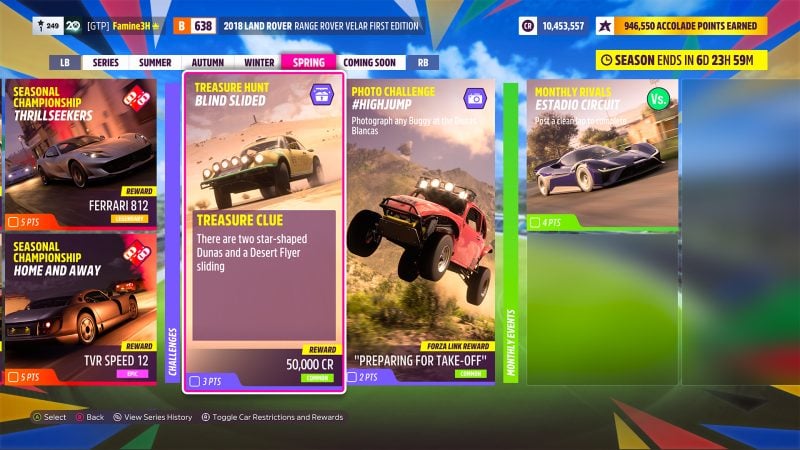 There's another Treasure Hunt for you to complete this week, and these haven't had the best track record when it comes to glitches.
You'll need to solve a riddle to earn a "clue" (a giant, red map marker) which enables you to find a hidden treasure chest. This week's riddle is "There are two star-shaped Dunas, and a Desert Flyer sliding", which should be pretty simple to decipher: score two stars or better in the Las Dunas Drift Zone in the Porsche 911 Desert Flyer.
Complete that and you'll receive the clue, which is very close by, at the west end of Las Dunas. As there's pretty much a single landmark in this area — a Danger Sign next to a lighthouse on top of the dunes — you can probably find the chest without any further guidance, and it's worth 50,000cr and three points.
The Photo Challenge for the week, #HighJump, is also located in the same area of the map. Simply photograph any car from the Buggies class in the sand dunes of Dunas Blancas to score the two points and "Preparing for Take-Off" Forza LINK message.
This week is also your last chance to complete Monthly Rivals. The challenge runs across all four weeks of the Series, but you only need to complete it once during any Season in the Series to complete it. You don't need to pick up the car either, just select the event from your Festival Playlist menu.
Your task is to set a clean lap in the new NIO EP9 around the Estadio Circuit — which runs around the outside of the stadium. It's a tight track with some very close and unfriendly barriers, particularly at the pace this 1,341hp EV goes, so you'll need to take it carefully.
Completing the event gives you four points to each Season in the Series, for 16 points in total. Even if you complete it this week, you'll get the points backdated to previous Seasons.
Photo Challenge: #HighJump
Cars: Buggies
Location: Dunas Blancas
Challenge: Photograph any Buggy at the Dunas Blancas
Reward: 2 points, Preparing for Take-Off Forza LINK
Treasure Hunt: Blindsided
Cars: Porsche 911 Desert Flyer
Location: Dunas Blancas, Las Dunas Drift Zone
Challenge: Score two stars in the Las Dunas Drift Zone, find the Treasure Chest
Reward: 3 points, 50,000cr
Monthly Rivals: Plaza Circuit
Cars: NIO EP9 (Provided)
Location: Estadio Circuit, Estadio Horizon
Challenge: Post a Clean Lap
Reward: 16 points (4 added to each season)
Forzathon Shop
Your Forzathon Shop offerings this week include two cars money can't buy. Quite literally — neither car is available in the Autoshow, and only pops up on Wheelspins, Playlist Events, and the Forzathon Shop.
The headline car is the Toyota Sprinter Trueno. A relatively ordinary, compact Japanese hatchback, the Trueno has become legend due to its iconic status as the hero car of drift anime Initial D.
It's a cheap, simple, front-engined, rear-wheel drive car, perfectly suited to the motorsport ballet of drifting, and it's become so highly prized that even sibling models now command huge prices in the real world. You'll only have to part with 600FP to score yours.
Alternatively, for 400FP, you can pick up the MINI Countryman X-Raid All4. This crossover from the MINI brand was designed to take on Dakar and win (again), so it's ideal for the terrain of FH5's Mexico.
Store items this week are the Windows Tada Horn and a Raul Urias Pencil Dress for your avatar, at 75FP each. The Wheelspin (80FP) and Super Wheelspin (300FP) take their usual spots too.
See more articles on Forza Horizon 5 Season Change.