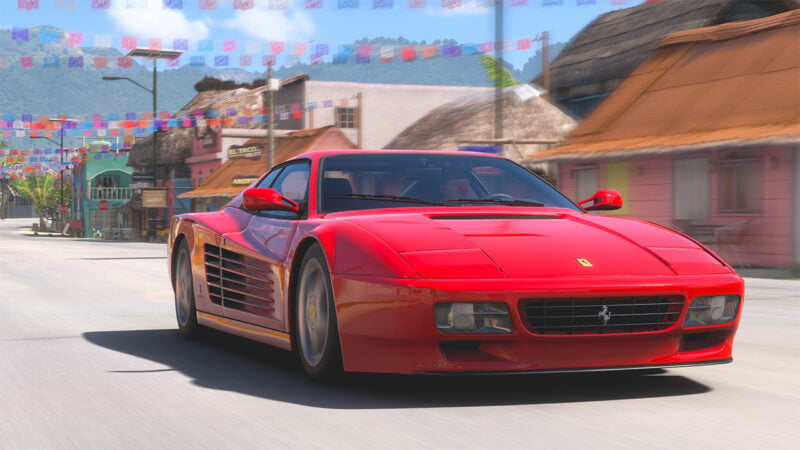 With the arrival of another Winter season in Forza Horizon 5 there's a fresh set of Playlist events for players to get their teeth into.
We've now passed the halfway stage of another Series, with S7 continuing to provide a festive theme to the stylized Mexico as it marks the occasion of Cinco de Mayo.
This celebration is held on May 5 each year, and is a school holiday in Mexico — although it's an even bigger event in Hispanic communities in the USA. Reflecting the occasion is a "world makeover" in FH5, bringing new map decorations, new clothing items, and new EventLab props.
Italian brand Ferrari is a major focus for the Series too, as all four of the Seasons feature a Playlist Exclusive prancing horse reward, as well as another as an overall Series prize. A new Evolving World Accolade also appears this month, for collecting all five Ferraris.
Series 7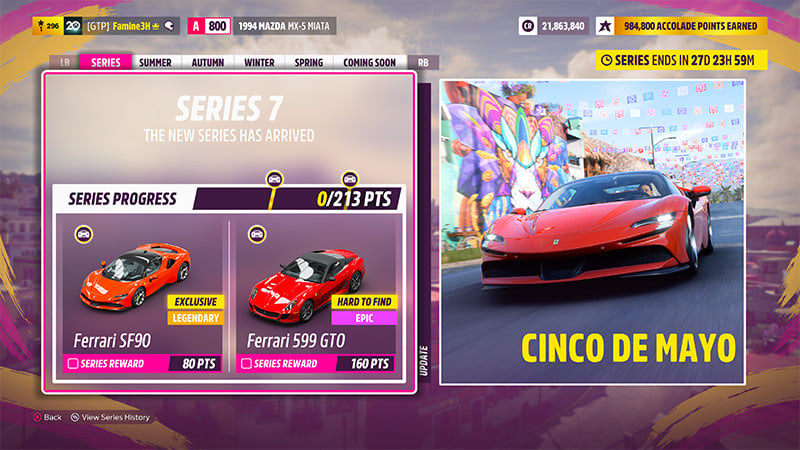 As you'll see from the Series rewards, Ferrari is the major talking point this month. There's two cars from the marque available as prizes for the full four-season set of Playlist events.
First up is the Playlist exclusive car, the Ferrari SF90. As well as sharing its name with the company's 2019 F1 car (the road car is technically named "SF90 Stradale"), it represents a number of firsts for the brand.
It's the first ever full production electrified vehicle from Ferrari, with that all-important, four-liter V8 petrol engine supplemented by a trio of electric motors. In total the car puts out close to 1,000hp when everything is working together.
While it's not the first four-wheel drive Ferrari — the FF beat it by nearly a decade — it is technically the first front-wheel drive Ferrari. You can switch the SF90 into EV mode and have it drive only the front wheels, at up to 84mph.
As the lower thresholds for prizes remain in place, you can pick up the SF90 for just 80 points across the Series, and it should already be in your garage.
You should be aiming for the higher-tier reward car during the current Season, with a total of 160 points possible over the next seven days.
That will net you the rather oddly named Ferrari 599 GTO, and as it's a car you cannot buy normally it's one well worth getting.
The 599 GTO was the third Ferrari with the GTO name — meaning "Gran Turismo Omologato", or a car built to meet the requirements of given racing series. Where the previous two cars, the 250 GTO and the GTO, both raced, the 599 GTO was never designed to do so.
Instead it was a roadgoing version of the 599XX, a track-day toy Ferrari made for particularly wealthy enthusiasts to blast around the world's circuits but which was not road legal. The GTO version retains most of the mechanical improvements, but the wild aerodynamic components of the XX were omitted.
The Winter season will run through to 1430 UTC on Thursday, May 19, while Series 7 itself continues until the same time on Thursday, May 26.
Winter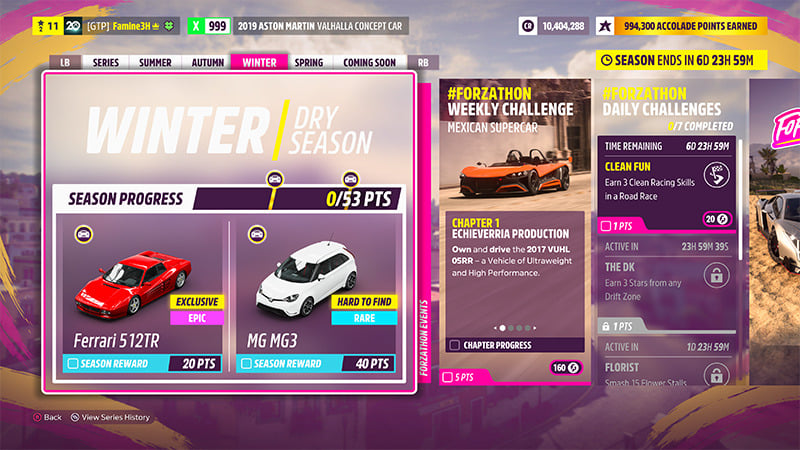 Winter's two Playlist rewards aren't quite at opposite ends of the automotive spectrum, but they're not far off.
Again, the exclusive car comes in at the lower points threshold of 20 points this season. That will win you one of the most iconic road cars ever made, which is, oddly, also one of the most common Ferraris.
The Testarossa probably needs no introduction. It takes its name from the 250 Testa Rossa racing car of the 1950s and the fact that it sports red cam covers on its unusual 180-degree V12 engine — often referred to incorrectly as a flat-12.
Thanks to numerous TV and film appearances in the 1980s, the modern Testarossa became famous as a status symbol, or perhaps a symbol of excess.
It was replaced in 1992 with an updated car called the 512 TR — referring to the "five"-liter (it was a 4.9) V12, and of course the abbreviation Testarossa. Pick up 20 points, and the 512 TR is yours.
The 40-point car is a returnee, having previously been available during the S4 Spring Playlist as a 20-point car.
MG's 3 hatchback was one of the first cars made by the revived brand. Having gone out of business after years of circling the drain, MG was bought up by SAIC-owned Nanjing.
While classed as a Chinese car in the game, this first model was made at the original MG/Rover factory at Longbridge. More recent versions were built in China and Thailand.
As it's a 105hp, 1.5-liter hatchback, roughly the same size as a Volkswagen Polo or a Mazda 2, it won't be setting any speed records, but it's another chance to score a rare car in the game.
Forzathon Events
Mexico finally takes center stage for the Weekly Challenge, with the one and only Mexican car in the game as the focus. Own and drive the Vuhl 05RR to get Mexican Supercar underway — if you don't already have one, there's one for 100FP in the Forzathon Shop this week.
You'll need to prove its pace for stages two and three, firstly by winning any Road Racing Series event and then by maintaining a speed of 170mph or greater for 15 seconds. We foresee plenty of Vuhls running up the main highway for this one.
Finally you'll need to score a three-star distance at any Danger Sign to complete the challenge, earning five points and 80FP (doubled to 160FP if you own the La Casa Solariega player house) in the process.
As usual, the Daily Challenges are all worth one point and 20FP (again doubled to 40FP with the same player house). You'll have one new challenge to hit each day, though you also get seven days to complete each one.
Clean Fun starts this set of challenges. You'll need to enter any Road Racing Series event and score three Clean Racing Skills; they're earned by not hitting anything solid or high energy impacts with the AI. Double this up with the Weekly Challenge for efficiency.
Prove that you're The DK on Friday. Not Donkey Kong, but Drift King; hit a three-star score in any Drift Zone to pass.
Environmental mayhem is the theme for Saturday. Florist will set you the task of smashing 15 flower stalls. You'll find these brightly colored, wheeled, wooden carts in the major towns, and of course you can simply find one and smash it repeatedly with the Rewind feature.
More smashing happens on Sunday with On Board. You'll need to earn a Skillboard Skill by smashing up any billboard. These are everywhere in Mexico, but there's a large number of them at the Baja Circuit if you're stuck for ideas.
Dry Run starts the working week with a tricky task. You'll need to hit 140mph (225km/h) in any Dirt Racing Series event. These races commonly don't have many straight bits, so either go with big power and a high PI rating, or pick one of the point-to-point Trail events, like Tapalpa Trail.
More drifting follows on Tuesday, as In Reverse sets you the challenge of completing any Drift-themed Horizon Arcade. There's always a Drift event on in Horizon Arcade (the other themes cycle through), so just find the two pink Arcade zone circles on your map and pick the Drift one. Complete all three stages to pass.
That leaves Aged Well. You'll need to hit a three-star speed in any Speed Trap using a car from the Classic Racer category.
Season Events
It's a bit of a Noah's Ark of a Playlist this week, as there's two of everything. You'll face two PR Stunts, two Seasonal Championships, two online multiplayer events, and two EventLab challenges.
Coaster is an odd race, starting at the Lookout Circuit start point near the Horizon Rush Outpost, in any car of your choosing. Each time you cross a checkpoint, your ability to accelerate is changed — simulating a "box full of neutrals" as per the description.
There are three massive shortcuts available, which helps greatly considering they're all in areas where you have little to no performance. Just keep your speed up, avoid braking, and roll to the finish… or use the Rewind feature, which resets the rule and gives you full performance again. Finish to earn three points and a Falling car horn.
The Sierra Annual River Run starts at the far north edge of the map and is pretty much exactly as it sounds. You'll drive down the narrow, dry river bed, following the water's future course to the Horizon Stadium. Any Unlimited Offroad car is eligible, but avoid using any particularly large vehicles — trust us — and hit the finish to get three points and a Forza Edition Mercedes-Benz CLK-GTR.
This week's Danger Sign is the Heights of Mulege, a ramp off the hills south of the main highway into the heart of Mulege. The 140m target might be closer to two stars than three, but with a C Class (501-600PI) Hot Hatch — note that Retro and Super Hot Hatch category cars don't count — as a car limitation it's not entirely straightforward.
You'll be hitting up the Atlantes de Tula Speed Zone this week, southeast of the monuments of the same name. It won't be easy either as the 175mph target speed is way faster even than the zone's regular three-star score. Fortunately you can use any Mercedes-Benz up to the top of the S2 Class (901-998PI), such as the Forza Edition CLK-GTR you just won in EventLab!
Each of the PR Stunts offers two points and a Super Wheelspin for completion.
Where you're going in the Seasonal Championships this week, you won't need roads, as they involve Dirt Racing Series and Cross Country Series courses.
Offroad Tour is the Dirt event this week. Any B Class (601-700PI) Unlimited Buggies category vehicle is eligible for the three-race series. You'll win five points and an AlumiCraft C10 for overall victory.
For Weather Perfect you'll be heading over the landscape in C Class (501-600PI) cars from the Pickups & 4x4s category. Top the table after the three races and another five points and the monstrous Hennessey Velociraptor are yours.
EventLab: Coaster
Car: Any
Location: Horizon Rush Festival, Lookout Circuit
Challenge: Win the Race
Reward: 3 points, Falling Horn
EventLab: The Sierra Annual River Run
Car: Unlimited Offroad
Location: La Gran Caldera, Festival Gatecrash
Challenge: Finish the Race
Reward: 3 points, Mercedes-Benz CLK GTR Forza Edition
Danger Sign: Heights of Mulege
Car: C Class, Hot Hatch
Location: Mulege, Heights of Mulege Danger Sign
Challenge: 140m
Reward: 2 points, Super Wheelspin
Speed Zone: Atlantes de Tula
Car: S2 Class, Mercedes-Benz
Location: Atlantes de Tula, Atlantes de Tula Speed Zone
Challenge: 175mph
Reward: 2 points, Super Wheelspin
Seasonal Championship: Offroad Tour
Car: B Class, Unlimited Buggies
Location: San Juan, San Juan Scramble
Challenge: Win the Championship
Reward: 5 points, AlumiCraft C10
Seasonal Championship: Weather Perfect
Car: C Class, Pickups & 4x4s
Location: Horizon Rush, Copper Canyon Cross Country
Challenge: Win the Championship
Reward: 5 points, Hennessey Velociraptor
You will need Xbox Live Gold, or to play on PC, in order to access online multiplayer for the two online events, which consist of The Trial — as usual — and Horizon Tour. This latter event has been on the glitchy side in the past, and might auto-complete as soon as the season starts.
If not, either select the event from the Playlist or head to the Horizon Tour hub near the main Festival site to start. You'll just need to pick an appropriate car from your garage and complete three races against a middling AI team with your squad of human.
The twist with the Tour is that you'll need to drive between events, which commonly turns into an Eliminator-esque, straight-line blast across terrain; there's no rewards or consequences though. Finish a three-round Tour — you'll probably win, but it's not necessary — to claim three season points.
That leaves The Trial, which is usually the hardest event on the Playlist. In part that's due to the "Unbeatable" AI driver opponents, but usually it comes from your own team-mates who, after 26 events so far, haven't worked out that it's a team game.
Each driver gains 100 points for each of the other team's opposing drivers they beat, plus a 50-point bonus for the driver who wins. That means you will score 650 points in total if you win the race, but it's more important to win as a team than individually.
The goal is to help your team-mates, and this is often best done by hindering the AI. Blocking an AI to let two or three team-mates pass it is more valuable to the team's points tally than trying to pass an AI that's ahead of you.
With the high-performance S1 Class (801-900 PI) cars from the Retro Supercars category this week, it might be a little chaotic, as try-hard team-mates batter their way through everyone to the front. Watch out in big braking zones! You'll also want to win in the first two races, as the third uses the course for The Goliath…
Win as a team across the three Road Racing Series events and you'll win ten points and a Mexican Racesuit for your avatar.
Horizon Tour: Co-op Championships
Car: Any
Location: Horizon Tour (any)
Challenge: Complete a Horizon Tour
Reward: 3 points
The Trial: Carrera de Resistencia
Car: S1 Class, Retro Supercars
Location: Cordillera, Llanuras Sprint
Challenge: Win the Championship
Reward: 10 points, Mexican Racesuit
Challenges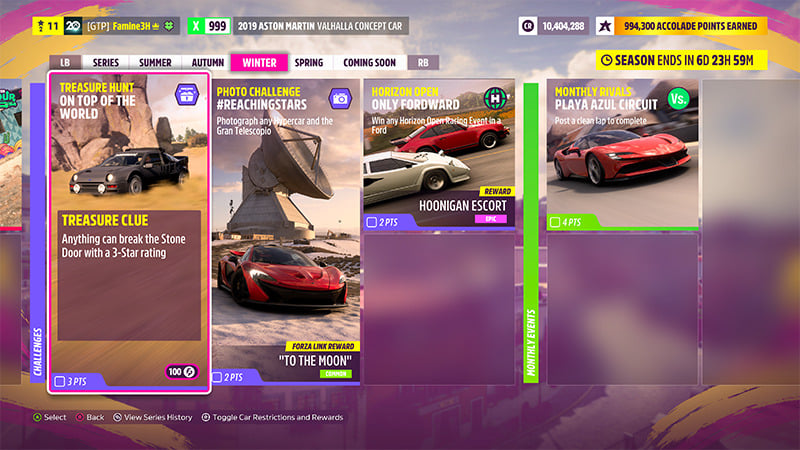 Three Challenges are available this week, with a Photo Challenge, a Treasure Hunt, and a Horizon Open event. Horizon Open will require an active Xbox Live Gold subscription to access, unless you play on PC.
That Open event looks rather tricky this week, and might need a few passes. Only Fordward requires that you win any Horizon Open Racing event (hit the pause menu and select Online, Horizon Open, and any racing event — not drifting or Playground Games) using a Ford vehicle.
Although the wording suggests you need to win an entire three-race series, a single race win will suffice. Even so, it'll probably take a lot of time for a lot of people and might be one that goes unearned in a lot of cases. Two points and a Hoonigan Escort await for those that complete it.
The Photo Challenge, #ReachingStars, features one of the game's biggest landmarks — in every sense — and the hottest cars around. You'll need to take a photo of any Hypercar class vehicle and the Gran Telescopio radio telescope atop La Gran Caldera.
We're wondering just how far away you can get and still hit the criteria, but you'll pick up two points and a To The Moon Forza LINK greeting when you do.
This week's Treasure Hunt, On Top Of The World, requires a little knowledge of Spanish. Firstly you'll need to solve the description, "Anything can break the Stone Door with a 3-Star rating", and complete the task it suggests. Successfully manage both things and you'll get a "Clue" as to where the Treasure Chest is.
Hopefully the puzzle will send you to the Puerta Petrea — "stone door" in Spanish — Trailblazer. You'll need to score a three-star time there to reveal the treasure clue on the map, which is a red circle showing the area in which you'll find the chest.
As per the event name, you'll find the chest right up in La Gran Caldera, near the buildings by the caldera itself. Smash it to get three points and 100FP.
That leaves the Monthly Event, once again consisting of the Monthly Rivals challenge.
This month you'll need to complete a clean lap at the Playa Azul Circuit, on the east coast. It doesn't need to be a fast one, but get round the course without scraping any paint off your provided Ferrari SF90 to pass the challenge.
You can complete it at any time in the four-week Series, and it will award one point in each of the four seasons (4 in total), backdating it to previous seasons if you leave it until later. Note that this is a change from previous Series where the event gave four points in each season.
Horizon Open: Only Fordward
Cars: Any Ford
Location: Horizon Open Racing (any)
Challenge: Win any Horizon Open Racing event in a Ford
Reward: 2 points, Hoonigan Escort
Photo Challenge: #ReachingStars
Cars: Hypercars
Location: La Gran Caldera, Gran Telescopio
Challenge: Photograph any Hypercar and the Gran Telescopio
Reward: 2 points, "To The Moon" Forza LINK
Treasure Hunt: On Top Of The World
Cars: Any
Location: Hotel Mirador Balderrama, Puerta Petrea Trailblazer
Challenge: Score three stars at the Puerta Petrea Trailblazer; Locate the Treasure Chest
Reward: 3 points, 100FP
Monthly Rivals: Emerald Circuit
Cars: Ferrari SF90 (Provided)
Location: Playa Azul, Playa Azul Circuit
Challenge: Post a Clean Lap
Reward: 4 points (1 added to each season)
Forzathon Shop
There's a couple of speed machines in this week's Forzathon Shop, consisting of the only Mexican car in the game and a highly limited run supercar.
Lamborghini built the Veneno as a 50th anniversary present to itself. Largely derived from the Aventador, it's an even more extreme interpretation of a car from a brand known for its extremes.
It still packs the 6.5-liter V12, but power is up at 740hp. That's strapped into the back of a body designed to look as much like a racing car as possible while still being road legal.
With only four coupe models made, alongside nine convertibles, the Veneno is one of the rarest cars in the world. At 700FP its price reflects that, but it's only 3 million credits to buy in the Autoshow so might be worth swerving.
At 100FP the Vuhl 05RR looks like more of a bargain, and you'll need it for this week's Playlist. If you haven't already got one, it's not a bad way to pick it up, but it too is available in the Autoshow for a mere 100,000cr.
Store items this week are the Air Guitar Emote and the Natural Suit Outfit for your avatar 75FP each. The Wheelspin (80FP) and Super Wheelspin (300FP) are in their usual spots too.
See more articles on Forza Horizon 5 Season Change.