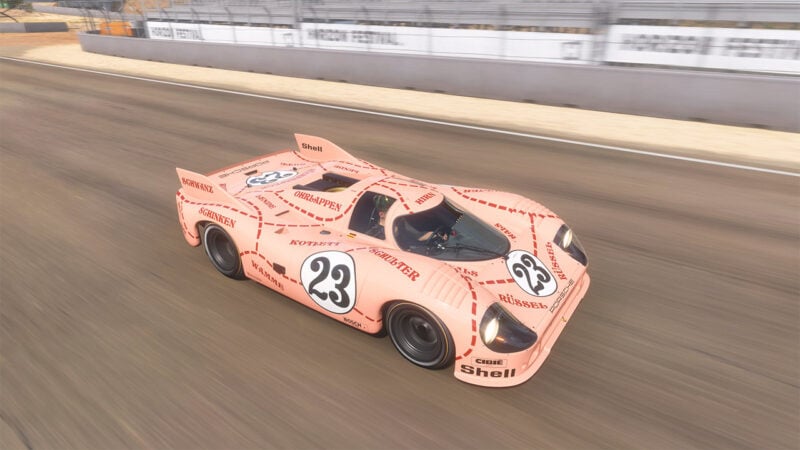 Forza Horizon 5 officially reaches double figures this week, as the Series 10 Playlist begins today — and it's one of the biggest to date.
Over the next four weeks players will be racing for a bunch of new rewards, including brand new cars to the game as well as some favorites making a series return from Forza Horizon 4.
Like previous Series, S10 has a specific theme. That's "Extreme E", signifying the gaming debut of the environmentally aware off-road racing series.
Across the Series you'll be running Extreme E themed challenges, with most of the ten cars available as rewards for completion. There's also other new vehicles and new clothing items on offer.
With the launch of Hot Wheels, the first DLC expansion pack, there's also new events in the Playlist set in the world of 1:64-scale diecasts — although they are only available to players who own and have downloaded and installed the pack.
As ever, there's also a new Expanding World Accolade for vehicle collection across S10, so let's dig in and see what you need to do.
Series 10: Extreme E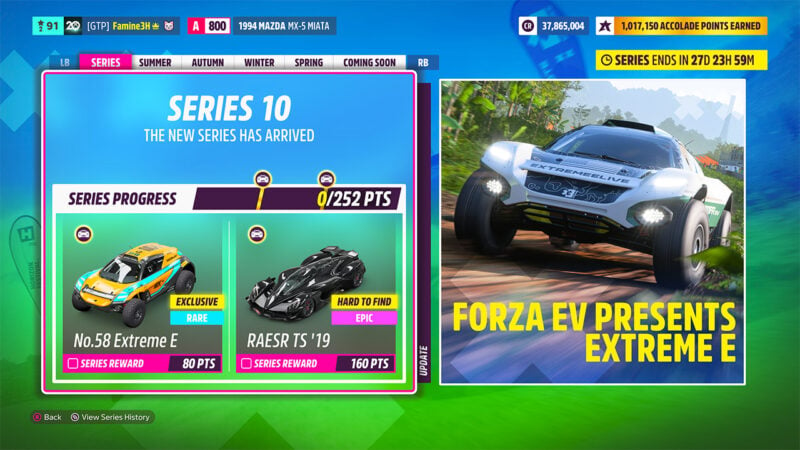 A new Series means new Series reward cars and, unsurprisingly given the Extreme E theme, one is one of the ten brand new Extreme E cars.
You won't need to worry about collecting either this week as, even at the lower 80-point threshold, there's not enough points on offer during the Summer season alone.
However, when you do hit that four-score mark, during the Autumn season, you'll pick up the McLaren #58 Extreme E racer.
Like all the other Extreme E cars this is an Odyssey 21, made by electric race car specialist Spark using a niobium-steel chassis, a 400kW electric drivetrain from Williams Advanced Engineering, and a body made from a composite based on flax fibers.
McLaren is the newest team on the grid, joining for the 2022 season with a driver pairing of Tanner Foust and Emma Gilmour.
For 160 points, which should come in the middle of the Winter season, you'll pick up the Raesr Tachyon Speed — previously available as a Playlist reward for Spring in Series 1.
Named after a concept in physics of any particle which can exceed the speed of light, the Tachyon is a six-motor electric prototype which wouldn't look out of place in a wealthy superhero's cave-slash-garage.
Packing some 1,250hp, the Tachyon won't break the speed limit of the universe, but will sprint up to 240mph without much of a fuss.
You won't be able to buy either car from the Autoshow (although the McLaren is identical to the Chip Ganassi Extreme E that you can buy), so grabbing both rewards this Series is a bit of a time-saver.
Summer will run through to 1430UTC on Thursday July 28, while Series 10 will continue on for another three weeks until the same time on Thursday August 18.
Series 10 Summer/Wet Season
Summer starts with two rewards that you cannot pick up from the Autoshow, including one of the new vehicles as a Playlist Exclusive at the lower 20-point mark.
That's the "Pink Pig", also known as the 1971 Porsche 917/20. Built as a testbed for next-generation components, the Pig drew from both 917K and 917LH models for a unique body which was decorated with a butcher's cut diagram.
While highly recognizable and memorable, the Pig didn't draw any plaudits for performance. Although it qualified reasonably for the 1971 24 Hours of Le Mans and ran as high as third, it retired at half distance due to brake failure. This was its only ever race.
Also available this week for the higher 40-point mark is the Noble M600.
Previously a 20pt reward for Series 5 Winter, the M600 is one of the fastest cars ever to come out of the United Kingdom — and likely the fastest vehicle ever to use the Volvo XC90's 4.4-liter Yamaha V8.
That's because Noble packs it into a steel space frame chassis, clad with a carbon fiber body, and adds two turbos for 650hp. You'll also need some brave pills, because Noble doesn't believe in electronic driver assists…
Forzathon Events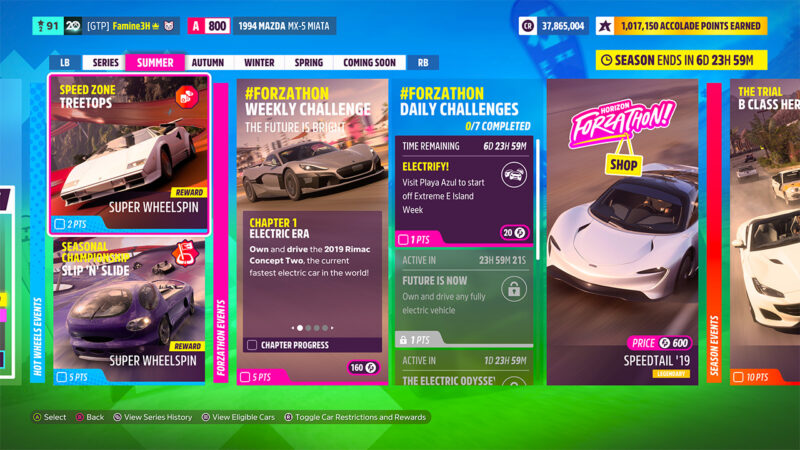 It's all about electric power in the Weekly Challenge, with one of the most powerful EVs ever to hit the public roads. Own and drive the Rimac Concept Two — now known as the Nevera in the real world — to get The Future is Bright started; if you don't have one, you can win one in this week's Collectibles Challenge.
You'll then need to show off the car's pace by reaching 250mph and holding at least that speed for at lease ten seconds — so the main highway will be quite busy with speeding Rimacs this week. After that, win any Road Racing Series event in the car; beware the huge distances needed for braking!
Finally drive ten miles in the car. Completing all four stages will earn you five points and 80FP (doubled to 160FP if you own the La Casa Solariega player house).
Weekly Challenge: The Future is Bright
Car: Rimac Concept Two

Chapter 1: Own and Drive the Rimac Concept Two
Chapter 2: Maintain a speed of 250mph for 10s in the Rimac
Chapter 3: Win a Road Racing Series event in the Rimac
Chapter 4: Drive 10 miles in the Rimac

Reward: 5 points, 80FP
It's all about Extreme E in the Daily Challenges this week, with the majority of challenges centered on the series and its cars. Each is worth its usual one point, with a new one arriving each day and seven days to complete each.
That starts off with Electrify!, although the challenge itself is a little odd. You only need to visit Playa Azul, the location of the Extreme E Island Prix I Seasonal Championship, to claim the point.
For Future Is Now on Friday you'll need to own and drive any fully electric vehicle — and you can pair this up with pretty much any other event on the Playlist this week.
The Electric Odyssey will get your weekend started. You'll need to win any Cross Country Racing Series event in any Extreme E car, which is handily what you'll be aiming for in the Extreme E Island Prix II Seasonal Championship if you want to be efficient about it.
On Sunday head back to Playa Azul and earn a Hard Charger skill — a combination skill of a Burnout (wheelspin from a standing start) and a Speed skill (hitting 100mph+) within 30 seconds — while in the location to complete Fully Charged.
Now You're Torquing then requires you to reach 150mph in any of the Extreme E vehicles.
The Extreme E cars are the focus again on Tuesday. Score six stars (or the equivalent) in total at any Trailblazers in any of them to earn the point for I Got The Power.
That leaves Lightning Speed. You'll need to earn five Speed Skills in Playa Azul to pass.
Daily Challenges
July 21 – Electrify!: Visit Playa Azul
July 22 – Future is Now: Own and drive any electric vehicle
July 23 – The Electric Odyssey: Win any Cross Country race in any Extreme E
July 24 – Fully Charged: Earn a Hard Charger skill in Playa Azul
July 25 – Now You're Torquing: Reach 150mph in any Extreme E
July 26 – I Got The Power: Earn six stars in Trailblazers in any Extreme E
July 27 – Lightning Speed: Earn five Speed Skills in Playa Azul
Season Events
It's an odd mix of Season Events this week, which includes a rarely seen Showcase Remix among the PR Stunts and Seasonal Championships. There's also the debut of DLC events, which offer additional points for players with the Hot Wheels pack — although you can still pick up the Season rewards without it.
The first of the Hot Wheels events is the Treetops Speed Zone. This is located in the Forest Falls section of the map, near the Pro Qualifier. Hit 156mph — just above the three-star speed — in any A Class (701-800PI) vehicle of any type to claim two points and a Super Wheelspin.
You'll also claim a Super Wheelspin, and five points, for the Hot Wheels Seasonal Championship, Slip'n'Slide. This three-race event against Highly Skilled AI drivatars features A Class (701-800PI) cars from the Hot Wheels brand.
On the regular event list are two PR Stunts, however there's a small change to the usual prizes for completion.
The La Marisma Trailblazer retains the Super Wheelspin bonus prize as well as the two points. You'll need to beat the three-star time by quite some margin though, beating the run with 25 seconds or more remaining, in any A Class (701-800PI) car.
Handily the finish line is close to the Boardwalk Danger Sign for this week's second challenge. You can actually run this in either direction, although neither is ideal — especially as you'll need to beat the three-star distance by almost 50% and hit 135m in any S1 Class (801-900PI) car. As well as two points, you'll win a #44 Extreme E car for completion.
The Showcase Remix makes a rare appearance, and is appropriately Hot Wheels-themed. You'll need to head up to Gran Caldera to start the Buggy and the Beast event for Shaken, Not Stirred. Win the race (which will be frustrating due to the AI's infinite density, in all senses) against the giant monster trucks to win five points and a Hot Wheels Rip Rod.
There's three Seasonal Championships this week, each consisting of a three-race championship against Highly Skilled AI drivatars, with a five-point reward. Two are special events for the Extreme E machines — so you'll need to win one elsewhere on the Playlist or buy the 700,000cr #99 car.
They are Extreme E Island Prix I and Extreme E Island Prix II, named for one of the real-world event types in the championship, and both require an Extreme E car in the A Class (701-800PI) bracket. The first event is a Dirt Racing Series challenge, and awards the #42 Extreme E car, while the second is a Cross Country challenge with a black Extreme E Race Suit prize.
That leaves the regular Seasonal Championship, which is a Street Racing Series for B Class (601-700PI) Modern Sports Cars. Win the championship to take the points and a 2016 Ford Mustang.
Hot Wheels Speed Zone: Treetops
Car: A Class
Location: Hot Wheels Park Forest Falls, Treetops Speed Zone
Challenge: 156mph
Reward: 2 points, Super Wheelspin
Hot Wheels Seasonal Championship: Slip'n'Slide
Car: A Class, Hot Wheels
Location: Hot Wheels Park Ice Cauldron, Dragon's Fall Speed Circuit
Challenge: Win the Championship
Reward: 5 points, Super Wheelspin
Danger Sign: Boardwalk
Car: S1 Class
Location: Riviera Maya, Boardwalk Danger Sign
Challenge: 135m
Reward: 2 points, Extreme E #44
Trailblazer: La Marisma
Car: A Class
Location: Rio de la Selva, La Marisma Trailblazer
Challenge: 25s
Reward: 2 points, Super Wheelspin
Showcase Remix: Shaken, Not Stirred
Car: Provided
Location: La Gran Caldera, Buggy and the Beast Showcase
Challenge: Win the Race
Reward: 5 points, Hot Wheels Rip Rod
Seasonal Championship: Extreme E Island Prix I
Car: A Class, Extreme E
Location: Los Jardines, Bajio Trail
Challenge: Win the Championship
Reward: 5 points, Extreme E #42
Seasonal Championship: Extreme E Island Prix II
Car: A Class, Extreme E
Location: Copper Canyon, Costa Este
Challenge: Win the Championship
Reward: 5 points, Extreme E Black Race Suit
Seasonal Championship: Exotics
Car: B Class, Modern Sports Cars
Location: Los Jardines, Coast Run
Challenge: Win the Championship
Reward: 5 points, Ford Mustang 2016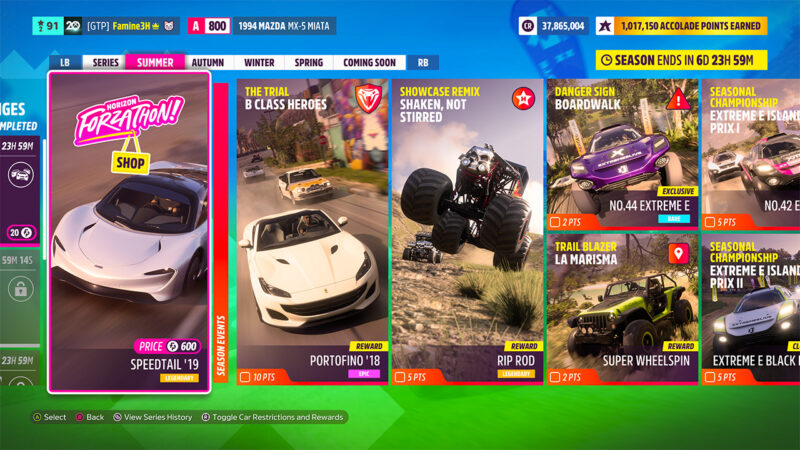 You only need to deal with one multiplayer event this week, requiring an Xbox Live Gold subscription on console to access, or at no additional charge on PC.
For this week that's The Trial. As usual, this three-race championship pits you and up to five other humans against a team of six "Unbeatable" AI drivatars.
Each driver earns 100 points for each member of the opposing team they finish ahead of, with a 50pt bonus for the overall winner as a tie-breaker. That means that you'll want to help your slower team-mates as much as you need to place well, as every overtake results in a 200pt swing.
It should be a relatively benign event this week, as the B Class Heroes name suggests. You'll be using B Class (601-700PI) cars of any stripe, in a Road Racing Series event.
Take the win as a team and you'll earn ten points and a Ferrari Portofino.
The Trial: B Class Heroes
Car: B Class
Location: Playa Azul, Playa Azul Circuit
Challenge: Win the Championship
Reward: 10 points, Ferrari Portofino
Challenges
Three Challenges await this week, with a new Collectibles event for the first time since January.
It's called Battery Powered, and it simply requires you to track down and smash 20 oversized batteries which are located around Playa Azul. They, handily, glow green at night, so you might want to wait until after sunset to make the task easier — and you'll take three points and a Rimac Concept Two for completing it.
Handily, that's the car for this week's Forzathon Weekly Challenge, but also the Photo Challenge #IslandMemories. Photograph the Rimac anywhere in Playa Azul to take two points and a Peach Raul Urias Sundress clothing item.
The last Challenge is a Treasure Hunt, and the hint is "Carting on electric wheels is 5 times better if you have the skill". Combined with the picture clue, the task here should be obvious: smash up five taco carts with any electric vehicle.
You can find these located all over the place but particularly in more urban centers, such as the park in Guanajuato — but we'd look at the cluster in western Playa Azul; hitting the right thing earns you a Cart Wheels Skill.
Hit five and you'll earn a Treasure Clue, which this week points you to… Playa Azul. The Chest is actually just in the ocean, towards the north end of the zone.
Two new Monthly Rivals events also join the Playlist, with a regular event and the new Forza EV challenge for electic vehicles.
In both cases you'll need to complete a clean lap at the specified Rivals event time trial using the car provided — clean is all that's required, so focus on keeping it off the walls rather than outright pace.
You can do this at any point in the Series to earn a point in each of the four Seasons, even if you leave it to the last minute; that's eight points in total for both.
For Forza EV that's a lap of the Airfield Cross Country Circuit using the #99 Extreme E, while Monthly Rivals takes you to the Tierra Prospera track in the Porsche 917/20 Pink Pig.
Photo Challenge: #IslandMemories
Cars: Rimac Concept Two
Location: Playa Azul
Challenge: Photograph the Rimac Concept Two in Playa Azul
Reward: 2 points, Peach Raul Urias Sundress
Collectibles: Battery Powered
Cars: Any
Location: Playa Azul
Challenge: Smash 20 Batteries in Playa Azul
Reward: Rimac Concept Two
Treasure Hunt: Tropical Fruits
Cars: Any Electric Vehicle
Location: Any
Challenge: Smash five taco stands, find and smash the Treasure Chest
Reward: 3 points, 100FP
Forza EV: Airfield Cross Country Circuit
Cars: Extreme E #99 (Provided)
Location: Aerodromo en la Selva, Airfield Cross Country Circuit
Challenge: Post a Clean Lap
Reward: 4 points (1 added to each season)
Monthly Rivals: Tierra Prospera Circuit
Cars: Porsche 917/20 (Provided)
Location: Tierra Prospera, Tierra Prospera Circuit
Challenge: Post a Clean Lap
Reward: 4 points (1 added to each season)
Forzathon Shop
There's a lot of raw pace in the Forzathon Shop this week, with two epic speed machines on offer.
McLaren's Speedtail fronts the Shop. This unusually proportioned vehicle from McLaren's "Ultimate" stable takes plenty of inspiration from the first car the brand ever made, the F1.
That includes the 1+2 seating arrangement, its targeted top speed of over 240mph, and the fact that McLaren only ever made 106 examples — just like the F1.
In fact the 1000hp hybrid Speedtail can hit 250mph, and has some truly bizarre tech on-board. That includes electronically actuated flexible carbon fiber spoilers and cameras instead of door mirrors, to keep aerodynamic drag to a minimum.
The 600FP price is a little steep though, considering the car cost 2.25m credits in the Autoshow.
Your other choice this week is the Ferrari F40, which held the production car top speed record for a brief spell in the 1980s as, officially, the first car to break the 200mph mark.
Common by comparison, Ferrari made over a thousand F40s, but they're still one of the most exciting cars ever made. You can pick one up for 400FP, but it's surprisingly cheap in the Autoshow at just 1.2m credits so we'd pay the money instead.
Store items this week are the Steam Boat Car Horn and the Extreme E Pink Race Suit at 75FP each. The Wheelspin (60FP) and Super Wheelspin (150FP) are in their usual spots too.
See more articles on Forza Horizon 5 Season Change.