The latest set of Forza Horizon 5 seasonal playlist challenges is available today, as we hit the third week of Series 14.
This month is all about donuts. Not the tasty bread-based treat, or even the vehicular trick, but YouTube channel Donut Media.
If you're unaware of Donut Media, it's essentially a car culture YouTube outlet. The channel hosts a number of different video series, some looking at new cars, some at important vehicles from previous eras, and some just mucking about with them.
The playlist across the Series features events and challenges named for various aspects of Donut Media — from the "HiLow" and "Money Pit" car modifications series to general catchphrases (many of which appear on t-shirts) — that will be familiar if you're a regular watcher.
That includes a new Horizon Story, featuring the hosts of the show. Facial capture brings the Donut Media crew to life from the neck up as they guide you through vehicle tuning.
You'll be able to complete the five-chapter story at any point, as it's a permanent addition, but completing it during Series 14 earns you Playlist progress points. There's also themed Accolades appropriate to the Donut content.
Series 14: Donut Media Rewards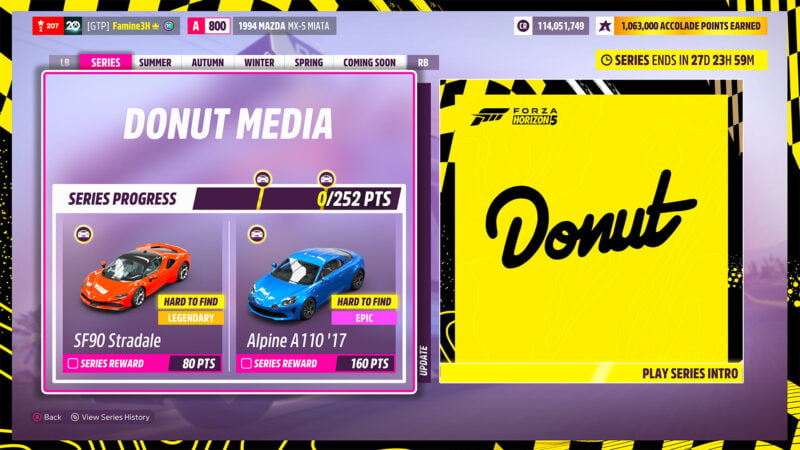 With two weeks down and two to go, the Series Playlist rewards remain in place. If you've been going hard at the challenges you should have already secured one, while the other will be in the crosshairs this week.
The Ferrari SF90 Stradale is available for 80 points this series, and is Ferrari's first car in a number of categories. It's the first plug-in hybrid, the first mid-engined AWD Ferrari, and the first capable of operating as a front-wheel drive (albeit in reverse).
It pairs the Ferrari V8 with three electric motors — two on the front axle, one on the rear — to develop almost 1,000hp in total. That's enough to make it one of the fastest cars Ferrari has ever made anywhere, and deserving of its name — a reference to the company's 2019 F1 car.
At 160 points you'll pick up the Alpine A110. Consistently rated as one of the best drivers' cars out there — Gordon Murray is rumored to have benchmarked it for the T.50 supercar — it's a rare case of retro done right.
Although the engine position has moved, from rear- to mid-mounted, much of the rest of the original A110 is preserved. It uses Renault power like the original, and it's as light and nimble as current regulations allow. Even the standard Bleu Alpine color is the same.
Neither car is new to the game, but it's a good chance to score them if you haven't already picked them up. If you have, don't count on flipping them on the Auction House any time soon…
Series 14 Winter/Dry Season Rewards
There's more wood on this week's playlist with a tree-based, exclusive prize for hitting the lower, 20-point threshold.
That will earn you the Ford Super De Luxe Station Wagon, a posh family car from the 1930s. It's based on the '37 Ford, but positioned upmarket – part-way between Ford and its high-end Lincoln brand, like the Vignale of its day. In fact the cars were officially known as "De Luxe Ford" rather than the other way about.
In this guise the Ford is a four-door station wagon sporting a wood frame and wood trim rear of the B-pillar. It also packs a V8 — all 3.9 liters of it — but this being the 1930s it barely escapes double figures. As standard, at least.
Make it to 40 points and you'll earn another playlist-exclusive car, the Zenvo ST1.
Perhaps the unlikeliest combination of words, the Zenvo is a Danish supercar. When you're done laughing, it comes with an 1,100hp, twin-supercharged V8. It may not be as wild as its floppy-winged TSR-S sibling, but it's certainly brisk.
Winter will run through to 1430UTC on Thursday December 1, with Series 14 continuing for one more week until the same time on Thursday December 8.
Series 14 Winter Playlist: Forzathon Events
This week's Up to Speed event, taking its name from the Donut Media video series that looks at important or popular vehicles, covers the Acura Integra Type R. Get hold of an example and drive it to start the event.
The first requirement is easy: just take a photograph of your ITR. After that, go and win a Street Race in the car which often finds itself top of best-handling front-wheel drive car lists.
Finally you'll need to pick up a Slingshot Skill in the ITR. For this you'll need to be in a race situation, and the combo skill is awarded for scoring a Drafting Skill (slipstreaming the car ahead) followed by a Pass Skill (overtaking the car ahead) within a couple of seconds of each other.
That will earn you five points and 80FP, with the Forzathon Points doubled if you own the La Casa Solariega player house near Teotihuacan.
Weekly Challenge: Up to Speed
Car: Acura Integra Type R

Chapter 1: Own and drive the Acura Integra Type R
Chapter 2: Take a photograph of the Acura Integra Type R
Chapter 3: Win a Street Race in Acura Integra Type R
Chapter 4: Earn a Slingshot Skill in Acura Integra Type R

Reward: 5 points, 80FP
As usual, there's a new Daily Challenge every day this week, starting at 1430UTC each day. Each one allows you seven days to complete, giving one point and 10FP per challenge completed.
Boost Creeps is up first. Just spend 20,000cr on upgrades to complete the challenge.
Meet your Full Potential next, by earning nine stars at any Danger Signs in any Vans & Utility vehicle tuned to S1 Class (801-900PI) specifications.
For Saturday's challenge take any BMW to any Horizon Open Custom Race to prove it was Built for Racing. You will need Xbox Live Gold for this challenge.
Head to the Open Road next. Smash any five traffic cones to earn your point.
After that, get In The Groove by earning eight Drift Skills while in Copper Canyon.
Paint your car's wheel rims and make them Wheely Nice to complete Tuesday's challenge.
Finally take any Super Hot Hatch to the win in any Dirt Racing Series event in a Heated Tournament.
Daily Challenges
November 24 – Boost Creeps: Spend 20,000cr on upgrades
November 25 – Full Potential: Earn nine stars at Danger Signs in any S1 Class (801-900PI) Vans & Utility vehicle
November 26 – Built for Racing: Complete a Horizon Custom Race in any BMW
November 27 – Open Road: Smash five traffic cones
November 28 – In The Groove: Earn eight Drift Skills in the Copper Canyon
November 29 – Wheely Nice: Paint your vehicle's rims
November 30 – Heated Tournament: Win a Dirt Race in a Super Hot Hatch
Series 14 Winter Playlist: Season Events
It's another six-bagger on the Season Events this week, with just two PR Stunts and three Seasonal Championships, joined by an EventLab.
Both PR Stunts offer a Super Wheelspin and two Playlist points for completion, and this week it's a Speed Trap and a rare Trailblazer.
Although the Trailblazer uses the familiar format — any S2 Class (901-998PI) car — with a moderately challenging 46-second target, the Speed Zone is a little different this week.
You'll need to progress sufficiently far through the Playlist to earn the 20 points for the Ford Super De Luxe Station Wagon in order to take part. Tune it to anywhere in the D Class (≤500PI) performance bracket and hit a leisurely 95mph for the reward.
The three Seasonal Championships are three-race series against Highly Skilled AI, which you'll need to top the final points table to win five points to your season total for each.
D List puts you into your finest D Class (≤500PI) cars, for a Road Racing Series. Take the win to earn an Ultima Evolution 1020 — most assuredly not a D Class car.
Street Racing is the theme for Real Mechanic. The event puts you into C Class (501-600PI) Classic Muscle cars, with a BMW M2 on offer for overall victory.
Finally there's a Dirt Racing event for A Class (701-800PI) Audi and BMW models. We'd suggest that AWD might be a good idea to deal with the loose stuff, and there's a Mercedes A45 AMG if you win the series.
That just leaves the EventLab, which takes you to an unusual course laid out, around, and above the main Horizon Festival site.
The track splits into two at several points, but you can take either route every time. Complete two laps in any S1 Class (801-900PI) car to earn three points and the Builder's Helmet clothing item reward.
Speed Trap: Oceano Azul
Car: D Class, Ford Super De Luxe Station Wagon
Location: De Otro Mundo, Oceano Azul Speed Trap
Challenge: 95mph
Reward: 2 points, Super Wheelspin
Trailblazer: City Escape
Car: S2 Class
Location: Guanajuato, City Escape Trailblazer
Challenge: 46s
Reward: 2 points, Super Wheelspin
Seasonal Championship: D List
Car: D Class
Location: Mulege, Arch of Mulege Circuit
Challenge: Win the Championship
Reward: 5 points, Ultima Evolution 1020
Seasonal Championship: Real Mechanic
Car: C Class, Classic Muscle
Location: Dunas Blancas, El Lago Blanco
Challenge: Win the Championship
Reward: 5 points, BMW M2
Seasonal Championship: Versus
Car: A Class, Audi or BMW
Location: Tierra Prospera, Tapalpa Trail
Challenge: Win the Championship
Reward: 5 points, Mercedes-Benz A45 AMG
EventLab: Horizon Super Scramble
Car: S1 Class
Location: Horizon Festival, Horizon Mexico Circuit
Challenge: Complete the Race
Reward: 3 points, Builder's Helmet
The Hot Wheels DLC gives two bonus events for those who own it. These aren't required for 100% completion of the Playlist, but give players the chance to win some extra points they might not be able to score elsewhere.
This week's PR Stunt this week is the Dragon's Fall Danger Sign in Giant's Canyon, and it's a bit of a beast. You'll need to hit a huge 480m target distance using any S2 Class (901-998PI) car. It's worth two points and another Super Wheelspin.
Forest Falls hosts the start point for the latest Joy of Cars Seasonal Championship. This three-race Road Racing series against Highly Skilled AI is for any A Class (701-800PI) cars — we'd suggest something with AWD for the waterslides — with five points and an Morgan 3-Wheeler for victory.
Hot Wheels Danger Sign: Dragon's Fall
Car: S2 Class
Location: Hot Wheels Park Giant's Canyon, Dragon's Fall Danger Sign
Challenge: 480m
Reward: 2 points, Super Wheelspin
Hot Wheels Seasonal Championship: Joy of Cars
Car: A Class
Location: Hot Wheels Park Forest Falls, Waterslide Speed Circuit
Challenge: Win the Championship
Reward: 5 points, Morgan 3-Wheeler
The Trial remains in place as the only multiplayer event this week, with Xbox Live Gold required — unless you play on PC — to access it, as usual.
This team-based, best-of-three race series, is often the hardest on the Playlist — primarily because it is team-based, and one loose cannon who thinks it's all about them can ruin it for everyone.
Your squad of up to six human players will race against six "Unbeatable" class AI Drivatars. Each driver on each team earns 100 points for every opponent they beat, but you don't score anything for beating a team-mate (aside from a 50pt bonus for the overall win).
That means you'll need to work together to help maximize your team points while preventing the AI from scoring well. Do it right and you'll win in two races.
It remains in its open format this Series, as a Road Racing Series open to any B Class (601-700PI) vehicle of any kind. The low speeds and firm surface should be a good recipe for the win, and there's ten points and a Ferrari 488 Pista for taking victory.
The Trial: Bumper to Bumper
Car: B Class
Location: La Selva, Sierra Verde Sprint
Challenge: Win the Championship
Reward: 10 points, Ferrari 488 Pista
Series 14 Winter Playlist: Challenges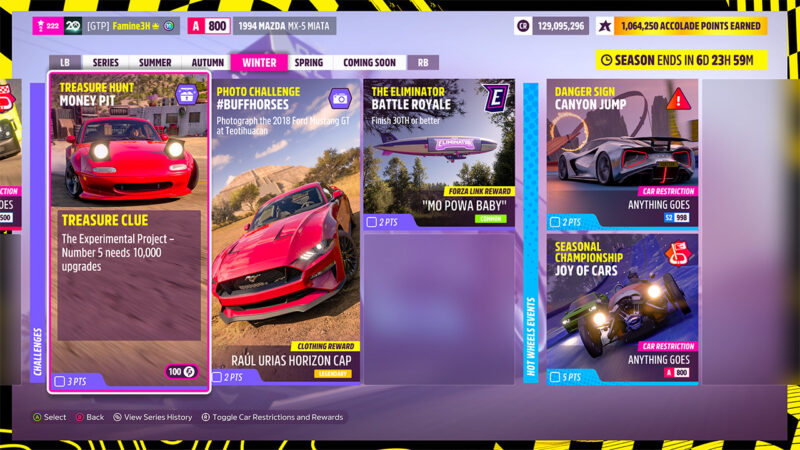 There's three Challenges again this week, with the regular Photo Challenge and Treasure Hunt in single player and the multiplayer challenge at The Eliminator.
You'll need Xbox Live Gold (or to play on PC) in order to access that last one, but it's the usual challenge of finishing 30th or better. This is commonly a matter of just surviving for two minutes, and there's a "Mo Powa Baby" Forza LINK greeting for completing — as well as two points.
For the Photo Challenge, #BuffHorses, you'll need to photograph the 2018 Ford Mustang GT anywhere at Teotihuacan. That will earn you two points and a Raul Urias Horizon Cap.
Finally there's the Treasure Hunt. This week's clue is "The Experimental Project – Number 5 needs 10,000 upgrades" and, along with the photo clue, it should be pretty apparent what you need to do: spend 10,000cr on upgrades for the Mazda MX-5. Any MX-5 will do, not just the original.
Complete that to earn the map hint, with a giant, red circle on your map showing you roughly where the chest is. This week it's in Guanajuato, on the main street west of the City Escape Trailblazer, just where there's a y-shaped junction with the tunnels. Smash it once you've found it for three points and 100FP.
Photo Challenge: #BuffHorses
Cars: Ford Mustang GT 2018
Location: Teotihuacan
Challenge: Photograph the Ford Mustang GT 2018 at Teotihuacan
Reward: 2 points, Raul Urias Horizon Cap
Treasure Hunt: Money Pit
Cars: Mazda MX-5 (any)
Location: Any
Challenge: Spend 10,000cr on upgrades for the Mazda MX-5; find and smash the Treasure Chest
Reward: 3 points, 100FP
The Eliminator: Battle Royale
Cars: Any (provided)
Location: Valle de las Ranas, The Eliminator
Challenge: Finish 30th or better in The Eliminator
Reward: 2 points, "Mo Powa Baby" Forza LINK
Although the Donut Media @ Horizon Story is a permanent addition, it also a spot on the playlist for the Series, giving you a chance to score 12 Playlist points — three added to each season.
You'll need to work through the five-chapter story, earning three stars in each one to complete it. That will not only net you the points but a load of clothing item rewards, Accolades, and a Pontiac Firebird Trans-Am Forza Edition.
The regular Monthly Events are still here for another two week. Completing them at any time during the Series to gives you the Playlist points — one point added per season from each event.
You'll need to post clean lap times to complete Forza EV and Monthly Rivals. Your lap time doesn't matter, only that it's a clean lap, so stay away from the barriers.
For Forza Monthly you'll drive the new Lynk&Co 03 TCR over at the Playa Azul Circuit on the east coast, while Forza EV puts you into the RAESR Tachyon for a lap at the Horizon Mexico Circuit.
Horizon Story: Donut Media @ Horizon
Cars: Provided
Location: Horizon Festival
Challenge: Earn 15 Stars in the Horizon Story
Reward: 12 points (3 added to each season), Pontiac Firebird Trans-Am Forza Edition
Forza EV: Horizon Mexico Circuit
Cars: RAESR Tachyon Speed (provided)
Location: Horizon Festival, Horizon Mexico Circuit
Challenge: Post a Clean Lap
Reward: 4 points (1 added to each season)
Monthly Rivals: Playa Azul Circuit
Cars: Lynk&Co 03 #100 Cyan Racing (Provided)
Location: Playa Azul, Playa Azul Circuit
Challenge: Post a Clean Lap
Reward: 4 points (1 added to each season)
Series 14 Autumn Forzathon Shop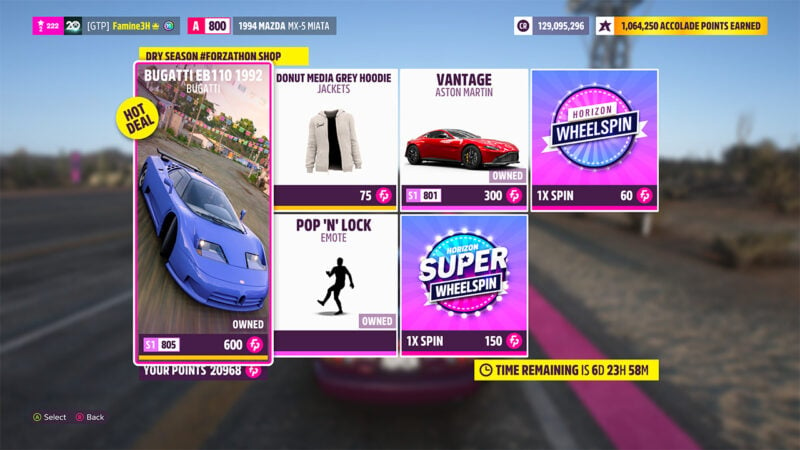 It's a European week in the Forzathon Shop, with an under-rated Italo-French supercar and a British grand tourer on offer.
Leading the way is the Bugatti EB110 Super Sport, a higher-performance model of the EB110 which was Bugatti's only car produced during the brief Romano Artioli ownership period.
The EB110 itself is a serious car. It comes with a custom 60-valve, 3.5-liter V12 which, with the help of four turbochargers, produces some 553hp. That's delivered to all four wheels, and if you think that sounds rather like the blueprint for the later Veyron you'd be right.
While already sporting a lightweight, carbon-fiber chassis, the SS went one further by extending that to the body panels. Combined with a 50hp boost to power, the EB110 could hit well over 200mph with ease.
It's available for 600FP, but as it's also a 1.7m credit car in the Autoshow you might want to save your points.
Alternatively, and for 300FP, you could pick up the Aston Martin Vantage. This quintessential British GT car is a great way to soak up the Mexican miles, although again at 430,000cr in the Autoshow you may like to hold onto the hard-earned points for now.
Store items this week are the Donut Media Gray Hoodie and Pop'N'Lock Emote, at 75FP each. The Wheelspin (60FP) and Super Wheelspin (150FP) remain in their usual spots.
See more articles on Forza Horizon 5 Season Change.