The new Series of Forza Horizon 5 is here, celebrating all things Japanese automotive across the next four weeks.
Indeed Series 17 is actually known as Japanese Automotive, and that's something of a clue for what you'll be up to during the 28 days of events.
Almost everything across the entire Series requires or awards a Japanese car of some description, with events intended to highlight rare, interesting, and cult classic cars from the country.
Highlighting that are new Japanese vehicles, including the long-teased arrival of the 2023 Nissan Z, and a new Accolade for collecting them all. There's also new wheel rims from Japanese manufacturers
New events feature brand-new Japan-inspired props and items, and there's even new EventLab pieces which allow you to create your own parking structure for those Tokyo Drift moments.
Series 17: Japanese Automotive Rewards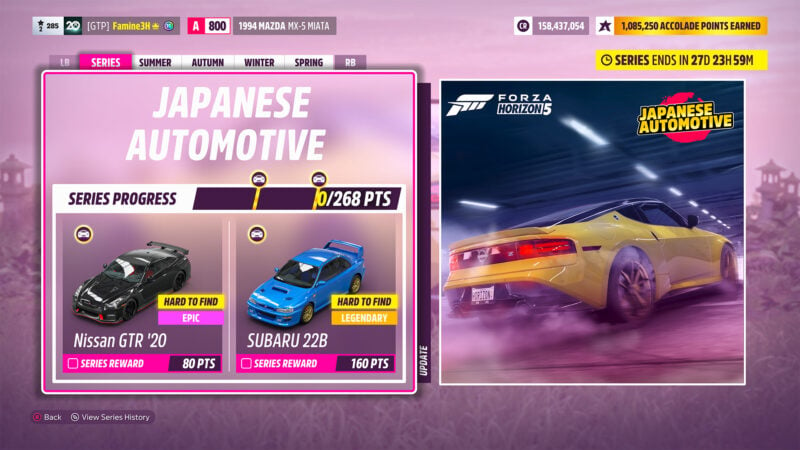 Your primary reward this Series is best described as the beast from the East. Hit 80 points across the four-week window and you'll win the Nissan GT-R NISMO 2020.
Previously available in Series 5, this is another chance to earn this playlist-exclusive weapon.
The fastest possible version of the current R35 — which is closing in on 15 years of age now — the NISMO is just about as tweaked, honed, and tuned as it can be.
It borrows technology from the GT3 race car, including the turbochargers to help the 3.8-liter V6 develop a round 600hp. New suspension, brakes, and wheels all lighten and stiffen the car in the areas that matter most, and the difference in urgency and nimbleness over a "regular" R35 is tangible.
Hit 160 points and you'll be taking home an absolute classic which is getting on for $500,000 in value these days.
Subaru's 22B is based on a first-generation Impreza, but in essence it's a World Rally Championship car made for the road: a homologation special.
It uses a special, widebody version of the two-door coupe model, with a larger, 2.2-liter version of the turbocharged boxer-four engine. Power is certainly hitting the "Gentleman's Agreement" 276hp limit, although in all likelihood it's much, much more than that.
In total Subaru made 424 cars, with 400 domestic and 24 for all other markets combined, making it incredibly rare. As for the 22B name… well it just so happens to be a base-16 representation of the number 555, the tobacco brand which sponsored the Subaru WRC outfit…
Two very worthy prizes, and not ones you can pick up in the Autoshow either…
Series 17 Summer/Wet Season Rewards
The Series headliner makes its debut as a Playlist prize this week. Score 20 points and you'll win the Nissan Z.
This latest development in the 50-year history of the Z brand had been long-rumored before being revealed, and almost as long-teased for Forza Horizon having appeared in October's "Torben Tuesday" crossword puzzle.
It bears several similarities to the 370Z it replaces, but the Z — just Z — is based on an evolution of its predecessor's platform. Under the new bodywork is a new engine too, with the 3.7-liter V6 giving way to a twin-turbo three-liter first seen in the Infiniti Q50/Q60 and teased in the 370Z Project Clubsport 23.
Hit 40 points and you'll collect a heavily modified Toyota Hilux, the AT38.
Designed by Arctic Trucks to be pretty much unstoppable over any terrain, the AT38 was previously available as a Series 3 reward car. It may not be the fastest, but we're pretty sure it's the only car in the game actually intended to drive up a volcano.
Summer will run through to 1430UTC on Thursday February 9, with Series 17 running on for another three weeks until Thursday March 2.
Series 17 Summer Playlist: Forzathon Events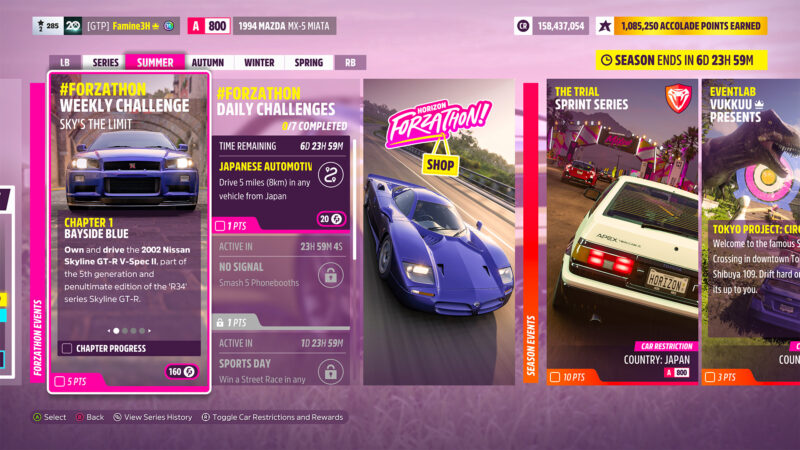 The themed Forzathon Events get off with a bang, starting with a modern legend of Japanese motoring: the 2002 Nissan GT-R V-Spec II. Own and drive it to get Sky's the Limit underway.
Use the GT-R's performance to rack up the equivalent of nine stars in any Speed Zones, then take it to win a Road Racing event. Finally drive five miles further in it to finish off the challenge.
Once completed you'll earn five points and 80FP, with the Forzathon Points doubled if you own the La Casa Solariega player house near Teotihuacan.
Weekly Challenge: Sky's The Limit
Car: Nissan Skyline GT-R V-Spec 2002

Chapter 1: Own and drive the Nissan Skyline '02
Chapter 2: Earn nine stars in Speed Zones in the Nissan Skyline '02
Chapter 3: Win a Road Racing event in the Nissan Skyline '02
Chapter 4: Drive five miles in the Nissan Skyline '02

Reward: 5 points, 80FP
The first seven Daily Challenges for the Series come along at one per day as usual, with seven days to complete each and one point and 10FP for doing so.
It begins with the eponymous Japanese Automotive. Just drive five miles in any vehicle from Japan — and you'll easily complete this in natural play during the season.
There's No Signal on Friday as you smash up five phone booths. These are plentiful in built-up areas like Guanajuato and Mulege, so just find and hit five.
It's Sports Day next. Win a Street Race in any Japanese car from the Retro Sports Car category.
You'll need to be a Speedy Speed Boy after that, earning five stars at Speed Traps in any S2 Class (901-998PI) vehicle. We've seen some issues with S2-tuned cars completing this, so try a natively S2 car.
Big in Japan requires Xbox Live Gold or PC play, as you'll need to complete any Horizon Open race in a Japanese vehicle.
After that, head over to Horizon Tour at the main Festival site and take a photo of the mural there to complete Car Meet.
You'll need a monster for Kaiju — specifically a Rally Monster. Just hit 200mph in any car in this category to complete the self-named challenge.
Daily Challenges
February 2 – Japanese Automotive: Drive five miles in any vehicle from Japan
February 3 – No Signal: Smash five phone booths
February 4 – Sports Day: Win a Street Race in any Japanese Retro Sports Car
February 5 – Speedy Speed Boy: Earn five stars at Speed Traps in any S2 Class (901-998PI) vehicle
February 6 – Big in Japan: Complete a Horizon Open race in any Japanese vehicle
February 7 – Car Meet: Take a picture of the Horizon Tour mural at Horizon Festival Mexico
February 8 – Kaiju: Reach 200mph in any Rally Monster
Series 17 Summer Playlist: Season Events
There's a lot going on this week in the Playlist, and it almost all comes in pairs. You've only got two Seasonal Championships and two PR Stunts with which to contend, but also two EventLabs — which will be standard this series — and a rare Showcase Remix.
We'll tackle that last item first. A Twist of Freight takes you back to the Catch Me If You Canyon Showcase but, as the "Remix" name suggests, with a slightly different setup.
You'll again be racing the freight train through Copper Canyon, but your Lamborghini is switched out for a Rocket Bunny-kitted Nissan Silvia S15. Beat the locomotive over the twisty course and you'll earn five points and a Super Wheelspin.
Super Wheelspins are also the prizes for the PR Stunts, as usual. They've returned to their almost open-class format following the FORDzathon week, so grab any S2 Class (901-998PI) car for the two.
You'll need something with good off-road chops to deal with the Mountainside Speed Trap – and come at it from north-to-south to let gravity do its work. By contrast, something drifty is obviously needed for the Drift Zone at Arbolada. However, the 180mph and 150,000pt targets are not too tricky to meet.
The two Seasonal Championships are each the usual three-race series against Highly Skilled AI. In each case you'll need to top the final points table to win five points to your season total.
Mazda of the Streets requires a B Class (601-700PI) Mazda and is a Street Racing series, so watch out for the NPC traffic. There's, oddly, a Mitsubishi Lancer MR as a reward.
It's rough stuff for Very Imprezzed though, with any A Class (701-800PI) Modern Rally car from Japan eligible for this Dirt Racing series. Win the series to earn a 2017 Nissan GT-R.
That takes us to the EventLabs which are considerably more involved than usual and feature two locations dressed up as Japan.
Tokyo Project: Circuit is a loop around Mulege, redesigned to look like downtown Tokyo including the famous Shibuya Crossing. Complete the race in any B Class (601-700PI) car from Japan to take three points and a Super Wheelspin.
The Mizu Pass event, for B Class (601-700PI) cars from Japan, is a touge-like event taking in the waterfalls at Cascadas. Complete the course — as intended or, as there's just one checkpoint at the finish, by one of myriad shortcuts — to earn three points and the Horizon Mixtape track Ingrid is a Hybrid.
Drift Zone: Arbolada
Car: S2 Class
Location: Gran Puente, Arbolada Drift Zone
Challenge: 150,000pt
Reward: 2 points, Super Wheelspin
Speed Trap: Mountainside
Car: S2 Class
Location: Gran Caldera, Mountainside Speed Trap
Challenge: 180mph
Reward: 2 points, Super Wheelspin
Seasonal Championship: Mazda of the Streets
Car: B Class, Mazda
Location: Descansar Dorado, Costa Rocosa
Challenge: Win the Championship
Reward: 5 points, Mitsubishi Lancer MR '04
Seasonal Championship: Very Imprezzed
Car: A Class, Modern Rally, Japan
Location: Guanajuato, Fuera del Camino Trail
Challenge: Win the Championship
Reward: 5 points, Nissan GT-R '17
Showcase Remix: A Twist of Freight
Car: Nissan Silvia S15 (provided)
Location: Copper Canyon, Catch Me If You Canyon Showcase
Challenge: Win the race
Reward: 5 points, Super Wheelspin
EventLab: Mizu Pass
Car: B Class, Japan
Location: Ek'Balam, Gran Pantano Sprint
Challenge: Finish the race
Reward: 3 points, Dusky – Ingrid is a Hybrid Song
EventLab: Tokyo Project: Circuit
Car: B Class, Japan
Location: Mulege, Arch of Mulege Circuit
Challenge: Finish the race
Reward: 3 points, Super Wheelspin
Hot Wheels DLC owners have their two regular additional events. These aren't required for 100% completion of the Playlist, but offer up seven extra points.
Supersonic Spiral Speed Zone hosts the PR Stunt this week. Like the others, you'll need an S2 Class (901-998PI) car — making the 170mph target a breeze despite being above three-stars — and you'll earn two points and Super Wheelspin.
For the Can'yon Do championship you'll need a B Class (601-700PI) car from Japan. Win the three-race series and you'll take five points and a 1974 Honda Civic.
Hot Wheels Speed Zone: Supersonic Spiral
Car: S2 Class
Location: Hot Wheels Ice Canyon/Nexus, Supersonic Spiral Speed Zone
Challenge: 170mph
Reward: 2 points, Super Wheelspin
Hot Wheels Seasonal Championship: Can'yon Do
Car: B Class, Japan
Location: Hot Wheels Giant's Canyon, Canyon Loop Speed Sprint
Challenge: Win the Championship
Reward: 5 points, Honda Civic '74
Thanks to the bumper solo offering, it's back to a single multiplayer race this week. You'll need an Xbox Live Gold subscription — unless you play on PC — to access it.
That is, of course, the perpetually present The Trial, a three-race team event for up to six humans against a squad of "Unbeatable" level AI.
Each player on each team earns 100 points for each opponent they beat, but there's no reward for beating team-mates. That means you should aim to help out your team-mates and hinder your rivals for best results, rather than battering your way to the front through everyone. Block the reds, help the blues.
This week it's a three-race Road Racing series for any A Class (701-800PI) car from Japan. Thankfully that should mean relatively low speeds and a nice, grippy surface for maximum control. Winning inside two races shouldn't be too much to ask from competent team-mates, and you'll all earn ten points and a Toyota Sprinter Trueno.
The Trial: Sprint Series
Car: A Class, Japan
Location: Horizon Festival, Reservorio Sprint
Challenge: Win the Championship
Reward: 10 points, Toyota Sprinter Trueno
Series 17 Summer Playlist: Challenges
There's two challenges up this week, with a Treasure Hunt joining the regular Photo Challenge — and in fact this will be the norm for the entire month.
The Photo Challenges this series all revolve around a new object: the ishi-doro, or Japanese stone lantern. Each week a group of these pedestal lanterns will appear at a different location, and you'll need to find them and photograph the required vehicle next to them.
For #HearMeRoar this week you'll need to take a picture of any Lexus or Toyota vehicle with the doro in Ek'Balam. They're hidden away a little, towards the south-east of the core buildings and just east of the dotted path in that area — look for the white maneki-neko cat nearby. Take the photo to earn two points and a Tiger Roar horn.
The Treasure Hunt this week centers on a Japanese motoring myth: the Mitsubishi Starion.
For Star of Arion — the actual meaning of the car's name, referring to the horse of Hercules, rather than the apocryphal story about lambdacism — the clue is "Take your Starion for a ride and speed past the traffic".
Although not entirely spelled out, you'll need to take a Starion out and earn a Daredevil skill. That's a combination skill for three Near Misses — passing close to NPC traffic in either direction at speed without hitting them — in quick succession. We'll note that other users have reported the challenge completed with five separate Near Misses, so if one technique doesn't work, try the other — but you're likely to do both almost simultaneously!
Once that's completed the treasure hint will appear, directing you to Palacio del Oceano Azul. Find and smash the chest, on the lower level just below the Danger Sign to earn three points and 100FP.
Treasure Hunt: Star of Arion
Cars: Mitsubishi Starion ESI-R
Location: Any
Challenge: Earn a Daredevil skill, find and smash the Treasure Chest
Reward: 3 points, 100FP
Photo Challenge: #HearMeRoar
Cars: Lexus, Toyota
Location: Ek'Balam
Challenge: Photograph any Lexus or Toyota next to the stone lanterns in Ek'Balam
Reward: 2 points, Tiger Roar Horn
There's two new Rivals challenges to run across the next four weeks. You'll earn four points for each, with one distributed to each of the four seasons in the series regardless of when you complete them — even to past weeks.
In each case you'll need a clean laptime at the tracks indicated, using the vehicles provided to you. Despite being classed as Rivals events, there's no need to beat any laptimes like a regular Rivals challenge, so just keep it clean by avoiding any contact with solid objects.
For the Monthly Rivals event that's a lap of the Plaza Circuit in Guanajuato in the new Nissan Z, so watch out for the barriers and buildings. It's the Tierra Prospera Circuit for Forza EV which, given the absence of electric Japanese vehicles, uses the Rimac Concept Two; the first big braking zone will be your undoing!
Forza EV: Tierra Prospera Circuit
Cars: Rimac Concept Two (Provided)
Location: Tierra Prospera, Tierra Prospera Circuit
Challenge: Post a Clean Lap
Reward: 4 points (1 added to each season)
Monthly Rivals: Plaza Circuit
Cars: Nissan Z '23 (Provided)
Location: Guanajuato, Plaza Circuit
Challenge: Post a Clean Lap
Reward: 4 points (1 added to each season)
Series 17 Summer Forzathon Shop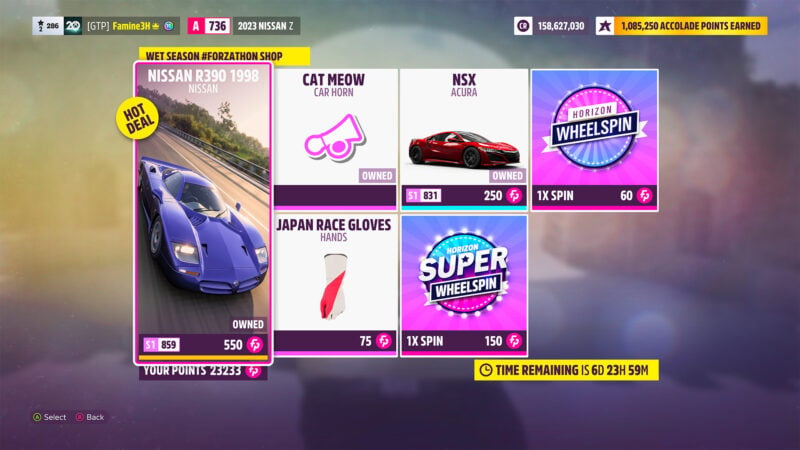 The Forzathon Shop is unsurprisingly a very Japanese lineup, with two cars that are very rare for entirely different reasons.
Leading the way is the Nissan R390, which stretches the definition of "homologation special" to its very limits.
It was the only road car produced by Nissan for its GT1 race program in the late 1990s, originally made as a short-tail model and then developed into the long-tail as the race car itself evolved. A second road car was commissioned by Erik Comas, who raced the R390 at Le Mans three times, converted from one of the race cars.
Tom Walkinshaw Racing (TWR) actually designed the car, using a Jaguar XJR-15 tub as a basis — itself not too far removed from the successful XJR12 Le Mans racer. The V8 engine powering it would later go on to form the basis of McLaren's road car engines, redesigned by Ricardo for the purpose.
You can pick it up for 550FP, although the 1.25m credit cost in the Autoshow isn't so steep.
Honda's second-generation NSX is rare for entirely different reasons: poor sales. After an enormous development period, Honda only produced a couple of thousand cars across seven years before cancelling it.
As well as being just as expensive as its predecessor, the NSX was derided for abandoning the previous car's principles — although both used the absolute cutting edge of technology at the time, and a mid-mounted V6, to produce startling performance.
It's listed in FH5 as an Acura, and quite rightly as the US arm of the company led the development, but you'll need to choose between the 250FP price or 120,000cr in the Autoshow.
Store items this week are the Japan Race Gloves and Cat Meow Horn, at 75FP each. The Wheelspin (60FP) and Super Wheelspin (150FP) remain in their usual spots.
See more articles on Forza Horizon 5 Season Change.