Winter comes to summer in the world of Forza Horizon 5, as this week's seasonal playlist change gets underway in virtual Mexico.
It is in fact summer all month long, even when it's also winter, as Series 23 celebrates the warmth with Horizon Summer Party.
A world makeover brings the beach inland, with new decorations at the Horizon Street Scene Outpost and the Horizon Stadium — both featuring extensively in the tasks across the four-week series. There's also an improbable planetary shift involved as the night time period is lengthened, similar to the change in Series 19.
Of course there's plenty of new events to get to grips with, including a new Horizon Story called "Icons of Speed". This is a permanent addition to the game, but only awards playlist points if you complete it this series.
Along with the prize car for that there's a further five new vehicles to earn, with one each week on the playlist and one for the overall series. There's Evolving World Accolades too, for various challenges including winning the cars and the Story.
Table of Contents
Series 23: Summer Party
This month's playlist offers up a pair of V8s from different eras, although with the very large number of points on offer this month there's a good chance you've already snared both.
Scoring just 80 points across the Series will land you the new Ford Mustang GT DeBerti Design — and note that it's a DeBerti vehicle despite the name.
As usual, DeBerti has waved the modification wand over the donor car, creating a bit of a monster. To go with the widebody kit there's a new, Roush-tuned version of the five-liter V8 which has a supercharger fitted to kick out 750hp to the rear tires. Hedges beware…
Racking up 160 points will put you behind the virtual wheel of a Dodge Super Bee.
Confusingly Dodge sold the car as two different models, including an A-body in Mexico. Despite that, this is the full-fat US version, based on a two-door Coronet and packing a seven-liter V8. It's a pretty potent unit too, with 425hp from 426ci being close to 1hp per cubic inch.
Series 23 Winter/Dry Season Rewards
Earning 20 points this season will win you a car that's brand new to the franchise and one many might have though wouldn't come at all: the Toyota GR86.
The GR86 is a replacement for the GT86, with improvements in every area but the same ethos as a simple, front-engined, rear-wheel drive performance coupe.
Most notable is the change under the hood, with a 25% increase in engine capacity to give the GR more power and more torque. Of course it's a great base for tuning too, which you'll be able to do extensively in FH5.
Getting to 40 points will bring you some top-down British fun in the shape of the McLaren 650S Spider.
A development of McLaren's first ever road car (at least as the 2011 version of the brand), the 650S kicks on from the MP4 with a 641hp version of the twin-turbo V8.
With the car's carbon-fiber cell not actually having a roof, the Spider has the same rigidity as the coupe despite having a power-retractable hood and the 200mph+ performance remains the same.
The Winter Season will run through to 1430UTC on Thursday August 10, with Series 23 continuing for another week until the same time on Thursday August 17.
Series 23 Winter Playlist: Forzathon Events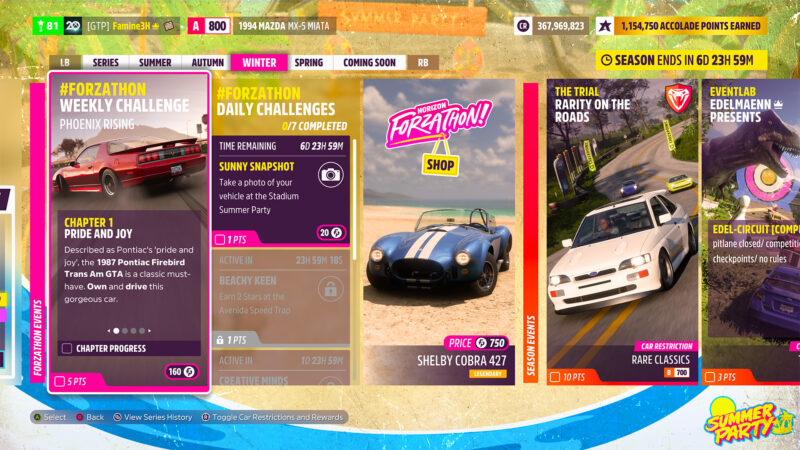 Week three of the series sees another American V8 take the stage for the Forzathon Weekly Challenge. Own and drive the 1987 Pontiac Firebird Trans Am GTA (the Forza Edition is also eligible) to get Phoenix Rising underway.
Carry on driving it, to a distance of five miles (eight kilometers) to complete the next step, before heading to any Speed Zones of your choice to earn six stars.
Finally you'll need to win a Street Race in the car to complete the event, which will earn you five Playlist points and 80 Forzathon Points — with the FP doubled if you own the Casa Solariega player house.
Weekly Challenge: Phoenix Rising
Car: Pontiac Firebird Trans Am GTA '87

Chapter 1: Own and drive the Trans Am '87
Chapter 2: Drive five miles in the Trans Am '87
Chapter 3: Earn six stars at Speed Zones in the Trans Am '87
Chapter 4: Win a Street Race in the Trans Am '87

Reward: 5 points, 80FP
The Daily Challenges land at their usual one-a-day rate, arriving at 1430UTC each day. You'll have a full seven days to complete each one, even if that rolls into the next season.
Once again the stadium is a focus of events. The first of two challenges there this week requires you to photograph any car at the summer party to complete Sunny Snapshot. Make it a Datsun to double-up on this week's Photo Challenge.
Score two stars at the Avenida Speed Trap, in Playa Azul, next, to prove you're Beachy Keen. This isn't too tricky, with a 135mph target, but for best results try to hit the trap side-on instead of following the road.
There's some Creative Minds up next, as you need to play any EventLab creation from the Creative Hub (in the pause menu).
Don't bow to Gear Pressure, but earn two stars at any Speed Zone in any Classic Racer to complete Sunday's challenge.
You'll need to smash ten beach ball at the Stadium Summer Party next to show you're Having a Ball. Note that these aren't actually smashable items, despite the description, but you'll pick up a Keep It Up Skill for each one you hit — big or small.
Be a Boomerang when you earn a Slingshot Skill in any Modern Muscle car. For this you'll need to combine a Drafting and Pass Skill during any race.
Finally just beep the horn in a 1994 Honda Prelude Si to be a Prelude to Music.
Daily Challenges
August 3 – Sunny Snapshot: Take a photo of your vehicle at the Stadium Summer Party
August 4 – Beachy Keen: Earn two stars at the Avenida Speed Trap
August 5 – Creative Minds: Play any EventLab from the Creative Hub
August 6 – Gear Pressure: Earn two stars at any Speed Zone in any Classic Racer
August 7 – Having a Ball: Smash ten beach balls at the Stadium Summer Party
August 8 – Boomerang: Earn a Slingshot skill in any Modern Muscle car
August 9 – Prelude to Music: Beep your horn in the 1994 Honda Prelude Si
Series 23 Winter Playlist: Season Events
There's a slight shortening of the solo Playlist this week, with only two Seasonal Championships to go with the three PR Stunts and two EventLabs.
Those EventLabs feature race tracks of two different types, with Edel Circuit consisting of a large closed circuit laid on the Bahia de Plano sands, and Apex Alligator being a road course around the stadium.
Both are events for S1 Class (801-900PI) cars, with Edel Circuit requiring only Track Toys — but you could do both in the same vehicle as a result. Each offers you three points for completion, along with a Super Wheelspin and a Farid Rueda Bear Jumper respectively.
Your PR Stunts this week are a Danger Sign, Drift Zone, and Trailblazer. As usual they offer up two points and a Super Wheelspin each, and are open to any vehicle type up to a maximum of S2 Class (901-998PI).
None of the targets are excessive though. 500m at the Launch Control Danger Sign is a breeze, and the Los Campos Drift Zone target is barely above three stars at 150,000pt. Canyon Run can be a tricky Trailblazer though, even with the relatively generous 28s target; stick right of the river once you emerge from the tunnel to avoid multiple crossings and give yourself a nice angle into the final turn.
The two Seasonal Championships are their usual three-race events against Highly Skilled AI, and worth five points. In each race you'll start in eighth place, so you'll need to fight through the AI to score the points you need to top the points table at the end of the championship.
In both cases you'll need an A Class (701-800PI) car for the event, with Modern Sports Cars required for the Street Racing-based Modern Spin — awarding a 2017 Acura NSX — and Unlimited Offroad vehicles for 3, 2, 1… with its HSV Gen F reward.
EventLab: Apex Alligator
Car: S1 Class
Location: Colinas Aridas
Challenge: Finish the race
Reward: 3 points, Farid Rueda Bear Jumper
EventLab: Edel Circuit
Car: S1 Class, Track Toys
Location: Bahia de Plano
Challenge: Finish the race
Reward: 3 points, Super Wheelspin
Danger Sign: Launch Control
Car: S2 Class
Location: Horizon Festival
Challenge: 500m
Reward: 2 points, Super Wheelspin
Drift Zone: Los Campos
Car: S2 Class
Location: Estadio Horizon
Challenge: 150,000pt
Reward: 2 points, Super Wheelspin
Trailblazer: Canyon Run
Car: S2 Class
Location: Copper Canyon
Challenge: 28s
Reward: 2 points, Super Wheelspin
Seasonal Championship: 3, 2, 1…
Car: A Class, Unlimited Offroad
Location: Gran Caldera
Challenge: Win the Championship
Reward: 5 points, HSV Gen F GTS
Seasonal Championship: Modern Spin
Car: A Class, Modern Sports Cars
Location: Costa Rocosa
Challenge: Win the Championship
Reward: 5 points, Acura NSX '17
We're up to two multiplayer events this week, and you'll need an Xbox Live subscription in order to play either — though PC players have free multiplayer access.
Seasonal Playground Games returns this week, with a Team Survival/Infected challenge. You'll need to complete a three-round event (if you're lucky with timing you'll join ahead of the final one!) of this game in any S1 Class (801-900PI) car from the 1990s.
The goal with Team Survival/Infected is pretty simple. One team is infected (purple) and must infect the uninfected team (green), but uninfected players can cure their tagged team-mates (orange). Each game ends when the timer expires or everyone is infected, with the teams swapping over to complete a round.
You don't need to win to complete this, so if you lose the first round it's quicker to throw the second one. Either way, you'll earn three points and a Chevrolet Bel Air.
Of course The Trial remains in situ, this week taking the form of a Road Racing event for B Class (601-700PI) Rare Classics.
As usual it's a best-of-three-race championship event against Unbeatable AI Drivatars, pitting a team of you and your up-to-five human team-mates against a squad of six AI.
Each player on each team scores 100 points for every opponent they beat, but nothing for beating their own team-mates. That means that players will need to work together for this, keeping the AI behind your slowest team-mates and not bumping into each other.
The relatively low-paced action should make this a breeze this week, with ten points and a Ford Escort RS Cosworth as a bonus prize.
Seasonal Playground Games: Survivin' in the 90s
Car: S1 Class, 1990s
Location: Aerodrome en la Selva
Challenge: Complete the event
Reward: 3 points, Chevrolet Bel Air
The Trial: Rarity on the Roads
Car: B Class, Rare Classics
Location: Hotel Mirador
Challenge: Win the Championship
Reward: 10 points, Ford Escort RS Cosworth '92
Series 23 Winter Playlist: Challenges
It's also a three-Challenge week, as Horizon Open and a new Treasure Hunt join the regular Photo Challenge.
Again, Horizon Open requires online multiplayer access — free on PC or as an Xbox Live subscription on console — but it's a simple challenge. Just complete any Horizon Open Street Racing event (select it directly from the Playlist to simplify matters) to win two points and a Mercedes-AMG GT four-door.
The Photo Challenge, #DatsunIsOut, sends you over to the Horizon Stadium again. Just photograph any Datsun (of the one available) at the beach party to earn two points and a Blue Stripe Casual Shirt clothing item.
Finally there's the Treasure Hunt, and the image should help you solve the clue: "The breeze feels Superlight as you fly as far as this car's name".
Obviously you'll need to get hold of a Caterham Superlight R500, and jump it to 500 something — which turns out to be feet (152.4m). The Base Jump Danger Sign is in the image, but you don't even need to do it at a Danger Sign — although if that is the easiest way to keep track of distance.
Completing that in a single bound will earn you the Treasure Hint, which appears on your map to show you roughly where the chest is located.
This week that's centered on Playa Azul, and the chest is actually in a basketball court in the middle of town; it's right by the XP board in the among the buildings and quite tricky to get to due to the raised concrete platform. Smash it to earn three points and 100FP.
Horizon Open: Burning Some Rubber
Cars: Any
Location: Horizon Open Street Racing
Challenge: Complete any Horizon Open Street Racing Event
Reward: 2 points, Mercedes-AMG GT 4-Door '18
Photo Challenge: #DatsunIsOut
Cars: Datsun (any)
Location: Horizon Stadium
Challenge: Photograph any Datsun at the Horizon Stadium Beach Party
Reward: 2 points, Blue Stripe Casual Shirt
Treasure Hunt: Feline Light
Cars: Caterham R500 Superlight
Location: Any Danger Sign
Challenge: Jump 500 feet (152.4m) in the Caterham R500 Superlight; find and smash the Treasure Chest
Reward: 3 points, 100FP
Series 23 Winter Playlist: Monthly Events
All three Monthly events remain as they were, unless you've already completed them and scored the points on offer. These are, in each case, evenly distributed across the four seasons in the Series regardless of when you complete them.
As usual there's the two Monthly Rivals events, each of which requires a clean lap time in the combinations specified, using the cars provided to you for the task. You don't need to go fast, only to make a clean lap.
That's not going to be easy this week, with the Ford XB Falcon a bit of a handful at the tight Arch of Mulege Circuit, and the nasty tunnel walls of Cathedral Circuit waiting to bite you and your Toyota GR86. Succeed and four points are yours for each event.
For this month there's also the new Horizon Story: Icons of Speed. This is an eight-chapter event awarding 12 points — three to each week — depending on your progress through the event.
To net all 12 you'll need to score the maximum three stars in each of the Story's eight chapters. The chapters all focus on different legendary performance machines from across the automotive timeline.
Horizon Story: Icons of Speed
Cars: Provided
Location: Playa Tranquila
Challenge: Earn 24 stars on Icons of Speed Horizon Story chapters
Reward: 12 points (3 added to each season)
Monthly Rivals: Cathedral Circuit
Cars: Toyota GR86 (provided)
Location: Guanajuato
Challenge: Post a Clean Lap
Reward: 4 points (1 added to each season)
Monthly Rivals: Arch of Mulege Circuit
Cars: Ford Falcon XB (provided)
Location: Mulege
Challenge: Post a Clean Lap
Reward: 4 points (1 added to each season)
Series 23 Winter Bonus DLC Events
Owners of the two DLC expansion packs have the chance to score seven bonus points in each pack, consisting of a two-point PR Stunt and a five-point Seasonal Championship.
These aren't required for 100% playlist completion, but give a boost in case other events are a bit challenging, or tiresome, or it's a multiplayer-heavy week.
Both locations this week have a Speed Zone stunt, with Frozen Rush in Hot Wheels and Devil's Pass in Rally Adventure, awarding a Super Wheelspin each time.
They're quite different challenges, with the ice track in HW making it tricker than the black-top canyon pass, but the 160mph and 95mph targets respectively are not too hard in the S2 Class (901-998PI) cars permitted.
The Seasonal Championships are also a pretty odd couple, although both remain the standard format three-race championships against Highly Skilled AI.
For Rally Adventure you'll need an S1 Class (801-900PI) Rally Monsters car for the Sandy Dunes Dirt Racing championship heavy on the sand, while it's B Class (601-700PI) Super Hot Hatch cars for a Hot On Your Plate Road Racing event. You'll earn a Raul Urias Cap and an Alpine A110 '73 respectively.
Hot Wheels Speed Zone: Frozen Rush
Car: S2 Class
Location: Hot Wheels Ice Cauldron
Challenge: 160mph
Reward: 2 points, Super Wheelspin
Hot Wheels Seasonal Championship: Hot on Your Plate
Car: B Class, Super Hot Hatch
Location: Hot Wheels Giant's Canyon
Challenge: Win the Championship
Reward: 5 points, Alpine A110 '73
Rally Adventure Speed Zone: Devil's Pass
Car: S2 Class
Location: Sierra Nueva Devil's Pass
Challenge: 95mph
Reward: 2 points, Super Wheelspin
Rally Adventure Seasonal Championship: Sandy Dunes
Car: S1 Class, Rally Monsters
Location: Sierra Nueva Valle de Pozas
Challenge: Win the Championship
Reward: 5 points, Raul Urias Cap
Series 23 Winter Forzathon Shop
Ford power hits the Forzathon Shop this week, although in two very different guises.
Leading the way is a classic machine, in the shape of the Shelby Cobra 427. This 1960s convertible used to be a relatively humble machine until Carroll Shelby opted to stuff a seven-liter V8 into the nose to make a monster capable of 180mph+.
Reputedly responsible for some panic in the United Kingdom's Parliament following a top speed run up the recently opened M1 motorway, the Cobra is often held to be the car that resulted in a nationwide 70mph speed limit. It's also a popular replica car, with the "fake snakes" outnumbering the real ones 100:1.
Joining it is the Ford Supervan 3, which was until recently the last "Supervan" model in a short-lived line of them.
While it looks like a Transit van, there's actually no Transit in there at all. Instead there's a Group C prototype chassis over which is draped a 7/8ths scale fiberglass replica of a Transit.
As usual, both are also Autoshow cars, with the Shelby at 2.1m compared to 750FP, and the 500,000cr Supervan a snip against the 400FP cost this week.
Other store items this week include the Confetti Cannon Horn and Bird Pattern Sundress at 75FP each. The Wheelspin (60FP) and a Super Wheelspin (150FP) occupy their regular spots.
See more articles on Forza Horizon 5 Season Change.