In a pretty busy day for Playground Games, we've caught a preview of the next Series of Forza Horizon 5 — Horizon Wilds Takeover — which gets underway on March 2 and itself serves as an amuse bouche for the upcoming Rally Adventure Expansion.
Horizon Wilds is essentially the game hub for all things dirty. It's the festival site you need to discover, by way of expedition, to unlock the Dirt Racing Series in the game and access the racing routes on marked but commonly unpaved roads. As you might expect, a Series named for it majors on such racing.
First and foremost, the update for Series 18 will bring a bumper crop of seven new cars to the game, with two new to the Forza brand entirely and five returnees.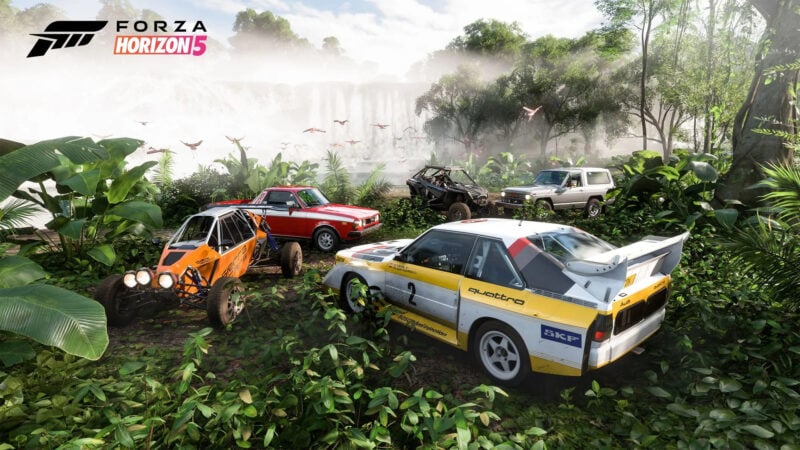 The two newcomers are variations of vehicles FH5 players already know, and both are buggies. Firstly there's the Sierra Cars 700R, a development of the RX3 that's already in the game.
Created as an improved model, the 700R is also more of an entry level vehicle with the 200hp Suzuki Hayabusa engine replaced with a 45hp single-cylinder unit from a Yamaha Raptor quad bike.
The Polaris RZR Pro XP Ultimate meanwhile is an update of the RZR XP 1000 already in the game, bringing with it a new active suspension system and a snazzy 7-inch infotainment display.
We already knew about the returning Ford Gymkhana 9 Focus RS RX — more on that later — and it was joined on the stream teaser by the legendary Audi Sport Quattro S1 Group B rally car which will also be returning as an S18 reward.
Two classic off-roaders are also in the mix, with the Nissan Safari Turbo making a long-awaited Horizon debut after its appearance in Forza Motorsport 7, alongside the AWD Subaru BRAT pick up.
That leaves just the Honda Ridgeline Baja Trophy Truck, a 550hp offroad weapon made by Honda's HPD sports arm to compete in the Baja 1000.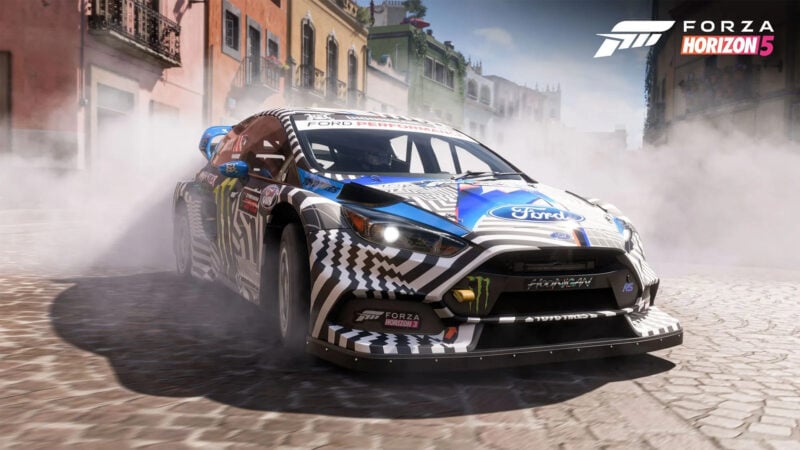 The Gymkhana 9 Focus is part of a selection of in-game tributes to Ken Block, who died in January in a snowmobile accident.
Players will already have a free Hoonicorn Mustang in their in-game messages, along with a Ken Block race suit and helmet, but there's more to come. The Focus above is available for winning the "#43" Seasonal Championship in the first week of the Series, and driving it or any Hoonigan for 4.3 miles will unlock the "#43" helmet icon as a player badge.
You'll also be able to unlock his catchphrase "Go fast risk every thang" as a Forza LINK greeting from a selection of new Accolades. There's 19 in total, each for owning, driving, or completing certain tasks in, Hoonigan vehicles, along with the regular Evolving World Accolade for owning all of the new vehicles in the Series.
There's some tickling of the world environment too, with the Stunt Park coming back from its Series 5 appearance almost one year on to the day. This converts the Horizon Stadium into a car adventure playground, with jumps, ramps, a halfpipe, a barrel roll area, and those oversized bowling pins.
The Horizon Wilds Festival Outpost itself gets a makeover, and the game's many murals will have Series-specific decorations — which will feature in Photo Challenges this month.
A new collectible item, the Pinatasaurus, will appear — along with a corresponding challenge which awards a dinosaur outfit — and it will become available as an EventLab prop alongside S17's "Lucky Cat" maneki-neko (and hopefully its haunting mewing).
The update for the Series will land on Tuesday February 28, ahead of S18 going live at 1430UTC on Thursday March 2.
See more articles on Forza Horizon 5 Game Updates.