The latest Forza Monthly livestream has given us our first look at the Series 9 content update for Forza Horizon 5 ahead of its release next week, Thursday June 23.
As you'd expect, there's a particular theme associated with the forthcoming Series, and is officially known as "Hot Wheels", where it will be a celebration of all things — you guessed it — Hot Wheels.
Players can expect the theme to play a role throughout, including the reward cars. While it may not seem like much of a difference at first, there are a few Hot Wheels-branded rewards sprinkled throughout.
After all, what better way to lead into FH5's first expansion, where players will explore a new map, complete with four new biomes, ten new rides, as well as a new Horizon story?
Every seasonal playlist will feature an exclusive car for players to get their hands on, starting with the star attraction: 2JetZ. Designed by Luis Rodriguez and Manson Cheung, it's based on an old Hot Wheels design named "The Face Peeler" by Dwayne Vance.
The car's name is a play on words for the Toyota Supra's 2JZ engine, and with that unit on board the Frankenstein torpedo produces up to 627hp, all on a chassis weighing 1,650lb. Best of all, the 2JetZ will be available right out of the gate in the summer season for 20 points, so you won't have to wait around to get it.
Following that, the 1968 Plymouth Barracuda Formula-S will be available during autumn, also for 20 points. With a 6.3-liter V8 under the hood, sending 280hp to the rear wheels, the 'Cuda will have plenty of giddup on command, assuming that the tires haven't melted from the wheelspin beforehand.
Following that in winter is the Dodge Coronet Super Bee, at another modest 20 points. A mainstay in Forza Motorsport since its debut in 4's Bondurant Car Pack, this is its first appearance in a Horizon game. Powered by a 7.0-liter, naturally-aspirated V8 that sends a whopping 425hp to the rear wheels, you'll have a hard time chasing this down in a straight line.
Finally, there's the Hot Wheels Nash Metropolitan available in spring that, like the others, can be yours for 20 seasonal points. Previously available in the Hot Wheels Legends Car Pack for Forza Horizon 4, the Nash returns with its 5.0-liter V8 and 350hp, ready to set the streets (and Hot Wheels tracks) ablaze.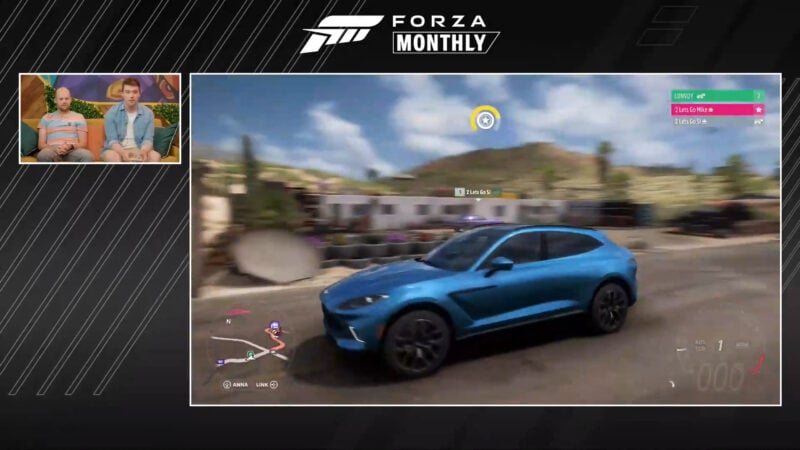 The events across the Playlist are the usual flavor, but the EventLabs stand out throughout Series 9.
Where Series 8 had a unique focus on The Trial — placing everyone in stock vehicles to alleviate some of the woes associated with the mode — it seems Series 9 is concentrating on user-created EventLab races.
These can be hit or miss, depending on what's being used, but it appears that the focus this month is entirely on Hot Wheels-themed circuits. If we had to guess, we'd say players should expect plenty of jumps, curved and vertical tracks, and plenty of chaos; don't say we didn't forewarn you.
Finally, there's the last three vehicles to round out the 34-car offering from the Car Pass and it's an eclectic mix of vehicles.
Starting things off is the 2021 Aston Martin DBX, the company's first car built at its then-new facility in St. Athan, Wales. The 5-door luxury SUV gets its power from a 4.0-liter, Mercedes-AMG M177 twin-turbo V8 that sends 542hp to all four wheels.
Next up is the 2020 Lexus RC F Track Edition with a 5.0-liter V8 and 472hp going to the rear wheels, and finally there's the 2019 Nissan 370Z NISMO that packs a 3.7-liter V6 and 350hp.
We expect the update for S8 to arrive next Tuesday, June 21, with the full season getting underway two days later on Thursday, June 23.
See more articles on Forza Horizon 5 Game Updates.