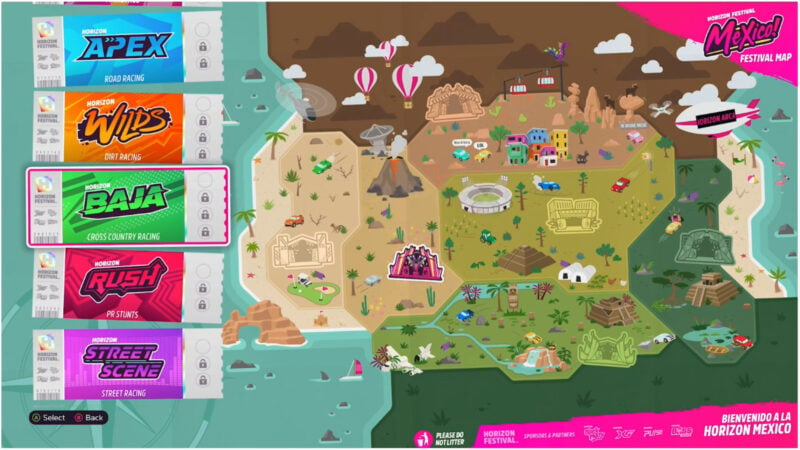 The latest episode in Playground Games' "Forza Horizon 5: Let's Go" series has dug into the game's campaign mode to reveal more about what we'll all be up to come November.
Although there's plenty of familiar in-game action — featuring street racing, dirt racing, road racing, cross country racing, and PR stunts — the structure of the campaign itself is radically different.
This time round, each event type has its own Horizon Festival hub. There's six dotted around the map, with the Apex (Road) and Wilds (Dirt) Festivals we've already seen joined by Baja (Cross Country), Street Scene (Street), and Rush (Stunts), as well as the Horizon Main Stage itself.
Each Festival is made up of a selection of different "Chapters", and we have already seen some of these too. The two events featured on a previous stream, with players arriving at the Festival in the giant turboprop aircraft, and then racing the Hoonigan Cossie against a bunch of bikers, both form Chapters in the main Festival.
This is also where Expeditions come in. At first, you won't have access to the various Festival categories; you'll have to explore the Mexican terrain in special events to find them. These Expeditions are part Showdown, part Story, and consist of a trek across the map to a significant location where the new Festival can set down roots.
One such event was shown in the stream, with the player trekking to Ek Balam and then on to Tulum to set up the Horizon Apex Festival to unlock the road racing events. With five Festivals to set up, there'll be five of these Expeditions in total.
However, you'll also need to pick up enough Accolades to get going with each Festival, and this is a new game progress mechanism. In fact it bears some resemblence to the LEGO Speed Champions expansion for FH4, with players picking up a variable number of Accolade points for myriad different challenges instead of LEGO bricks.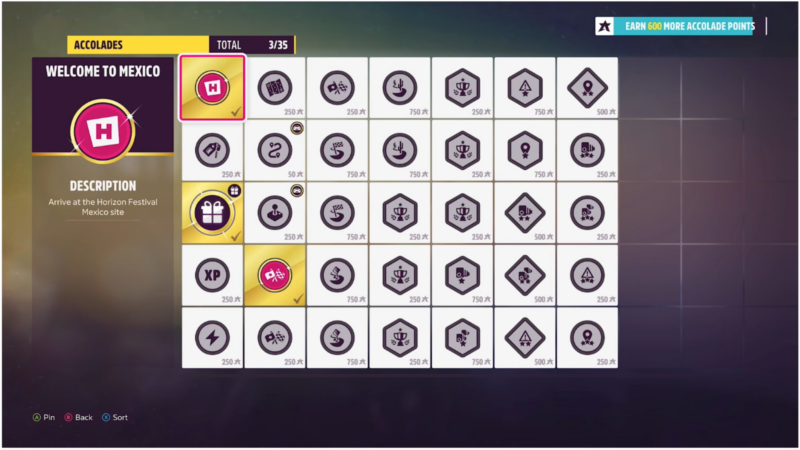 As players complete more challenges in each of the various categories — the stream showed 11 types, including Creative, Online, Expeditions, Racing, and Discovery — they'll pick up more Accolades. It's not clear if Accolades are required to unlock further events, but there's also an XP levelling system, and you can see destructible "XP boards" in the stream.
That all leads to what creative director Mike Brown refers to as "snackability". It encourages players to do the bits of the game they want or like the most, while also serving up information on what they need to do to complete certain sections. Brown also suggests that the team doesn't expect any player to necessarily do everything in the game, but with just under 2,000 Accolades showing in this dev build we reckon a lot of players will take that challenge.
The ultimate goal of the Campaign is to end up on the Hall of Fame, but even then it's not an end to it. As well as all the things in the game at launch, it's also clear that the Festival Playlist will return to bring a fresh selection of challenges — and a change of seasons — each week.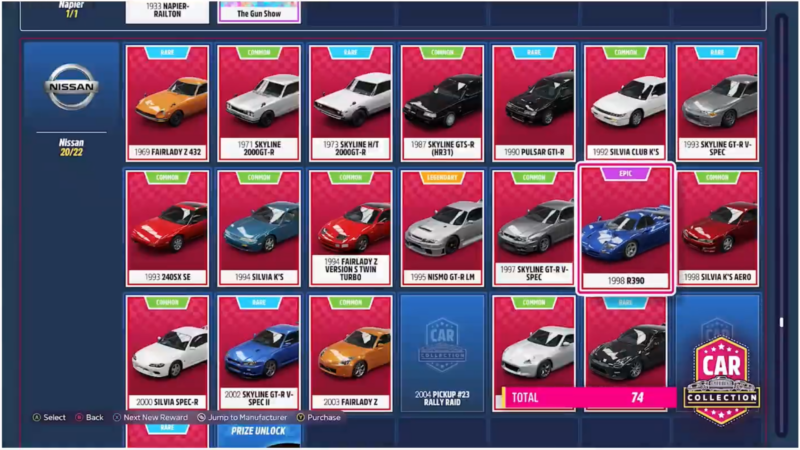 There's also a reworking of how the game's car list is displayed, with a new sticker-album style look. This allows players to clearly see what cars they have and don't have, and also the requirements necessary for acquiring them. Some might simply need the credits to buy — which you can now do directly in the Car Collection screen — while others could come from specific challenges.
Each brand also has a special unlock for picking up every other car, which could be a further car or a reward of a different kind — credits, XP, or Accolades.
In addition to all of this, PG has now published a significant chunk of the game's car list. Coming in at over 400 vehicles, it isn't quite the finished list just yet; the stream showed 543 cars, though Brown cautioned that this is a dev build and that number ought not to be relied upon, but several manufacturers are not on the list at present.
Curiously the published list also includes vehicles not previously seen on the supposedly complete brand lists presented over the past few weeks, though we're sure that this discrepancy will be resolved in due course. We'll keep the list in the official GTPlanet Ultimate Guide to Forza Horizon 5 updated with the latest information.
There's still plenty of time for further Let's Go episodes — four by our count — before Forza Horizon 5 launches on Xbox and PC on November 9, so watch this space for more information!