Welcome to Mirror Mode, GTPlanet's series that shines a spotlight on retro racing games. To commemorate the release of Forza Motorsport 7, we're revisiting the franchise's landmark first installment. 
Good games come and go, but the best have staying power. They redefine their genre and force the competition to take notice. Twelve long years ago, Forza Motorsport accomplished exactly that.
The road to Microsoft's first racing sim was littered with the broken bones and spilled guts of pretenders that tried to take it to Gran Turismo and failed. Not necessarily because the games were always bad; some of them showed promise, and simply failed to catch fire in the market, as we've discussed.
Truthfully though, none could match Sony's iconic franchise in content or gameplay. Polyphony Digital settled on a formula with Gran Turismo that proved impossible to replicate for almost a decade. Forza Motorsport ended that streak, and changed the landscape of racing games in the process.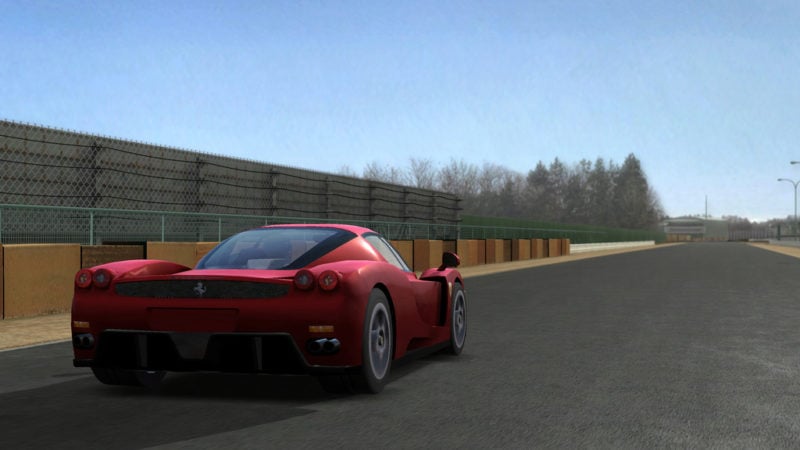 What It Got Right
It's difficult to understate exactly how important Forza Motorsport was to the genre back when it released in May 2005. Leading up to that point, sim racing fans on consoles were treated to two Sega GT titles, two markedly different approaches from Capcom, a middling Ridge Racer reboot, a handful of very good but also very niche Race Driver games, and Konami's cult-favorite Enthusia. 
Some studios closely followed Gran Turismo's example, while other forged their own path. But not one would be seen as a legitimate rival. Lacking Polyphony's massive budget, expertise, and resources as a first-party developer, the odds were perpetually stacked against them.
The only entity in a position to challenge was Microsoft — a company not particularly synonymous with gaming until the turn of the century. In a few short years, the computing giant carved out a distant yet respectable second place in the market behind Sony. Microsoft Game Studios quickly demonstrated its prowess with racing titles, producing two Project Gotham Racing entries with the now-defunct Bizarre Creations, as well as Midtown Madness 3 with DICE.
Turn 10 Studios was christened to lead the effort. Beginning as a team of 20 with lead designer Dan Greenawalt at the helm, Forza Motorsport came together in about two-and-a-half years. Quick as that may sound, the developer still had to make sure its priorities were in order.
"We were absolutely determined to create a fantastic racing simulator, and we did it," Greenawalt told IGN back in April 2005, a month before launch. "But at the time, when we had a great simulator, we realized it wasn't necessarily a great game. And we learned, among many other things, we needed to make the physics more accessible, more handle-able. So we started on the game."
Gran Turismo achieved mainstream success by gamifying car culture, and Forza would take that a step further. Beyond featuring 230-plus cars, a variety of real and fictional circuits (including the criminally underrated Alpine Ring), and a lengthy career mode, Turn 10 made customization central to the experience.
Gran Turismo pretty much limited players to internal modifications and swapping wheels. Forza let you transform your ride.
Granted, Microsoft's racer certainly wasn't the first to claim a wide array of cosmetic upgrades. The street racing boom of the early 2000s, led by the likes of Need for Speed Underground and Tokyo Xtreme Racer, endeared a generation of budding enthusiasts to a litany of aftermarket brands. But Forza was the first sim racer that took gamers' desire for customization seriously. Nowhere was that more apparent than in two of the title's headline features: engine swaps, and that revolutionary livery editor.
Forza's livery editor demonstrated how putting the right tool in players' hands could enable the creation of some amazing user-submitted content. Trading these works of art would become an integral part of future entries in the franchise, thanks to the rise of online gaming.
This was the livery editor that popularized livery editors, simply because it was miles more intuitive and powerful than anything that had come before. Rather than an assortment of static decals and a handful of slots around the car, Turn 10 gave players a cap of 100 layers per side, with the freedom to move, resize, skew, and reorder them as necessary. The franchise still boasts the most accessible editor this side of a mouse and keyboard, and only GT Sport's looks to come close.
Customization aside, the whole experience would have fallen apart without the proper driving model. Thankfully, Forza's was every bit as composed Gran Turismo 4's, with even more nuance in terms of oversteer and weight transfer. It was the perfect foundation for the series, made better by a fully-functional damage model and challenging A.I., especially in the latter stages of the career.
What It Got Wrong
Overnight, it seemed Gran Turismo was no longer the final word among console racers. Turn 10 shattered expectations in its introductory effort, though its formula would need to be refined over successive installments.
Forza falters most in its drab presentation. This is an area that would receive much more attention beginning with the third entry. In the early days, however, there was a distinct lack of style to match the substance. The user interface was composed primarily of shades of gray, and the soundtrack consisted of remixes of classic rock tunes by Junkie XL.
Picking apart the menus and music might seem unfair considering how excellent the on-track experience was. But compared to GT4, which released just three months earlier in North America, Forza felt inelegant and clinical. You could lose hours window shopping GT4's slick dealerships, exploring every nook and cranny of the expansive single player map between races. Forza's world was simply a less exciting place to be.
The funny thing about that is, it's not like Turn 10 gave players fewer ways to bide their time. Forza featured online multiplayer, something that wouldn't arrive in Gran Turismo for another three years. The content was clearly there, but the simulator was still in search of a soul.
Where It Stands
Truthfully, there's very little that Forza Motorsport accomplished that its successors wouldn't do better. That's the curse of this genre: as technology improves, old standards of simulation are rendered obsolete.
Nevertheless, you can dig out your old Xbox, boot up the first Forza, get some split-screen action going, and still have a blast to this day. And it's not because of the complexity of the tire model, or the realism of the lighting engine, or the correct placement of all the bumps on the Nordschleife.
It's because, above everything else, this game is as mechanically sound as they come. The handling is intuitive and balanced. The framerate is rock solid. And all the feedback you need to extract the maximum potential from your machine is communicated via an analog stick and a pair of triggers.
Forza is that rare sim that manages to be rewarding enough for hardcore players, but not impenetrable for newcomers. It cemented the series' reputation as an automotive playground — a concept that would be further explored with Forza Horizon's launch many years later. The latest Motorsport follows in the same footsteps, too.
Historically, it deserves to go down as one of the most significant racing games ever made. But more importantly, it should be played — not merely remembered. Because something this timeless is forever worth revisiting.
See more articles on Mirror Mode and retro gaming.