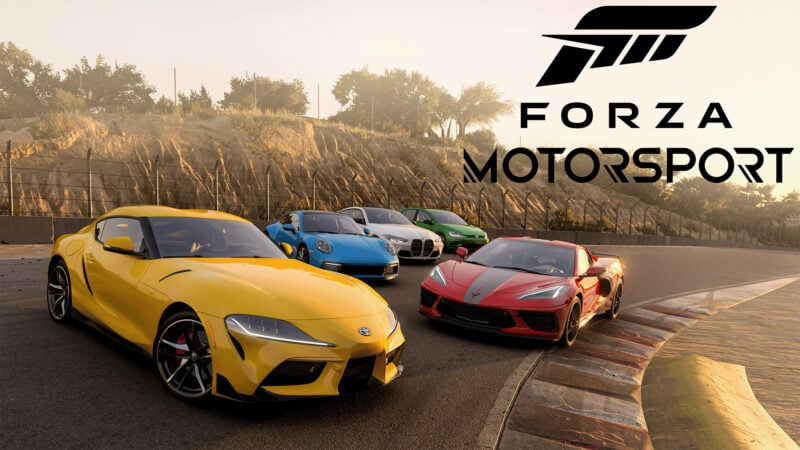 With Gamescom just around the corner, Turn 10 and Microsoft have revealed more information about Forza Motorsport including PC specs, wheel support, and the all-important pricing structure for the various game editions.
Although Forza Motorsport will be part of the brand's stand at Gamescom, beginning on August 23, it won't be playable. Instead there'll be demonstrations of the title, consisting of new gameplay footage of "super-fast German sedans" at the newly announced Mugello Circuit — which we're expecting to appear on the official social channels soon.
In the meantime though, and ahead of the next — and last before the game's release — Forza Monthly event, there's quite a lot to unpack from the information announced today.
Forza Motorsport: Game Versions
It's a familiar strategy to Forza players, with the offerings consisting of a base edition, a Deluxe edition, and a Premium edition, along with a separate Premium add-ons bundle that will benefit players who choose to play the base game at no extra cost through a Game Pass subscription.
Forza Motorsport Standard Edition – $69.99/€79.99/£69.99
As you might expect, this version of the game comes with no additional content at launch. It's the core game experience which is also available without any extra charge as an Xbox Game Pass perk, with around 500 cars and 20 circuit locations, and it becomes available to play on October 10.
You'll have the same access to free post-launch content updates as any other Forza Motorsport player, so you won't miss out on anything other than the paid launch content of the other game versions.
Forza Motorsport Deluxe Edition – $89.99/€89.99/£79.99
The Deluxe Edition includes the Forza Motorsport Car Pass, which will add 30 exclusive vehicles to the game at the rate of one per week.
As with previous editions of the Car Pass, you'll receive one free example of the vehicle whenever you choose to unlock it but you'll need to spend some of your in-game credits to buy any further examples of the car.
Currently the contents of the Car Pass haven't been made public, but T10 has chosen to make the 1965 Lotus 40 the cover car for it in the Microsoft Store so we'd assume that's one of them!
Forza Motorsport Premium Edition – $99.99/€99.99/£89.99
There's a whole slew of additional content and cosmetic items if you pick up the Premium Edition, which also includes the Car Pass as above, as well as early access to the title starting on Ocrober 5.
You'll also receive two additional car packs, consisting of the Welcome Pack and the Race Day Car Pack, with a total of 13 cars between them. The cover images for these cars reveals their respective identities as:
Race Day Car Pack
Acura NSX GT3 #36 Gradient Racing 2018
Audi R8 LMS GT3 #44 Magnus Racing 2018
BRM P201 #14 Motul Team 1974
Ford Focus ST #14 AmD Tuning 2014
Oldsmobile Cutlass Trans-Am #75 Newman-Sharp Racing 1990
Porsche 911 GT3 R #73 Park Place Motorsports 2018
Subaru Levorg GT #1 Adrian Flux Racing 2018
Vauxhall Astra #77 Power Maxed TAG Racing 2017
Welcome Pack
BMW M4 Competition Coupe 2021 Welcome Pack
Chevrolet Corvette Stingray Coupe 2020 Welcome Pack
Porsche 911 Carrera S 2019 Welcome Pack
Toyota GR Supra 2020 Welcome Pack
Volkswagen Golf R 2021 Welcome Pack
The Welcome Pack variants are mildly pre-tuned vehicles, saving you a little on that levelling and upgrade loop, with the pack also awarding a $500,000 boost to your game wallet.
In addition you'll receive the VIP Pack, which comes with another five pre-tuned "Forza Edition" cars, as well as some cosmetic profile items. We'd assume that the Forza Edition cars give some kind of boost, although this isn't confirmed right now. The cars themselves appear to be:
VIP Pass Car Pack
Chevrolet Camaro ZL1 1LE 2018 Forza Edition
Chevrolet Corvette Stingray Coupe 2020 Forza Edition
Hyundai Veloster N 2019 Forza Edition
Mercedes-AMG C63 S Coupe 2016 Forza Edition
Subaru STI S209 2019 Forza Edition
Players with VIP Membership also have a special VIP Player Card and the "Crown" next to their profile name, as well as special VIP driver clothing items in five different color schemes. Importantly there's also a permanent boost to credit earnings, with all winnings doubled across the game, along with special events (we don't know if these are multiplayer or single player) that are exclusive to VIP members.
Forza Motorsport Premium Add-Ons – $39.99/€39.99/£29.99
If you've bought the Standard or Deluxe Editions, or if you're playing through Game Pass, you can pick up all the perks of the Premium Edition through buying the Premium Add-Ons bundle.
Every benefit, including the five days' early access, is part of the deal. That means you can buy the upgrade now and start playing through Game Pass on October 5 — although beware that if you lose access to Game Pass you won't be able to play without either regaining access or buying the Standard/Deluxe Editions separately.
Forza Motorsport: Steering Wheel Support
There's an extensive range of compatible wheels on Xbox consoles, covering Fanatec ClubSport V1/V2/V2.5, CSL, CSL DD, and Podium DD1/DD2 devices, Thrustmaster T128, T248, TS-XW, TX, and TMX wheels, and Logitech G920, G923, and G Pro DD options. However you will need to check that your device supports Xbox first as some configurations won't. The HORI Overdrive wheel is also supported.
On PC the title supports DirectInput API, allowing for a much wider range of wheel support that also includes the Thrustmaster T818 (although the T-GT is not listed), older Logitech G and Driving Force wheels, and Moza wheels too.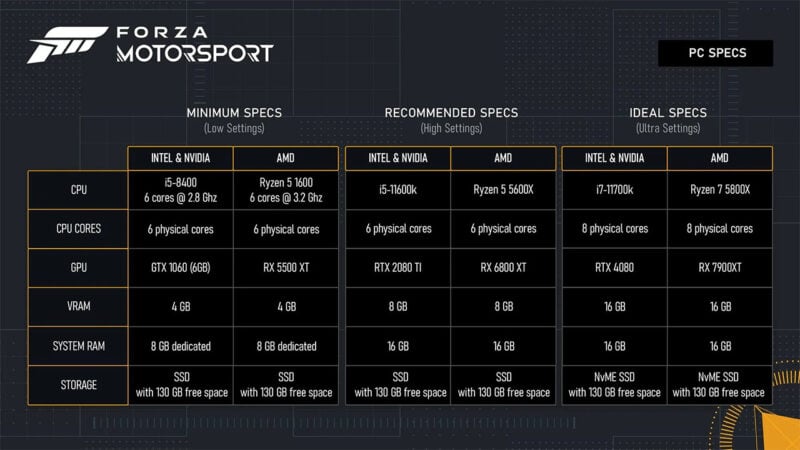 Forza Motorsport: PC Specs
You can, of course, play Forza Motorsport on any Xbox Series S or Series X, but when it comes to PC play there's a few extra considerations.
Minimum specifications require nothing less than a six-core processor, from AMD/Intel's 2017 Ryzen 5 and i5 ranges, and at least an Nvidia GTX 1060 or AMD RX 5500 XT graphics card. You'll need a minimum of 8GB of system memory, 4GB of VRAM.
Recommend specs are more recent Ryzen 5 5600X/i5-11600K CPUs, and Nvidia RTX 2080 Ti/AMD RX 6800XT GPUs, with twice the VRAM and system memory, while a build with Ryzen 7 5800X/i7-11700K and 2022's RTX 4080/RX 7900XT will be capable of running the title in ultra settings.
Notably all of the spec lists note the requirement of a solid-state drive with 130GB or more free space — and an NVMe SSD for ideal specs. Seemingly there's no provision for mechanical HDDs…
PC versions of the title will support Nvidia DLSS 2 and AMD FSR 2.2 upscaling tech, DirectStorage to take advantage of SSDs, and offer both 4K (or higher) resolution and unlocked frame-rates. However that last item only applies to single-player, with frame-rates locked in multiplayer to ensure no advantage during cross-platform play.
As well as cross-play, Forza Motorsport also supports cross-platform saving, retaining your progression across Xbox consoles, and PC versions of the game on both Windows and Steam.